The Register sports staff has turned its attention to the Napa County student-athletes who have returned to play sports.
Per the youth sports guidelines issued by the California Department of Public Health on Dec. 14, the first seasons of 2020-21 high school sports are now scheduled to begin Jan. 25 at the earliest. That date will be reevaluated by Jan. 4, however, depending on a county's color tier of COVID-19 risk. The remaining sports are slated to start in March.
With that in mind, we continue our Up & Comers series, which highlights rising stars and players to watch for when their long waits are finally over.
Our 75th edition features Lila Hawes of American Canyon, Quincy Frommelt of Napa High, and Neilani Newberry of Vintage.
Lila Hawes
Sports: Tennis, track and field
Hawes can't wait to resume her high school tennis career after helping the Wolves finish second in the Vine Valley Athletic League behind Justin-Siena last fall.
Two rebuilding girls tennis teams opened Vine Valley Athletic League play Tuesday, with American Canyon winning 5-2 over host Napa High.
Hawes played No. 2 singles and was especially successful against Sonoma Valley, going 3-0 against three different Dragons. She pulled out a 4-6, 6-2 (10-6) over Reese Dobson that helped secure a 4-3 team win; she won 6-4, 6-4 over Olivia Weisiger in a 5-2 Wolves win; and she handled Mary Gallo at the VVAL singles championships, 6-3, 6-0.
One of her biggest league wins was over 6-2, 6-1 over Napa High's Sophia Kroll in each team's VVAL opener, which American Canyon won 5-2.
"The match was really hard," said Hawes. "Sophia is really, really good, but I just kept hearing my coach's voice telling me to push forward and I'm really proud I was able to win. The win was very confidence-boosting for me. I'm glad our team ended up winning. It was a good outcome for us."
Hawes has also competed in track and field, but had only one meet this season — against Justin-Siena and host Casa Grande in Petaluma on March 11. She placed second in in the long jump with a personal record of 12 feet, 3¾ inches.
She has always been busy on the track, also competing in the 100 meters, 200 meters, 400 meters, triple jump and 4x100 relay.
Quincy Frommelt
Frommelt was a freshman when the Grizzlies repeated as Vine Valley Athletic League champions last fall, and now will look to help lead a rebuilding program that lost its leading scorer and goalkeeper of the last four years.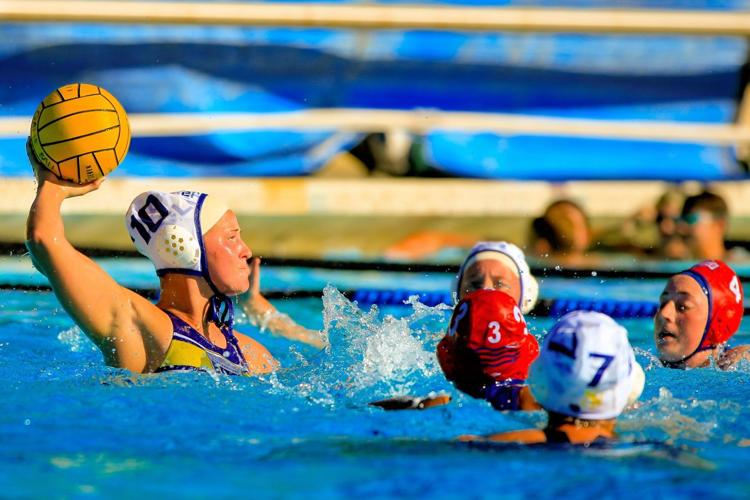 "Look out for Quincy to be bringing up the offense this year. In her second year, she will be all over the pool," said head coach Ashiq Khan. "We tend to rely on size and strength to exploit certain areas of the pool, and Quincy will be that player for us. Luckily, those qualities will go along with her desire and drive, which are unparalleled.
"Also a long-time swimmer, she is going to give us some leverage. She will command attention, which will free up some room (on offense), and she will keep defenses on their heels. All of this with a big smile on her face."
That's what the players who graduated this year were like, and Khan is glad to have at least another left over.
"Quincy is really what we look for in a water polo player," the coach said. "She has her head on a swivel, is really smart on the ball, communicates well, and is in great shape. One might say that Quincy is all business, but behind that laser focus is fun loving inspiration for the whole team. Every team needs someone as serious that can also crack a good joke or two to keep things fun."
Neilani Newberry
Newberry has been one of the Crushers' top scorers since coming up to the varsity midway through her freshman season. Now that Irais Hernandez has graduated after earning Napa County Player of the Year honors the last two seasons, Newberry will get the green light to shoot even more this season.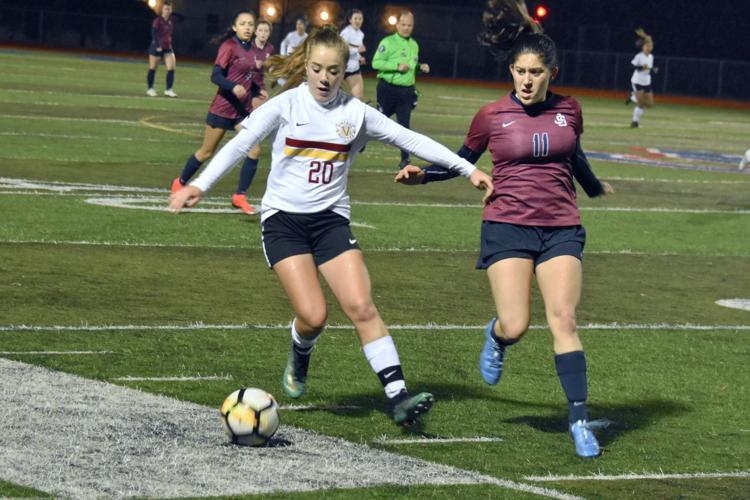 "One of the strongest girls I know," head coach Miguel Ayala said. "She is gonna be one of the leaders on the attacking side. We will lean on her to lead the team in shots taken and passes given to lead to scoring opportunities. She's been on varsity for two and a half years and has always brought the right attitude to lead by example."
WATCH NOW: TODAY IN SPORTS HISTORY: DEC. 27