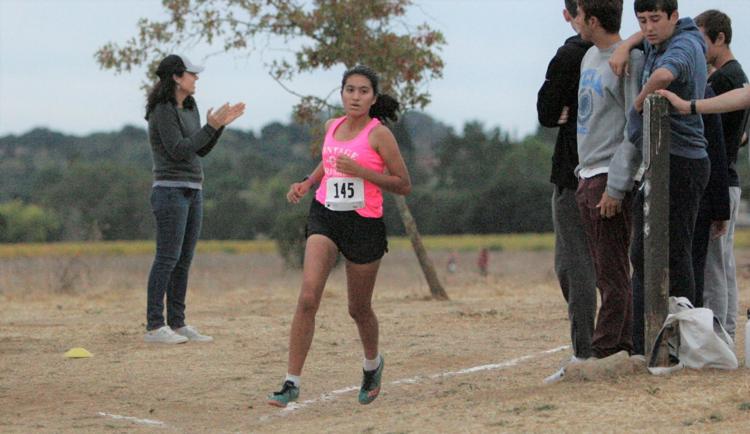 With the 2019-2020 school year in our rear-view mirror, The Register sports staff has turned its attention to the Napa County student-athletes that are returning to play sports in 2020-21.
We know there are still many questions surrounding the fate of sports during the coming school year, and currently we don't have many answers. But we do know that sports will return at some point. It's not a matter of if, but when.
With that in mind we continue our new Up & Comers series, which highlights rising stars and players to watch for whenever organized sports do return to the area.
For our 15th edition, we're featuring Mary Deeik of Vintage, Vinnie Espejo of American Canyon, and Conlan Harrington of St. Helena.
Mary Deeik
Sports: Cross country, soccer, track and field
Vintage High cross country head coach Brian Pruyn said after Mary Deeik won a Vine Valley Athletic League meet at Alston Park last fall that she might have to choose between her running sports and soccer — which she has played at both in club and, since her freshman year, at the varsity high school level — before she graduates.
"Sometimes when you do more than one sport, your body gets fit, strong and durable many different ways," Pruyn said. "I think Mary's soccer has really helped her as a runner, and hopefully her running helps in soccer."
Deeik might have to drop at least one of her sports this 2020-21 senior year if the CIF, North Coast Section or VVAL decides to hold two of her sports at the same time due to coronavirus-related rescheduling.
Cross country has been her most successful sport. She will look to qualify for her fourth state meet this school year after placing 76th out of 203 runners in Division 2 last fall, clocking 19:00.4 in the 5K race at Woodward Park in Fresno.
Before her first state meet as a freshman, Deeik said she thought she could run cross country because she "had good stamina" running the mile in middle school.
"Doing (three miles) was a bit of a challenge at first, but Coach Pruyn coached me up a lot and influenced me to do better and better, so I got better as I got more experience," she said. "In the beginning to middle of the season, I realized I wasn't going to my full potential and once I saw that I could do more and push it more, I felt I could do better, and my teammates kept striving for me to do well. Getting to state was a goal of mine and I felt I could get there if I believed I could and just kept pushing for more PRs (personal records)."
In soccer, the midfielder has helped the Crushers improve their league standing by one each season – from sixth place in the Monticello Empire League as a freshman, to fifth in the VVAL as a sophomore, and to fourth in the VVAL last winter.
At her only meet of this year's virus-shortened track season, on March 11 against visiting Sonoma Valley, Deeik won the 1600 meters in 5:32.6 and the 3200 in 12:11.3. But with those times being well off the personal records of 5:18.08 and 10:51.88 she set as a freshman, she was hoping to have a few more months to lose her soccer legs.
Vinnie Espejo
Sports: Football, baseball
Espejo was the talk of the town after leading the football team to a 14-7 comeback win in Napa High's homecoming game. With starting quarterback Vance Eschenberg sidelined after getting tackled hard just before halftime, VE2 guided American Canyon on two scoring drives, including the winning seven-play, 92-yard march. He had completed just 2 passes and had 8 carries in the first six games.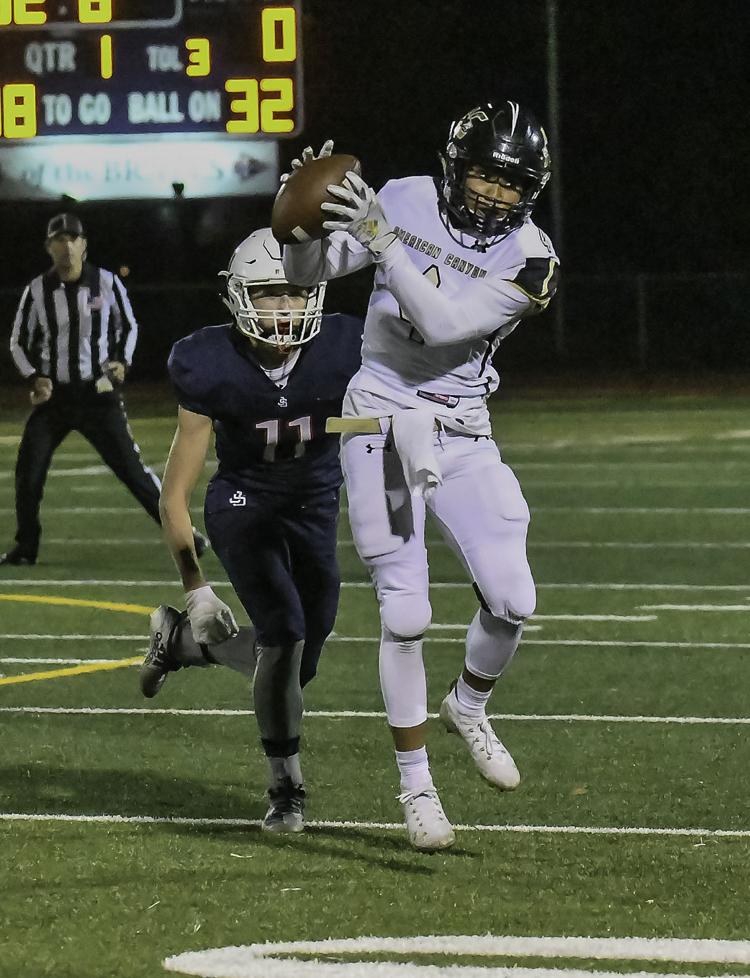 "We got him into games for these kind of reasons, because you've got to be prepared," head coach John Montante said.
Said Espejo, "Every game, no matter what, if (Eschenburg) needs me I'll be there. We fix each other's mistakes and talk to each other, make sure we have that good bond. When he's on the field he tells me what he sees and then when I'm off the field I tell him what I see."
Espejo went on to also score the Wolves' final touchdown of the season, on a 2-yard keeper while giving Eschenburg a breather in the fourth quarter of a 29-13 playoff loss at Hayward High.
In baseball, Espejo had a huge game in a 10-1 win over Bethel on March 2. While catching a combined one-hitter by Nate Countouriotis and Roman Webb, he went 2 for 4 with a triple and 5 RBIs to lead the Wolves at the plate.
"Vinnie is a very versatile player and solid hitter who can catch Nate when he's pitching but is also athletic enough to play anywhere else on the field," said baseball head coach Matt Brown. "That's a good thing, because his bat is one that we want in the lineup every day if possible."
Conlan Harrington
Sports: Football, track and field
The guard and defensive tackle was an integral part of the Saints' potent running game in 2019.
Out of the nearly 380 offensive yards per game St. Helena averaged, 348 came on the ground.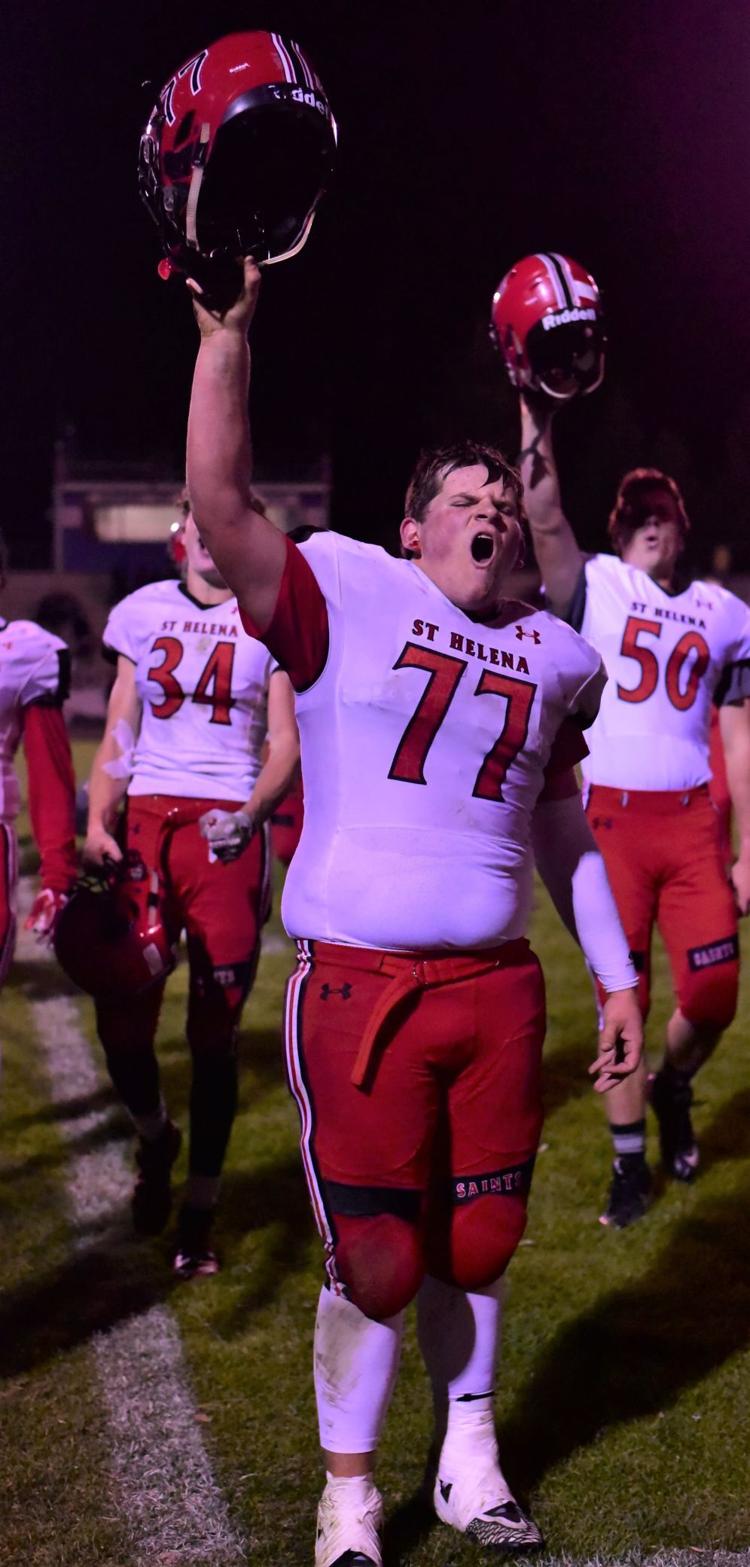 The Saints went 9-3 overall and 5-2 in the North Central League I. They made it to the semifinals of the North Coast Section Division 7 playoffs, where they fell to eventual NorCal champion Salesian. Harrington earned all-league honorable mention on offense. As a defensive tackle, he finished with 26 tackles and 2 sacks and was named one of five finalists for Napa County Newcomer of the Year.
"We ran behind Conlan and Ryland Campos all year and their tenacity up front gave teams a lot of trouble," said head coach Brandon Farrell. "Conlan was a great leader on the field and could be counted on for his very best all the time."
Harrington also participated in track and field as a sophomore. In the shot put, he finished eighth at the Coastal Mountain Conference Championships and 11th at the NCS Class A meet.
Watch Now: Half of us would rather clean our homes than declutter our phones.
Get in the game with our Prep Sports Newsletter
Sent weekly directly to your inbox!