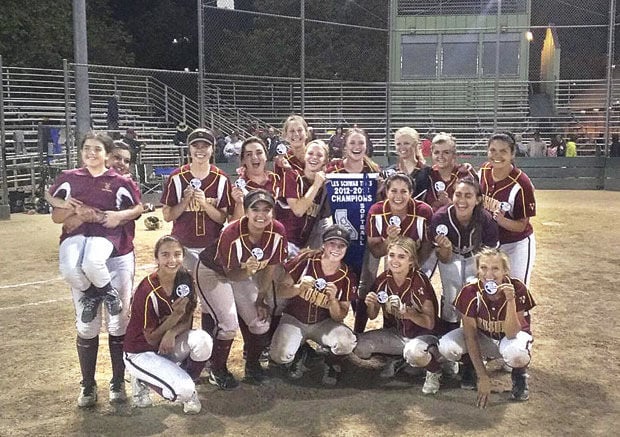 Napa, Vintage and American Canyon high schools are headed to the CIF North Coast Section starting in 2018-19 after each school was released by the Sac-Joaquin Section at its Board of Managers meeting last week.
There was no specific vote to release the Napa Valley Unified School District schools. But their release was made official when the Sac-Joaquin's realignment proposal plans for the 2018-2022 cycle were approved by a 51-6 vote.
"As far as we're concerned, they are going to the NCS," said Will DeBoard, Director of Communications for the SJS. "It was just ratifying the realignment plan. They have been released to join NCS. If there was a vote specifically for them to go to the North Coast Section, I'm sure it would have been unanimous.
"The vote to accept that realignment plan, to ratify it, does not include those schools."
Napa, Vintage and American Canyon high schools were each accepted into the North Coast Section at a board of managers meeting last week at Mira Vista Golf and Country Club.
Each school received unanimous approval during a vote of the board of managers, which consists of school district superintendents, league commissioners and presidents, principals and athletic directors.
The move takes effect for the 2018-19 school year and returns Napa and Vintage to the North Coast Section, where they were members through the 1975-76 school year.
The NVUSD in January submitted a request on behalf of Napa, Vintage and American Canyon to leave the Sac-Joaquin Section, the second largest of California's 10 athletic sections.
Napa and Vintage left the NCS's North Bay League following the 1975-76 school year and have been in the SJS since the 1976-77 school year. American Canyon has been a member of the SJS since it opened.
The Sac-Joaquin Section, headquartered in Lodi and overseeing high school athletics for 27 leagues, 198 member schools and 225,000 students, received a letter from Mark Morrison, executive director of secondary education for the NVUSD, requesting to leave as member schools.
The SJS's geographic boundaries stretch from Merced in the south, Grass Valley in the north, Napa to the west and the Nevada state line to the east.
There are issues regarding transportation of NVUSD schools in the SJS, to areas such as Sacramento, Stockton, Modesto and other places. Because of heavy traffic going east on Interstate 80 on Fridays, it can sometimes take three hours in the mid-afternoon for travel to games.
Another factor is declining enrollment in the NVUSD, while housing, schools and enrollment in other areas are growing.
"All of those schools have a great history in our section," said DeBoard. "At least by virtue of their geography, I totally understand where all of them are coming from. They go from being kind of a borderland school in our section, to being a little bit more in the middle of everything over in (the NCS). Hopefully the Napa schools get what they really set out to do, and that was to get all three of their schools in the same league.
"You never want to lose schools. It's been quite some time since somebody has left the Sac-Joaquin Section. We've picked up schools every now and then.
"You form relationships. You definitely are going to miss those schools and you definitely are going to miss the people with those schools."
Napa and Vintage play in the Monticello Empire League. American Canyon is a member of the Solano County Athletic Conference.
Napa, Vintage and American Canyon will be placed in the Marin-Sonoma-Mendocino Conference. The conference currently consists of three leagues: Marin County Athletic League, North Bay League and Sonoma County League.
The conference possibly could be renamed the Marin-Napa-Sonoma-Mendocino Conference.
Three other schools – Vallejo, Bethel and Benicia – each received approval to join the NCS starting with the 2018-19 school year. Each school is currently in the SJS.
The MEL for the school year starting 2018-19 will consist of Vacaville, Wood, Vanden, Rodriguez, Fairfield and Armijo.
"When the Napa schools wanted to leave, it kind of set a little bit of a domino effect for those other schools," said DeBoard. "You've just got to deal with it. It's going to work out fairly well."
In another development, Grant-Sacramento, an SJS football power, will be joining the Sierra Foothill League for football only starting this fall. The SFL is one of the strongest football leagues in Northern California, with Grant joining Del Oro-Loomis, Folsom, Granite Bay, Nevada Union-Grass Valley, Oak Ridge-El Dorado Hills, Rocklin and Woodcreek-Roseville.
"With Grant football going to the SFL, it certainly adds a lot of excitement to that league," said DeBoard. "That league will probably become, if not the strongest, one of the two or three strongest football leagues in Northern California. All those teams can play.
"The SFL already was a pretty exciting and a pretty strong league. There will always be two really, really good games in that league every week."