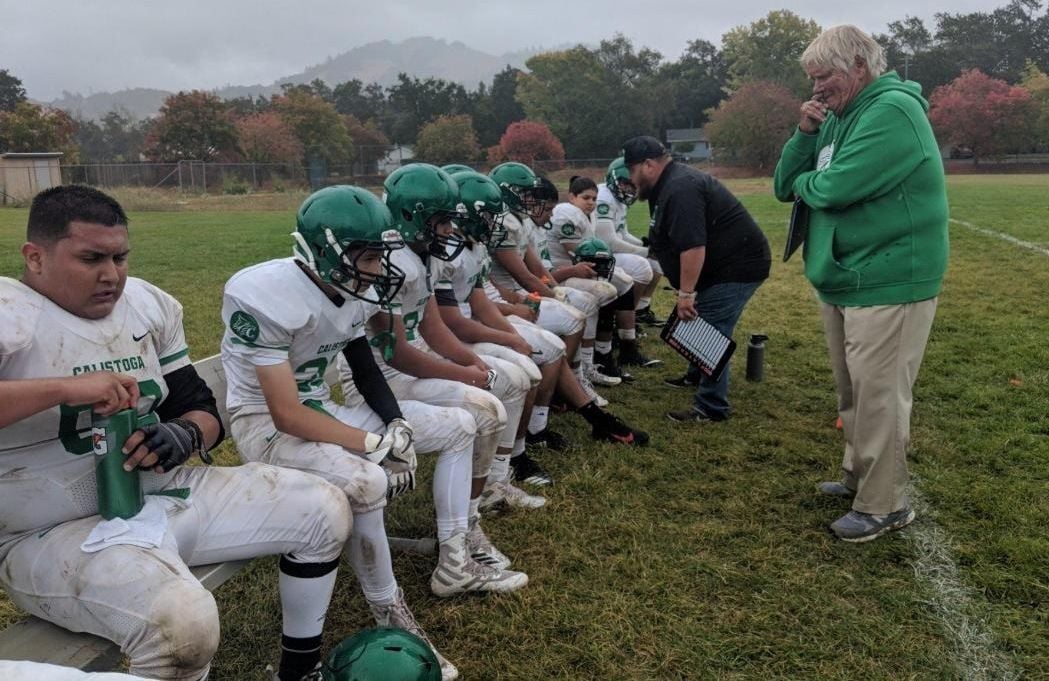 It wasn't the parents, administrators or fans who drove Jim Klaczak away from the Calistoga High football program, and it definitely wasn't the players.
It was constant wave of adversity from Mother Nature brought upon all North Bay residents since 2014, when the earthquake damaged his daughter's Napa home and forced her to move to San Francisco. Three years later, his and wife Andrea's Silverado home was threatened by the Atlas Peak fire.
"It's just been one constant thing after another," Klaczak said Thursday. "What next, the locusts are coming? We thought maybe this wasn't the place we're supposed to be."
Klaczak informed Calistoga co-athletic director Eric Heitz on Monday that he would not be returning for a fourth season of eight-man football at the Wildcats' helm, and that he and Andrea are moving to Scottsdale.
"I really enjoyed it, and the kids are great," he said of the last three seasons, when his Wildcats went a combined 17-10 and should have been in the playoffs all three years. Devastating fires wiped out the 2017 North Coast Section playoffs, and the Wildcats missed the application deadline for the 2018 postseason.
Last year, Calistoga was seeded fifth in the NCS playoffs and went to Tomales and upset the No. 4 Braves in overtime, 20-14. It avenged North Central League III losses of 46-8 in 2018 and 46-28 last year. The win also improved Klaczak's all-time record of coaching in overtime games to 4-0.
"We got hammered by Tomales again and I kept telling the kids it was my fault because we weren't prepared, and I promised in the playoff game it would be different.' When we beat them, the kids felt they could beat anybody. They realized the hard work was going to pay off," he said. "We had some leaders last year, guys who were with me for two years. They bought into it and just pushed and pushed and pushed and we were fortunate to be able to have some success. I was extremely proud of them. I have faith in them that they will band together."
Klaczak had already decided in February he was Arizona-bound, when Coronado High of Scottsdale asked him to coach its struggling program.
"Then, all of a sudden, COVID hit and we couldn't move, couldn't go anywhere — not even our usual trip to Italy. We couldn't do anything," he recalled. "(Coronado) couldn't finalize anything and then as it progressed, no one knew of the seasons were going to happen or not."
"It's always difficult to move on. But I told the players the entire time I was here, 'In your life there are going to be people that come and go, good people and bad people, so keep the good people and get rid of the bad people and enjoy all of them because that's just the way life is. Everybody has to do what's right for them. If it works out, it works out. I felt that we had two good years and the program's headed in the right direction."
Asked if he might be coaching Coronado next, Klaczak said "Not this season, but quite possibly the next. They are the same as Calistoga football was when I got here — struggling, not winning, and they had heard that I can turn things around. They said 'That's what you do, right?' and I said 'Yeah, that's what I do.' I'm used to the battle."
Heitz had called Klaczak to let him know he and Owens would be meeting with the Calistoga Joint Unified School District office to "figure out the fall season or whatever you want to call it — winter season? — and I just wanted to know what Jim thought about conditioning programs and cohorts for practice and that kind of stuff, and that's when he told he'd made the decision. It's a family decision — they've got to make themselves comfortable — but it puts us in a little bit of a tough spot to fill a position real quickly, and try to see what's gonna happen for this season, if we can play it or not."
For now the frontrunner may be Joe Simmons, who was the Wildcats' defensive coordinator last season and has told Heitz he would return as at least an assistant coach this season. The 2009 Novato High graduate starred at linebacker for the Hornets and was a senior on the team that finished as the NCS Division III runner-up. That 2008 team went 11-3, winning 11 straight, going 8-0 in the Marin County Athletic League and shutting out St. Ignatius, Terra Linda, Justin-Siena and Marin Catholic.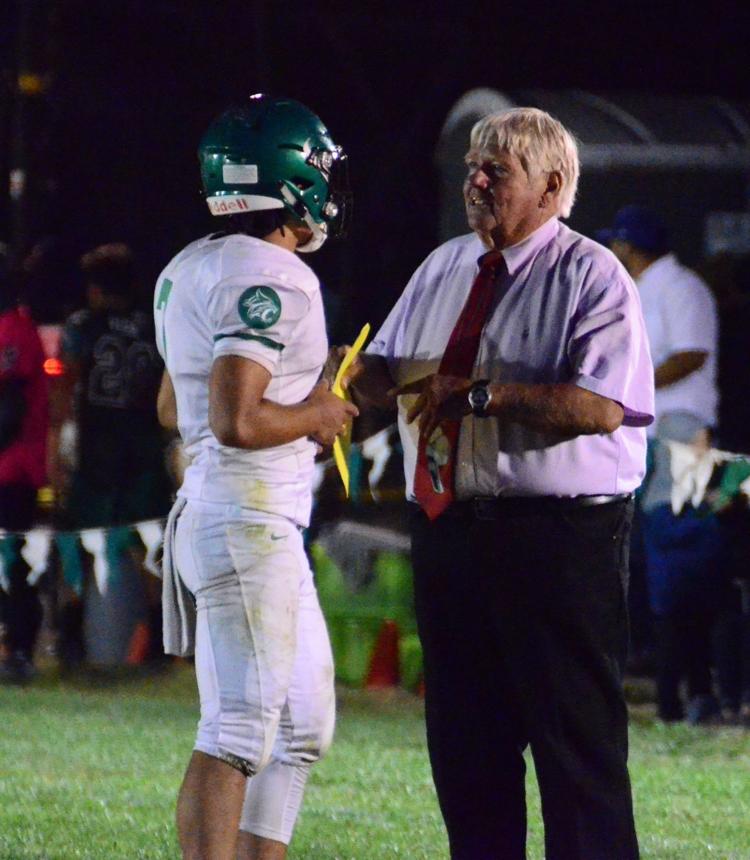 "He has good instincts for the game," Klaczak said. "The thing I like about him is he wanted to learn, and not just about football. He wanted to learn how to coach."
Simmons has also been training to become a firefighter and emergency medical technician.
"I offered for him to apply for the head coaching job, but we can't just automatically bring him up," Heitz said of Simmons. "If there's no interest and we can't find anybody all the way up until practice is ready to start, then we have to make an administrative decision to have an interim head coach or have me take over for a while. I'm not a football expert, but I know the game well enough where I could at least manage the team with some help from volunteers. But I don't choose to do that.
"I talked to our human resources director today and he's going to open the applications in-district for about a week. After that, it will be on edjoin.com and anybody in the world can apply. But it would be a lot easier for just a coaching position to have somebody that's local. It doesn't have a teaching position along with it to where somebody would probably relocate to take a full-time job. Hopefully there is somebody in the area who is willing to step up and take over and run our eight-man program."
Klaczak doesn't think Heitz and Owens need to panic. Because of the ongoing pandemic, Klaczak is yet to be convinced Calistoga will be able to play any football this school year.
"There are too many schools in the league that are too small that have too many sports at that period of time, so something's going to have to give," Klaczak said. "It's really dumb starting football practice Dec. 14 when most of our kids will be gone over the holidays to Mexico. Football would be screwed just like basketball usually is.
"Then our league sent out a tentative schedule that didn't have anything scheduled until February. It's only going to be a five-team league, so we have only four games scheduled. As this progresses the guys who have started playing football (in the NFL and colleges west of the Rocky Mountains) aren't playing now even though they have all the facilities, all the medicine and all the money you could possibly want. They're still shutting stuff down. If they can't make it work, how can high schools? We don't even have the space for all the protocols."
Heitz feels there's still plenty of interest in football at the school.
"We had over 20 kids playing last year and I think we only graduated like four, and with eighth-graders coming up I'm sure we'd have plenty of kids to play the full season, whatever we're allowed to play," he said. "We're hoping to get approval to have conditioning for all of our fall sports start at the beginning of November."
Several of last year's football players also played soccer during the same fall season. In the Coastal Mountain Conference, boys and girls soccer will again be held concurrently with football in January and February, along with volleyball and cross country.
In addition to a football head coach or assistant coach, Calistoga is still looking for a volleyball head coach. Those interested can email Heitz or co-athletic director Louise Owens at athletics@calistogajusd.org for more information. Charley Hester will be coaching girls soccer and Hector Contreras boys soccer, having switched last year's roles.
It will be tough to find someone with Klaczak's resume.
He graduated from high school just north of Philadelphia in 1963 and played for the University of Illinois, Taft College in Southern California, and the University of San Francisco. He was invited to Washington's NFL training camp in 1968, and again when the team was coached by Vince Lombardi in 1969, but Klaczak was released at the end of camp due to injury each year.
He started coaching at his USF alma mater in the early 1980s and went on to serve as offensive line coach at LSU, Texas A&M, Hawaii, Arizona State, San Francisco State and Menlo College. He was with teams that played in the Fiesta, Sun, Liberty, Citrus and Peach bowls.
After leaving the college game, Klaczak returned to football as a successful high school head coach, leading programs at Brook Hill School (Bullard, Texas), St. Anthony (Maui, Hawaii) and in the Bay Area at De Anza-Richmond. He was also an assistant at Lahainaluna High in Hawaii when it won Maui Football League titles two out of three years and reached the state finals twice. At Brook Hill, he was named the District Coach of the Year after taking the Guard to a 9-2 record and to the second round of the state playoffs one year.
Despite all of that experience, he'll never forget some of his Calistoga players asking him if he had any grass to mow or fences to paint while the pandemic kept them from playing football for him.
"These guys understand what it takes. They're not afraid to get their hands dirty," he said. "I think they learned that from football."
Get in the game with our Prep Sports Newsletter
Sent weekly directly to your inbox!