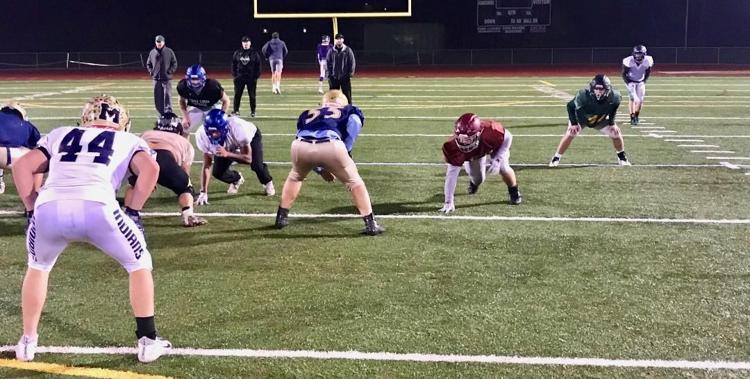 PETALUMA – Seniors from the Napa, Vintage, Justin-Siena and American Canyon football teams went from Vine Valley Athletic League opponents to teammates and friends this week as they prepared for Saturday's 12 p.m. Tri-County All-Star Game at Petaluma High.
"Once you come together, you've just got to come in as family," VVAL Lineman of the Year Luis Arroyo of Vintage said during Thursday's practice. "Football community is all about family. When it comes down to it, being out here is all about loving the game of football."
Arroyo and 10 other Napa Valley players accepted invitations to participate in five practices at Casa Grande and play in the final game of their high school careers for Team Gray against Team White.
"The first day or first two days, it was a little iffy and we didn't talk much," Napa High running back Chase LaRue said. "By the third and fourth day, we were all cool and just hanging out."
The other Napa High all-stars are Marcus Lex, Gavin Zimmerman and Diego Olvera. Vintage is also represented by Zach Daniels and VVAL Player of the Year Viliami Schaumkel.
Zach Keefer, Michael Fitzgerald and Luigi Albano-Dito represent Justin-Siena, while Joseph Mendoza carries the American Canyon flag.
"I love coaching up these Napa Valley guys, all hard-working kids who are very respectful," said Gray head coach Denis Brunk, who guided Casa Grande this season before stepping down. "Really enjoy coaching them. They are just good, blue-collar football kids."
Brunk's squad will run what he called a "basic spread," and will shift into heavy-sets with three running backs at the goal line.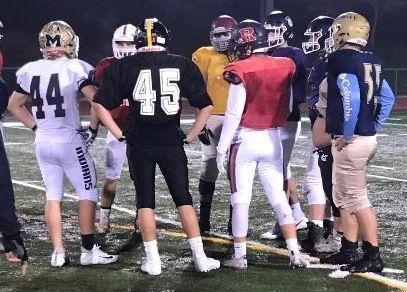 With LaRue and Schaumkel slated as the only running backs on the team, Brunk said he plans to use Daniels – who was a two-way lineman for the Crushers – in the backfield in goal-line situations.
"Zach Daniels has that work ethic you love to see. He's going to play D-end, but he's going to play a little bit of fullback, too," the coach said. "It's nice for him, and we are definitely going to get him the ball."
While Daniels will get a little bit of opportunity to play both ways, most players on the Gray team will go from every-down players to playing on only one side of the ball.
"You have two-way players that are coming here now and they're only playing one way," Brunk said. "I even heard one of the Napa High kids say, 'Hey Coach, you know, I can play on that side if you need the help.'"
LaRue said Napa High players were chomping at the bit to get on the field after going 0-10 this season.
"It is going to be huge to get this win because the season didn't go the way we wanted," said LaRue, who also wrestles for Napa High. "We're really hungry for that win, so we're going to go out there and give it our all."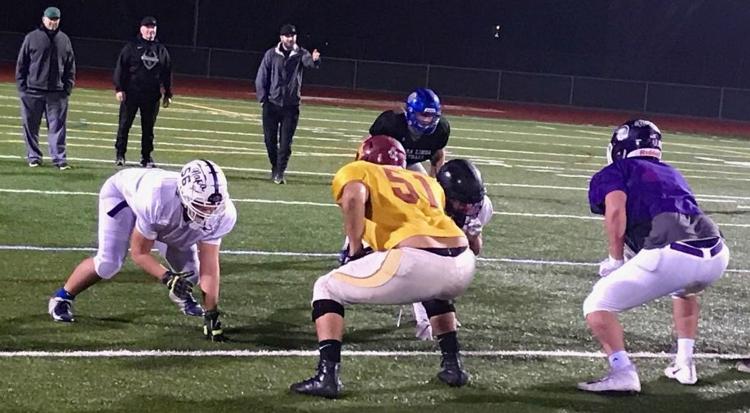 Brunk said he is going to do everything in his power to help Zimmerman, Lex, Olvera and LaRue taste victory, while also ensuring that every player on the roster has a good time and sees the field.
"When we had our first meeting this week," Brunk said, "I told everybody, 'We are out to win, without a doubt.' For most of these kids, they'll never play football again – not competitive tackle football. Are we going to play to win? Absolutely. But we are going to make sure they enjoy their time."
For a handful of players on the team looking to play at the next level, the Tri-County All-Star game gives them a final opportunity to impress coaches and make names for themselves.
Scouts from schools such as San Jose State, UC Davis, Santa Rosa and Contra Costa watched players from Napa, Sonoma and Marin counties in last year's game.
"For some of us, it's huge to get that extra look from colleges," said LaRue, who plans to continue his football career at Butte College in Oroville. "I'm willing to go wherever I can to play ball."
While LaRue is dead-set on continuing his football career, Arroyo is focused on simply enjoying his last days of football with teammates.
"Exposure is always a good thing, but it's mostly just about playing with a couple of my Vintage friends one last time as high school players and representing our school," he said.