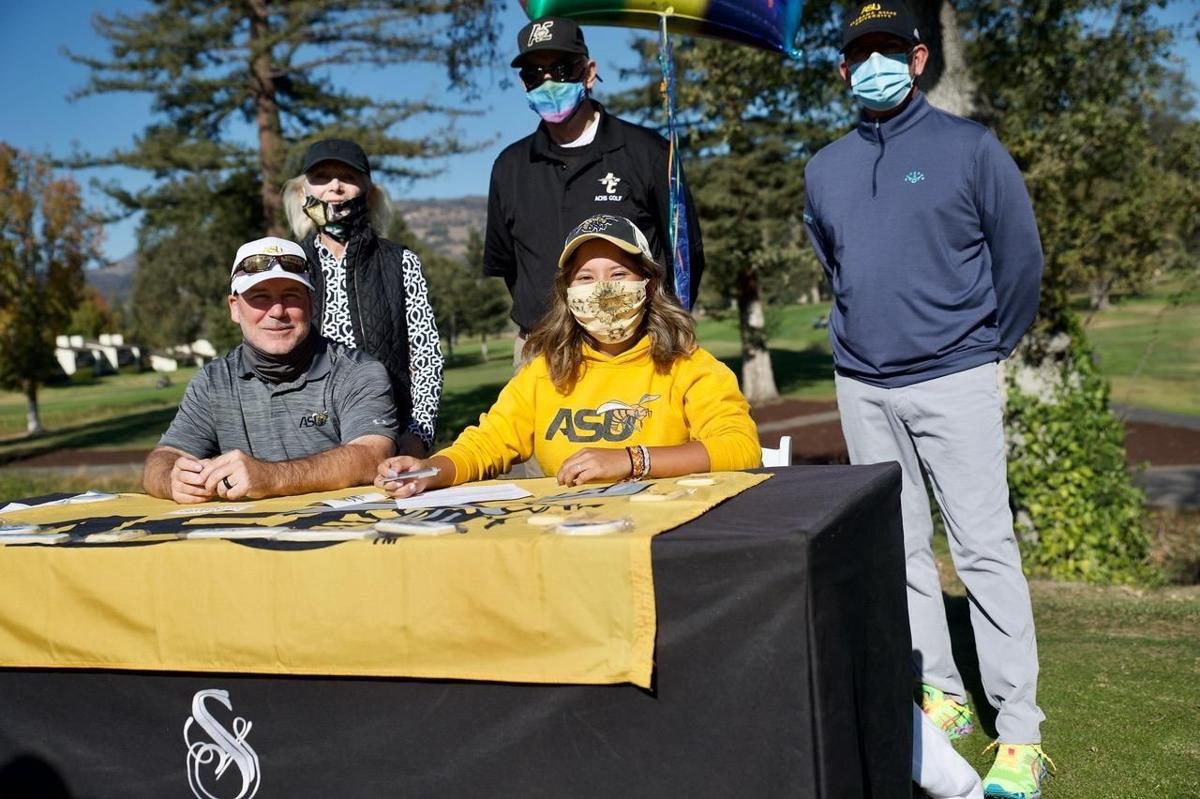 There was something that Tom Sims saw and heard right away when he was giving Katie Robinson a lesson about eight years ago at Napa Golf Course at Kennedy Park.
It was the swing, the ball flight, the sound. It was all of it.
"When you first start swinging, I sort of look for how kids hit their short irons. She just hit it really pure," said Sims, who worked as general manager from 2005-13, and then was also head professional, director of golf and director of instruction. "I just told her to hit some wedges. Just the sound it made and just the way she was hitting wedges was really unique for a junior."
Robinson, now a 17-year-old senior at American Canyon High School and a three-time league most valuable player, hasn't stopped hitting those key, quality shots.
"She's always been a really strong short-iron player and a really good player," said Sims, who has been Silverado Resort and Spa's head golf professional for the last five years. "She's had some really good scores. She's won a lot of events."
And now Robinson is preparing for her next step in golf: leaving home and playing at the major college level. With her family and friends looking on, and with the North Course at Silverado in the background, she signed a national letter-of-intent on Thursday with Alabama State University, a member of the Southwestern Athletic Conference.
"I am counting down the days to be able to finally go back out there and experience it. I'm really excited to be able to do it and to do it at a D-I level," she said.
"I realized that I wanted to be able to play college golf because of taking into consideration the amount of time I have spent with golf."
Robinson will receive a full athletic scholarship to play for Alabama State, located in Montgomery, Ala., and plans to pursue a major in communications.
"I'm really glad that I was able to do it out here, at the place where I've sort of changed and grown as a player and been able to really excel and get to this place where I am now. The support that they've given me out here is really meaningful," said Robinson.
Robinson has received support and sponsorship from the Silverado Country Club Women's Golf Association, which has paid for her lessons with Sims and also her entry fees for area and national tournaments through its junior program. Robinson was the recipient of a golf scholarship from the SCCWGA's Junior Golf Program after winning a second straight Vine Valley Athletic League MVP award last year.
"This is an absolutely momentous occasion," said Naomi McGinn, the chair of the SCCWGA Junior Golf Program. "We have our star right here, Katie Robinson. She just loves the game. She is so dogged and so persistent, a dedicated golfer. I'd like to see her go really far.
"She really has just been so appreciative and worthy of the whole thing. I have to hand it to Tom Sims. He has really been a fantastic coach for her. Tom has been a big help for our junior golf program."
The SCCWGA has provided support for junior girls golfers since 2012. Others who have received assistance from the program are Ariel Caro (Napa High School, Cal State East Bay), Kathleen Scavo (Justin-Siena High School, University of Oregon), Isabella Bosetti (Justin-Siena, Princeton University), and Kiwa Anisman (Vintage High School, Macalester College, St. Paul, Minnesota).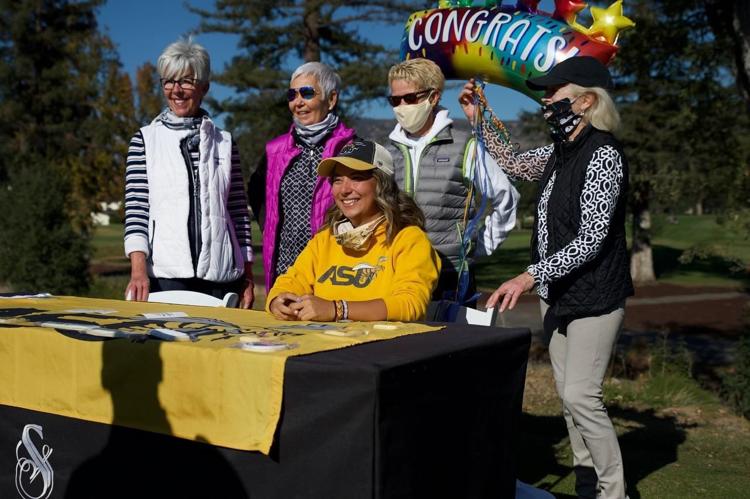 The women's club has two groups, an 18-hole group and a nine-hole group known as the "Striking Ladies."
"The ladies are really welcoming. I don't know what we do without them," said Robinson, who plays in junior events around the country and was the Solano County Athletic Conference MVP as a freshman.
Robinson plays out of Silverado, the home of PGA Tour's Safeway Open. She plays throughout the year in junior tournaments, a combination of Junior Golf Association of Northern California, Hurricane Junior Golf Tour, Junior Tour of Northern California, and Future Champions Golf Tour events.
She played very well during her junior season for American Canyon last year.
She shot 68 at the Vine Valley Athletic League Tournament at Oakmont Golf Club in Sonoma County, leading the Wolves to a second-place finish in the league standings.
Robinson continued her season, shooting 79 and tying for fifth place at the CIF North Coast Section Division II Girls Golf Championship/Individual Qualifier, played at Beau Pre Golf Club in McKinleyville.
She shot 75 and tied for fourth at the NCS Division I Championship at Lone Tree Golf Course in Antioch.
She advanced to the CIF Northern California Golf Association NorCal Regional Tournament. She shot an 84 and placed 54th at El Macero Country Club in Yolo County.
"She's a hard worker, a great, great student, a really good kid," said Sims. "I'm really proud of her. She's a special one."
Robinson has had Sims as her coach for the last eight years.
"I'm really glad to have Tom as my coach in my life," she said. "We've spent so much time together. I think the thing that I love about Tom is that he's always able to keep it light. It's always just room to improve and he's always positive."
She is a straight-A student and practices and plays and works on her game throughout the year.
In June, she fired an even-par 72 and won the girls 16-18 division of the Spring Creek Junior Championship, a JGANC event that was played at Spring Creek Golf & Country Club in Ripon in San Joaquin County.
She shot 81 and tied for 18th place in the girls 14-18 division of the JGANC's Tournament of Champions at Silverado on the North Course on Oct. 25.
She had six Top-10 finishes going into the tournament.
In June, she won the Justin Timberlake 14-18 age division of the the South Carolina Spring Junior Open, a Hurricane Junior Golf Tour event, shooting 78-76 – 154 at River Falls Plantation Golf Club in Duncan, S.C.
"She can hit all the shots, she can do everything," said Sims. "It's just getting consistent with it and believing in yourself. Confidence is one of those things, that it takes some time to get it.
"She's got the game. She can hit it. She can play with anybody. She's a good player."
Robinson's parents, Gary and Kathy Robinson, joined their daughter for the signing ceremony.
"What I was telling her dad early in her career is that the key is just to keep her excited about playing the game. They've done a great job, as they have kept her involved and she still loves it. She loves to play and that's the key. Sometimes you'll see these kids sort of burn out a little bit. She's been awesome," said Sims.
Katie Robinson said she has loved the game since her dad took her out to the driving range for the first time, when she was about 8.
"I think it was in that moment that I definitely fell in love with golf," she said.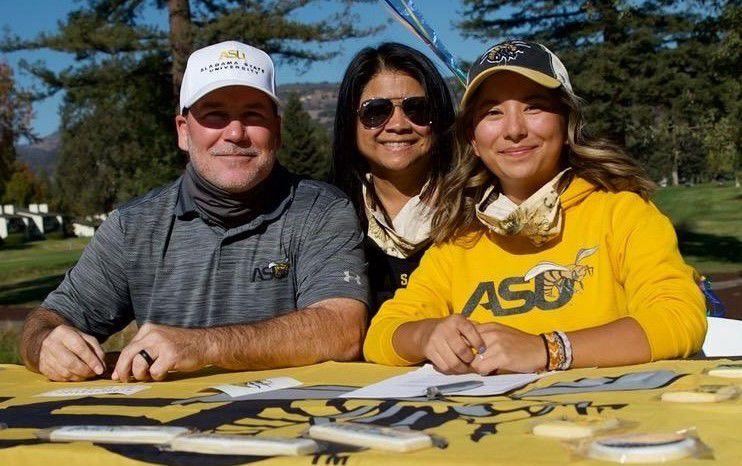 "I think that the greatest thing about golf is that you're able to meet people that you never would have really thought you'd be friends with beforehand. With golf, it can be so calming. And so I think that's one of the things that I love the most about it. I can have the worst day in the world. But if I go out on the golf course, it's a good day in my book."
There have been three other players, before Robinson, who have played golf in college out of ACHS. They are Erika Hallmark (Methodist University, Fayetteville, North Carolina), Sarah Chang (Wheaton College, Illinois), and Ryane Ford (Holy Names University, Oakland).
"There's no better feeling than to see the kids excel," said Jim Saylor, American Canyon's former head golf coach. "It's good to know that hard work still pays off. (Robinson's) got a very confident attitude."
Robinson has placed in junior events in what has been a solid 2020 season.
* Tied for eighth, Girls College Prep division, 82-78 — 160, Future Champions Golf Tour, National Tour's Northern California Opener, January at Silverado.
* Third, girls 16-18 division of JGANC's Northern California's New Year's Spring Junior, 80-85 — 165, January at Castlewood Country Club and Callippe Preserve Golf Course in Pleasanton.
* Seventh, Hurricane Junior Golf Tour's Northern California Junior Open Presented by OnCore Golf, Justin Timberlake-Girls 14-18 division, 81-85 — 166, February at Rancho Solano Golf Course in Fairfield.
* Third in the girls 16-18 division, JGANC Folds of Honor Junior Championship, 83-80 — 163, February at Rancho Murieta Country Club.
* Sixth in the girls 16-18 division of the JGANC's Concord City Junior Championship, 79-76 — 155, at Diablo Creek Golf Course, August.
* 31st at the Junior Tour of Northern California's Fall Series II event, 92-87 — 179 in the girls championship division, August at Rancho Murieta Country Club (Sacramento County).
* Tied for ninth, girls championship division, Junior Golf Tour of Northern California's Fall Series VII event, 81-80 — 161 at Greenhorn Creek Resort in Angels Camp, October.
* Third, Justin Timberlake-Girls 14-18 Division of the Hurricane Junior Golf Tour's Ambassador Series at Bayonet and Blackhorse in Seaside, 82-82 — 164, November.
"We took her to the driving range and it just kind of evolved from there," said Gary Robinson, who is the head coach for ACHS girls golf. "She just kind of fell in love with the game. Thankfully, we got hooked up with Tom.
"Very proud. Words can't explain how proud I am of her. I can't say enough about (Silverado Country Club Women's Golf Association). They've been with Katie from the beginning. They've helped her all the way. If it wasn't for them, she wouldn't be where she is today. I really appreciate everything that they have done.
"I'm very thankful that Katie is in the shoes that she's in right now, being able to go to school and continue her athletic career and her academic career. The sky's the limit for her, whether it's athletically or academically."
Robinson is entered in the Sacramento Fall Junior Open, a Hurricane Junior Golf Tour event, Nov. 14-15 at the Haggin Oaks Golf Complex in Sacramento.
She is also entered in two more HJGT events — World Golf Village Junior Open, Nov. 21-22, at World Golf Village, St. Augustine, Fla., Nov. 21-22; and Sea Island Junior Open, at Sea Island Resort, St. Simons Island, Ga., Nov. 28-29.



Watch Now: Today in sports history—Nov. 13
Get in the game with our Prep Sports Newsletter
Sent weekly directly to your inbox!