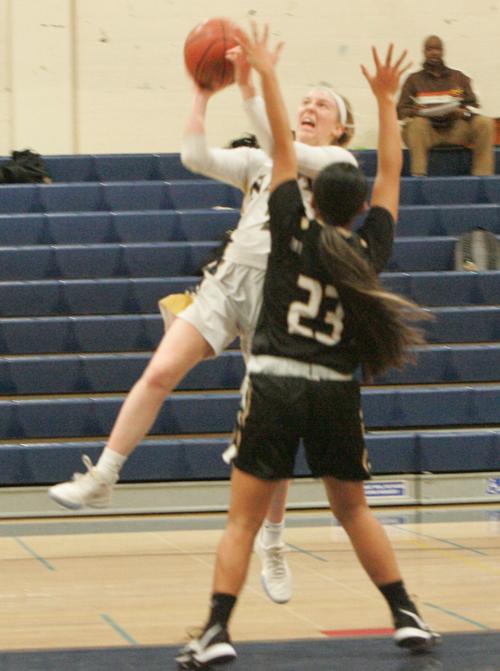 The Napa High girls basketball team improved to 3-1 in the Vine Valley Athletic League with a 50-39 win over visiting American Canyon on Tuesday night.
"We're finding our rhythm, for sure," said Grizzlies head coach Taylor Willis after her team improved to 9-8 overall.
After outscoring the Wolves (7-11, 0-3 VVAL) 20-10 in the first quarter, Napa's lead was just 31-30 at halftime.
"We came out really hard in the first quarter and we were doing solid on our press, and they made an adjustment on it," Willis said. "I think in the second quarter we got complacent on defense and they took advantage. We just can't let that happen. So in the second half, we made sure to emphasize not turning the ball over. We had 12 turnovers in the first half and five in the second, so turning that around is really important and I think that 2-3 zone really helped us control the game and the pace of the game.
"They're really fast, so we've got to make sure that we control our pace. It's always about being ready to make an adjustment, especially when it's our first time through league. We're seeing what teams are doing and what they're changing, because they're going to be different from last year."
Anna Ghisletta had 14 points, 5 steals, 3 assists, 2 rebounds for Napa, while Julie Solomon added 10 points and 3 rebounds. Also scoring were Maizy Armstrong-Brown (6 points, 10 rebounds), Sofia Tinnon (5 points, 5 rebounds, 4 steals), Charlotte Gerard (5 points, 2 assists), Grace Sedgley (4 points, 3 rebounds), and Devin Wickersham and Hannah Newman (3 points, 5 rebounds each).
Leading American Canyon were Trinity Billingsley (15 points, 4 assists, 5 steals, 8 rebounds), Cameron Genteroy (8 points, 2 assists, 5 rebounds), Olivia Gradington (8 points, 2 assists, 1 steal, 3 rebounds), Jazmine Fontilla (6 points, 7 rebounds) and Louralei Salanga (2 points, 1 assist, 3 rebounds).
Varsity Boys Soccer
Napa 4, American Canyon 2
Dayron Solis had two goals and Jason Hernandez and Jeff Garcia each scored once for the Grizzlies in their 4-2 win over the Wolves at Memorial Stadium on Tuesday night.
Sergio Navarro scored both American Canyon goals on assists by Adrian Ayala.
The Wolves were coming off Friday's 2-1 loss to Casa Grande, in which Ayala scored on an assist from Alexander Canas.
Varsity Wrestling
Casa Grande 54, Justin-Siena 18
The Braves fell in Tuesday's VVAL dual meet after trading blows with the Gauchos.
Justin roared to an early lead as Cooper Cohee (120 pounds), Brandon Guiducci (126) and Jacob Guiducci (132) registered pins. Both teams were deadlocked at 18-18 tie at the close of the 145-pound class before the Gauchos swept the rest of the weight classes.
Aside from the pins, the Braves staff was impressed with the improvement of sophomore Cole Chatagnier, who lost 7-4 in the 152-pound class. Chatagnier had faced the same opponent in last week's Deets Winslow event and wrestled a much tighter match this round.
Senior JP Negueloua's efforts were also noted in a 10-2 loss at 195 pound, as he stayed in the match and was in control most of the final round after falling behind early.
In JV action Sebastian Medina (132) and Johnathan Morales (170) picked up pins for the Braves.
The Braves are back on their home mat Thursday against former longtime rival St. Helena, which recently restored its program. The coaching staffs are hoping to re-stoke the old Vine Bowl atmosphere with a wrestling twist. The Vine Cup will be given to the winning team with the hopes of creating a perpetual meet between the two programs.
Get in the game with our Prep Sports Newsletter
Sent weekly directly to your inbox!