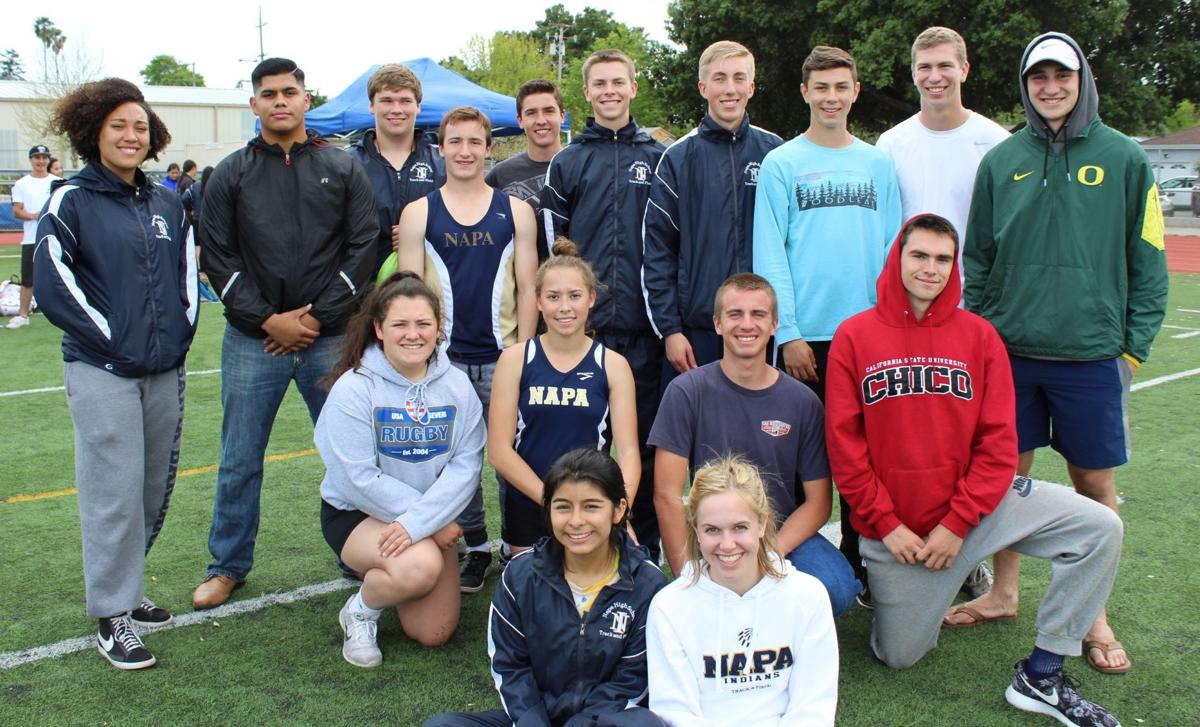 The Napa High track and field team swept visiting Rodriguez in all four divisions in its final Monticello Empire League dual meet of the season Wednesday.
Carson Lewis highlighted varsity boys' 118-2 rout with a personal-record triple jump of 44 feet, one-quarter inch. The senior posted the best mark by a Napa High athlete in the event since at least 2002, according to athletic.net, which had the best previous school mark at 43 feet, 11.5 inches by Karl Delaroche in 2008. Fellow senior Owen Gorsuch was second Wednesday at 38-8.
Indians assistant coach Steve Gonsolin noted that the school record is 46-1, set by Mark Barlow in 1977.
"I was attempting to break that record in '91," said Gonsolin, a 1991 Napa High alum who still shares the school high jump record of 6 feet, 8.5 inches.
The Napa High boys are 9-0 and can clinch their first league title since the 1970s with a win at Wood on May 3, according to Gonsolin.
Lewis also won the long jump (21-1.5), followed by Ricky Vincent (19-11) and Gorsuch (19-6). In the high jump, it was Gorsuch (5-10), Vincent (5-8) and Lewis (5-8).
Sweeping the shot put were Solomon Tinnon (47-2), Jacob Richmond (37-1) and Brenden Neal (37-2.5). In the discus, it was Jared Kenny (130-5), Tinnon (121-7) and Neal (110-4). Tinnon also won the 110 hurdles (16.36).
Napa ran a 4x100 relay time of 46.41 seconds and the 4x400 in 3.38.8.
Placing 1-2-3 in the 1,600 were Marco Rosales (4:54.41), Gustavo Navarro (5:01.59) and Cesar Castro (5:03.34).
In the 3200 it was Rosales (10:52.72), Damien Hoke (11:02.44) and Ben Scudero (11:04.02).
Garrett Lustig won the 400 meters (57.18), followed by Navarro (1:01.40).
Winning the 100 meters was Alex Perez de Leon (11.65), followed by Josh Hagler (11.65) and Rodriguez junior Zane Watson (11.93), who earned both points for his team with third-place finishes in each sprint. Watson (24.21) also placed behind Perez de Leon (23.66) and Hagler (23.99) in the 200.
Sweeping the 800 were Zach Blackwood (2:01.91), Hoke (2:03.53) and Michael Alcantar (2:12.84).
Jake Van Zandt won the 300 hurdles (53.62), followed by Tomas Gomez-Espana (53.84).
The Napa High girls won 89-42.
Jori Herman finished undefeated in MEL action in the throws. She won the shot put at 37-8 over two Mustangs, and led a discus sweep (103-11) with teammates Amanda Morgan (64-0) and Deonna Aguirre (64-0).
Placing 2-3 in the long jump were Madison Barragan (15-2.5) and McCauley Smith (15-.25).
Pulling off sweeps were triple jumpers Whitney Swafford (31-11.5), Maija Turjanis (31-3) and Sophia Marseilles (31-0), and high jumpers Mia Oggenfuss (4-10), Bella Oggenfuss (4-8) and Smith (4-8).
Alexis O'Day won the pole vault (7 feet), and the 4x100 relay team won in 52.94.
Jane McLoughlin (1:00.90), Brie Cavalli (1:08.93) and Georgia Bertalotto (1:09.08) swept the 400 meters.
McLoughlin won the 1600 meters (5:49.56) and Maria Alvarado was third (6:37.31). Bella Oggenfuss was second in both hurdles (18.11 and 51.95), with Smith taking third in the 100s (18.2) and Turjanis third in the 300s (57.4).
Amany Hilliard added a runner-up finish in the 100 meters (13.34), as did Charlotte Cosca in the 800 (2:33.34). Hilliard won the 200 (28.21), while Barragan was third (28.71).
Cosca took the 3200 (12.46.84) over Mariana Wentel (15.23.28).
The Mustangs took the 4x400 relay (4:22.50).
Napa's frosh-soph girls pulled out a 69-53 win behind sweeps in all field events.
Placing 1-2-3 were shot putters Emma Lopez (23-6), Aisley Wallaces (21-5) and Emma Healy (20-1.5), discus throwers Lopez (65-5), Healy (60-10.5) and Wallace (58-7), long jumpers Kelsey Clark (14-4), Elise Cavalli (14-.25) and Bailey Jacque (13-11), and high jumpers Rachel Pharr (4-2), Jacque (4-2) and Clark (3-10). In the triple jump, it was Jacque (28-2) and Lena Demsky (26-.25), and in the pole vault it was Pharr (5-0) and Stephanie Guidino placing second.
Clark won the 100 hurdles (20.96) and 300 hurdles (1:01.30), Cavalli took the 200 (29.2), Napa was second in the 4x100 relay (56.38), Gracie Pridmore took third in the 1600 meters (7.24.53), and Jada Dunn was third in the 400 (1:12.95).
Napa's frosh-soph boys won 83-42, as Quentin Dervin (47-9.5 shot put, 117-5 discus), Cooper Stewart (32-2.5, 87-2.5) and Joey Holland (31-9, 78-4.5) swept the throws.
Placing 1-3 in the long jump were Kalani Posey (19-1.25) and Ruben Villanueva (17-18.5). Villanueva won the high jump (5-2) over runner-up Stewart (4-6), while Stewart claimed the pole vault (8-0) and Nicholas Zarza took the triple jump (37-8).
In the 4x100 relay, Napa teams placed first (46.97) and third (51.03).
Alex Vazquez won the 110 hurdles (19.14). He ran a 12.02 to place second behind Posey (11.93) in the 100 meters and a 49.87 to place second behind Villanueva (48.72) in the 300 hurdles.
Erick Cosca won the 3200 meters (11.20.56), Jay Robichaux won the 400 meters (58.11), Jeremy Tsujihara was third in the 800 meters (2.23.53), and Robichaux (24.96) and Posey (25.39) finished 2-3 in the 200.
Editor's note: A correction has been made to the frosh-soph boys high jump results.