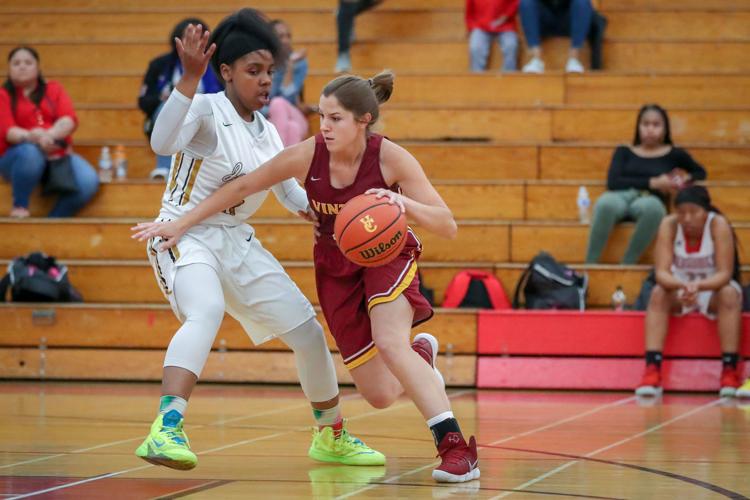 FAIRFIELD – It had been two months since the end of the girls high school basketball season, so it was not surprising there was some rust showing during the first half of Friday night's MEL vs. SCAC Girls All-Star Game at the Fairfield High gymnasium.
The second half was a different story – at least for the Solano County Athletic Conference All-Stars, who rolled to a 64-36 win behind talented Vanden guard Myli Martinez's 26 points.
Martinez was making 3-point shots well beyond the NBA line and dazzling the appreciative crowd with a series of clever, no-look passes to set up teammates. All the Monticello Empire League All-Stars could do was watch in amazement.
Vintage High head coach Joe Donohoe, who was invited to coach the MEL All-Stars thanks to his recent league title, was shaking his head after the game in disbelief.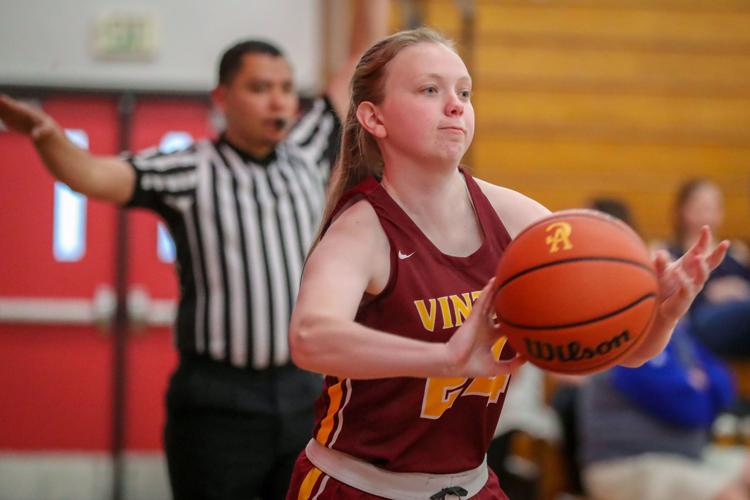 "Martinez started shooting 4-pointers in the second half, not 3-pointers, and they were going in," he said.
Donohoe noted that his team ran out of juice after battling to a 21-21 halftime tie.
"We only had seven players," he noted, as a result of four players – including two from American Canyon and one from Napa High – being unavailable for the game, "and we got tired in the second half. But I had a blast. I was completely happy with our effort and it was an honor coaching this team. I had a great time coaching three of my seniors for the last time."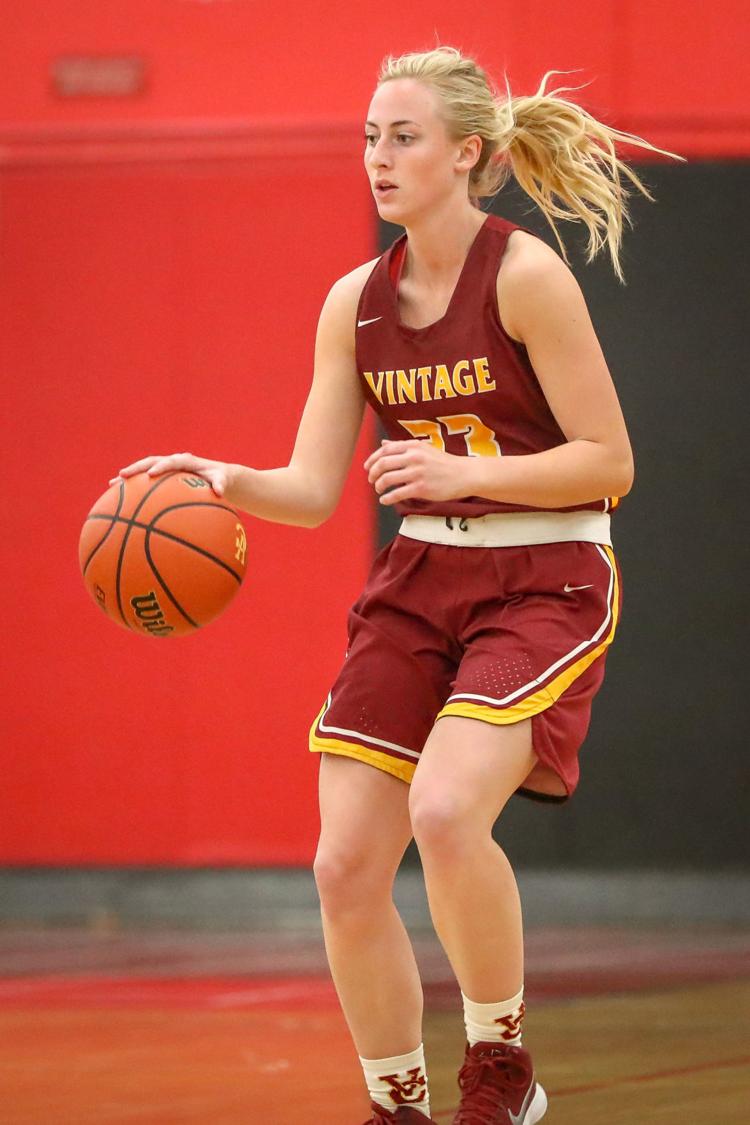 They were Megan Kuehl, who had six points, Bailey Loban, who scored two, and Maggie Schuh.
Kuehl, who is presently pole vaulting for the Crushers' track and field team, said she played in the game for fun more than anything.
"I haven't really been playing basketball," she admitted before the game. "We're just looking to get out there and try our best. We'd like to win, but this is really just for fun. It's fun to come back and see everyone again, including girls from other teams we've played against, to see what it's like to play with them."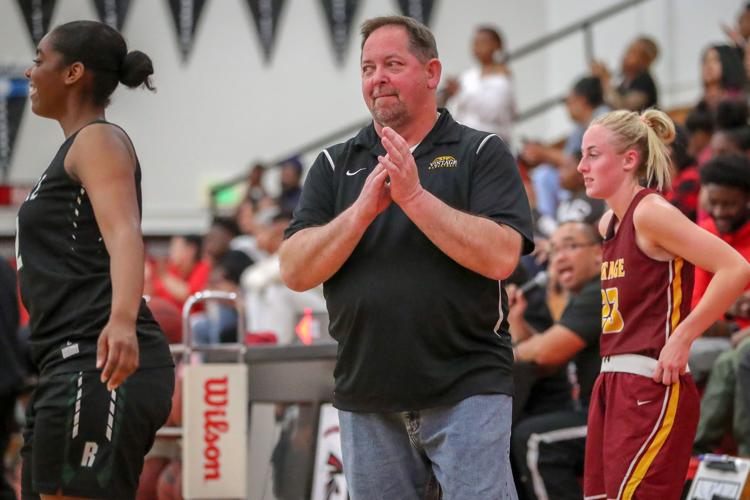 Added Loban after the game, "The game was pretty fun. I especially liked meeting and playing with new teammates. It was pretty exciting for me when our coach asked me to play, and I was definitely hyped for the game."
Loban, also a member of the Crushers' track and field team, then had to sprint out of the gym and drive to UC Davis to compete in the long jump at an invitational meet.
"I hope I make it on time," she yelled over her shoulder as she departed.
Schuh, who did not score, said before tip-off she wasn't really expecting to be playing basketball in April.
"I thought this game would be closer to the end of the season. We'll see how it goes," she said. "I think everyone is just planning to just have fun. I haven't even met all the players on my team. It's really cool to be picked as an All-Star and, for us seniors, it's one more chance to play with everyone before college."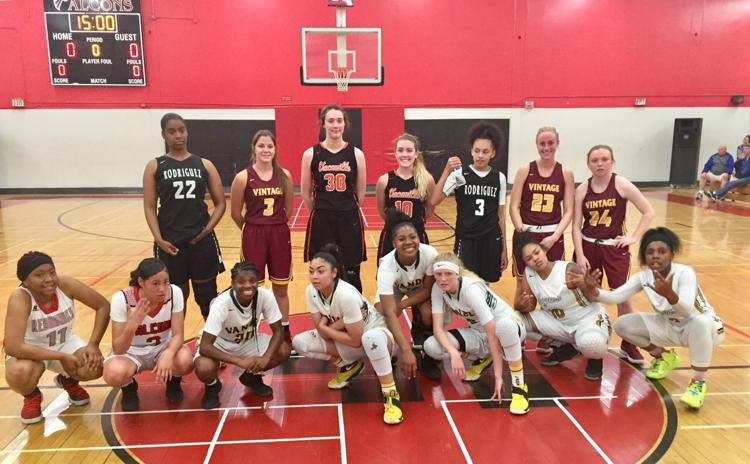 The SCAC looked anything but rusty in the second half, equaling its first-half output in the first eight minutes. Vanden's Deirdre Huff added 13 points for the winning side, which was coached by the Vanden staff – 1994 Justin-Siena grad Allison (Gill) Johnson and her husband, Jake Johnson.
Donohoe is excited about the 2018-19 basketball season and playing in the new Vine Valley Athletic League.
"I couldn't be more happy with the situation I'm in," he said. "We have a good crew coming back and we're going to have a good season next year. Travel will be easier, and I think we'll have more spectators at the games. It's an exciting new journey for the schools that are in the league, we'll see who rises to the top."