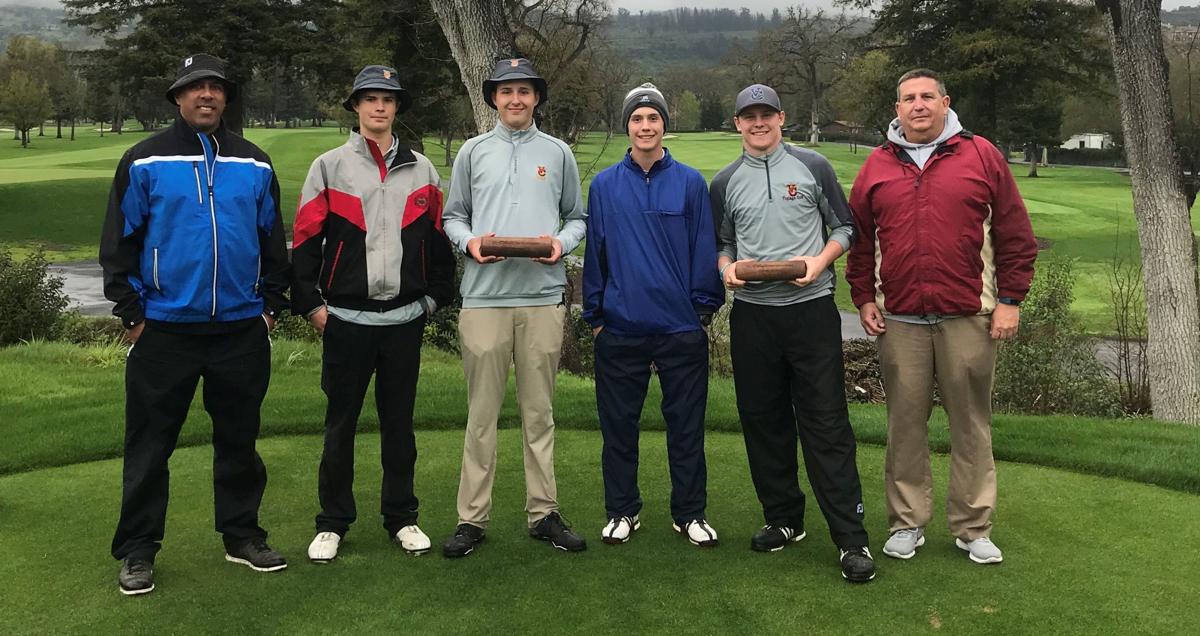 With the cancellation of the spring season for high school sports, the Napa Valley Register will recognize senior athletes over the next few months who have had their careers come to a premature end due to the coronavirus pandemic.
Today we feature Vintage boys golf standout Pierce Brown.
The four-year varsity golfer helped lead the Crushers to the Vine Valley Athletic League title as a junior, the program's first league crown since 2006. With most of their team back this spring under coach Arvin Persaud, the Crushers were in line for another strong season after winning the first three 18-hole VVAL tournaments.
Sports:
I played golf and I race dirt bikes.
Years on varsity:
Four years of varsity golf.
By the numbers:
Multi-time all-league Vine Valley Athletic League selection.
What was your reaction to the season being canceled?
I was kind of sad because it was right after one of my best scores in a tournament and I was just really looking forward to the rest of the year.
I was kind of in shock. I didn't think it was for real but then everything started canceling and it was just like, wow, there goes our school year and golf season.
What did you want to accomplish this spring?
I wanted to medal more than five times because last year I think I had four and I was just trying to beat that goal.
Where was the confidence level of the team to repeat as VVAL champs?
We were super confident. Every tournament we were ready to win. We all had good spirit on the team.
How has the coronavirus affected your life?
My everyday routines are different. I used to golf every day and now I can't. I'm definitely not going to be as good as I was because I haven't been able to practice.
With your routine interrupted, how do you spend your days now?
I've been going on a lot of hikes. But mostly I've been in quarantine, not doing very much except for dirt biking and hikes. There are a lot of trails around Napa for hiking, and I usually go out to Mendocino National Forest for dirt biking. There are some good trails out there. I've been dirt biking since I was about 10 years old and golfing since I was like 2.
How else have you been spending all your newfound free time?
I've been cooking a lot. I don't do much else other than hiking, dirt biking and golfing. But since I come from an Italian-ish family, half my family is Italian and they all know how to cook really well, so I've been learning from them. We're making pasta, ratatouille, lasagna, stuff like that.
Best memory from high school sports:
One of my best memories was playing in the rain at Silverado for one of our matches. I think I took the top score for our team. We came in first but one other kid won. But it was just overall a great day because I was just feeling successful after that huge storm in the rain. The greens were completely flooded and everything, but being able to come out and beat a lot of people with that factor was great. One of my favorite memories.
What you miss most about sports:
Just being able to compete with all my friends on the team. It's hard not seeing them after seeing them every day and golfing with them.
Summer plans:
Lots of golf practice, when courses open back up, and dirt biking.
Fall plans:
Just looking forward to going back to school because it's just weird not being in school right now. I think I might be going to Napa Valley College, but I'm also looking to go into the Coast Guard. NVC did also give me some scholarship money to play for their golf team.
Coach Persaud says:
Pierce is one of my favorite athletes I've coached. He hardly ever listens to me, but always showed up to compete and always gets the job done. He's extremely independent and a tough competitor. He does it his way. He showed up out of uniform for a tournament this year, then went out and shot 70. Told him "If you shoot 2-under, you can wear whatever you want."
Contact Gus via phone at 707-304-9372 or email at gmorris@napanews.com. Follow him on Twitter @JustGusMorris.
Get in the game with our Prep Sports Newsletter
Sent weekly directly to your inbox!