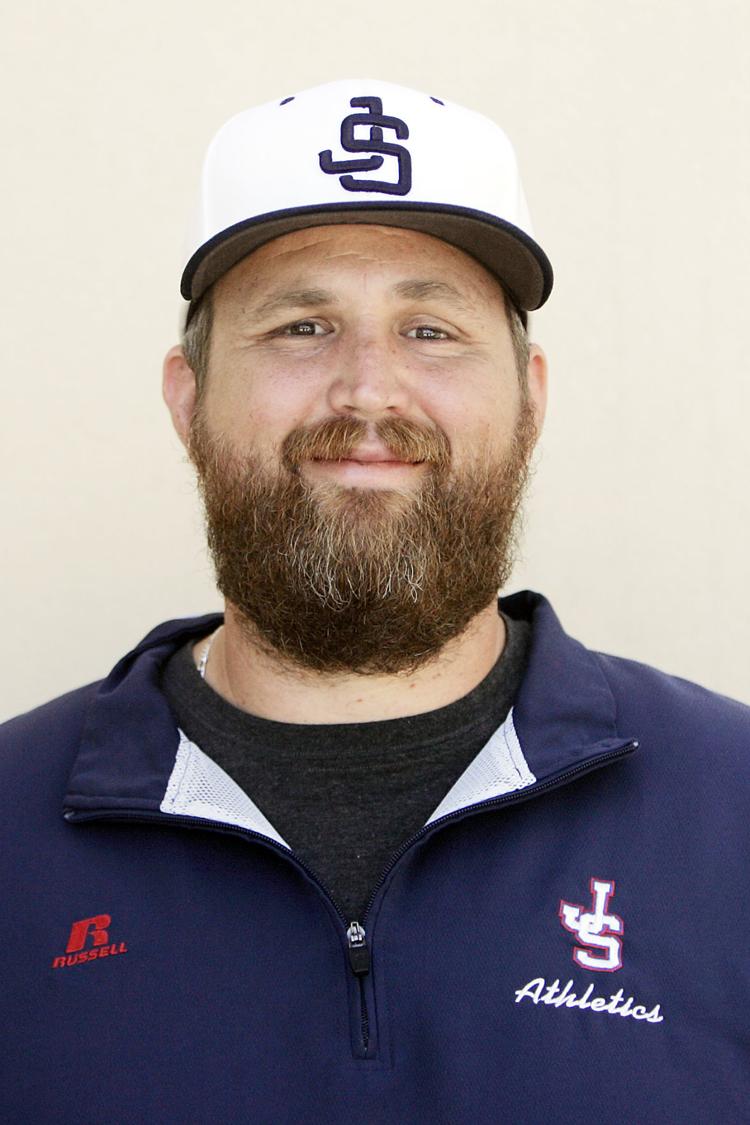 No one will be in full pads and there will not be any hitting or tackling to the ground. But it will still be football for Justin-Siena High School, which has spring practices this week and next week.
Head coach Brandon LaRocco will lead the Braves in such controlled drills, with each of the 10 practice sessions lasting for 2 to 2 ½ hours each day.
"Just footballs and cleats," LaRocco said over the weekend. "We're going to be working with bags and sleds. We can throw balls around, but no kind of padded work."
Just as it will be for all other schools, it shapes up as a short summer for Justin-Siena, which has official practices starting on July 31, in advance of playing a 10-game regular season schedule in the fall.
The Braves have a summer conditioning program, which goes Monday through Thursday each week, from 4-7 p.m. They will face other Napa Valley schools in a weekly 7-on-7 passing league on Tuesday nights. They will play in a passing tournament hosted by state and national powerhouse De La Salle-Concord. LaRocco is also looking to try and get his team into another tournament as well.
"It seems to be that it's just so early," LaRocco said of the schedule. "I think it kind of gives you a little bit more urgency of what you accomplish in the spring and the summer."
Justin-Siena has nonleague games scheduled against Piedmont, Healdsburg, Armijo and Hercules. This is followed by six games in the new Vine Valley Athletic League, which also has Napa, Vintage, American Canyon, Sonoma Valley, Petaluma and Casa Grande-Petaluma.
The Vine Valley Athletic League, which will be a member of the CIF North Coast Section and part of the Marin-Sonoma-Mendocino Conference, begins with the 2018-19 school year.
The CIF North Coast Section Board of Managers voted unanimously last year to approve a proposal to group Napa, Vintage, American Canyon, Justin-Siena, Sonoma Valley, Petaluma and Casa Grande-Petaluma into a league together starting with the 2018-19 school year.
Justin-Siena will be leaving the Marin County Athletic League. Napa and Vintage will be leaving the Monticello Empire League. American Canyon will be leaving the Solano County Athletic Conference.
"It's exciting," LaRocco said of the move into the new league. "We're looking forward to it. I think it should be a lot of fun."
Justin-Siena was 3-6 last year. The Braves lost in the first round of the NCS Division 4 playoffs, 35-0 to Moreau Catholic-Hayward.
LaRocco is pleased with the work that the players have gotten done in the weight room since the 2017 season ended. The staff will begin the installation of the base offense and base defense during the spring.
"We'll get out there and just kind of get fundamentals back under our belt and start to do the install, getting ready for the passing league," said LaRocco. "We've had a pretty productive offseason."
The Braves return all five starters on the offensive line: Christian Ramos Pedroza (center), Julio Lopez and Zachary Keefer (tackles), Colby Bates and Jake Shaffner (guards).
"They have a season's worth of games under their belt," said LaRocco. "They have worked their rear ends off in the weight room this offseason. I'm excited to see what we're going to be able to do this year. I think it's going to be a real strength of our team."
Justin-Siena also returns three other starters – Barrett Donohoe at quarterback, Conrad Say at running back, and Solomone Anitoni at slot receiver.
"We're really excited about what Barrett can do in this offense this year," said LaRocco. "I think he made some really good strides throughout the course of the season. We've got some weapons around him.
"We've got some guys coming up from the JV level that are pretty good, too."
Donohoe was selected by the Napa Valley Register as the Newcomer of the Year on the 2017 All-Napa County team. Donohoe completed 77-of-114 passes for 1,158 yards with 10 touchdowns and eight interceptions.
Say was a finalist for Offensive Player of the Year.
Anitoni was a finalist for Newcomer of the Year.