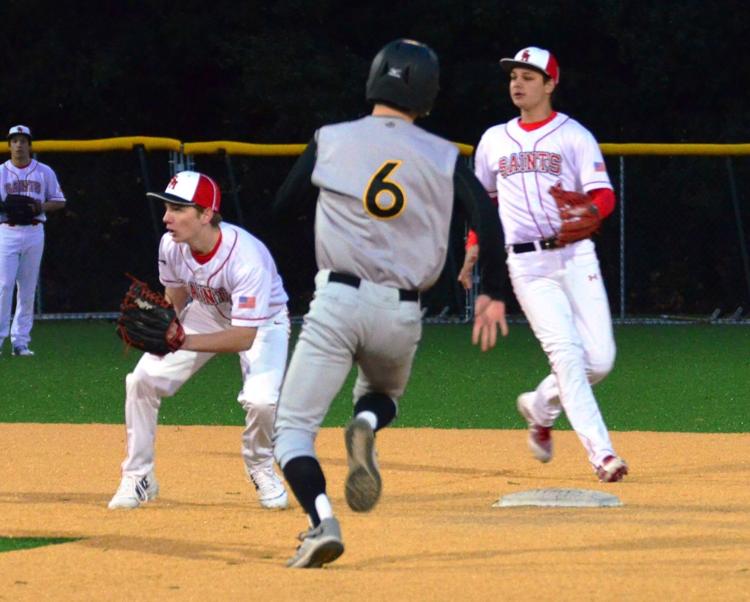 A simple rules violation – that was the difference in St. Helena making the playoffs last season.
The varsity baseball team had to absorb a forfeit instead of count its 9-8 win over Lower Lake when an opposing fan captured video of a blurry figure taking swings in the batting cages before a game and turned it into Coastal Mountain Conference officials. According to the league's constitution, teams aren't allowed to hold batting practice within two hours of a game.
The Saints went on to lose four of their next five contests and finished the season one game shy of an even record and, more importantly, they were ineligible for the playoffs.
Saints head coach Darrell Quirici was never able to identify who was in the cage that day or whether it was even a player in the program. For him, it was less about that incident and more about the uninspired play that followed, with the offense scoring fewer than two runs in each of those losses.
So this year the veteran skipper is looking to get in front of that kind of letdown from the start.
"That really stuck in my craw but you've got to earn it and I told them that," Quirici said at practice Friday. "It starts out here with hard work … We're trying to change the mindset and so far it seems to have worked. They've really come to life the last two practices and it's been bitterly cold out here. It's been tough. It's tough to stay focused when that wind is blowing and it's in the low 40s."
The Saints have also been cold in the win column so far. Through three games in 2018 they're 0-3, coming off back-to-back losses in games they led by multiple runs in.
The worst of that was Tuesday's 10-7 defeat at John Swett of Crockett, losing a game they once led 7-0 in.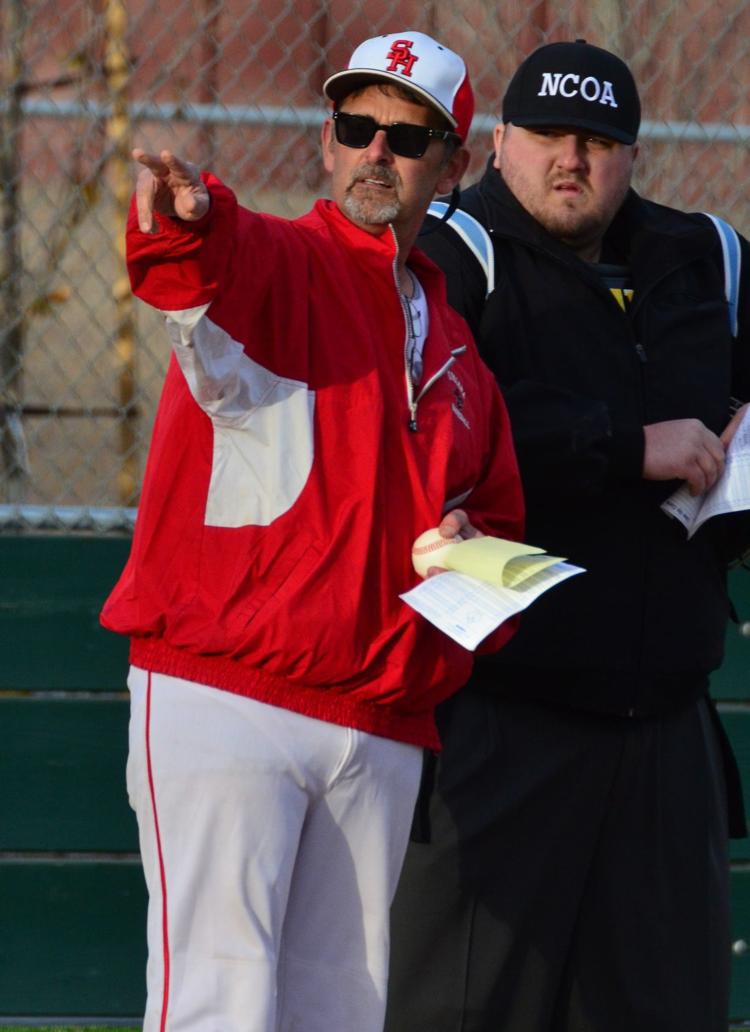 "We are working hard in the cage this year – harder than we ever have," Quirici said. "We'll see if it translates or comes to fruition. We're working on pitch selection. You want them to be aggressive but we don't want them swinging at the pitcher's pitch. They've got to get a good pitch to hit, and sometimes we've been not doing that … and we're working hard on situational hitting, trying to get them to understand the situation. 'Productive outs' is a point I'm trying to drive home."
For the seniors, putting together a strong baseball campaign means a lot. At a small school where many athletes play two or even three sports, tangible success helps separate one class from the next. Since the Saints failed to make the playoffs in football last fall for the first time since 2009, and then missed out in basketball for the fifth time in five years, a playoff run in baseball would be a defining accomplishment for this class.
"The failure definitely motivates us," said senior Stephen Collins, the team's No. 1 pitcher. "Just getting pinched like that definitely hurt us last year emotionally, and I think it really fueled us to become better players over the summer and in the offseason as well. I think for most of these guys it's their favorite sport to play, so I know they're definitely fueled already."
In addition to pitching, Collins will see time at catcher and outfield. Joining him in the senior ranks are Carlos Acuna (third base), Alex Kerr (first base), Alexis Velasco (outfield), and Casey Walker (left field, pitcher). Ryan Rockwood, the Saints' starting centerfielder, suffered a fractured tibia in Saturday's loss at Piedmont and underwent season-ending surgery the next day.
While the Saints will certainly miss Rockwood's presence in the dugout, the roster is deep enough to potentially overcome the loss. Juniors Kostas Kelperis, Eric Martinez and Luis Robledo are all available to man the grass.
The infield also boasts a brand new lineup. From left to right are Acuna, sophomore Caleb Granados (shortstop), junior Randall Mosley (second base) and Kerr.
When junior Jack Adkins has fully recovered from shoulder surgery for an injury suffered during football, he's expected to see a heavy dose of playing time as a pitcher and infielder.
Rounding out the roster are junior Zac Flood (pitcher, first base) and sophomore Caleb Jeske (catcher, pitcher), a 2017 All-County Newcomer of the Year finalist.
It's a versatile group with speed, power and developing chemistry on defense. But with so many newcomers, many of which are coming off a 16-6 season with the JV team, Quirici is hopeful the transition to varsity competition will be quick and painless.
"There's going to be a learning curve for them – I mean it's a different level of ball," he said. "Some of them are getting overpowered (at the plate) a little bit, but we're working on that."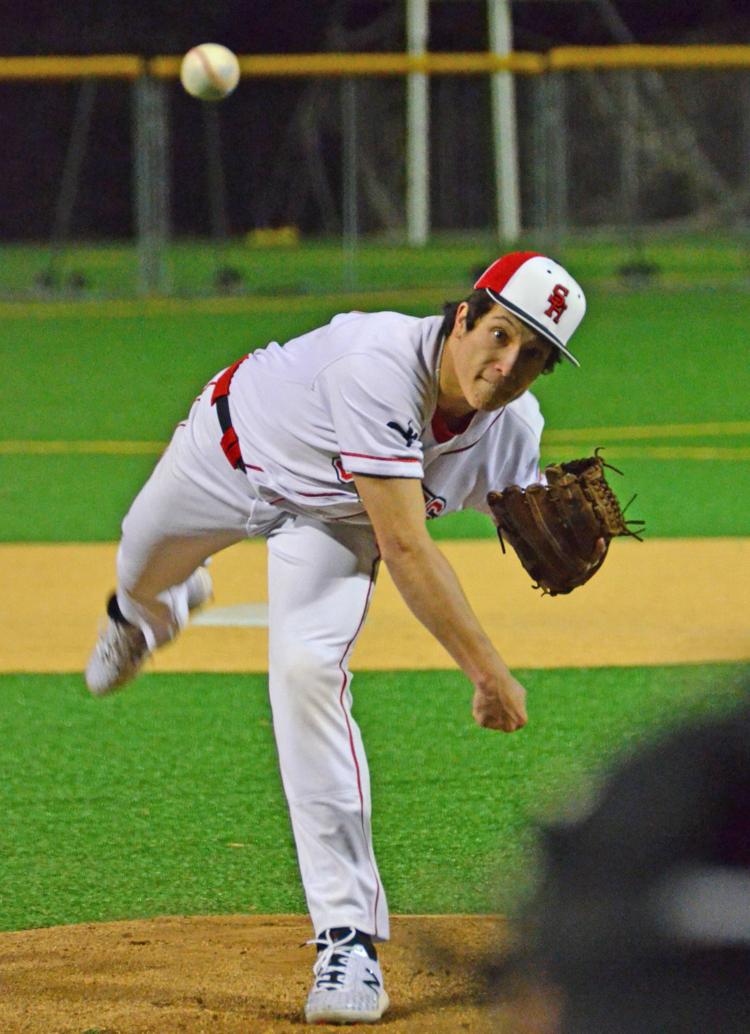 For Walker, who came up with this crop of players dating all the way back to little league, he's confident this team can be successful.
"I've been playing with these guys for years now, so I know what we're capable of," Walker said. "But with the right coaching, we can get it done with our skill."
Having a deep stable of arms will also be a welcome plus for Quirici. In addition to Collins, who has a perfect ERA through 10 innings, Walker and Jeske are expected to start games for the Saints. Available in the bullpen are Flood, Robledo and potentially Adkins later in the year.
Although based on the usage so far – just like the batting lineup – Quirici is still tinkering with his pitching.
"We've got speed, we've got changeups, we've got curveballs – we have lots of different pitchers who can do lots of different things, so we're deep," Walker said.
The North Central League I has been increasingly more competitive in baseball, with five of the eight teams winning 10 or more games in 2017 as opposed to just three in 2016. At the top is Kelseyville, the two-time defending champs, and the Knights are likely to contend once again.
But the Saints are hoping they can put up a fight. At a recent team meeting, they set lofty goals for themselves, and with a group of seniors anxious to leave their legacy and a young crop eager to prove their JV success was the foundation for more, the motivation is certainly there.
"We really want to go far in baseball this year because it's our last year as seniors. But I think the whole team really wants to," said Walker. "We set some goals about getting to playoffs, and a really high one of getting to win league, which is not really impossible but we could do."