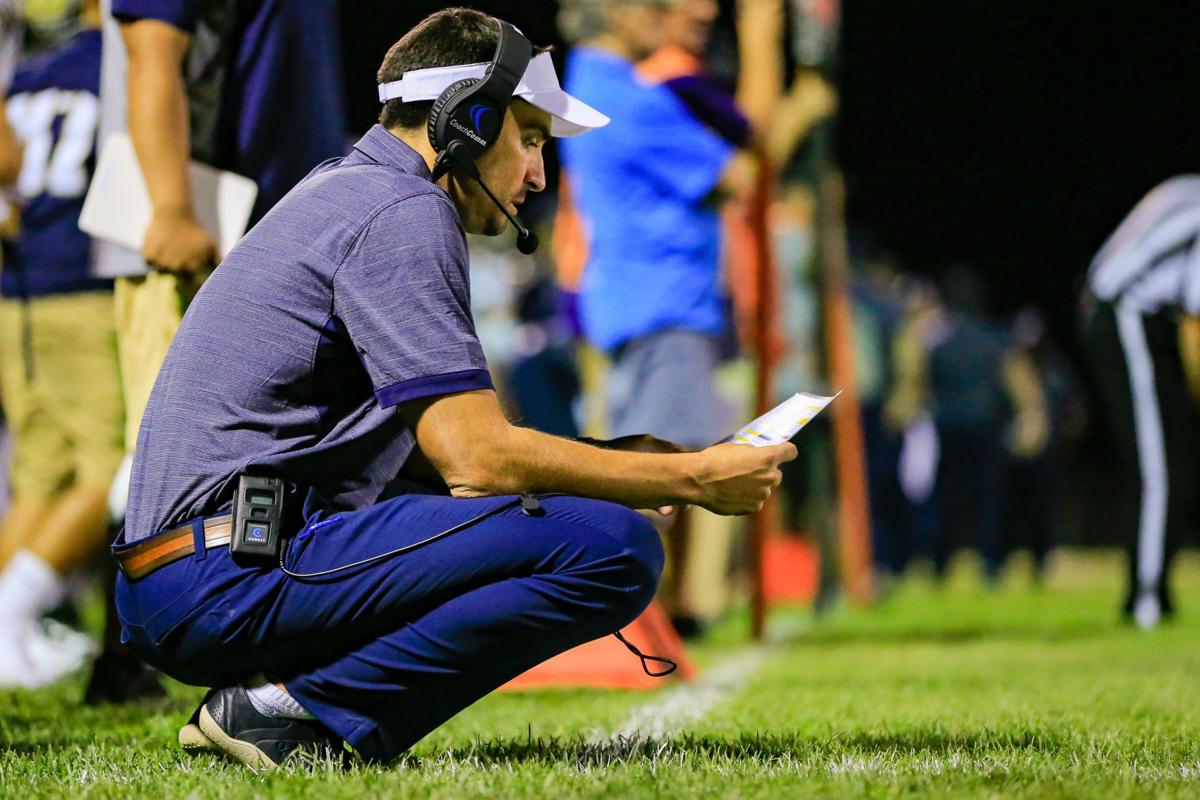 Patience and understanding.
Those are key elements in this wait-and-see issue regarding high school football playing out any time soon — here, there or anywhere.
We know this: Athletes are eager to reunite with teammates. Coaches want to guide the process and manage teams. A good many of these people are inherent competitors and idle mode simply doesn't work. Fans, parents, booster and backers are also invested, and everyone has an opinion on how safe it is to resume participation amid the coronavirus health crisis.
So when does the fun start again?
No one knows for certain anywhere in the land because COVID-19 is a mysterious deal, without precedent or a vaccine. It can be quite deadly, especially for those with preexisting conditions. Yes, teenagers are at low risk for dying, but what about their grandparents, or aunts and uncles — members of their support crew?
That's why prep sports, the NCAA and just about all levels of sports are inching back into the competitive arena. It's best to approach a bear cautiously before blindly barreling into him.
On Wednesday, the NCAA Division I Council voted to allow voluntary football athletic activities to resume on June 1, which is resounding good news after there were concerns not long ago about any college football at all.
As for the California Interscholastic Federation, the governing body for high school sports, the goal is to return to sports normalcy, but no one knows what that really means. This is still very much a fluid situation.. Never mind the speculation that hit Twitter and social media platforms this week that the CIF had decided and announced a plan for football to resume in September with no state playoffs. Bogus.
There is no such plan in place, yet. There is regular discussion between CIF director Ron Nocetti and the 10 section commissioners dotted across the state, a pool that includes some 1,500 high schools. Athletic directors across the state have met through Zoom online meetings to discuss the return to school and all sports. Everyone is on the same page of a cautious approach.
"We're putting out fires because some of the social media posts of a plan are completely false," Nocetti said. "I have no idea where people are getting information. It's a waiting game, and we don't want to rush into any decisions. We've seen some decisions made too quickly (in regards to counties across the state or country reopening too fast) and then a back track If we were pushed to make a decision right now, today, it would likely be a decision that not all would like. It remains prudent for us all to wait and see."
The CIF will not be influenced or driven by revenue or pressure. Some will read that comment and laugh as too many believe the CIF is only about financial gains and the heck with everything else. The CIF calls the shots for Northern and Southern California regional and state playoffs but it does not and will not step on the toes of individual school districts across the state on topics such as a return to practices and games.
Nocetti said it will be up to the principals of schools and superintendents to decide when high school sports facilities can reopen, which leads to the return of practices and games.
Here's what makes it tricky: hot spots.
In Los Angeles County, there is a shelter-in-place order until July. There are nearly 600 high schools in the Southern Section, the heart of that region. Some parts of the Bay Area also have COVID-19 hot spots. Not so much in Sacramento County, El Dorado County or Placer County, where the COVID-19 numbers are encouragingly low, all things considered.
Wheatland High announced Wednesday it has been given clearance by its district to start spring football drills next week. The Pirates of the Northern Section will jump at that chance, as will others in those small, one-high school towns, stretching to the Oregon border.
If this virus gets clobbered down during the scorching summer heat, there could be more divide and confusion. It can sizzle in Sacramento, Fresno, large parts of Southern California and right up through Siskiyou County. But what about San Francisco and up and down the coast, when it often gets colder in June, July and August with layers of fog?
It's likely that some parts of the state could have schools engaging in early summer sports drills while others do not. We could also see some schools with a full 10-game football regular season and a playoff slate while other parts may not have that luxury if the coronavirus numbers do not drastically decline.
Some parents across the state have considered moving their son to another state to play football. That's ambitious, and not always easy to move to Utah, Arizona or Texas, rent a place for several months and implement your son into new surroundings. But it's become that desperate for some to ponder it.
Bobby Piland Jr. is a powerhouse 6-foot-2, 275-pound All-Metro lineman for the Rocklin Thunder with a shock of blond hair that gives him a Thor look. He's a prospect who throws tires around in workouts as easily as he can gulp down a gallon of milk in one hearty setting.
This Thor is a junior, and junior seasons are when prospects rise on the national recruiting radar.
His father, by the same name, said, "I cant move out of state but I do have family and friends in Nevada and Texas. It's definitely in my head if needed. I can't have Bobby missing his junior season.
"This is ridiculous. The under-18 age group has the lowest risk of virus infections by far. My friend is a ICU doctor in Jersey. He says regardless of the news, it's almost non existent with kids coming in with COVID-19. If they do, all of them have preexisting respiratory conditions like asthma, chronic bronchitis, and cancer is a big one."
And a final thought from father Piland, "This (shutdown) is costing a lot of kids their futures. Kids that are on the cusp of earning a scholarship from baseball, basketball, football and other sports."
About 2 percent of high school students land full athletic scholarships. For a good many, these are their finals months or seasons of football.
In El Dorado Hills, 2019 Bee Player of the Year Justin Lamson has helped organize workouts — without coaches or athletic directors until a green light says go for that interaction to happen. At least it's something.
"This should be a busy time of year for us, even spring, but there's nothing," Oak Ridge coach Eric Cavaliere said. "Right now, we're not allowed to have any contact with players in person in a football sense, though we do Zoom meetings. We have kids doing their own thing with workouts and we don't know what days and times. It's their thing. Proud of them. We all want to get back to normal."
Get in the game with our Prep Sports Newsletter
Sent weekly directly to your inbox!