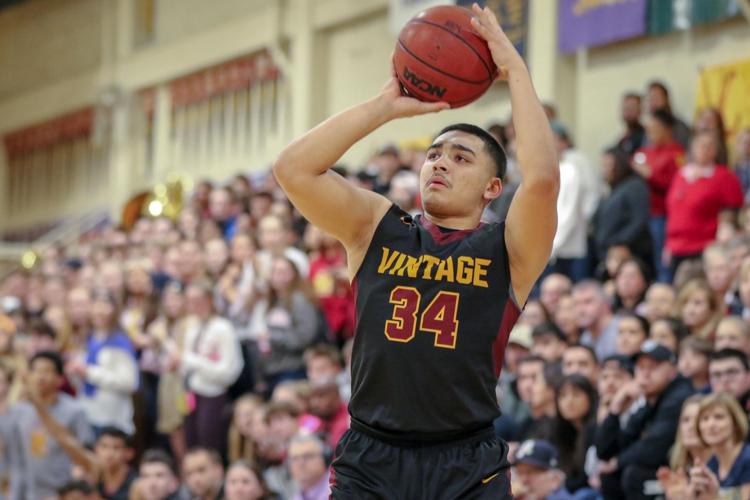 It was another Big Game, another packed house, another back-and-forth contest and, like their girls basketball team had done the night before, the Vintage boys outlasted Napa, 67-60.
It was the first Big Game and first Big Game win for first-year Vintage head coach Rob Johnson, and he was justifiably happy after his team improved to 11-10 overall and took over sole possession of third place in the Monticello Empire League with a 3-2 record.
"I'm really excited for the players and the school, and the fans that came out," he said. "It was a great win for us."
Napa head coach Zack Cook was gracious and philosophical, but it was clear he felt his Indians (9-13, 2-3 MEL) let this one get away.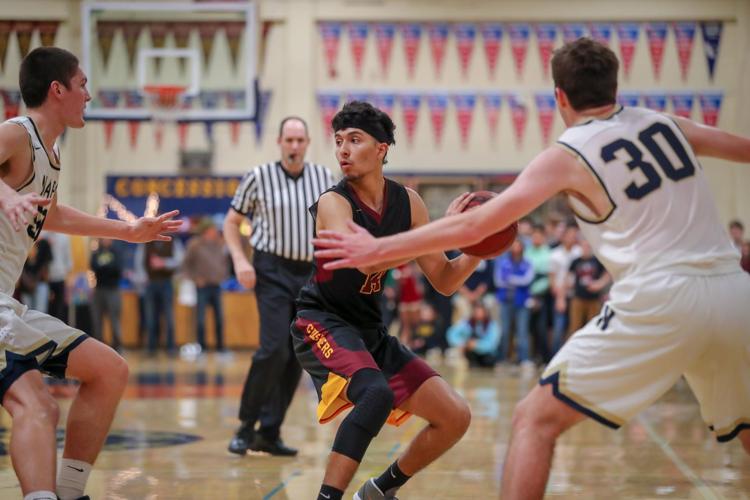 "All the credit goes to Vintage and Coach Johnson," Cook said. "He had them ready to go tonight, and a good game plan. We missed a lot of free throws and had some players get into foul trouble early, but give them credit. They played better than us tonight."
Despite the rollicking atmosphere at Messner Gym that only a Big Game can provide, the game was anything but a barnburner in the first half. Both teams looked nervous and cold from the get-go.
"I hoped and prayed that our 3-point shooters would get hot, and they did when it counted," noted Johnson.
Cook agreed that that made all the difference.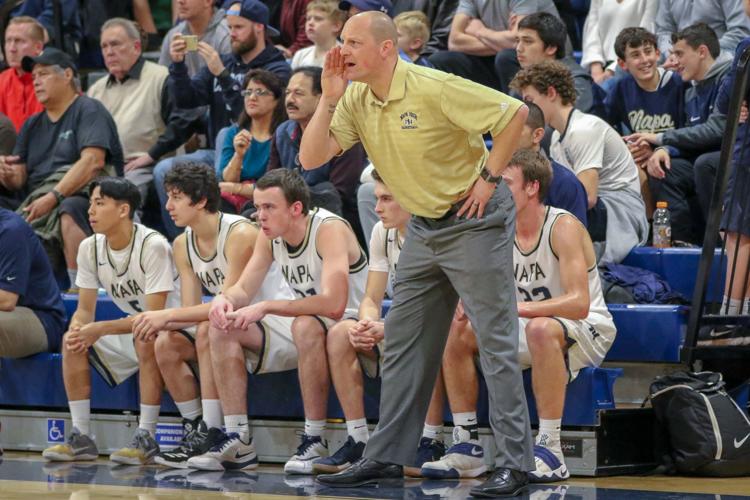 "They shot well from three at the end," he said. "They got hot, got confident, started rolling, and some guys had big games for them that we didn't game-plan for."
There's no doubt Cook was referring to Imani Lopez, a streaky substitute player for Vintage who went off in the second half and led all scorers with 23 – all after halftime. It seemed like Lopez was at the line the entire second half, scoring 18 points on free throws, and almost singlehandedly created the foul problems for Napa.
But the play of the game was Lopez flying in from the wing, soaring above Napa's tall timber for an acrobatic putback that incited Crusher fans to almost blow the roof off the venerable gym.
"Imani played a huge role in the fourth quarter," agreed teammate David Fernandez, "knocking down all those foul shots and getting their big guys in foul trouble."
In fact, Napa freshman Brock Bowers, usually a big contributor offensively, fouled out after scoring only a single point.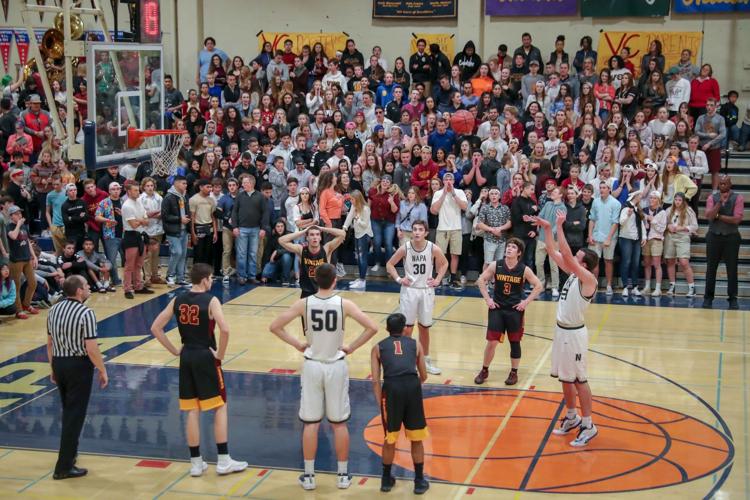 Johnson said a change in the Indians' defense set the table for Lopez.
"Once they switched to a man-to-man defense, I knew it was Imani time," the coach said. "He creates things like nobody else can."
Fernandez, usually the Crushers' top bomber from 3-point range, had an uncharacteristically cold first half. But he caught fire when it was money time, finishing with 13 points.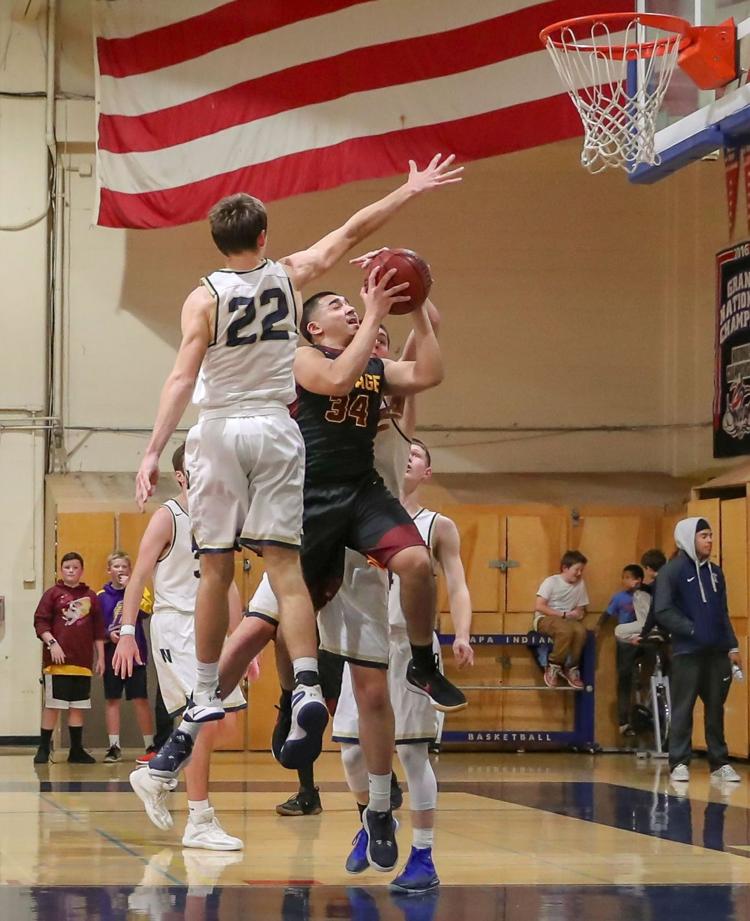 "The first half, the shots just weren't falling," Fernandez admitted. "My teammates kept encouraging me to shoot and so did my coach, and that gave me confidence. I got hot in the second half and then everyone was setting me up. When our shooters get hot, it's really hard to stop us. We go on a run and hit shot after shot after shot and destroy the other team's confidence. Then it's easy for us."
Although he led Napa as he usually does with 20 points, Joe Carnazola was not the sharpshooter he usually is. That forced him to drive inside, where he was often hammered by a tough Crusher defense. That gave him a lot of foul shots, but only eight points from the field.
"Joe had the flu this week, but he gutted it out," said Cook. "I had to leave him in almost the whole game because of our foul trouble. He'll come back strong. I'm sure of that."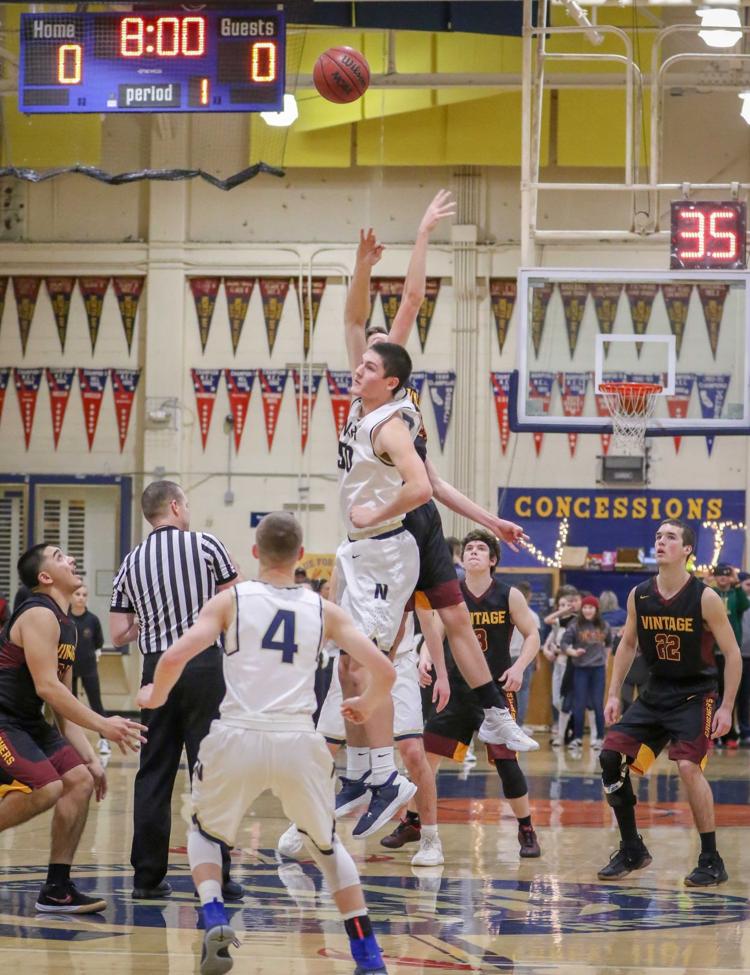 Teammate Stephen Blume, who chipped in 11 points, agreed that the Indians got outmuscled by the smaller Vintage squad.
"They were definitely the more physical team tonight and we don't like that," he said. "We want to be the physical team. We needed to match them, but we didn't. We knew they were going to 'D' up on me and Joe, but we just couldn't get going."
Blume also made an observation regarding Big Games that might not occur to some.
"The atmosphere is crazy because, even though you're at home, the crowd on the other side is going crazy too, and that kept Vintage going even when we were up by six in the third quarter," the junior said. "We knew it would be close at the end, and it was."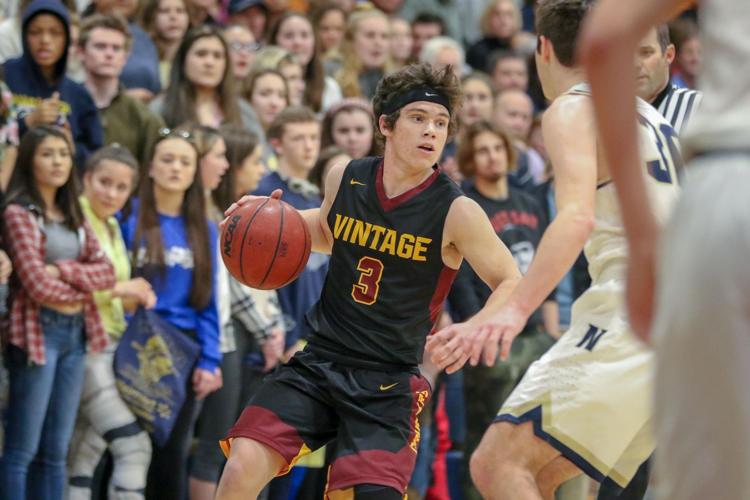 For the record, neither team matched the intensity of the crowd as Vintage led 11-9 after one quarter. The second quarter wasn't much better, with neither team able to take advantage of being in the double bonus, and Napa slipped past the Crushers for a 28-24 halftime lead.
Whatever was said at halftime didn't seem to turn the trick, and both teams went scoreless for the first three minutes of the third quarter.
Crushers guard Jared Rendon literally broke the ice, however, with a nifty reverse layup en route to a 12-point night. Both teams began heating up the rest of the quarter, but it was Vintage that walked off the court with a 41-39 lead.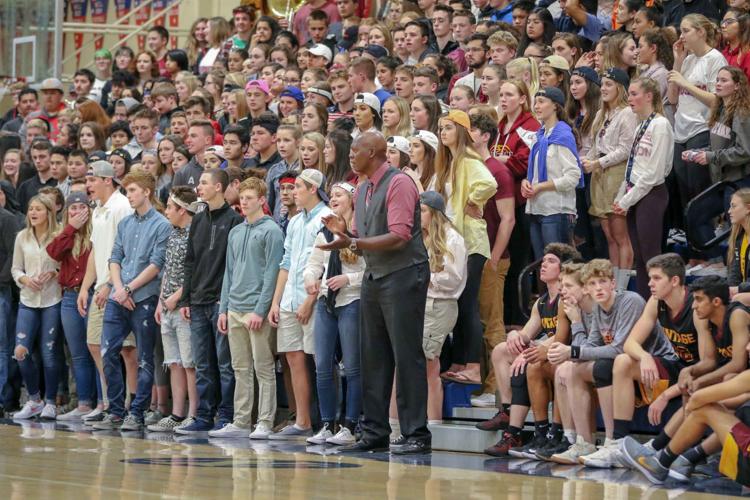 The fourth quarter was big in every way, and the Big Game finally turned into the barnburner the packed house had come to see.
Napa was game and wasn't going down without a fight. But the speedy Crushers, with their 3-point shooters and Lopez's free throws, seem to wear the Indians down. Despite that, Carnazola's gutty effort, and the way Mitch Hippauf finally commanded the paint despite four fouls, kept Napa within a shot of a tie right down to the last 13 seconds.
Unfortunately for the hosts, it was Vintage that had the ball and Napa could only foul the Crushers. They made their free throws to snuff out Napa's desperate comeback. Vintage scored 26 points in the fourth quarter, more than it had in the entire first half.
"It feels good getting my first varsity Big Game win, especially on Napa High's court," said Fernandez. "This will be a big confidence builder for us."
Napa's Blume was already looking ahead.
"We have half the (league) season left and three are home, which helps a lot," he noted. "And then we have a rematch at Vintage, which is almost like a home game. We'll try to get one back over there."
Also for Vintage, Hunter Gutierrez had seven points, Grant Polk four, Max Phipps three, and Damian Alfaro and Davis Chandler two apiece.
For Napa, Zach Swim scored 12 points, Blume 11, Hippauf 10, Alex Kokotas three, Charles Gravett two, and Sammy Morales and Bowers one each.
Napa visits Rodriguez (7-12, 1-4 MEL) on Tuesday in Cordelia for a 7 p.m. tipoff.
Vintage can move into a second-place tie with Wood if it can defeat the visiting Wildcats (14-7, 4-1 MEL) the same night.
Napa JV 48, Vintage 46
It may not have been the main event on Big Game Friday at the Messner Gym, but one wouldn't have known it from the noise of the competing cheer sections and the furious action on the court.
In fact, this may have been the best JV Big Game ever – especially if one asks the Indians, who pulled it out in the final seconds.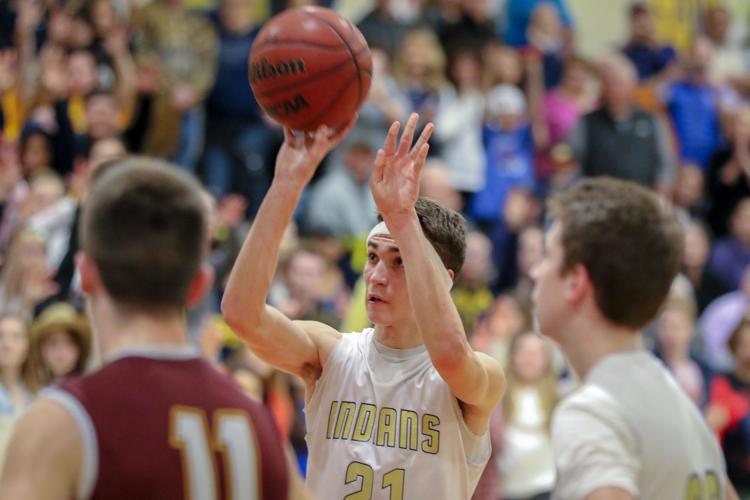 Behind throughout the fourth quarter, Napa suddenly got hot and, led by Brayden Greenlee with 19 points, tied the game on Greenlee's 3-pointer with only seconds to go.
It looked like overtime was a sure thing. But on the ensuing play, a fight for a loose ball under the Vintage basket led to a controversial foul call with 2.3 seconds left that sent Napa's Logan Van Zandt to the line with a chance to win it in regulation for the Indians.
Despite roaring from the Crushers' fans, and a Vintage timeout, he calmly sank two free throws and the Indians walked off unlikely winners.
When asked about the final foul, a happy Napa coach Brad Swim said, "I didn't really see it, but I'll take it." He jokingly added the comeback was "just as I drew it up."
Jack Guigere added 10 for the victorious Indians.
"That Napa ball club, give them credit," a disappointed Vintage coach Ben Goodman said after the game. "They didn't quit. The kid who hit the 3-pointer (Greenlee) and the one who hit the free throws (Van Zandt) at the end were big. It was a good, fun game to coach and for our kids to play in."
The Crushers were led by Josh Kho's 16 points and Logan Nothmann's 13.