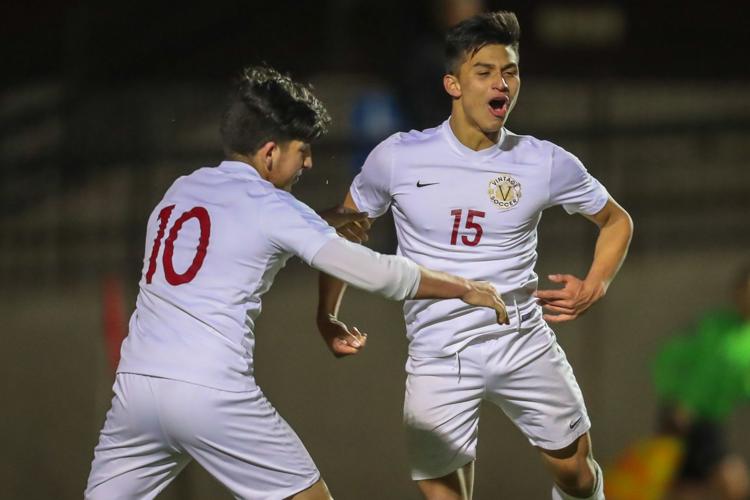 It wasn't a perfect run to the Monticello Empire League title for the Vintage High boys soccer team, especially when the Crushers had to play a man down twice, in a loss to Vacaville and in a narrow win over Rodriguez.
But that experience helped keep Vintage from panicking when it happened at the worst possible time – in its CIF Sac-Joaquin Section Division I playoff opener Tuesday night, where a loss would have meant the end of the season.
After Erick Cid received a red card, the fourth-seeded Crushers had to play 47 minutes with one fewer field player than No. 13 seed Franklin-Elk Grove. In the final minutes, Vintage center back Gustavo Maldonado was also benched with a red card, making it eight against 10 in the field.
But they not only held the Wildcats scoreless until the extra minutes, they managed to build a two-goal cushion that held up in a 2-1 victory on a cold night at Memorial Stadium.
"I feel like it shows our capability to win a hard match, playing with a man down and then two men down in a really physical match," said Oscar Loyola, who scored his team-high 20th and 21st goals of the season. "You've just got to work twice as hard to fill in for the missing man.
"We went through the whole season with the odds against us, but we just always pull through for the win. We need to carry this energy into the next game and throughout the whole playoffs."
Cid made one of his trademark crosses from deep in the left corner in the 26th minute, only to have a teammate shoot wide. Seven minutes later, he was ejected after a Franklin player went down near the sideline. Shortly after that, in the 35th minute, Loyola put the Crushers on the board on a cross from Jesus Gonzalez.
A few minutes into the second half, Maldonado made an amazing defensive play. When goalkeeper Gerardo Perez came out to grab the ball but didn't hang onto it, the Wildcats shot toward an unmanned net. But Maldonado jumped in the way, heading the ball safely away. Perez made a diving save soon after, but Franklin kept the shots coming with its numbers advantage. Two shots hit the crossbar, and another went just wide.
With five minutes left, the Wildcats' keeper couldn't hold onto a high pass into the box from Edgar Correa, and Loyola was there to slot it into the net for a 2-0 lead.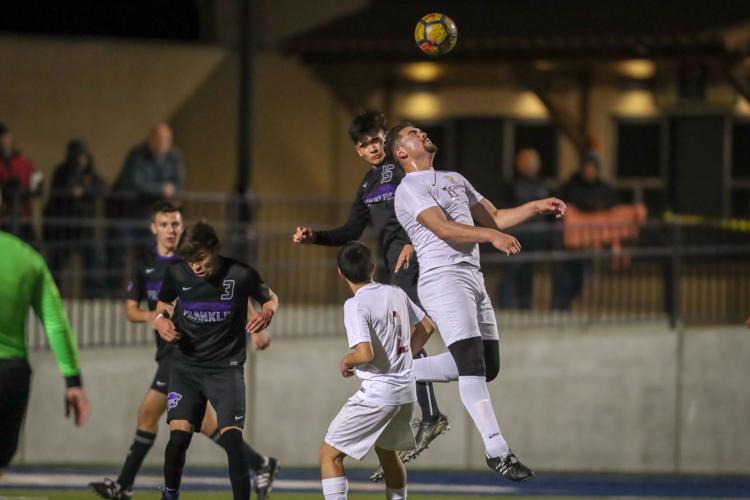 "I pressured the keep and he spilled it, and I beat him to the ball," Loyola said.
Vintage assistant coach Alex Feliciano was happy to see the Crushers looking for chances to score in the second half.
"When you're a man down, you don't want to play not to lose, get super defensive and start going into a shell, because then you're just inviting pressure," he said. "We wanted to make sure we pushed some numbers forward and attacked when the opportunity presented itself."
Three minutes later, Franklin scored on a powerful shot to half the lead. The scorer ran into the net to grab the ball and run it out to midfield to maximize the time his team would have to go for the equalizer. Vintage kept kicking the ball upfield, and twice into the stands. When Maldonado kicked it out of the stadium during stoppage time, he was ejected.
The final seconds were both chaotic and sportsmanlike. When a Franklin player went to the ground with a leg cramp, Loyola lifted the player's leg up to help stretch it before his coaches came to assist him.
In the end, Vintage celebrated the win while also knowing it would be without Cid and Maldonado for Thursday's 6:30 p.m. quarterfinal against 12th seed Edison-Stockton, which stunned No. 5 Enochs on penalty kicks.
"That's one of our best defenders and one of our best attackers," Loyola said. "But we've got a few players who can step up to the plate in those roles. We have a lot of depth. We want to keep the season going as long as possible."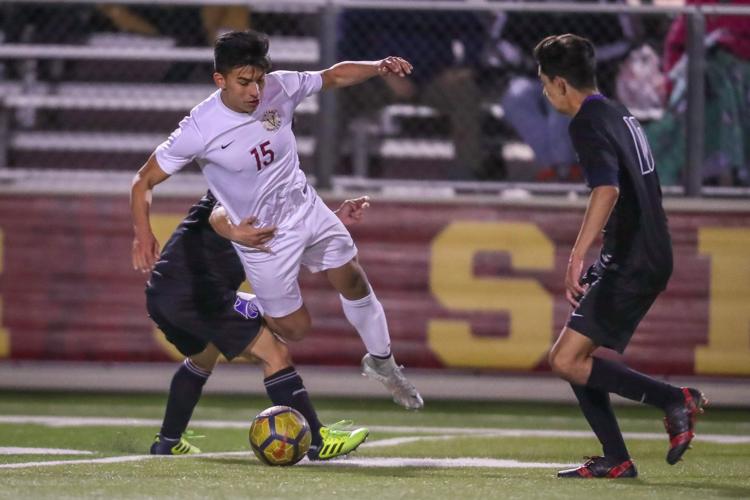 Feliciano said Franklin being seeded nine spots lower than the Crushers meant nothing when the Wildcats have to play powerhouses such as Jesuit and Davis in their Delta Valley Conference.
"You gotta respect the league that they come out of, and there are quality teams in the Elk Grove area," Feliciano said. "Once you get into playoffs, everybody deserves to be there. Seedings go out the window and regular-season records go out the window. It's a battle and you've got to take it one game at a time. The opponents are there for a reason and they're going to test you. We really got tested tonight, going down a man early. It's a test of character. These boys showed good resolve to see it through and we're proud of them."
Playing a man down make things interesting for not only the players, but also the coaches.
"You have to be very strategic with your rotations and tactically changing things around," Feliciano said. "We had to make sure everybody was on the same page and had their marks and were communicating. We have a lot of confidence in the depth of our team, from the last guy on the bench to the first guy up, he's going to contribute and be hungry and willing to do his part. That's why soccer is such a beautiful sport, because it's very team-oriented and takes everybody pitching in."
To be 2-1 in games where they were a man down this season seems to be Vintage's modus operandi.
"When the odds are stacked against you," Feliciano said, "do you run and hide, do you blame other people and make excuses, or do you suck it up and play harder, knowing that if we get the victory it's going to be that much more sweet?
"We have made it hard on ourselves, from not winning those first two league games to now. We like the drama. It gives us coaches headaches, but we're proud of the boys for their resolve and character."