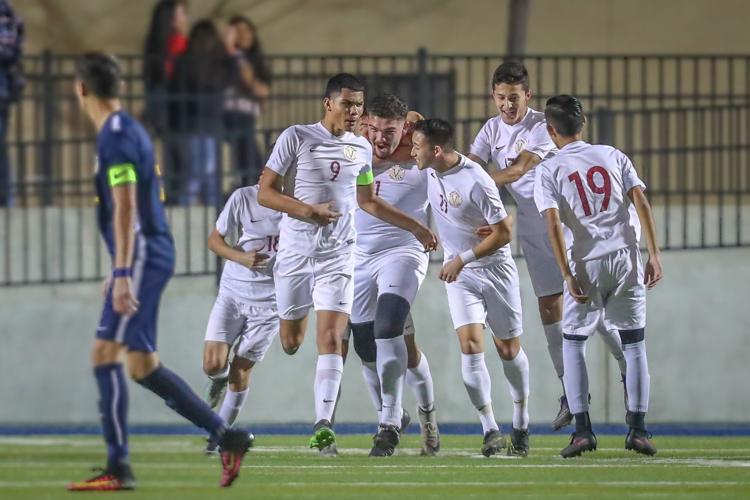 The 5-Minute Rule was in double effect in the Vintage boys soccer team's 5-2 Big Game win over Napa High on Wednesday night.
The theory states that 50 percent of soccer goals are scored in the first and last five minutes of halves, due to one team starting less focused, or being less focused while tired and waiting for the final whistle. But the Crushers scored all of their goals in those opening and closing five minutes.
"That shows we weren't poised, we weren't focused for those moments," Napa head coach Rogelio Ochoa said. "But we can learn from it."
It wasn't just one Vintage player who was on top of his game. Five different players scored for the Crushers (16-3-2, 6-1-1 MEL) as they clinched one of the Monticello Empire League's three playoff berths.
Ironically, it was Miguel Plancarte who gave the Crushers a 1-0 lead in the fifth minute, despite being one of seven Vintage seniors – along with Miguel Gallegos, Alex Cendejas, Gustavo Maldonado, Marco Manzo, Julio Leal Ruiz and Julian Vazquez – who were honored with family during a Senior Night ceremony beforehand.
Despite having blanked Napa 4-0 in last month's Big Game, Plancarte said the Crushers didn't come in overconfident. He said they had already learned their lesson in that with a 2-1 loss at last-place Vacaville in their second league game, following a tie against Armijo, that gave them a spartan 0-1-1 MEL start.
"We've turned it around since then," Plancarte said. "We knew this was going to be a tough game and we needed to be strong again. We knew we had to play a physical game to win. Our goal is to win MEL and we knew we had to beat Napa to get first place and have bragging rights."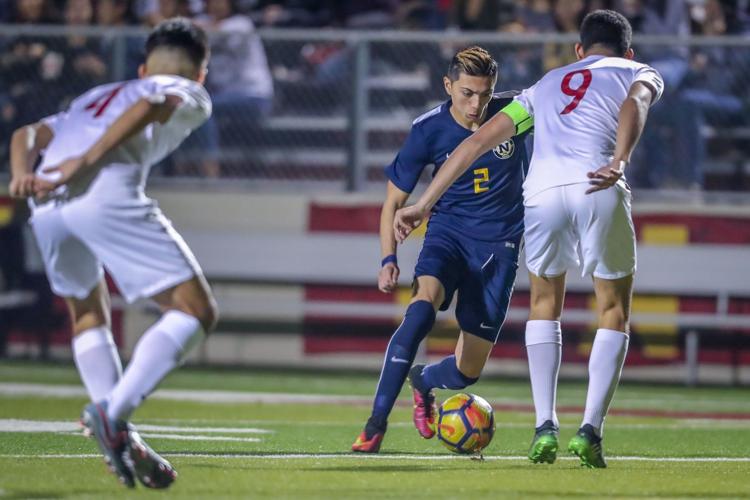 Napa High junior Juan Leon tied the score three minutes later. Leon got a long pass from sophomore Eduardo "Lalo" Blancas near the goal 10 minutes later, but shot wide.
Meanwhile, Vintage became the aggressor both defensively, with junior Eddy Gonzalez and Plancarte getting key steals, and offensively, with several corner kicks. The Crushers finally connected with about 30 seconds left in the half, when Edgar Correa banged in a cross from the right side by fellow junior Jesus Gonzalez for a 2-1 halftime lead.
"Edgar has been injured and he's been on and off," Vintage head coach Bernie Ochoa said. "Today I gave him a chance to play up top the last few minutes of the half. As a coach you take risks, try things you've never tried before to get the opposing team off their game plan. We threw different things out there and played everybody tonight. It's just guys being hungry and wanting to contribute to the team, especially being Senior Night."
Cendejas found the net in the first minute of the second half. Three minutes later, junior Oscar Loyola – who last month recorded the first boys Big Game hat trick in 15 years – converted a penalty kick to make it 4-1.
"Oscar has stepped up quite a bit," Bernie Ochoa said. "He's a hard worker. Just the way you see him in games is how he is at practice. He doesn't like to take plays off. He wants to become a better player."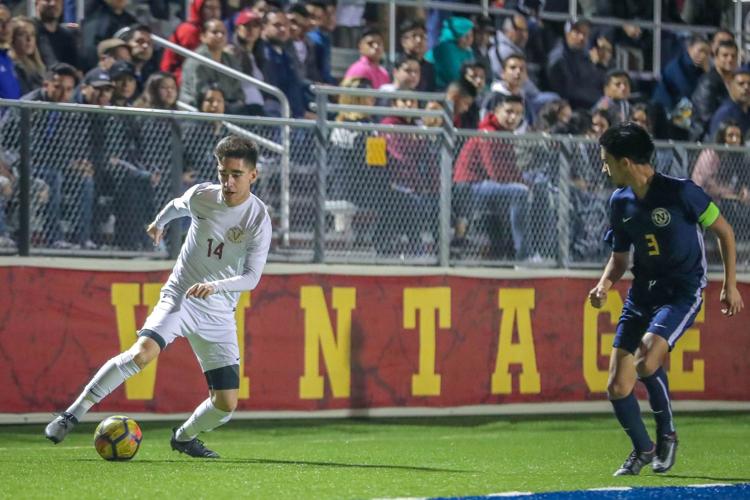 Napa finally answered in the 77th minute when junior Marco Ramirez caught the Crushers napping and found the left corner of the net to make it 4-2. Instead of celebrating, he ran into the net to retrieve the ball and get it back to midfield as quickly as possible to give the Indians more time to get back in the game.
But it was Manzo, the reigning Napa County Player of the Year, who capped the scoring – with the first Big Game goal of his career.
After appearing to convert a penalty kick by shooting to the left of Napa goalie Julian Sosa, Manzo celebrated by waving his arms and running in front of the Vintage bench and fans. The kick was not properly taken, however, and Manzo was forced to rekick. He put in the right side this time, and repeated his celebration.
"I've been waiting four years for this. I'd scored against every team except Napa and now I've scored two against them," the co-captain quipped. "There's not just one key player on this team. I think we're all key players, from starters to the guys on the bench and the coaches. We all play a role and if we stick together, everyone can score like that. If I could be on any other team I would still choose this team because we all play our part."
Manzo said the loss at Vacaville – still the Bulldogs' only MEL win all year – "kind of put a dent in our season, but we didn't want to let it ruin us. It can put a dent in your soul and chemistry and make you kind of second-guess things, but we stuck together and since then we've been rolling. I'm hoping we can keep playing like this."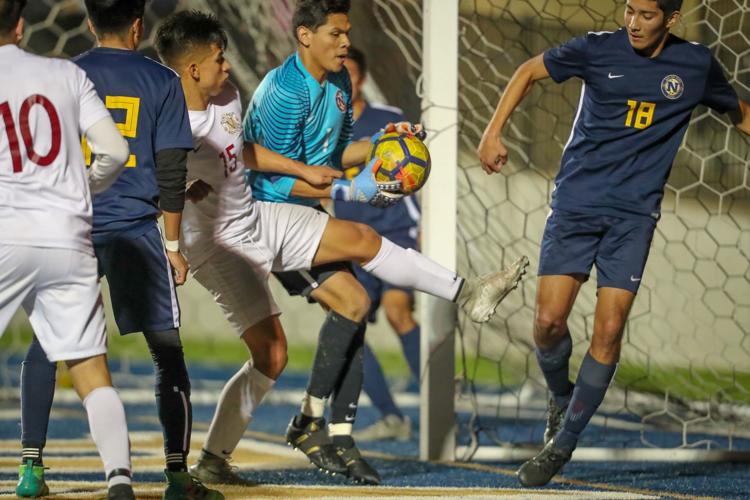 Even Bernie Ochoa's best Vintage teams have had trouble playing on Vacaville's grass field at Tom Zunino Stadium. His 2013 section semifinal squad's only league blemishes were a loss and tie at Vacaville, and his 2014 section champions had their only MEL loss there. He said the field is too small to play the Crushers' possession-oriented style and usually makes games come down to set pieces.
"And it got chippy there this year," he said. "Even today, we got lucky. We had three guys get injured, and Christian (Ceja) didn't play today because of a red card he got for dissent (against Vacaville on Friday).
"We were the underdog, in second place, so we told the guys 'Today is the championship game. We've got to get three points today, or at least a (tie) to keep pace and give ourselves a chance to win the MEL title.' That was the mindset and I think that's why we came out the way we did."
Blancas, who represented the United States and Mexico on under-16 national teams and played as a freshman for the Real Salt Lake Academy in Utah, finished scoreless in Big Games in his first Napa High season. He took several shots in the second half against Vintage reserves, but couldn't connect.
"He's a good player and you've got to respect him, but you also can't back down," Manzo said of Blancas. "Everybody's got to step up and be fearless and have the mentality that he's just another player."
After the Indians had a final shot attempt blocked, a shoving match erupted and players and coaches came from both benches to help break it up. It was over fairly quickly, however, and a few minutes later the teams shook hands as nothing had happened.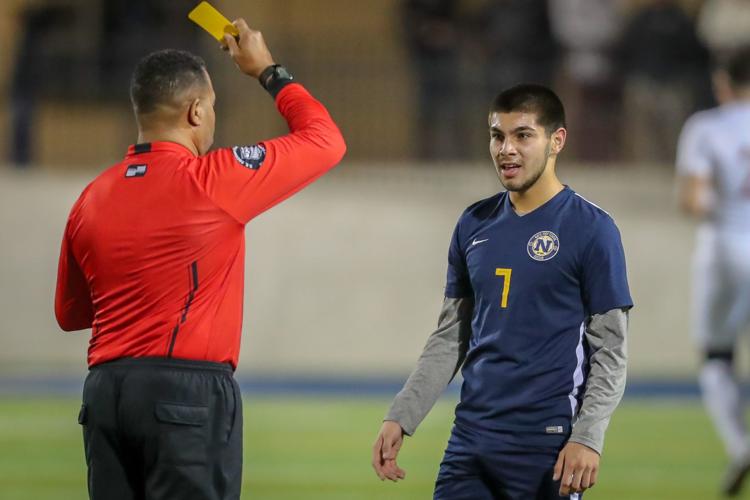 "The officials recommended we not shake hands," Rogelio Ochoa said, "but I said 'No, I trust my players.' It's a bigger picture than soccer. We're all going to be down, we're all going to lose matches, but we've got to show character. Real character comes you when you're at your lowest, and I thought the kids responded well. We had highs earlier this season, beating great teams like De La Salle and Davis, and today was a lull. But we'll bounce back and have more highs in the playoffs."
Before closing MEL play at Rodriguez on Valentine's Day, the Crushers will face Wood at Memorial Stadium on Monday – with the Wildcats as the home team, as their field renovations have not yet been completed.
"It'll be our 22nd road game of the year," said Wood head coach Jorge Ruiz-Chavez, a former Napa High player and head coach.
Napa (10-5, 5-2 MEL) dropped out of first place and now needs one more win, or a losses by fourth-place teams Vacaville and Armijo to clinch a playoff berth. After the Indians host third-place Rodriguez on Friday, they visit Vacaville on Monday and host Vacaville on Valentine's Day on their Senior Night.
Only two of Napa's seniors start. The rest of the starters should be back next year to try to solve the Crushers.
"It was just a mental block," Rogelio Ochoa said. "We're doing great this season (otherwise, in the MEL). We're outplaying and outscoring teams by a lot."
The Crushers have scored 22 MEL goals, and nine have been against Napa.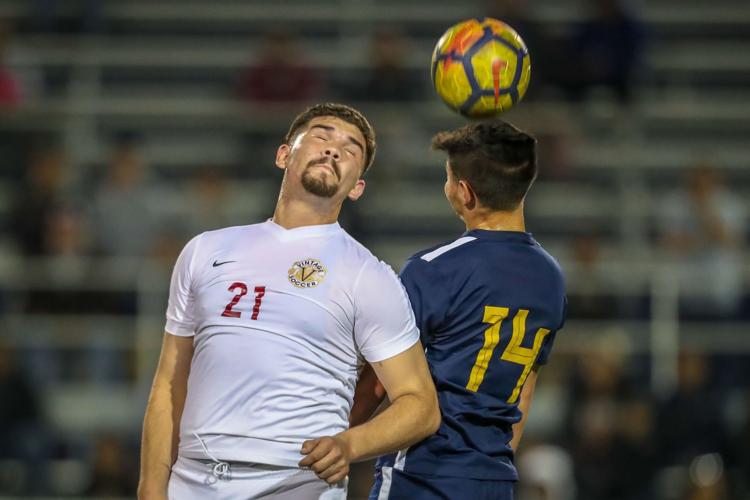 "They are barely getting by, winning 1-0, 2-1, 3-2 – not to discredit them, because they're getting the job done – but we haven't had an answer for them," Rogelio Ochoa said. "But it is what it is, and we'll move past it. We're looking to the playoffs; we've done great the last couple of years and I don't see why this year will be any different."
Since the last Big Game, Vintage had defeated Rodriguez 2-1 behind two Erick Cid goals, Armijo 3-2 on goals by Loyola, Cendejas and Christian Ceja and a Manzo assist, and Vacaville 1-0 on a Plancarte goal and Loyola assist.
Napa JV 3, Vintage 3
Marco Pizano scored two goals and Finn Stuhan had one for Napa.
For Vintage, Jorge Galvan, Anthony Enriquez and Enrique Saenz scored, and Jose Aviña added an assist.
After the last Big Game, which the Crushers won 5-1, Vintage blanked Rodriguez 6-0, getting two goals from Galvan and one each from Emmanuel Duran, Enriquez, Javier Barboza and Nathan Ramirez, and assists from Eric Javar, Aviña, Galvan and Duran.
They then routed Armijo 5-0, with Galvan, Pedro Avila, Enriquez, Jesus Manzo and Duran scoring, and Saenz, Ramirez, Jason Fuentes, Luis Mendoza and Angel Villasenor providing assists. They also beat Vacaville 3-1, with goals by Galvan, Villasenor and Ivan Chavez, and assists from Mendoza and Ramirez.