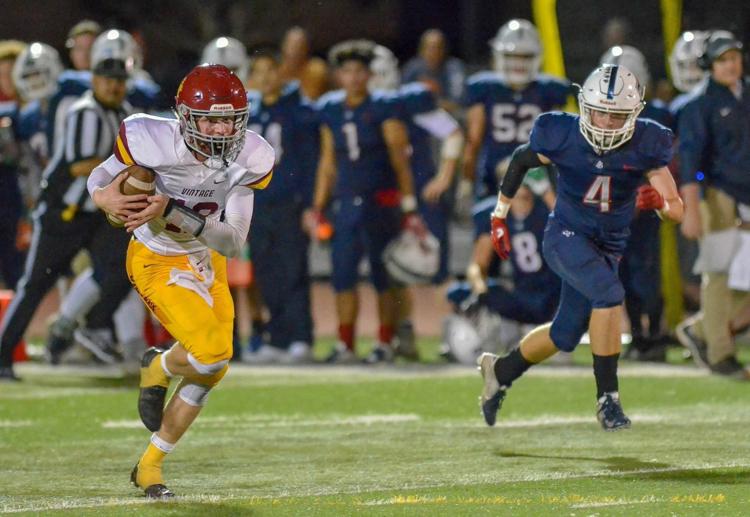 Vintage played its first-ever varsity football game against Justin-Siena and won in convincing fashion, 48-6, down the street at Dodd Stadium on Friday night.
The Vine Valley Athletic League matchup has been called the "Battle of Trower Avenue" due to the schools' half-mile proximity. To Vintage sophomore quarterback-safety Jacob Aaron, it's the "Little Big Game."
But there was nothing little about Vintage's performance.
With taller, heavier linemen across the board, the Crushers swallowed up Justin-Siena's overmatched fronts en route to a dominating performance on both sides of the ball and a 35-0 halftime lead.
Vintage (6-2, 4-0 VVAL) – ranked 25th in Northern California by Prep2Prep.com and MaxPreps.com – managed to amass 335 yards rushing while averaging nearly 14 yards per carry on the night. Justin-Siena managed only 108 yards rushing, netting 4 yards per attempt.
"The line did an amazing job this week, just like they've been doing every week," Aaron said. "Honestly we just have to keep doing what we're doing. We scored on almost every drive tonight."
Aaron wasn't lying. The Crushers scored on every single offensive drive save for their final one, which ended on a fumble in the fourth quarter long after their starters had taken their final snaps.
To boot, no Vintage scoring drive took more than six plays, showcasing an efficient offense currently unmatched by any other team in the league.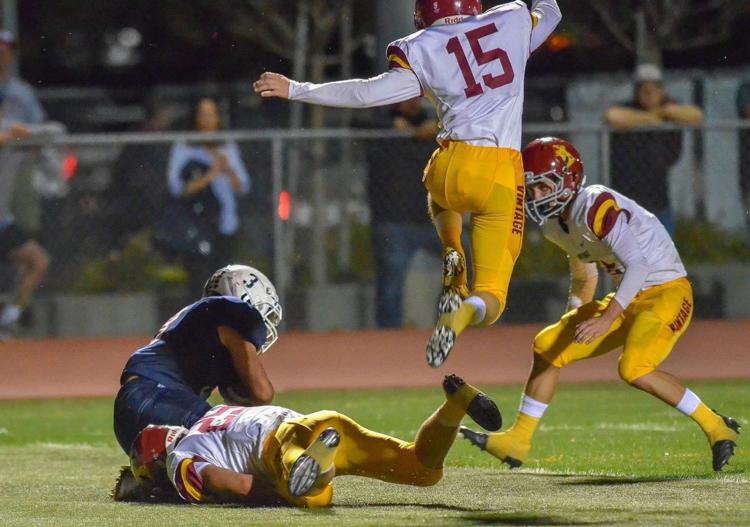 "Offensively, I think we are jelling," Vintage head coach Dylan Leach said. "The line is making the right calls, and (Aaron) is calming down and the game is getting slower and slower for him. We're making the right decisions and that's what it comes down to."
The Crushers were led by big performances on the ground from Viliami Schaumkel (four carries, 113 yards, two touchdowns) and Pedja Zivkovic (five carries, 92 yards, two touchdowns) and looked to be on the verge of scoring nearly every time they touched the ball.
Leach joked about the abundance of capable ball carriers at his disposal, saying, "I always tease Pedja that 'That's not a bad run for the sixth-best running back on our team.' If you watch film, you'll see that I could've ran through those holes. And that's a little tease to my skill guys right there."
Despite the dominance Vintage showed throughout the contest it was Justin-Siena that possessed the ball for most of the game.
Although the Braves (4-5, 1-4 VVAL) strung together a multitude of long drives, they were unable to capitalize with points until the final frame – when the game was already well in hand.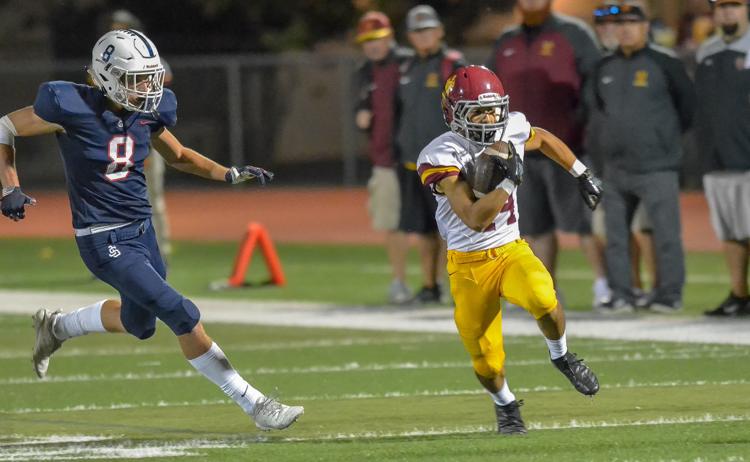 Their inability to punch it into paydirt was exemplified best during the game's opening drive. The Braves marched down the field across 13 plays, but still ended up punting in what Aaron called "the turning point of the game."
Said Braves head coach Brandon LaRocco, "We were trying to get first downs and I thought we did a decent job of that. But when we got first downs, we weren't really able to build upon that and punch it into the end zone."
Justin-Siena's offense was once again led by gunslinger Barrett Donohoe, who turned in a great performance despite scrambling for his life on seemingly every other play.
Doing his best impression of Fran Tarkenton, Donohoe avoid enough pass rushers to complete 17 of 26 passes for 152 yards and a touchdown. He took three sacks on the day, but that number would've been much higher had Barrett not possessed such keen escapability.
"I think a lot of that comes from playing scout quarterback," LaRocco said. "You know, when you're playing with a scout offensive line against the starting defense, you tend to just learn how to do that kind of thing. To his credit, he's very good at it. His little spinout move is very good."
While Donohoe impressed with his arm and his pocket presence, Aaron managed to make his presence felt on offense, defense and special teams.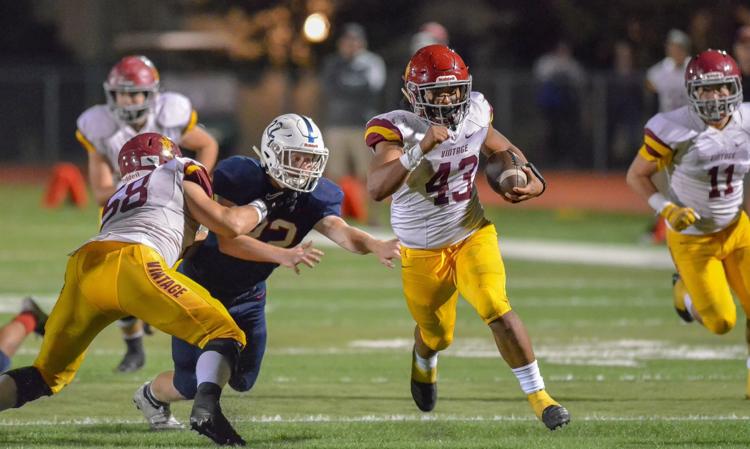 He put up modest offensive numbers, 2 for 5 passing for 44 yards while rushing thrice for 26 yards and a score. But the box score doesn't do Aaron's performance justice, as he was on point with his reads all night on offense and defense.
While Aaron typically scores on the offensive end, he made his presence felt on the less glamorous side when he picked up a botched field goal attempt and returned it 58 yards for a score to put the Crushers up 20-0 early in the second quarter.
"I honestly didn't think I was going to get (the ball)," Aaron said of his touchdown return. "I thought 'I'll just keep going and maybe I'll get it.' I ended up getting it and I saw a shadow and thought I really had to keep running, but it was just my own teammate."
As Aaron continued, senior teammate Caymus Barrett rushed over to heap praise on the young signal caller.
"This dude is a beast," Barrett interjected, pointing at Aaron. "Just wait until the kid is a senior."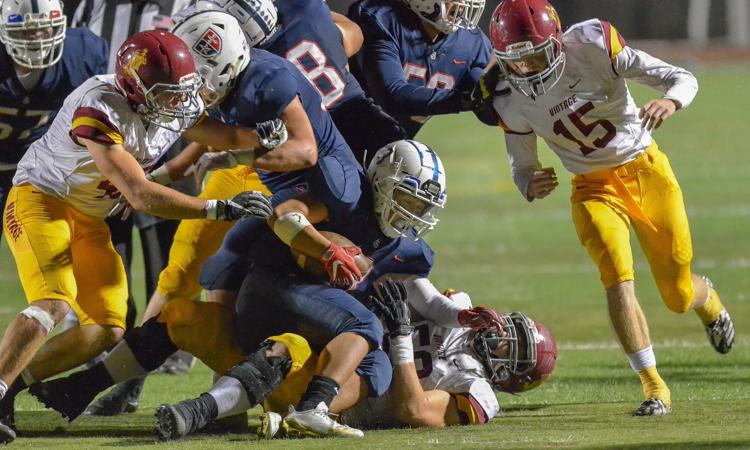 While it's hard to forecast what kind of player Aaron will be with two more years of Crusher football under his belt, it is obvious that he has improved consistently since he took over in Week 2.
Vintage's focus now turns toward next week's home bout against Sonoma Valley – a team that shut out Justin-Siena 6-0 – before wrapping up the regular season against Napa.
"It's one of the best defenses we'll see all year," Leach said of Sonoma Valley. "I mean, you look at their scores and they've been absolutely nails on defense. We expect that to be a playoff-caliber defense that we're going to face. We're looking forward to that matchup to matchup with those guys and see what we're worth."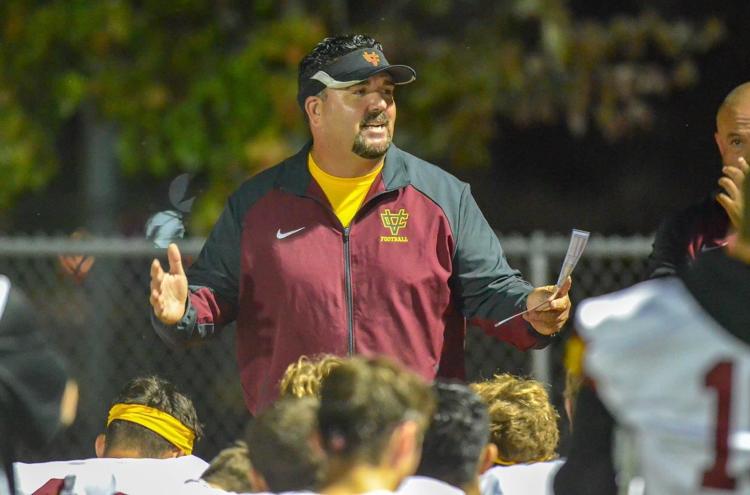 Meanwhile, the Braves will have a long-awaited bye week before they host American Canyon and, according to LaRocco, it couldn't come at a better time.
"We need to get healthy," he said. "We're missing a lot of guys right now, and a lot of guys on defense that are key players for us. This is a very late bye week, Week 9. I've never had a bye week this late. So to me, we need to get healthy and focus on our fundamentals."
Vintage JV 48, Justin-Siena 6
The Crushers improved to 8-0 with a dominant road win Justin-Siena, finishing with the same exact score as their varsity schoolmates.
Vintage was dominant on both sides of the ball; scoring touchdowns on its first six drives en route to a 41-0 lead with 3:26 left in the first half.
Bill Chaidez got things going for the Crushers early with three first-half touchdown passes. The quarterback opened the scoring in the first quarter when he found a wide-open Sam Neal on a slant route for a 20-yard score.
Two plays later, Nick Schuttish got the ball back with an interception and the Crushers rewarded him for his efforts, calling his number a few snaps later for a 12-yard touchdown off a tight end pop-pass from Chaidez.
After Roberto Rojas came up with another Crusher interception on the next drive, it was Reid McCaffrey's turn to get involved on the offensive action. The hybrid receiver-wingback faked right and then took a counter off left tackle, finding daylight on his way to a 42-yard TD scamper.
A few minutes after an Ian Avalos interception, McCaffrey scored again on a 21-yard touchdown pass from Chaidez.
While Vintage had already amassed a 27-0 lead, it wasn't done with its first-half romp. Edgar Navarro and Avalos also scored rushing touchdowns to give them a 41-0 halftime lead.
Justin-Siena avoided a shutout with a 67-yard touchdown pass from Hudson Beers to Noah Young in the third quarter. But the Braves were unable to rally any further and dropped to 5-4 on the season.