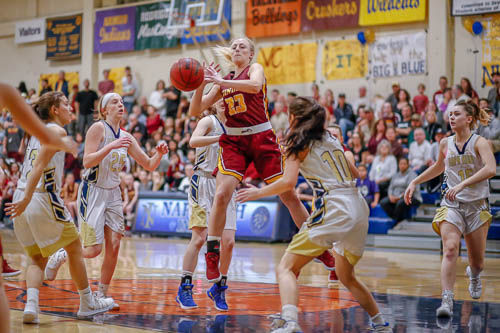 The visiting Vintage girls basketball team ruined Senior Night for Napa High and kept its Monticello Empire League title hopes alive Friday night by outlasting the Indians in another hard-fought, back-and-forth Big Game, 39-31.
The Crushers (17-9, 7-2 MEL), who are tied for first place with Rodriguez and Wood, can secure their first league championship since 1985 with a win over Armijo in their Senior Night Game on Tuesday.
"One more victory and we win the league for the first time in 33 years," said excited Vintage junior Nicole Gleeson.
The Crushers' defense shut down Napa (10-15, 4-5) most of the night. Only Carly Johnson, with 10 points, was able to break double figures for the Indians. Their lone senior and top scoring threat, Malia Blackmon, was held to six points on two 3-pointers after being honored before the contest.
Meanwhile, the Crushers' hard-working Kate Ilsley made the Big Game her best with gritty, game-high 14 points.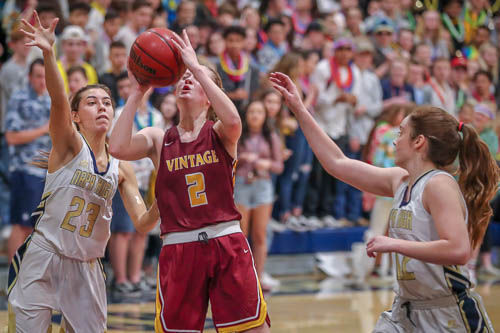 "We've been talking since June about the relentless pursuit of our goals," said Vintage head coach Joe Donohoe. "We have to take care of business Tuesday night. It's been 33 years since we've hung a banner in our gym, and whether it's champ or co-champ, we'll take it. The girls are the ones making it happen. I'm just here to help them along."
Napa head coach Darci Ward said she felt confident at the start of the game.
"Our team was super confident. We started off super, super strong, so it was definitely a bummer to lose," she said. "We had so many shots go in and out in the second half. That would have made a big difference. This has been a tough year. I love coaching this team. They always put in a good effort."
Ward felt especially bad for Blackmon.
"Malia is the heart and soul of our team, so this was a tough loss for her," she said.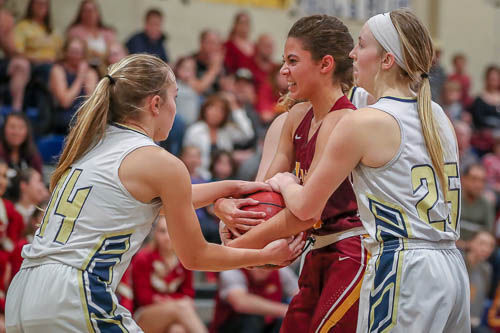 "It's very bittersweet, my last Big Game, and we didn't get the result we wanted. It wasn't my night for shooting, but we all put our hearts into this one. I thought we could win this game, but the ball wasn't going in. It is what it is."
Gleeson, a hard-working player for Vintage who doesn't always get the credit she deserves, stepped up with eight points, several blocked shots, and rebounds aplenty for the Crushers.
"It's the best feeling ever, knowing how much we've accomplished this season," the junior said. "We prepared hard for this game. I spent all day thinking about it. That was a great win for us. We started off a little shaky, but we were confident we would win."
"Nicole is a dynamic athlete and she had a great game for us," Donohoe said. "You have to be a certain kind of player to do well in a game like this. Napa plays tough defense and you have to be strong with the ball.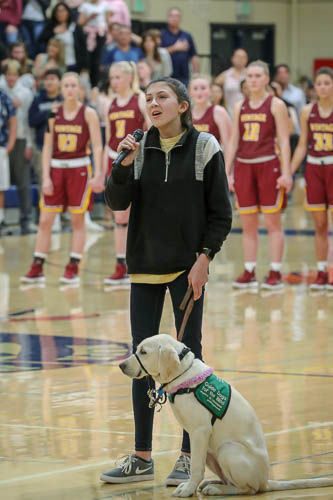 "Alyssa (Andrews) and Bailey (Loban) have been sick and were nowhere near 100 percent, but they ground through it, and Kate (Ilsley) was awesome tonight. We try to play harder on defense as the game goes on and that's been our recipe for success this year. Maya (Sapienza) went in and played phenomenal defense for us."
Both teams took the Messner Gym floor looking excited and a little nervous. With bands blaring and fans screaming, no one could score until Anna Ghisletta drained a long two for Napa with 6:30 to go and Ilsley answered for Vintage with two free throws.
But the speedy Jane McLoughlin found nothing but net from the wing and the Indians were back on top. Siena Young scored on a putback and Ghisletta threaded a nice pass to Young for an 8-2 lead, and Napa had its home crowd going big-time with an 8-2 lead.
Donohoe wisely called a timeout with 3:26 left in the quarter to regroup. Vintage had good chances and inside looks, but the ball was just not dropping despite the Crushers breaking Napa's man-to-man full-court press repeatedly.
Finally, Ilsley knocked down a putback for the Crushers' first field goal with 1:59 to go. Megan Kuehl followed with a driving lay-up and Alyssa Andrews, the Crushers' leading scorer on the season, got on the scoreboard and the Crushers were within 10-8. But Johnson answered from downt0own and allowed the Indians to leave the floor at the buzzer with a 13-9 lead.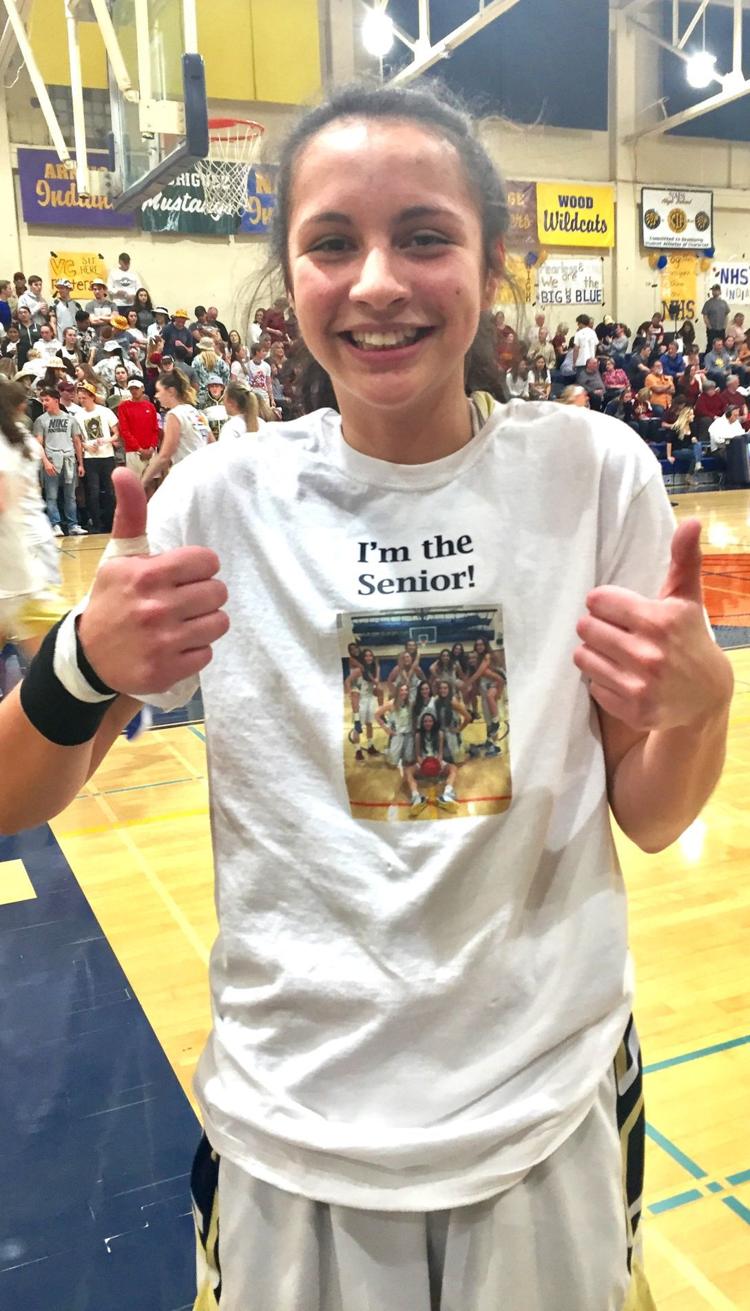 Ilsley was having her way underneath and scored from close range and Nicole Gleeson turned on the jets to score on a fast-break to tie the score 13-13 early in the second quarter. Blackmon finally connected from way beyond the arc to put the Indians back on top, 16-13. The tall, slender Gleeson showed her speed again with a coast-to-coast bucket to bring Vintage back within two.
The next few minutes were scrappy with lots of missed opportunities, and not a lot of scoring despite both teams being in the bonus. Jenna Baker finally extended the Napa lead to 19-15 with a three-point play of sorts – a made free throw followed by a putback of her missed second free throw.
But the Crushers came back and shocked the Indians with the last 10 points of the quarter – two buckets apiece by Andrews and Ilsley, and a fast-break jumper by Bailey Loban at the buzzer. Napa had to be wondering what had happened as Vintage left the floor with a 25-19 lead after a first half largely controlled by the Indians.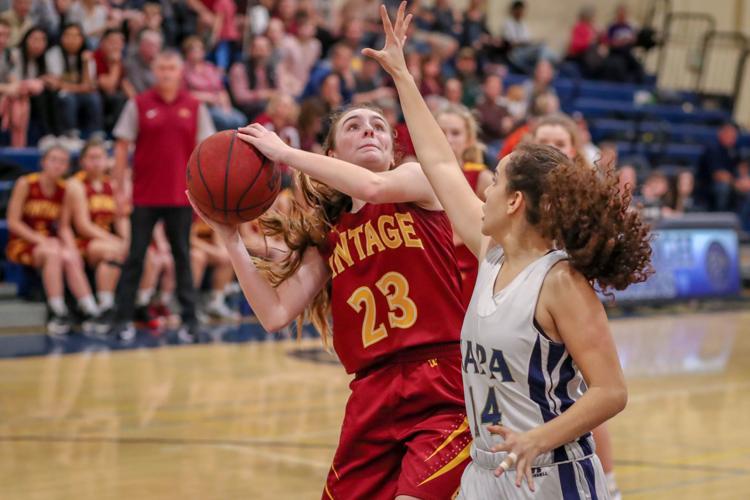 Napa came out fired up in the third quarter and Johnson nailed a three to cut the Crushers' lead in half after a scramble for the ball under the Indians' basket. Donohoe again called a smart timeout to settle his troops down and stop the Napa momentum.
Vintage slowed the Indians but went a long time with little to show for it, until Loban hit a big three to make it 28-23 with 3:25 left in the quarter. Blackmon answered with another long three for Napa and fans were hoping she would catch fire, as she often does, but it was not to be on this night. Still, Napa was far from done. Young tied the game at 28-28 on a nice inside move and the faithful were screaming full throttle with two minutes left in the third.
But Vintage answered back with five straight points, courtesy of buckets by Ilsley and Gleeson and a Loban free throw, and the Crushers' lead was back up to five as the quarter ended, 33-28.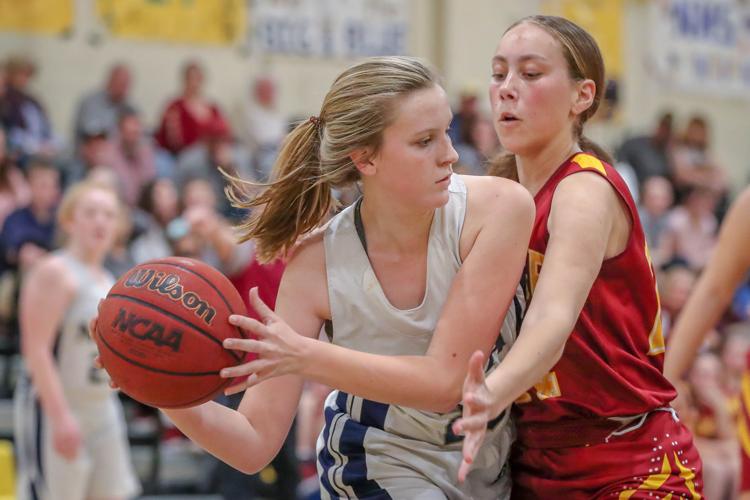 The fourth quarter in the first Big Game two weeks before had been an absolute thriller, but the final stanza in this one was a bit of a dud, with Vintage managing only six points and Napa just a long 3-pointer from Johnson. Gleeson had the last word for Vintage with a driving layup and it was the Crushers taking both Big Games from Napa in 2018.
Vintage's only scorers were its five starters. Along with Ilsley's 14, Andrews scored nine, Gleeson had eight, Loban chipped in six, and Kuehl rounded out the scoring with two.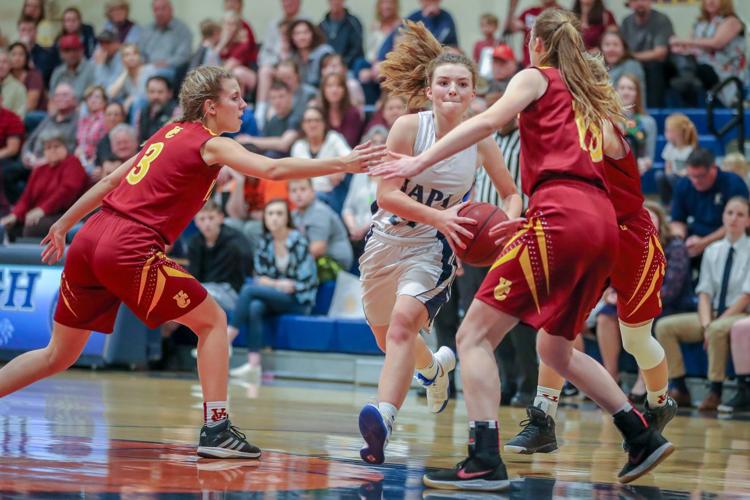 For Napa, along with Johnson's 10 and Blackmon's six, Young scored eight, Baker had three, and McLoughlin and Ghisletta each chipped in two.
Napa will finish its season at Wood on Tuesday and try to avenge last month's 57-54 home loss to the Wildcats.
"We have one more game on the road," Blackmon said. "I'm hoping to have a good one. It's my last game for Napa."
Vintage JV 37, Napa 31
The Crushers won a hard-fought game and split the season series with Napa. In a back and forth game, Vintage broke it open in the fourth quarter.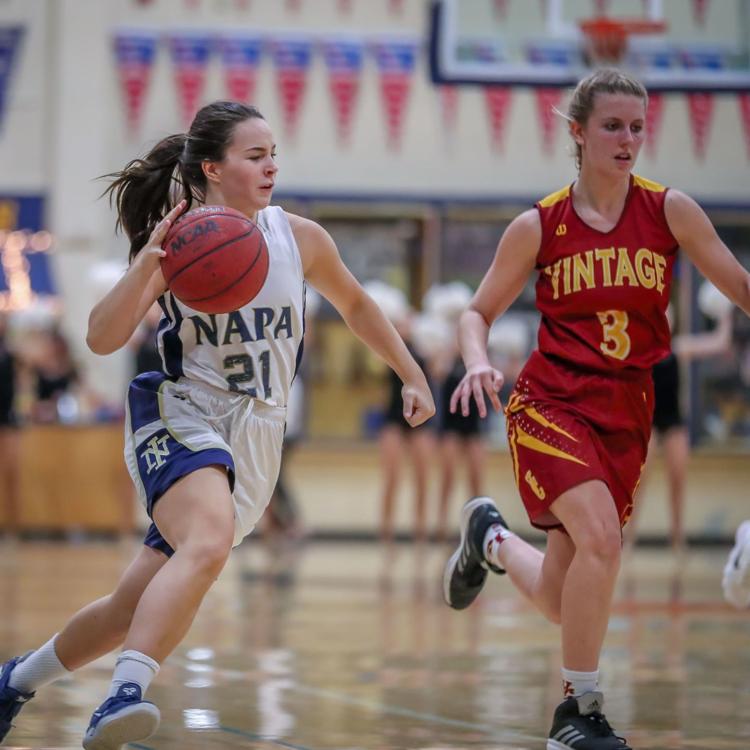 Victoria Solorio led the Crushers with 10 points and eight rebounds. Toni Dodson added seven points and six rebounds, Ellie Savage five points and seven rebounds, Perla Bautista five points, and Gabi Richardson four points.