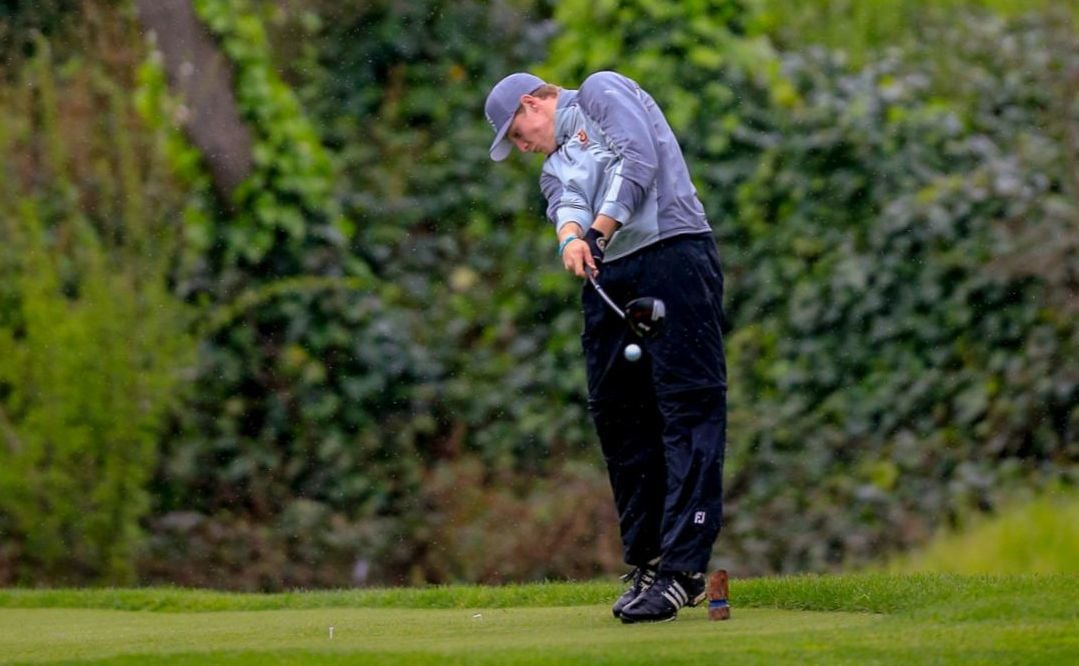 The Vintage High boys golfers had hoped to repeat as Vine Valley Athletic League champions, just like the football team that their top player quarterbacked last fall.
But after winning the VVAL's first three 18-hole tournaments this season, having captured all seven league tournaments last year, the cancellation of spring sports due to the coronavirus concerns forced the Crushers to suddenly say goodbye to five seniors – three from their starting ladder.
"The past two years have been great. The team has really matured and performed well enough to be undefeated in the VVAL for two years," Vintage head coach Arvin Persaud said. "This year the gap was closing a bit with Justin-Siena playing some good golf. It's unfortunate we did not get to complete the season. We were starting to score well when the shutdown happened."
From No. 1 to No. 7 on the Crushers ladder at season's premature end, respectively, were juniors Jacob Aaron and Riley Hatfield, sophomore Nick Young, seniors Pierce Brown and Colby Baumbach, sophomore Drew Holloran and senior Cody Freitas.
"It's gonna be tough to lose three great seniors in Pierce, Cody and Colby. I've really enjoyed having them on the team these past few years," Persaud added. "It's really unfortunate they won't get to finish this season and compete for another VVAL championship and possibly a North Coast Section championship. This has been a great run for Vintage golf the past three years."
Rounding out the team were seniors Sebastian Hoxsey and Max Caldwell, juniors Zach Guck and Quinn Kokotas, sophomore DJ Quick and freshman Josh Narlock.
Aaron, Hatfield, Young and Brown were all medalists in VVAL Tournaments this season, with Brown shooting the low round of the year with a 2-under-par 70.
Brown, who may continue his golf career with an improved Napa Valley College's men's program next spring, was the Crushers' No. 1 player as a freshman and qualified for the section tournament the last two seasons.
"Pierce plays the game aggressively, with no fear," Persaud said. "He has a great short game, he's independent-minded, and he loves to compete."
Baumbach, a fourth-year Crusher, was in his first season as a starter.
"Colby is a very consistent scorer. He controls his golf ball and competes well. He never complains and always works hard."
Persaud called Freitas "one of my favorite athletes I've coached." The fourth-year Crusher shot a 78 in the last VVAL Tournament of 2019 to help Vintage clinch its first league title in 13 years, and qualified for the Sac-Joaquin Section Tournament as a sophomore.
"Cody is super fun to be around and always keeps things entertaining," the coach said.
Aaron, meanwhile, is in his third year as the program's No. 1 golfer. He was a SJS Masters Tournament qualifier as a freshman, and the medalist at the NCS Division I Tournament, a NorCal Tournament qualifier and the VVAL Player of the Year as a sophomore. The last two falls, he's also helped the varsity football teams go 12-0 in the VVAL and go 3-2 in the playoffs as a quarterback and safety.
"Jacob is extremely athletic and a tough-minded competitor. He does not like to lose at anything," Persaud said of last year's Napa Valley Register Male Athlete of the Year. "He has the game to compete at the next level if he chooses to.
"When he and Riley came to Vintage, it completely changed the golf program.
Hatfield was looking to qualify for his third section tournament, having also double-dipped in football as a freshman and sophomore.
"Riley is a great athlete who could have played any sport he wanted to," Persaud said. "He has played primarily in the No. 2 spot, but could easily be No. 1. He's a tough competitor with a fantastic short game. He understands how to compete and does not give in."
Young, the medalist at this year's first VVAL Tournament, was all-league as a freshman last year and qualified for the NCS Tournament.
"Nick is another tough competitor. He gives up distance to most of the other guys on the team, but still manages to beat them," Persaud said. "He had to compete on a great team last year and earned a starting spot. He works hard at his game in his own time."
The coach said Holloran has steadily improved since he was a freshman a year ago.
"Drew hits the ball straight and is a good putter, and he will continue to improve," said Persaud, who was in his sixth year at the Crushers' helm.
Get in the game with our Prep Sports Newsletter
Sent weekly directly to your inbox!