Three Vintage seniors saw their high school wrestling careers end this weekend, while two younger Crushers got their first taste of the big time.
In only her second season of the sport, 131-pounder Izza Belle Ygnalaga went 0-2 on Friday at her first appearance at the girls state meet in Visalia. She managed to say off her back, losing 12-1 to Silver Creek senior Julissa Taitano in her opener and just 5-2 to Sequoia-Redwood City senior Iris Guizar-Avila.
James Robert, after losing his Masters Meet opener on Friday at Stockton Arena, needed six straight consolation wins at 182 pounds to put himself among the six qualifiers for the boys' state meet. The senior came up one short, losing Saturday to the same opponent who had defeated him on Friday. He finished seventh with his 5-2 record, earning a medal.
None of the other three boys got to Saturday's action, though junior Tucker Lanoue went 2-3 at 145 pounds. Senior 132-pounder Kolton Dikeman, who had aggravated at rib injury at Wednesday's practice, went 0-2 for the second straight year, and sophomore 285-pounder Konrad Fiske went 0-2 in his Masters debut.
Wrestling was the third passion of Ygnalaga's high school years. Her main extracurricular activity as a freshman was playing violin in the school's string choir, for which she now plays the stand-up bass.
The next year she began playing badminton for the Crushers.
Last year, she followed in the footsteps of former Vintage wrestling great Jonnarose Palma and became a two-sport athlete in badminton and wrestling. This year, she matched 2012 graduate Palma's feat of qualifying the state meet.
"Badminton is a quiet sport and in wrestling you're yelling," Ygnalaga said at Wednesday's practice. "Badminton is also strategy and a lot of movement, like wresting."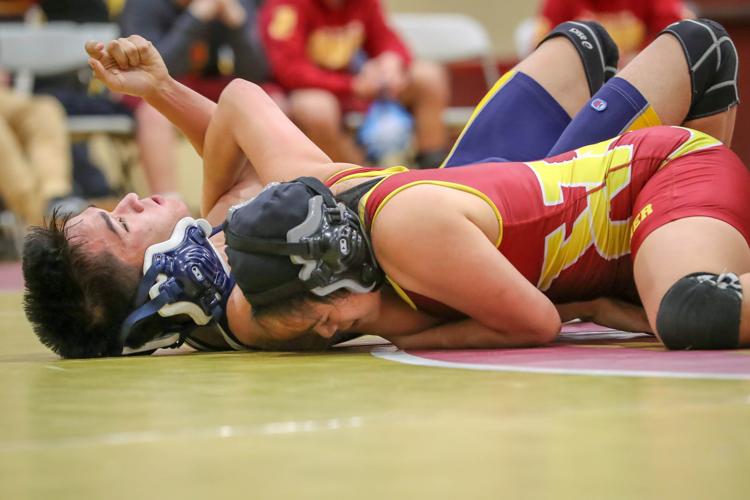 She made it to the second day of the Masters meet last year with then-senior Alyvia Fiske and then-junior Martha Avina. But she didn't join her teammates at the state meet, something she was determined to do this season.
"I was hungry this year," she said, "I was afraid to take shots last year. I would wait for someone to take a shot and then if they missed, I would do my thing. This year I felt pretty confident about my shots. You have to set it up and wait for that right moment. It's a mental sport because if an opponent gets really offensive in the beginning, you get scared and immediately lose. You just have to stay strong and confident."
Ygnalaga avenged a quarterfinal loss by pin to Nevada Union's Sarah Skotnicki by beating her 12-4 in the fifth-place match at the North Regional qualifying meet to qualify for Masters.
"I made a mistake the first day against her, but the second day I tried to keep my base up and we just got tired through it but I tried my best to push through," she recalled. "It was a good match.
"For fifth place at Masters (and a state meet berth), I wrestled this girl I beat at the Pittsburg tournament and her rib was kind of bruised. We went to overtime and I beat her 5-3.
"In the beginning of the season I was really quick, but my body would move before I would think. So my coaches told me to slow down and think about my move before I did it, and I've been working on it in the last months."
Ygnalaga said her parents are psychiatric nurses at Napa State Hospital and her two older brothers are also nurses, so she hopes to major in neuroscience at UCLA.
"I'm interested in how the brain works," she said.
Robert doesn't quit
Robert, ranked 31st in the state, was dealt his fifth loss of the season in his opener, getting pinned in 64 seconds by Oak Ridge sophomore Kaden West – ranked 24th in the state. Getting the top-six finish needed to get to state would now take at least six straight consolation-bracket wins. Robert got the first three on Friday, eliminating three fellow seniors.
After beating Paul Seigalkoff of Liberty Ranch-Galt, he faced Wood's Josh Beshears – whom he had beaten 8-3 for the Division I-A title the weekend before – and won 11-3. That put him up against a Ceres wrestler ranked one spot behind him in the state, Spencer Nelson, but he cruised to a 10-3 decision.
On Saturday, he pinned Ponderosa sophomore Jake Griffiths in just 18 seconds, earning him a rematch with first-round opponent West.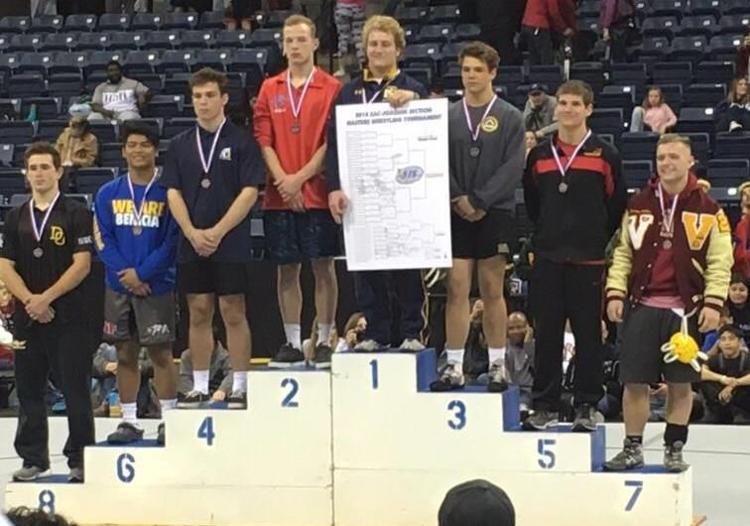 In the Division I-A meet at Gregori-Modesto, Robert went 4-0. Before beating Beshears for the title, he scored an 11-2 major decision over Elk Grove senior Ritchie Mastalski, pinned Johansson-Modesto junior Isaac Brionez, and won 10-5 over Franklin-Elk Grove junior Dylan Meyers.
"It was cool," he said during Wednesday's practice about qualifying for the Masters Meet as a top seed. "I definitely wasn't expecting it because when I last went to Masters as a sophomore, I took eighth. I remember thinking about the guys in the finals and how crazy they looked and that I'd never be able to do that, because they had all been wrestling since birth. But a two-year difference is a lot in wrestling, so I ended up being at that level."
Robert missed last postseason due to illness and probably wouldn't have come close to the state meet had he been as ill as he was this January.
"I'm pretty healthy now as opposed to the midseason, and last year. All of my sickness is basically gone. It's nice to be healthier," he said. "It came from staying up all night doing homework and getting no sleep."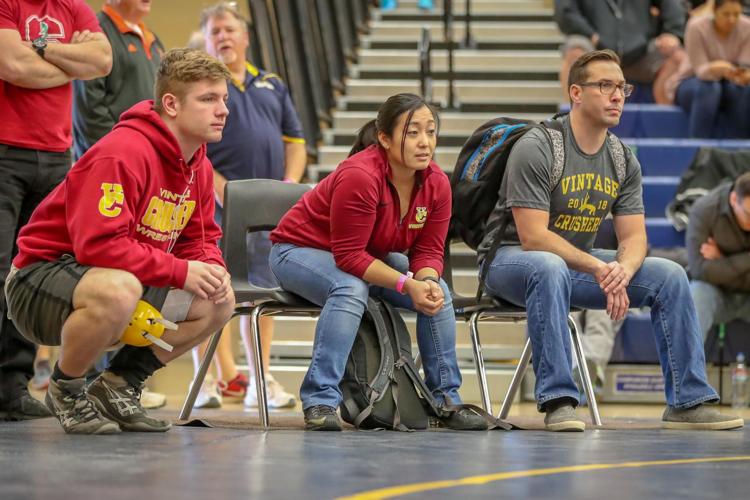 Despite also being a leader of the playoff football team last fall, Robert has managed to carry a 4.14 GPA and plans to major in business or finance. Even after a long football season, he took the mat hungry to make his final wrestling season as long as possible under fourth-year head coach Travis Newton and his staff.
"It's my senior year and I've had the same coaches since my freshman year and they've been great to me, so I wanted to have success for them," Robert said. "It's more for them than anything."
He also wrestled with the decision to continue sports at the next level.
"I'd like to play college sports, but I'd rather go to a bigger school for academics," he said. "I think it's a smart decision."
Tough finish for Dikeman
Dikeman was pinned in 2:57 by Pitman sophomore Samuel Silveira and eliminated by Bear Creek senior Carter Johnson – two days after thinking his rib was fine.
"It's like a sprained ankle," he said while icing his ribs at Wednesday's practice. "It hurts a lot the day of, but the next day I'm fine. But we have to be intense because this is where it gets really rough. Everyone (at Masters) has placed at least twice in the past two weeks so that means you're going against tough people and you can't lollygag. I'd like to make it to Day 2, but the brackets are twice as big and twice as hard."
Dikeman placed fourth with a 3-2 record at the Division I-A meet. After pinning Edison junior Jeremy Baird in 42 seconds, he lost a 10-4 decision to Gregori senior Aiden Villavicencio. After beating Wood's Christian Maldonado 6-2 and Bear Creek's Carter Johnson, also by decision, he got a rematch with Villavicencio for third place and was pinned.
"I was a little frustrated from the first day," he said of the Division I-A meet. "I had a little chip on my shoulder and I didn't wrestle (Villavicencio) completely the way I should have. I got a little inside my own head, but (overall) I wrestled better than I have at any other tournament, even against him."
Newton has used the word "funky" to describe Dikeman's wrestling style.
"A lot of really, really good wrestlers stick to the basics. I do that, but I put my own little twist on it – not because I intend to, but because it just feels natural for me," he said. "That's what we've worked on this year, taking what feels natural to me and refining it to where it actually works well. I do a lot of weird stuff, spur-of-the-moment stuff, but once the coaches see it in a match they'll bring to practice and work with me on it. I still scare my coaches, though. (At the Division I-A meet) I wasn't wrestling really funky, though. I was wrestling smart. He just got onto the shots, got onto my legs. I defended them a couple of times, but once he got on top he was very strong and consistent with his pressure and he kept me down. I made the mistake of doing the same move over and over and it wasn't working. But I placed fourth, which is better than I placed there last year."
He envies Lanoue and Fiske for getting to wrestle in the North Coast Section next year.
"With my level of skill, and from what I've heard about the section we're moving to, I could have made it a lot further and potentially been a state qualifier," Dikeman said. "The Sac-Joaquin Section is one of the hardest, if not the hardest, for wrestling. It really tests your grit. If our program keeps growing, we might end up being top dogs in the next section."
Running helps Lanoue
Lanoue pinned Ponderosa freshman Jake Lewallen in his Masters opener, then lost by technical fall, 20-5, to Oakdale senior Jake Ryan. He bounced back with a 14-3 major decision over Center senior Bailey Bruno, before getting ousted by Waterford senior Edmond Adams with an 8-0 loss.
The junior was coming off a runner-up finish at the Division I-A meet, where he pinned Downey senior Oscar Herrera, beat Elk Grove senior Nahel Tonge by default, won 2-1 over Rodriguez senior Nikolaus Cruz, and lost 6-0 to Vacaville junior Max Polly in the final.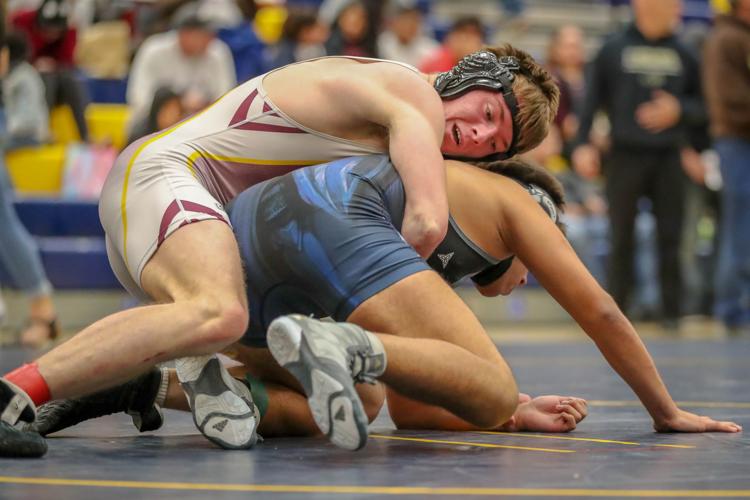 "I didn't expect to get to the finals because last year I didn't do as well as this year," Lanoue said. "I was sure I'd get to Masters, but I wasn't sure what place I'd get. Second place, I never thought I would get that."
Going out for cross country for the first time this past fall helped with his wrestling.
"In cross country, even though my upper body got smaller, my legs got a tremendous amount stronger and that helped me with my stance and stamina a lot," he said. "Cross country can be tedious, but it helps calm me down."
Fiske gets experience
Fiske had a quick Masters debut, getting pinned in 2:40 by Calaveras senior John Kelley, and losing his next match to Lodi senior Ben Bishop.
The sophomore seemed upbeat at Wednesday's practice despite going just 2-3 at the Division I-A meet and squeaking into Masters with an eighth-place finish. He had lost 10-5 to Chavez senior Michael Rodriguez, but come back with two big pins – of Jesuit junior Ryan Oushakoff and Elk Grove sophomore Jacob Hudson – before getting pinned by Pleasant Grove senior Ian Huston, and by Rodriguez by one point in a rematch for seventh place.
"I rolled my ankle and it's been hurting me but I'm just fighting through it, still wrestling, because I want to make it far," he said at Wednesday's practice. "I was pretty proud to win two last week, knowing most other guys are older at my weight. I'm a little nervous going into Masters, but that makes you wrestle smart because you're always being defensive while you're being offensive."
Fiske's played noseguard on the JV football squad this past fall.
"Wrestling gets me more in shape for football, but football gets me stronger," he said.
Lanoue and Fiske both have sisters three years older who reached the girls state meet – 2016 American Canyon graduate Samantha Lanoue and 2017 Vintage product Alyvia Fiske, who won back-to-back state titles and wrestled for Simon Fraser University in British Columbia this past fall.
"She's been a very big inspiration because we have the same genes, so I figure if my sister can do it, I should be able to do it too," Fiske said. "We've both done the same kinds of moves since we were little because we've both wrestled since we were 6. But she always makes everything look easy, and then you get on the mat and you try to do what she does and you can't."
Four other Crushers didn't make it past the Division I-A meet – including junior Antonio Macedo (152), who went 1-2. He opened with a 5-2 decision over fellow junior Marcus Rossetto of Enochs, and then lost 11-2 to Pleasant Grove senior Manny Curry and 5-4 to McNair senior Jair Polanco.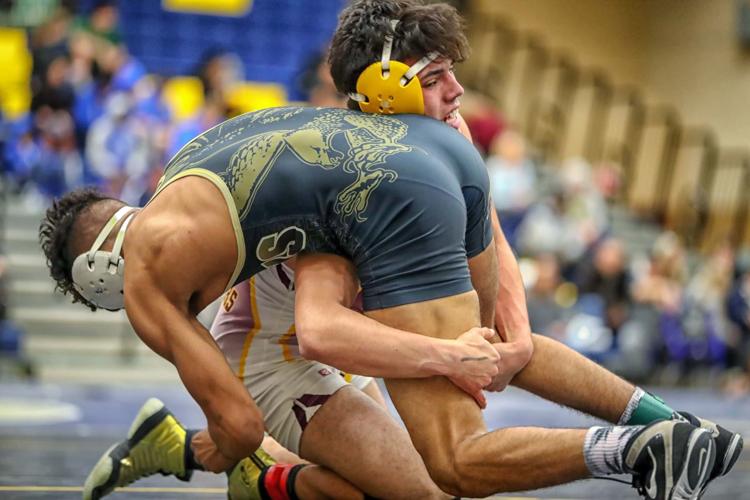 The other three Crushers went 0-2. Senior Renny Aguilar (170), who was pinned by Enochs senior Brandon Villalobos and McNair junior Terrell Jackson. Justin Verville (220) was pinned by Elk Grove sophomore Miguel Vargus and by McNair senior Matthew Vang. Sophomore Tyler Linstad (120) lost both of his matches to juniors, by pin to Gary Lee of Chavez and by major decision to Beyer's Adam Bettencourt.
Vintage freshman Reece Imrie (113), who had posted one of the Crushers' two wins in a 54-10 loss to powerhouse Vacaville in their MEL opener, had placed third at the MEL Championships but couldn't continue onto the Division I-A meet.