American Canyon High School's Lucas Gramlick and Vintage High's James Robert will represent Napa County as the outstanding senior lineman and back at the Northern California Chapter of the National Football Foundation and College Hall of Fame Scholar Athlete awards banquet on Friday, March 2.
Honoring 24 scholar athletes from 12 counties, the event will be held at the San Francisco Airport Marriott, 1800 Old Bayshore Highway, beginning at 7 p.m. Each of the honorees will receive a $1,000 scholarship.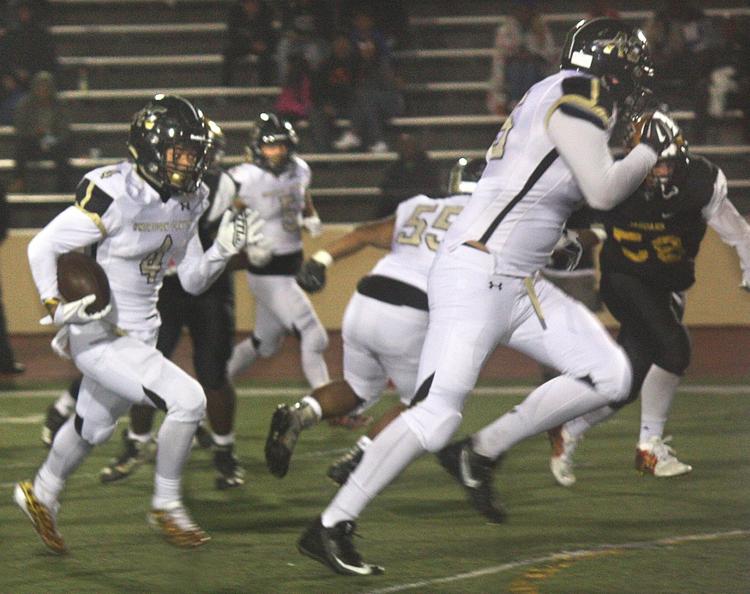 Senior football players from Napa County were nominated by their coaches and schools. Gramlick and Robert were selected by a committee of media members.
The announcement was made by Napa County chairman Jon Salinger. The award is based on academic achievement; football ability, performance and attitude; and leadership and citizenship in school and community.
Alameda, Contra Costa, Lake and Mendocino, Marin, San Francisco, San Mateo, Santa Clara, Santa Cruz, Solano and Sonoma counties are also part of the Northern California Chapter of the National Football Foundation and College Hall of Fame, an organization of more than 8,000 members who are active in 119 chapters across the country. The Northern California Chapter, one of the largest and most active groups, has awarded over $816,000 in scholarships over the past 50-plus years.
Gramlick and Robert were each Player of the Year Finalists on the 2017 All-Napa County team.
A closer look at each player:
Lucas Gramlick
A team captain and left tackle, Gramlick was named to the Sacramento Valley Chapter of the National Football Foundation and College Hall of Fame's 2017 All-Sac-Joaquin Section team, receiving honorable mention on the offensive line. Gramlick was named as the Lineman of the Year on the All-Solano County Athletic Conference team and made the All-SCAC First Team. He also played defensive end.
"Lucas is one of the hardest working student athletes that I have worked with in all my years of coaching football," American Canyon head coach Larry Singer wrote in a recommendation letter. "He leads by example. Lucas is relentless as a player. He wants to be on the move at all times. He has worked hard since last season on his strength and quickness."
Gramlick displays leadership qualities and a work ethic that Singer greatly admires.
"As fine a football player (as) Lucas is, he is even a finer young man," Singer wrote. "He displays a great attitude in the classroom. The same work ethic that has made him such a good football player has made him a strong student."
Gramlick is also on the Wolves' wrestling and baseball teams, and carries a 3.307 (unweighted) GPA while taking Advanced Placement classes.
"He is a wonderful young man who shows great leadership as well as amazing athletic skills and abilities," Melissa Shimer, American Canyon's Athletic Director, wrote in a recommendation letter.
"Lucas always gives a 100-percent effort in everything he does and works well with others around him. Lucas is a strong and successful athlete in any sport that he participates in because of his hard work and dedication. His motivation and commitment are what have made him so successful both in academics and athletics."
American Canyon went 7-4 overall and won the SCAC title, going 4-0. The Wolves overcame a 0-3 start to the season by winning seven games in a row and getting to the CIF Sac-Joaquin Section Division III playoffs, where they advanced to the second round.
They recovered after consecutive losses to Woodland, 36-34, Vintage, 28-14, and Inderkum-Sacramento, 53-0, going on a tear with wins over Wood, 42-29, Mission-San Francisco, 34-22, Vallejo, 41-12, Bethel, 41-12, Vanden, 27-20, and Benicia, 41-7.
In the playoffs as the No. 7 seed, American Canyon continued its winning streak by beating River Valley-Yuba City in the first round, 17-10. The season ended with a 62-32 loss to No. 2 seed Manteca.
Defensively, Gramlick had 21 total tackles. He also blocked two field-goal attempts.
Gramlick has participated as a volunteer for five straight years at a Relay for Life event in Vallejo. He has been a Link Crew leader, which is a leadership position on campus. He has also been a team captain for wrestling and plays the cello in the school's advanced string orchestra.
James Robert
Robert, a team captain, had a big year in the Vintage offense, leading the Crushers with 1,012 yards rushing and 10 touchdowns. Robert, named Second Team All-Monticello Empire League offense as a running back, was an "absolute beast with the ball in his hands," head coach Dylan Leach said.
Robert was selected as the Napa Valley Register's MVP for Vintage in Big Game XLVI after his 45-yard touchdown run in the fourth quarter at Napa Memorial Stadium. Robert led the Crushers with 70 yards rushing on eight carries in the game.
Vintage (7-3 overall, 3-1 MEL) lost in the first round of the Sac-Joaquin Section Division II playoffs to Inderkum-Sacramento, 35-22.
For the season, Robert caught two touchdown passes and had 162 yards receiving. He had three two-point conversion runs. He also returned punts and kickoffs. Leach said Robert was the "most effective" running back on a Vintage team that averaged close to 265 yards rushing per game.
Robert had 50 tackles at middle linebacker.
"James Robert was the heart and soul of the Vintage High football team," Leach wrote in a recommendation.
Academically, he has a 3.64 unweighted GPA.
Robert has volunteered his time at local elementary schools on numerous occasions. He was the leader of the team's "Field Day," where players go to local elementary schools and teach youths physical activities to do during recess.
In addition, he volunteers in the Crushers' "Read to the Kids," where the players visit schools and spend time by reading.
Furthermore, Robert was instrumental in the help and support that the football program provided during the wildland fires in the area this past fall. He volunteered by organizing teams that helped residents evacuate their belongings. He volunteered at a local farm to which animals were evacuated.
"James exemplifies what a school and community leader acts like and is a model for the type of student-athlete we are looking for at Vintage High," Leach wrote.
Robert is also a two-year captain on the wrestling team.
"James has been a leader at Vintage academically, athletically and ethically all four years," Travis Newton, the Crushers' wrestling head coach, wrote in a recommendation letter.
Other Nominees
John Craig, Back, Justin-Siena.
Alex Perez de Leon, Back, Napa.
Ryan Rockwood, Back, St. Helena.
LaVar Seay, Back, American Canyon.
Jasper Thienes, Back, Calistoga.
Connor Dotzler, Lineman, St. Helena.
Nick Larson, Lineman, Vintage.
William McBardsley, Lineman, Calistoga.
Cameron Ross, Lineman, Napa.
Robert Torkelson, Lineman, Justin-Siena.
Ticket Information
The cost per person for the Northern California Chapter of the National Football Foundation and College Hall of Fame Scholar Athlete awards banquet is $55. To purchase tickets, or for more information, call 650-692-9100.