Vintage and San Ramon Valley, two high school football teams that have had a lot of success running the ball, will meet in a CIF North Coast Section Division 1 semifinal-round playoff game on Saturday night at 7 p.m. in Danville.
The Crushers (10-2), led by Vine Valley Athletic League Most Valuable Player Viliami Schaumkel, average 263.1 yards rushing per game and 6.7 yards per rushing play. They have 46 rushing touchdowns.
San Ramon Valley (7-4), led by Brandon Cammisa and Tristan Sinclair, averages 186.8 yards rushing per game and 5.3 yards on the ground per attempt. The Wolves have 23 rushing touchdowns.
"We won't change a thing. We're going to roll in here and play our brand of football," Vintage head coach Dylan Leach said Wednesday. "I think that's their brand of football, too. It might actually be the quickest football game in history – two teams that run the ball as well as these two teams do. It will be bang-bang and see what happens."
Vintage, the VVAL champion, is the No. 8 seed and is in its first year playing in the North Coast Section since 1976. Vintage left the Monticello Empire League and CIF Sac-Joaquin Section at the end of the 2017-18 school year.
The Crushers lost their first two games of the season, falling to Wood and Acalanes-Lafayette, but have turned things around, winning 10 in a row, with playoff victories over No. 9 seed James Logan-Union City, 36-0, and No. 1 seed Antioch, 24-21, in double-overtime.
"We're very proud obviously to be to this level and watch this program flourish," said Leach. "We still get to hang out with each other and play this beautiful game. Everyone is excited around here. I think they feel a sense of pride of accomplishing some things that haven't been done here in a long time."
Prior to this season, Vintage had not won a playoff game since 1986, the year it captured the Sac-Joaquin Section Division I title. The Crushers were 0-8 in the playoffs since 1987 and lost to Inderkum-Sacramento in a first-round postseason game last year, 35-22.
"These kids are just excited to kind of bring our program back to some prominence at this point," said Leach.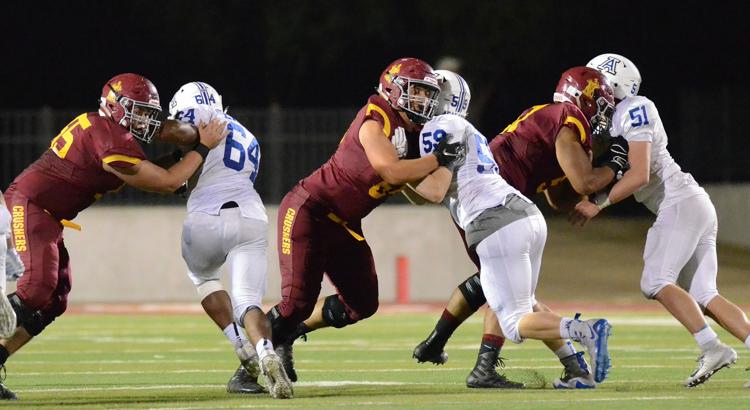 "We know who we are. We're blue collar," Leach said. "We have to rely on our weight-room skills and rely on our technique. We're not going to go in here and out-run anybody.
"We'll definitely be ready. We'll be looking forward to the challenge."
San Ramon Valley, the host school, is the No. 4 seed and finished in a three-way tie for second place in the East Bay-Mountain League, behind only De La Salle-Concord. The Wolves beat No. 5 seed Monte Vista-Danville in a quarterfinal-round playoff game last week, 21-17.
"I think we're very similar to Vintage," San Ramon Valley coach Aaron Becker said. "We want to run the football and play physical and line up on defense and play tough and kind of play the game that way. I think it's going to be two teams fairly evenly matched and very similar to each other."
In this week's other semifinal game, No. 3 seed Freedom-Oakley (8-3) and No. 2 seed California-San Ramon (8-3) were scheduled to play on Friday.
The NCS championship game is Dec. 7 or 8.
"You're down to the final four within the bracket that you're in, so obviously that's exciting for your program. Our kids are certainly excited about it," said Becker.
Schaumkel has had a very good season, leading the Vintage offense with 1,027 yards rushing, 8.1 yards per carry and 20 touchdowns. Pedja Zivkovic has 407 rushing yards and five TDs and Drew Hatfield has 341 yards and four TDs.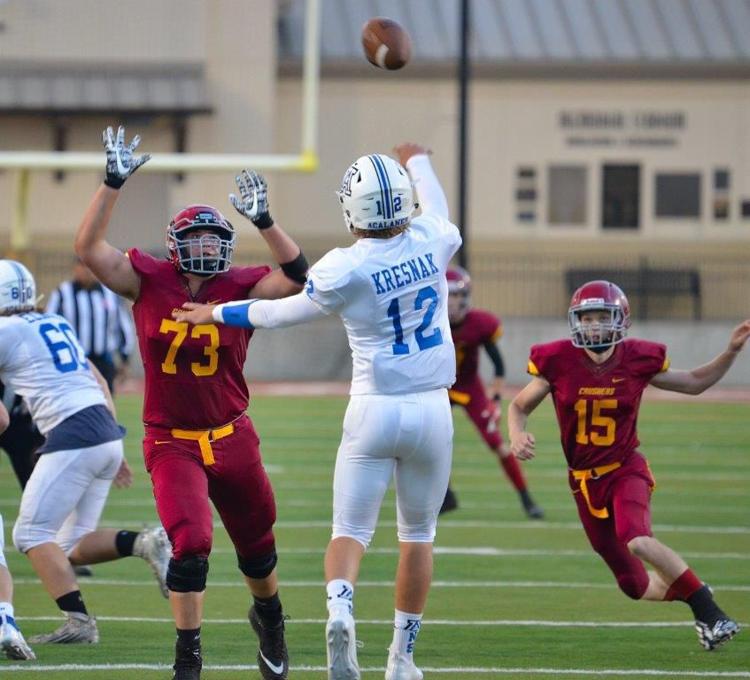 "I think they've got a good, strong team that is going to really pose us some problems on Saturday," said Becker. "They run the football real well. And they do a lot of things offensively in terms of formations that can give you trouble.
"We've just got to get lined up right and know what your responsibilities are, certainly on the defensive side of the ball. The volume of formations that they give you offensively poses some challenges to your defense.
"By all accounts, it looks like they've got a really solid team and a good program going on. They wouldn't have won the amount of games that they have if they weren't doing some things right.
"If you don't do a good job, they're going to score a bunch of points. They're not going to shoot themselves in the foot. They're going to be a in a four-quarter football game."
Cammisa leads the San Ramon Valley offense, having passed for 1,081 yards and 14 touchdowns. The top rushers are Sinclair with 1,024 yards and 11 TDs and Jacob Himan with 438 yards and two TDs.
"They run the ball extremely well," Leach said. "They run downhill with a little bit of misdirection involved in that. When they do have to go to play action or pass it, they seem to be efficient with that, too. They are ball-control and they allow their defense to get them in good field position and they kind of control the clock. We respect the fact that they're a tough, disciplined team.
"As they did with Monte Vista, they control into the fourth quarter. They're tough nosed kids. They grind and they don't give up."
It's Vintage's first game since Nov. 9. Poor air quality from the Camp Fire in Butte County forced the NCS to postpone and reschedule games.
"I feel like all of us have really been working hard and pushing ourselves to be prepared for this game," said the Crushers' Colton Fisher, a tight end-defensive end. "We're getting stronger in the weight room."
Vintage will be without Angel Castillo (tight end-outside linebacker), Rhys Irwin (left guard), Dominic Smith (nose guard), and Jacob Aaron (quarterback-safety) due to injury, Leach said.
"We're banged up," said Leach. "It's next guy up. You've got to roll with what you've got."
Vintage, San Ramon Valley in the rankings
San Ramon Valley is No. 14 in the Bay Area News Group-East Bay Times Top 25.
San Ramon Valley is No. 11 and Vintage No. 18 in the MaxPreps.com North Coast Section Rankings.
San Ramon Valley is No. 11 and Vintage No. 20 in the Prep2Prep.com North Coast Section Rankings.
The Wolves are among those teams listed on the bubble in the calhisports.com State Top 50 rankings.
All-League recognition for Crushers
Vintage is well represented on the All-Vine Valley Athletic League team.
Schaumkel was named as the league MVP.
Luis Arroyo is the Lineman of the Year and Colton Fisher is the Defensive Player of the Year.
Named to the offense were Schaumkel, first-team running back (unanimous; Luis Arroyo, first-team tackle (unanimous); Jack Odell, first-team center; Alfonso Medina, first-team guard (unanimous); Rhys Irwin, first-team guard; Angel Castillo, first-team tight end; Michael Webber, first-team wide receiver; Jacob Aaron, second-team quarterback; Mauricio Castro, second-team running back; and Nylan Mozqueada, honorable mention, tackle.
Named to the defense were Schaumkel, first-team (unanimous) linebacker; Arroyo, first-team (unanimous), defensive line; Fisher, first-team (unanimous), defensive line; Zach Daniels, first-team (unanimous), defensive line; Josh Robert, first-team linebacker; Jesus Galvan, first-team linebacker; Webber, first-team defensive back; Jakob Bittner, second-team linebacker; Caymus Barrett, second-team defensive back; and Cutler Low, second-team safety.
Eddy Gonzalez is the first-team kicker.