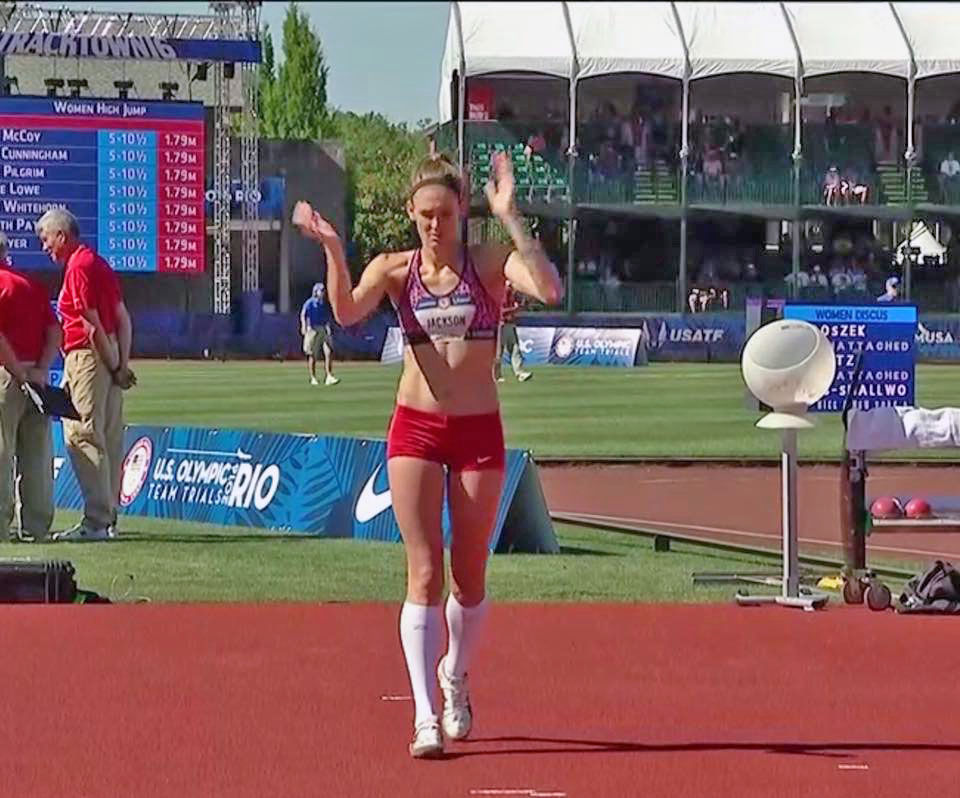 Napa High School graduate Susan Jackson was one of 12 competitors who advanced from qualifying to the finals in the women's high jump on Friday at the 2016 U.S. Olympic Team Trials in track and field. The meet is being held at the University of Oregon's Hayward Field.
Jackson is in eighth place going into the finals on Sunday after clearing 6 feet, ½ inch, the clearance needed to move on. The finals start at 3 p.m.
Jackson, who got her start in track and field with the Napa Track Club, represents Heights Performance of Gunnison, Colo.
Four competitors – Elizabeth Patterson (unattached), Vashti Cunningham (unattached), Chaunte Lowe (Nike), Inika McPherson (unattached) – were tied for first in qualifying.
Also advancing was Amina Smith (adidas Garden State TC), Kaitlin Whitehorn (Dartmouth), and Maya Pressley (Georgia TC).
A former star for Western State Colorado University, Jackson had the 13th-best jump in the country going into the trials.
Jackson qualified for the trials with a first-place clearance of 6 feet, 1¼ inches at the Western State Alumni Open in early February. The indoor meet was held in the Mountaineer Fieldhouse in Gunnison.
She was fifth at the 2016 USA Indoor Track & Field Championships in March at the Portland Convention Center in Portland, Oregon, with a jump of 6 feet, ¾ inches.
The top 3 placers will represent the U.S. at the 2016 Summer Olympic Games, Aug. 5-21 at Rio de Janeiro in Brazil.
Jackson's personal record in the high jump is 6-3¼.
Jackson finished her college career in 2014 and, competing unattached, placed seventh in the finals of the U.S. Outdoor Track and Field Championships at Sacramento State's Hornet Stadium that same year.
Jackson was the 2012 NCAA Division II outdoor high jump national champion. While with the Mountaineers, Jackson was a four-time All-American and twice the national runner-up.
When she was competing for Napa High, Jackson became the school record holder in the long jump, high jump, triple jump and the 4x100 relay. As a senior, she finished second in the CIF State Track and Field Meet at Hughes Stadium in Sacramento.
She was a three-time state meet qualifier.
Jackson graduated from Sacramento City College as the two-time California state community college champion and school record holder in the high jump.
American Legion Baseball
Napa 17's 2, Fremont Eagles 1
The Napa Valley Baseball Club's 17-and-under team won in the first round of a 4th of July tournament in Fremont on Friday.
Zack Materne got the win for Napa, pitching four innings and allowing one run on three hits, three walks and three strikeouts. Caden Cortese and Ryan Salmon closed out the game on the mound.
Offensively for Napa, Louis Arata and Brandon Herter each had an RBI sacrifice fly and Ronny Porter and Nolan Brown scored.
Napa played two games on Saturday in the tournament, which wraps up Sunday.