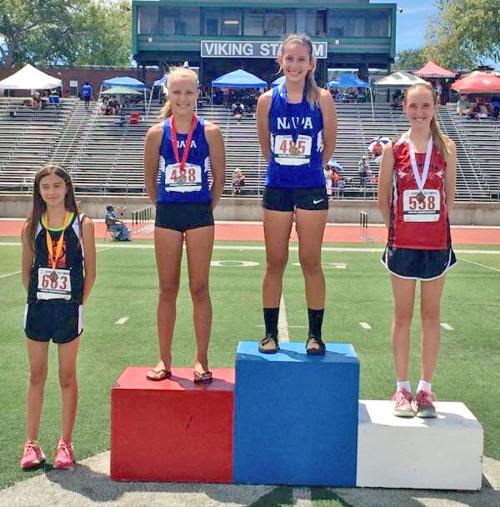 The Napa Track Club had 17 athletes advance through regional competition and qualify to compete in the USA Track and Field Junior Olympic National Championships, scheduled July 27 through Aug. 2 in Jacksonville, Florida.
The regional finals, which were conducted over two days at Diablo Valley College in Pleasant Hill, included competitors from Northern and Central California and western Nevada.
Dena Prince continued her outstanding season by capturing medals in each of her three events. She earned gold medals in the high jump and 100 hurdles, and a bronze medal in the javelin.
Sophia Tinnon won gold in the turbo javelin with a personal record of 87 feet, 1 inch. That mark ranks her No. 2 in the nation for her age group. She also claimed the silver medal in the discus.
Eric Lum won the gold medal in the 17-18 men's high jump and the silver medal in the triple jump.
Other gold medalists included Kendall Martin in the 15-16 girls javelin, and Sydney Griego in the 13-14 girls triple jump.
Securing silver medals for NTC were Liam Wallace-Harper (high jump), Alicia Prince (high Jump), Madison Mott (hammer throw), Kristian Valencia (high jump) and Cassandra Richardson (1,500-meter race walk).
Bryce Ogden, Madison Klungel and Isabella Oggenfuss each secured a pair of medals for their efforts. Ogden was fourth in the 100-meter hurdles and fifth in the 200 hurdles. Klungel was second in the triple jump and fifth in the high jump. Oggenfuss was fourth in both the 100-meter hurdles and the high jump.
Others obtaining bids for the national meet were Mia Oggenfuss, third in the high jump; Kevin Tunnell, fourth in the discus; Benjamin Martinez, fifth in the discus; and Aisley Wallace-Harper, fifth in the javelin.
AmCan Striders' Cortes qualifies for nationals
Alejandro Cortes should hit the ground running when he enters his freshman year Rodriguez High School in the fall.
The 13-year-old member of the American Canyon Striders running club has qualified for the USATF National Junior Olympic Track & Field Championships in Jacksonville, Florida. The 49th annual meet is scheduled July 27 through Aug. 2 at the University of North Florida's Hodges Stadium.
"Alejandro has improved immensely over the last two years," Striders coach Hoy Evans said.
The last Striders to qualify for the Junior Olympic nationals were American Canyon junior-to-be Ailey Le Duff in 2010, and Sonoma State University sophomore-to-be Angelique Lopez – a Vintage High graduate – and her brother, Imani Lopez, in 2012.
"It's been a little while since we have gone back," Striders coach Hoy Evans said. "But nonetheless we have been super-competitive, having boys and girls finishing in the top 10 in Northern California in their respective age groups in races ranging from the 400 to the 3,000 meters.
"This year we have an exceptional runner on our team – not to say that all the Striders that came before him weren't exceptional. But Alejandro has improved immensely over the last two years."
Cortes's first 800 meters was about 2 minutes, 30 seconds. By the end of this regular season, he ran a personal best of 2:08.07 at the USATF Region 14 Junior Olympics on June 28 at Chabot College in Hayward.
He also ran the 1,500 meters in 4:48.5 at the Running Rebels/Top Pacers Invitational on May 2 at Contra Costa College in San Pablo.
"The improvement in that distance is just as staggering as in the 800," Evans said. "His first 1,500-meter time was close to 5:40. In Jacksonville, he will compete against the 50 fastest 13- and 14-year old boys in the nation, and his 2:08.07 has easily put him in the top 15 in the nation and in the hunt for a medal.
"Alejandro's chances are good, though these are kids I'm talking about. Their performances can vary greatly by the day and events leading up to it. I don't really like to handicap it because it's really unpredictable. But the fact that he ran a 2:08.07 easily puts him in the top 10 percent. The trick is, can he duplicate it? Who knows? I just know he has a puncher's chance and good chance at that. If he goes out and duplicates that time he could easily find himself on the medal stand."
The Striders are trying to raise funds to help offset the "pretty high" costs of Cortes's trip, Evans said. Donations can be made by visiting www.gofundme.com/ya3un8.
Youth Softball
Branagan Insurance 10, MIV Insurance 3
Branagan tied up the Napa Valley Girls Fastpitch Association first-round Senior Division playoff series at a game apiece Tuesday night with a 10-3 win over Malloy Imrie & Vasconi Insurance at Kiwanis Park. The teams will decide the best-of-three series at 8 p.m. Thursday.
For MIV, Lexi Vavricka (3 for 3) and Gianna Rossi (2 for 3) each singled with two outs in the top of the first inning and scored on hits by Becca Morris (1 for 3) and Bailee Murphy (1 for 3).
The score didn't change until the bottom of the sixth inning, as Brooke McClellan pitched a near-perfect first five innings for MIV. Her only two base runners in those frames reached on errors in the fourth, but were stranded.
The three errors MIV committed in the sixth were costly, however, while Branagan's quickness on the bases also helped it avoid outs on two fielder's choices. Doubles by Savannah Cole and Sennet Torvid, who each scored twice, and Cheyanne Garcia, who also scored, helped turn it into a 10-run inning and 10-2 lead. Also scoring were Maddie Crull, Nicole Price, Jenny Sickler, Kylee Malley and Deja Sullivan also scored.
Nicole Reed walked for MIV and scored the game's last run in the seventh.
Bicycle Works 5, Williams Automotive 2
Bicycle Works scored twice in the top of the first and twice in the third for an insurmountable 4-0 lead Tuesday, tying its best-of-three, first-round series in the Major Division at a game apiece. The teams will decide it at 6 p.m. Thursday.
For the winners, Cali Olmstead went 2 for 3 with a double and two runs; Jasmine Smith was 1 for 3 with a run; Jackie Paul went 1 for 3; Alexah Meyer was 1 for 3, Sami Olesen went 1 for 3, Paige Hall was 1 for 3 with a run, Sarina Koroknay 1 for 3, Callie Valencia 1 for 2 with a walk, Caylee Johnson 1 for 1 with a walk and hit by pitch, Zeida Zepeda walked and scored, and Jacquelin Hurtado was 1 for 2.
Williams got on the board in the bottom of the third when Jennifer Rawlins led off with a single and scored on a two-out single by Helen Talde. The pair did exactly the same thing in the fifth. Madyson Smith, Simone Sullivan and Melissa Costilla drew walks but were unable to score for Branagan.
Little League Baseball
Napa American 11-12 All Stars 16, Tri-Valley 5
Napa American powered into District 53 championship game, hitting five home runs for the second game in a row, in Tuesday's winners-bracket final at Laurel Creek Park in Fairfield.
The winners scored four runs in the first inning, as Brock Bowers (2 for 3, two RBIs) homered and Davide Migotto (2 for 3) scored on a home run by Reid McCaffrey (2 for 2, three RBIs).
Napa made it 7-0 in the second with the first of two home runs on the day by Jakob Whipple (2 for 3, three RBIs), a two-run shot that also drove in Brayden Greenlee. Tri-Valley scored two unearned runs in the bottom of the frame to close the gap 7-2.
In the top of the third, Anthony Marek (1 for 2, two RBIs) singled to drive in McCaffrey, and Greenlee and Marek scored on wild pitches.
Napa American put the game out of reach in the fourth, when Whipple led off with his second homer, Sean Pratt (1 for 3, RBI) continued his hot hitting by singling in Bowers, and Jared Cato (1 for 2, two RBIs) singled to center on a drawn-in infield to drive in two more runs. Aiden McDonald (1 for 2, three RBIs) finished the inning with a three-run blast to left field, scoring Marek and Cato.
Tri Valley scoring three in the bottom of the fourth to close the scoring, but couldn't keep the game from being stopped because of the 10-run mercy rule.
Davide Migotto pitched a complete game for Napa, allowing three hits and only one earned run.
At 1 p.m. Sunday, Napa American will face the winner of the losers bracket, which will be decided Friday.
Fairfield Atlantic 11-12 All-Stars 22, St. Helena 7
The host team ousted St. Helena from the District 53 Tournament at Laurel Creek Park in Fairfield on Tuesday night. The game was called after four innings due to the 10-run mercy rule.
After the first two batters reached in the bottom of the first, a double by Liam Gilson, a hit by Rhett Pavitt, and another double by Londyn Taylor sent four runs home for St. Helena. Two more extra-base hits by Billy Katz and Emmett Bowen cut the deficit to 7-6 entering the second.
Fairfield Atlantic scored 17 runs between the first two frames, hitting anything and everything Pavitt threw to the plate. Fairfield scored six runs on two homers in that span, including a grand slam.
Gilson scored the final run for St. Helena in the second, making it home from third on a wild pitch. He was 3 for 3 with two runs and an RBI.
Pavitt started the game and took the loss, lasting 1 2/3 innings, and went 1 for 3 at the plate, with an RBI, a stolen base, and a run. Taylor relieved him went 1 2/3 innings, giving up four unearned runs on one hit, five walks and one strikeout. Taylor went 1 for 2 with two RBIs and a run at the plate.
Bowen pitched the final two outs, recording a strikeout and one run on two hits. At the plate, he was 3 for 3 with a run and an RBI.