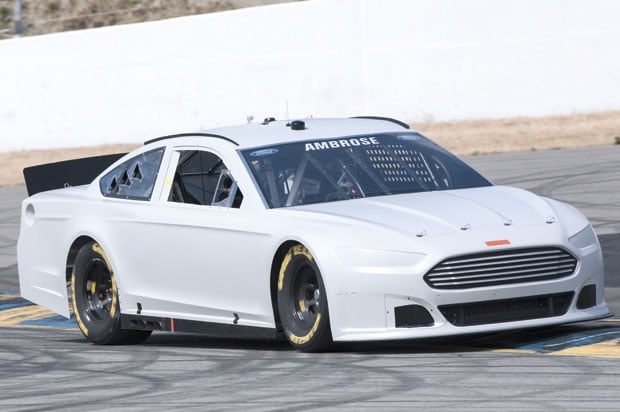 If you've never been to a NASCAR Sprint Cup Series race weekend at Sonoma Raceway, this is the year to go.
The Toyota/Save Mart 350 race weekend, June 21-23, not only marks the Silver Anniversary of NASCAR Cup Series racing at Sonoma; it also features a number of exciting "firsts."
The biggest "first" is the introduction of the new Gen-6 car in the Sprint Cup Series. This car, called "the equalizer," debuted at Daytona International Speedway in February and the result has been a season full of tight and exciting racing for fans.
The Gen-6 cars are lighter and faster, and have a lower center of gravity and more down force, which equals faster speeds. The result has been that any team can reach Victory Lane on any given weekend.
With the Gen-6 car, 48.6 percent of cars have finished on the lead lap, versus 39.8 percent last year, so the two-car and single-car teams are now a weekly threat.
The average margin of victory has dropped to .844 seconds, compared to 1.516 last year, and 82 percent of these new cars are finishing the race, versus 78.9 percent in 2012.
Passing records are also being shattered. Kevin Harvick passed four cars in the final three laps at Richmond International Raceway in Richmond, Va, on April 27.
After the Richmond race, Clint Bowyer said, "Look at these highlights. Isn't it awesome! I love this sport. I'm telling you, whoever designed this new car, we should kiss them every weekend. It's creating drama. We haven't seen racing like this in years, since I first started in this sport (in 2004).
"When you can leave a track and there's people in tears because they won, and in tears because they got crashed, that's what brings us to the race track, that kind of racing and determination and passion," Bowyer added.
This season features three brand new NASCAR Sprint Cup Series race cars that are modeled after their production car counterparts. The Chevrolet SS, Ford Fusion and Toyota Camry each have distinctly different designs that will help reignite rivalries between auto manufacturers and enhance car brand affinity among fans.
This change marks a return to the roots of the sport, where competitors turned street cars into race cars.
In May, Richard Petty Motorsports teammates Marcos Ambrose and Aric Almirola completed a two-day test session with the Gen-6 car on the 10-turn, 1.99-mile road course at Sonoma Raceway.
"We always want to try to get an advantage on the competition, so we feel like it's been worthwhile to be out here, and hopefully it will pay off for the race," said Ambrose, who won the pole at Sonoma last year.
Another first at Sonoma this year will be a new qualifying format for the Sprint Cup Series. NASCAR announced in April that the NASCAR Sprint Cup Series will implement the group-based road-course qualifying procedure used in NASCAR Nationwide and NASCAR Touring Series competition during its road-course events at Sonoma Raceway and Watkins Glen, N.Y.
Under the new procedure, cars will qualify in groups instead of the traditional single-car qualifying runs.
"This is going to be a terrific new format for our NASCAR weekend. It will intensify the action on the track with drivers having to fight through traffic to establish their overall position on the grid," said Sonoma Raceway President and General Manager Steve Page.
"It's a very positive development for our fans."
You have free articles remaining.
The new qualifying rules for the Sprint Cup Series are as follows:
Cars attempting to qualify will be divided into groups. The number of groups, and the amount of cars in each group, will depend on the number of cars that practice for the event. Group assignments will be based on final practice times.
Each qualifying group will be on-track for a set period of time, determined by the Series Director. A car's best lap time during the group session will be the qualifying lap time of record. A group's time begins when the first car receives the green flag at the start/finish line.
Also new this year will be Danica Patrick's first time racing a stock car in the NASCAR Sprint Cup Series at Sonoma Raceway. Patrick has raced an IndyCar at Sonoma eight times, producing one top-5 finish and two top-10 finishes.
Patrick, who drives the No. 10 GoDaddy.com Chevrolet for Stewart-Haas Racing, has not had an easy go of it this year in the Sprint Cup Series. In 14 starts, she has one pole (Daytona 500), one top-10 finish (eighth-Daytona 500), and has led just five laps (Daytona 500).
Her average start in Sprint Cup this year is 31.7, and her average finish is 26.5.
But she is extremely popular with NASCAR fans.
In May, Patrick's popularity was confirmed when she won the fan vote for the final spot in the Sprint All-Star race after finishing ninth in the preliminary race.
But not all of the race fans were happy with her getting the spot. In fact, she got boos from the crowd when it was announced the fans had voted her in. It seems some people didn't believe Patrick deserved the spot, which is typically for race winners and much more accomplished drivers.
It will be interesting to see how she fares in her first time racing in a stock car at Sonoma.
This year, Sonoma Raceway is going all out for the pre-race activities show.
There will be a "cat-walk" style introduction stage, so fans can be closer than ever to their favorite drivers during introductions.
The Patriots Jet Team Air Show returns with a never-before-seen six-jet air show, and there will be fighter jets, historic World War II planes, a Huey helicopter and the GoPro Bomb Squad.
The high-flying Brigade Freestyle Motocross Team will perform stunts around the road course, and Sacramento's Grant Union High School Drumline will take to the pre-race stage.
Santa Cruz native and American Idol star James Durbin will perform the national anthem.
Another first for Sonoma is the all-new "Sears Point Grill," that features locally sourced sausages and other gourmet barbecue items.
Fans will also be able to quench their thirst at the new Nor Cal Craft Beer Garden in the main paddock, which will be offering Northern California's finest craft beers, ales, and hard ciders.
For those camping at the 50 Acres Campground, there will be cinema-quality movies on Friday and Saturday nights. There will also be a free, round-trip shuttle to the Sonoma Square.
For more information about the NASCAR race weekend at Sonoma Raceway, visit racesonoma.com.