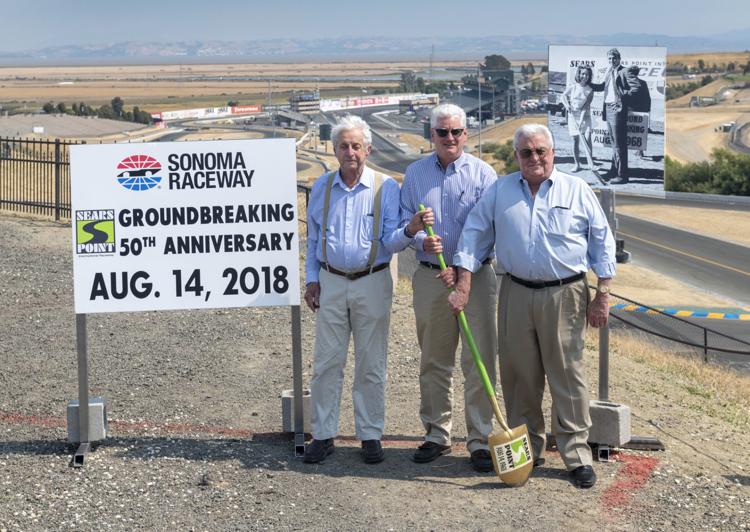 Sometimes the best ideas are hatched by hunting buddies imbibing around a campfire. Embers glow and a rhetorical "what if" turns into something real.
That's how the track known today as Sonoma Raceway was first envisioned, according to a Petaluma resident who was one of the four buddies who came up with the idea while on a deer hunting trip.
"The idea came out of a bottle of Remy Martin," joked Gorden Blumenfeld, 88, the only surviving member of that quartet. "After dinner we talked about a lot of things around the campfire, including racing.
"We always thought it would be good to have a race track in the North Bay as sophisticated as Laguna Seca," he said of the road course in Monterey County.
It was 50 years ago this week when the first shovels of dirt were turned over to start the track's construction, turning empty ranch land into a dream realized after two years of planning.
Sonoma Raceway today is a modern, multi-use motorsports facility, complete with a world class road course, drag strip and an industrial park that includes 70 race-related businesses and 104 shops.
A permanent track "was a long-standing dream" for many local racers who had to improvise on makeshift tracks on many weekends, Blumenfeld said. Those included an abandoned naval airstrip at Cotati, the parking lot of Candlestick Park, and a road course in Vacaville that was clearly soon to be bulldozed by urban development.
"I remember we raced around the buildings in the Port of Stockton and all the corners were 90-degree turns," Blumenfeld recalled. "We raced anywhere people would let us."
At the time, Blumenfeld owned a Fiat Abarth that competed in the H Production class of the SCCA.
"I owned the car, but I didn't drive it," he noted, as his wife had been afraid he might be hurt on the race track.
Sitting around the campfire with Blumenfeld that fateful night was an old high school friend who drove the Fiat, an attorney from Point Reyes, Robert Marshall Jr., who was on his pit crew, and Jim Coleman, a land developer from Kentfield.
The four racers formed a partnership and decided to find a site for the track they envisioned. The first location they chose, Deer Island, was at the intersection of highways 37 and 101 but proved infeasible. The partnership subsequently found a piece of ranch property on Sears Point that was perfect for what they had in mind.
"We each put a few thousand dollars in the bank and got a loan, and we ended up with an option on the property," said Blumenfeld.
They sketched out a layout that fit the shape of the property, one that largely resembles the track's current 12 turns.
"We didn't want a flat race track," said Blumenfeld. "We wanted a squirrelly 'S' curve and some hills, and the property naturally lent itself to that and still gave us room for the drag strip."
The original track didn't go as far up the hill, to Turn 7 and "The Chute" used by NASCAR, until 23 acres were later added that also gave the facility access to Lakeville Highway.
During a ceremonial kickoff this week to what will be a year-long celebration of the track's 50th year, Blumenfeld said "it's probably a little grander than our original vision, but it is pretty well an expanded vision of what we wanted to see in 1968. It was just one of those coincidences that the right people were together at the right time, and one of them followed through on looking for a piece of property, and this was the result of it."
Added Steve Page, the track's president and general manager, "To be here today with some of the people who had the vision to make this happen is humbling. That they could look at a mountain and see a racetrack wouldn't have been in my vision. We're looking forward to the coming year of celebration and looking back at 50 years of history and memories with our fans and the racing community."
The original layout was tweaked over many months, as racers suggested changes. While the design was being refined, Blumenfeld led the effort to get community support and government approval to build the track.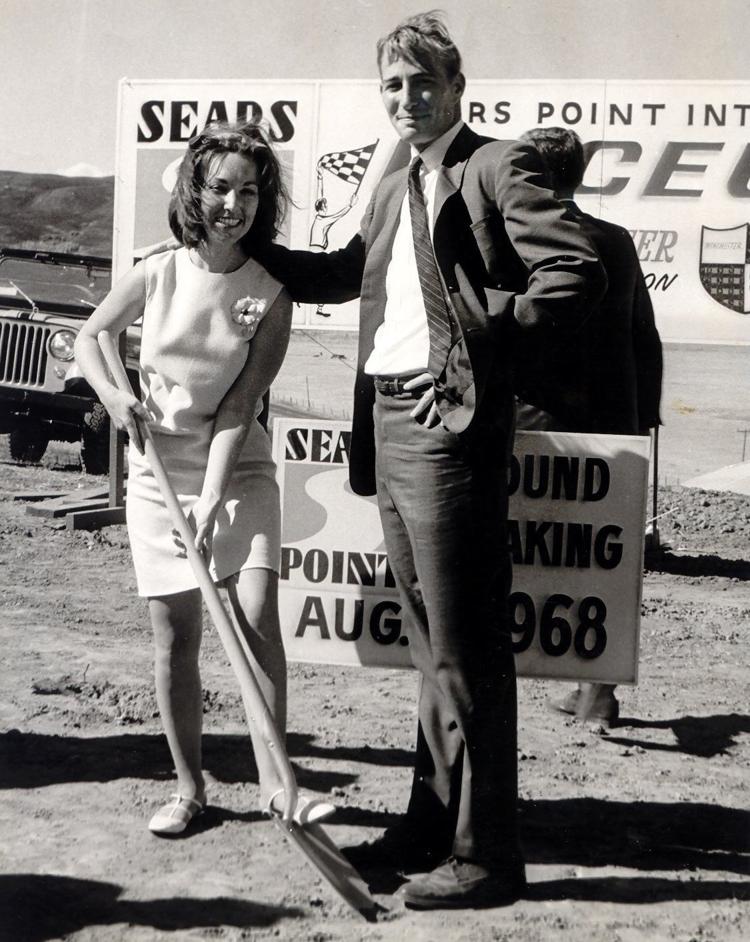 "I did a lot of presentations talking about how the track would provide family entertainment," he recalled.
The initial construction was done on a financial shoestring, and only after a lot of effort to persuade elected officials and residents that the track would benefit the county.
"You couldn't do the same thing today," Blumenfeld contended, because of land values and the variety of political and planning issues that would need to be resolved.
Both the approvals to build the track and the actual construction were completed in what today would be considered impossible deadlines. Construction began in August, with paving done by November. The first green flag, for a non-spectator SCCA Enduro, flew in December.
By the time that first ceremonial shovel of dirt was thrown, Blumenfeld was no longer formally associated with the track, having sold his share of the partnership. And despite his pioneering effort to get what is now Sonoma Raceway on the map, he has rarely been to the track, choosing to indulge in his passion for deep sea fishing and boating instead. In fact, he said, he has driven the track only once.
"In the 1970's, Ford loaned the track some Holman and Moody Mustangs and I drove my wife around the track and scared the hell out of her – and I wasn't even pushing it that hard," recalled Blumenfeld, who still has an interest in cars that have ranged from a Ford Model A to a collection of Jaguars and Aston Martins over the years.
An executive who ran his own manufacturing company for years, Blumenfeld had an eye for balance sheets and a prediction that would come true for what began as a barebones operation.
"When we got started, I predicted that it would take four or five owners to make it successful," he said. "I just had that feeling because I had seen so many enterprises fail because they were under-funded."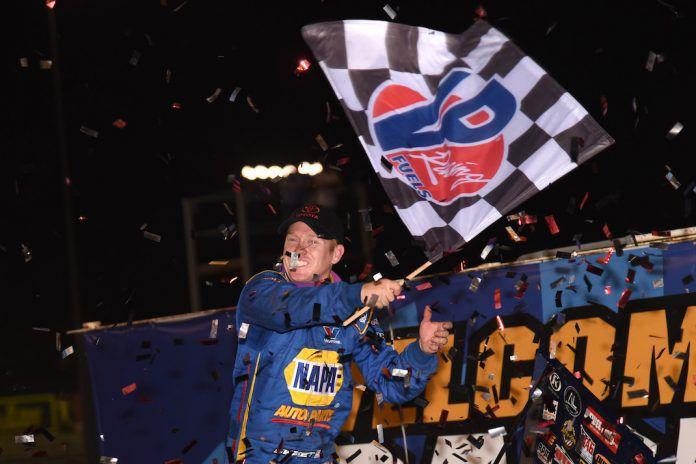 It was a prescient observation. After a few failed partnerships, the track was sold to its current owner, Bruton Smith, whose $100 million investment has transformed Sonoma Raceway from a down-at-the-heels, well-worn track with few amenities into a modern motorsports facility.
In those early critical days of gaining support for the proposed track, Blumenfeld made a decision that has stood the test of time.
"I knew that to get the track approved, it had to have a local name," said Blumenfeld. "Everybody else wanted to call it Golden Gate International Raceway and I decided that since it was at Sears Point, that's what we would call it."
Even though it's no longer the track's formal name, it is still how many old timers refer to what is now Sonoma Raceway.
"I know people do," he acknowledged, "and I do, too."
NorCal drivers win big at Knoxville Nationals
The Knoxville Nationals is the "Indianapolis 500" for sprint cars and many Northern California drivers dominated the race last weekend in Iowa – including Brad Sweet, who claimed the biggest win of his career. The World of Outlaws driver from Grass Valley had to hold off a charge from 10-time Knoxville winner Donny Schatz and NASCAR star Kyle Larson to win by one-tenth of a second, the second-closest finish in the race's 58-year history.
The win, and $150,000 payday, capped a dream week for Sweet, who won three main events in seven days and the pole for the 50-lap race.
"I have been dreaming about this and working hard for it," said an emotional Sweet, who had to compose himself before climbing out of his sprint car owned by NASCAR driver Kasey Kahne.
Sweet had both challengers on his rear bumper for a restart with two laps to go.
"To hold off the two best drivers in the business took every ounce of my being," he said.
The race drew more than 100 of the nation's top sprint car drivers. They included 13 from Northern and Central California who are regulars on the King of the West and Sprint Car Challenge series, and seven of them earned spots in the 25-car lineup for the main event.
Gio Scelzi, a 16-year-old Fresno resident who nearly won the KWSS title last year, won the race Rookie of the Year honors after qualifying ninth and finishing 16th. His brother, Dominic Scelzi, also qualified for the main event lineup after winning a qualifying race Friday night. San Jose's Tim Kaeding started 10th and finished fifth in the Saturday night main event.
Former KWSS titleholder Carson Macedo finished sixth. But he had won a preliminary main event the week before during the Knoxville Nationals for smaller-engine "360" sprint cars, and claimed the "Mr. Sprint Car" title for his performance throughout the week – including a win in an invitational race for drivers from Australia, New Zealand, Canada and the United States.
St. Helena's Rico Abreu finished second in his qualifying race Thursday. He was running a strong ninth in Saturday's big money main event when he hit the wall and turned his car upside down in turn four of the half mile oval, ending his night. He was credited with a 24th-place finish.
"You're just running so hard at Knoxville and having to keep such a fast pace, it's easy to make mistakes," said Abreu, who had won the longest race on the World of Outlaws schedule, the Ironman 55, two weeks before in Pevely, Missouri.
Dixon re-signs with Ganassi
When Scott Dixon returns to Sonoma Raceway in mid-September for the season finale of the Verizon IndyCar series, he will come with a new multi-year contract in hand with Chip Ganassi Racing. The team announced the signing this week.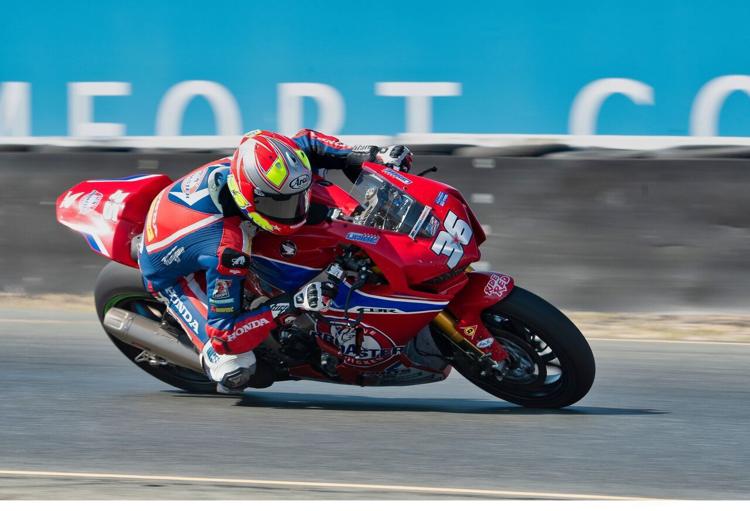 Dixon won the Grand Prix of Sonoma in 2007, 2014 and 2015 and is once again leading the series' championship standings on the strength of three wins so far this year. In a testimony to Dixon's longevity, he recently became the ninth driver to compete in 300 Indy Car races. He is the youngest on the list, which also includes Mario, Andretti, Michael Andretti, A.J. Foyt, Al Unser Jr., Johnny Rutherford, Tony Kanaan and Helio Castroneves.
"I think when you mention the name Scott Dixon, the numbers and records speak for themselves," noted team owner Chip Ganassi. "We have achieved a lot together, and he shows no signs of slowing down. He's still the guy the championships go through, and you know you have to beat him to get to the top step."
Added Dixon, "This team has been like family to me since way back in 2002 and I'm glad I'll be here fighting for more wins, championships and Indianapolis 500's for years to come."
Cycle Gear Championship
Three Napa Valley riders had mixed success at last weekend's Cycle Gear Championship of Sonoma.
Angwin's Wyatt Farris made steady progress, moving up a few positions on the grid to finish in the top 10 in both SuperSport races as he attempts to climb back into the Superbike ranks.
"I can't build my own SuperBike, but I have to drive into the deep end of the pool to create opportunities and make things happen," said Farris, who plans to rejoin the MotoAmerica tour as a privateer in New Jersey later this year.
Farris was hemmed in by traffic and hampered all weekend by a qualifying time that forced him to start at the back half of the grid both days.
"I had the pace to keep up with the faster group of riders in the front of the field, but I just couldn't get there," he said.
Calistoga's Jayson Uribe finished in the top 10 both days in the Motul Superbike class, but the Genuine Broaster Chicken team announced that it would finish the season with a different rider. With Honda backing, the team will continue to support the 19-year-old rider's privateer efforts in local AFM events. "It's a bummer," he said about the team's change of plans, "but I have no argument with the team."
Uribe will also continue as an instructor in a riding program supported by Honda that puts on clinics in 22 locations around the country.
"It's aimed at improving the skills of riders from street level up to the pro level," Uribe explained.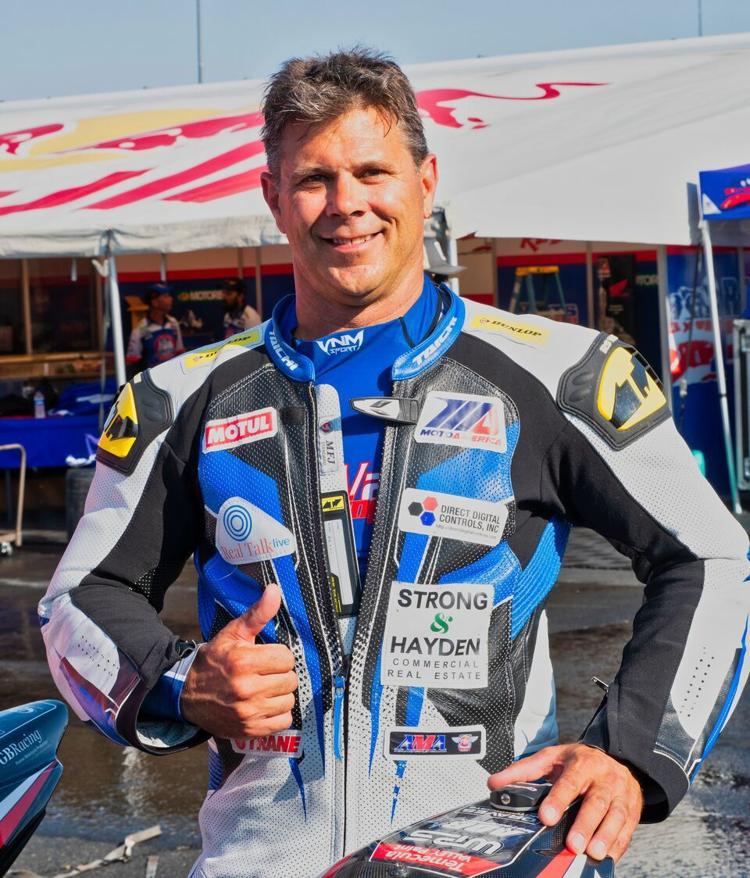 Napa's Roi Holster had an uneventful race in his inaugural Stock 1000, finishing 12th. But the 54-year-old rider, who is regrouping after losing his only Superbike engine in Atlanta earlier this year, still had a broad smile at the end of the afternoon.
"I had a ball out there," Holster said.
Be the first to know
Get local news delivered to your inbox!