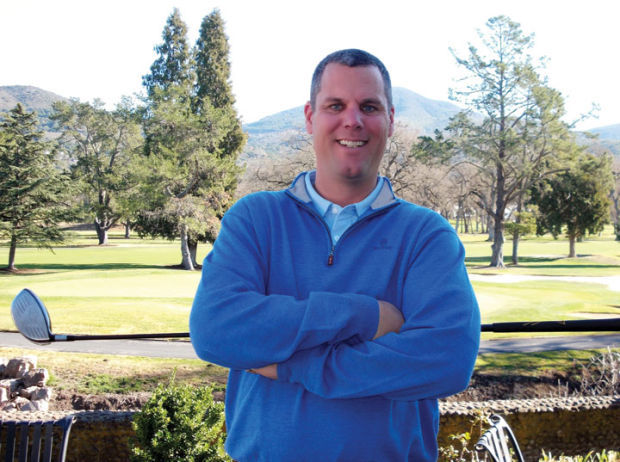 Napa is home for Brett Mathis.
It's where he was born and raised.
It's where he attended local schools — Vichy Elementary, Vintage High and Napa Valley College.
Mathis moved out of the area at different times, relocating to Southern California and the state of Washington. But now he is back and he's very happy about that.
After working for two different golf clubs on the Monterey Peninsula over the last 14 years, Mathis returned to the Napa Valley on Jan. 1, taking over as Silverado Resort & Spa's new head golf professional.
The announcement comes after a comprehensive search conducted by Silverado and Troon Golf, which manages golf operations at the 36-hole facility. The position attracted more than 120 applicants.
Mathis comes to Silverado after having served as the head golf professional at Pasadera Country Club in Monterey. He also served as the first assistant golf professional at Carmel Valley Ranch.
"The entire team at Silverado is thrilled to have Brett become our head golf professional," said Tim Geesey, Silverado's director of golf operations. "We had an amazing number of exceptional professionals apply for this role, but based upon his experience, personality and vision, Brett was the clear choice.
"He exemplifies the type of personal engagement and attention to detail that have become hallmarks of Silverado. He will be an excellent ambassador for our club and an exceptional leader for our golf program."
Mathis, 42, is a Class A member of the PGA who previously served on the board of directors for the PGA's Monterey Bay Chapter.
At Silverado, he will manage daily operations, including the golf shop and outside services.
"To become the head golf professional at Silverado is the realization of a lifelong dream," said Mathis. "I am proud to join the team they have assembled and look forward to hosting the PGA Tour at Silverado in October.
"To come back home, it's wonderful. Silverado has been a staple of the Napa Valley for years. I'm really excited to bring my family here."
The Frys.com Open will move to Silverado in the fall, marking the first time a PGA Tour event has been played here since 1980. Set for Oct. 6-12, it will be the season-opening event on the PGA Tour's 2014-15 schedule and offers full FedExCup points, with the winner getting an invitation to the Masters.
"I think it's going to be a real draw to start out the year and we're going to see players come out and play in this event that typically might not start out the year right away with the first event," said Mathis. "Once it gets here, it's not only going to be a great season opener, but it's going to get fans really excited."
The Frys.com Open will be held on the North Course at Silverado, a par-72 layout which plays 7,226 yards from the tournament tees.
The event, offering a $5 million purse with $900,000 going to the winner, will feature a full field, with 132 players. The tournament will be televised all four days on the Golf Channel.
The announcement of the PGA Tour returning to Napa was made on July 3 by Johnny Miller, a member of the World Golf Hall of Fame, who is one of Silverado's owners.
"Being under the Troon umbrella, working with Johnny Miller and his team, I'm just ecstatic. I couldn't ask for a better position to be in," said Mathis. "I've got 14 years of golf experience that I'm able to bring here to Silverado.
"I'm very excited about what Johnny and his team have done with the North Course."
Mathis takes over for Pete Treyve, who left Silverado after three years in September to return to Arizona. Treyve is the head pro at Kierland Golf Resort, a Troon Golf-managed facility in Scottsdale. It's a 27-hole complex.
Mathis played golf for coach Bob Steen at Napa Valley College and is a graduate of the Professional Golfer's Career College, located in Temecula.
He started out at Carmel Valley Ranch, where he assisted with pro shop retail operations, was the lead instructor for Nike Golf Camps, and was an instructor for junior summer programs. Carmel Valley Ranch was designed by Pete Dye.
Mathis was first assistant, then head pro at Pasadera, which is now Nicklaus Club Monterey. It's a Jack Nicklaus-signature design. Mathis managed golf operations.
He played on the Nationwide Tour for two years and went to the PGA Tour qualifying school twice.
Mathis was out on both the North and South courses on New Year's Day at Silverado, introducing himself to members and guests.
"The membership here has been very welcoming," he said.
Silverado's golf staff includes Erin Long, merchandise coordinator; Brian Schaffer, assistant professional; Tara Lipanovich, teaching professional; Joel Rhea-Munroe, assistant golf pro; Chris Bowman, golf sales manager; and Kevin Buckles, membership and corporate sales manager.
Silverado hosted PGA Tour tournaments from 1968 through 1980. The Kaiser International Open Invitational was played from 1968-1976 and the Anheuser-Busch Golf Classic was held from 1977-1980.
The Transamerica, a Champions Tour event, was played at Silverado from 1989 to 2001. The final year of that Tour event was in 2002 and was the Napa Valley Championship presented by Beringer Vineyards.
Mathis and his wife, Stephanie, have a 3-year-old daughter, Savannah, and make their home in Napa.