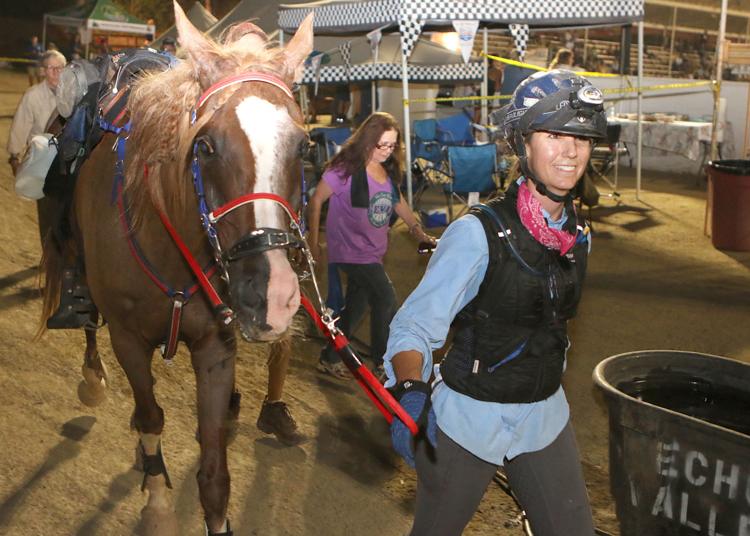 Once again, Lindsay Fisher was not the bride at the Tevis Cup Western States Trail 100-Miles-One-Day Ride.
Riding trusty horse Monk, the Napa veterinarian wasn't even the bridesmaid this time.
But she and the 16-year-old gelding were in the wedding party for the fourth year in a row, placing fourth out of 153 entrants in the grueling ride from Squaw Valley to Auburn.
She also kept herself in the running to achieve something unprecedented in the 63-year history of the ride, a chance to notch five top-10 finishes at Tevis aboard the same horse. She plans to do that next year, or to at least join the dozen or so who have five Tevis completions on the same horse.
"Several people brought it up to me at the awards ceremony that if your horse finishes five times, its name gets on a trophy. Monk needs to have his name on that trophy," Fisher said of the horse owned by Chris Martin of Penn Valley. "We usually don't talk about Tevis until a few months before it, but I told Chris I'm going to do it next year on Monk and just try to finish. Top 10 won't be my goal. But this horse is so athletic, it is easy for him to top-10 Tevis."
Fisher is 6 for 6 as a Tevis Cup finisher. The 2000 Vintage High graduate's first two Tevis finishes were aboard her mom Susie Seibert's horse, Phoenix Affair, a 19th in 2005 and a seventh in 2006. Aboard Monk, she finished eighth in 2015, fifth in 2016 and second last year.
For the second year in a row, Fisher was with the eventual winner in the last vet check, 94 miles into the ride at the Lower Quarry vet check. But once again, that other rider was out before Fisher was, as she wanted to make sure Monk would finish. There were no guarantees, even with only six miles left, and the last thing the Napa veterinarian would want is to get pulled.
"My crew is going to have to take some gastro-protectants next year if I do make the top 10 and don't win. They had no fingernails after this one. Their stomachs are getting upset from what I've been putting them through at the end," Fisher said. "They're not (all about winning), but it's very nerve-wracking for them when you're so close two years in a row (with six miles to go) and they're not knowing what's going to happen."
Heather Reynolds of Dunnellon, Florida went on to win, 16 hours and 45 minutes after the 5:15 a.m. start. She also won in 2003 and 2014, and husband Jeremy Reynolds won in 2004, 2007 and 2011. The latter also won the Haggin Cup – which goes to the top 10 finisher whose horse is in the best condition immediately after the ride – in 2004, 2011 and last year, and Heather Reynolds won it in 2003.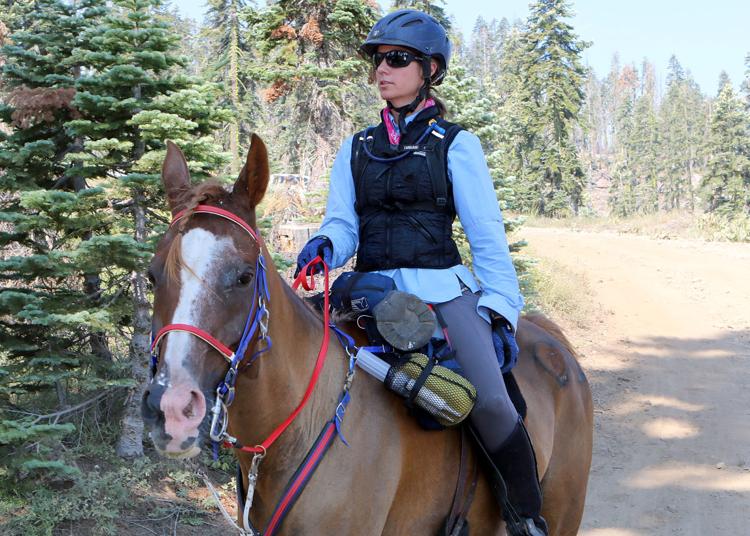 "Heather caught up to me just out of Foresthill and then she was just a few minutes behind me at Francisco's, but then I stayed longer to let Monk eat because he started grazing really well. So Heather left a few minutes in front of me. I didn't think I was going to see her again, but then I caught her on the trail after the river crossing and we both rode into the Lower Quarry (vet check). This whole time I didn't think I was going to see her again. I just couldn't believe I was in the same position I was in last year going into Lower Quarry.
"Heather's my friend and I've known her a long time so when I caught up with her we started talking about random stuff, work and life. We see each other once a year and it was just the two of us out there in a dark. We were laughing and riding our ride. I will never, ever discount her because she's a fierce competitor. She's a great rider, super smart, and she does this (breeds, trains and rides endurance horses) for a living."
Gabriela and Wash Blakeley, a couple from Terrebonne, Oregon, came in together 18 minutes later, and Fisher arrived 10 minutes after them. The Blakeley's' son, Barak, was fifth, followed in the top 10 by Diane Stevens, defending champion Tennessee Lane, Mikayla Cornell, Mark Montgomery and Sarah Gray.
"The Blakeley's caught me right out of Lower Quarry; they were cantering on the road and I was doing a nice easy trot," Fisher said. "I thought they would catch Heather, but they must have slowed down. I don't know them very well but they are a very nice family. Every time I see them they all have smiles on their faces and you get a good feeling around them."
Fisher has always hoped to at least win the Haggin Cup. But she was beaten out this year by Corgnell and her mustang, which is owned by Montgomery – a neighbor of Martin.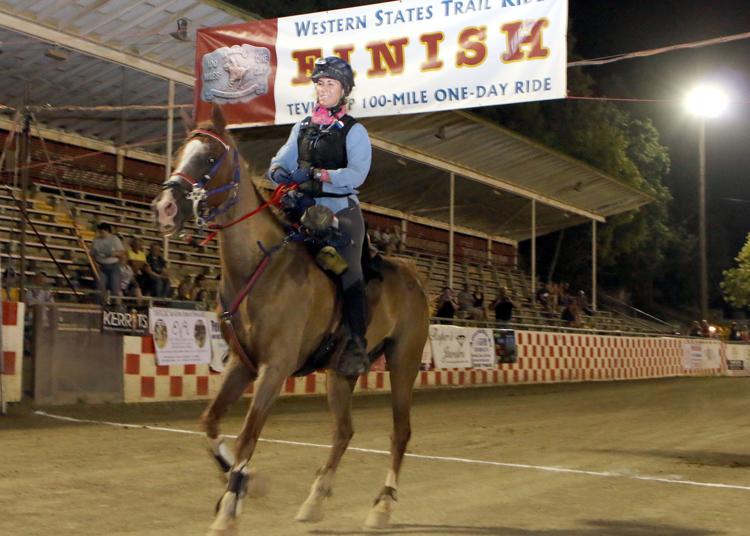 Fisher said she and Monk had a good showing at Sunday's Haggin Cup judging, but she through Corgnell won fair and square.
"When I saw the mustang go, it was obvious that horse was going to get it unless there was something else we didn't know about it," Fisher said. "He looked fantastic, like he hadn't even done anything, and I was very happy for them. I know the owner and he does a great job with his mustangs, and it's nice to see somebody new getting it. I don't know if any mustangs have won the Haggin Cup before."
Only 64 horses were able to get through all of the veterinary checks and finish this year's ride before the 24-hour cutoff. Conditions were unusually hot, humid and smoky along the Western States Trail from Robie Equestrian Park to the Gold Country Fairgrounds.
When Lane won last year, the ride had a different starting point due to snowy conditions. This year, she and several other riders took a wrong turn after crossing Highway 89 and Fisher took the lead about 13 miles into it near Squaw Valley.
"There were 10 horses in front of me and Monk was really just fighting me (to go faster), so I let him open up and weave through those horses to the front," Fisher recalled. "The next thing I know, Tennessee Lane has done the same thing right behind me. I had to laugh inside, 'You're kidding me.'"
The top 10 horses from the year before are numbered based on that previous year's finish, so Lane was No. 1 and Fisher No. 2 – which created some confusion by the time they got to the first vet check.
"As we're coming up the hill toward them," Fisher recalled, "they say 'Hey, you guys are No. 1 and No. 2 in the ride, and we're like 'Oh, wow,' and they ask 'What's your number?' and we tell them '1 and 2' and they say 'No, what are your numbers?' Once they saw us pass, they were like 'Ohh.' That happened at other checks, too.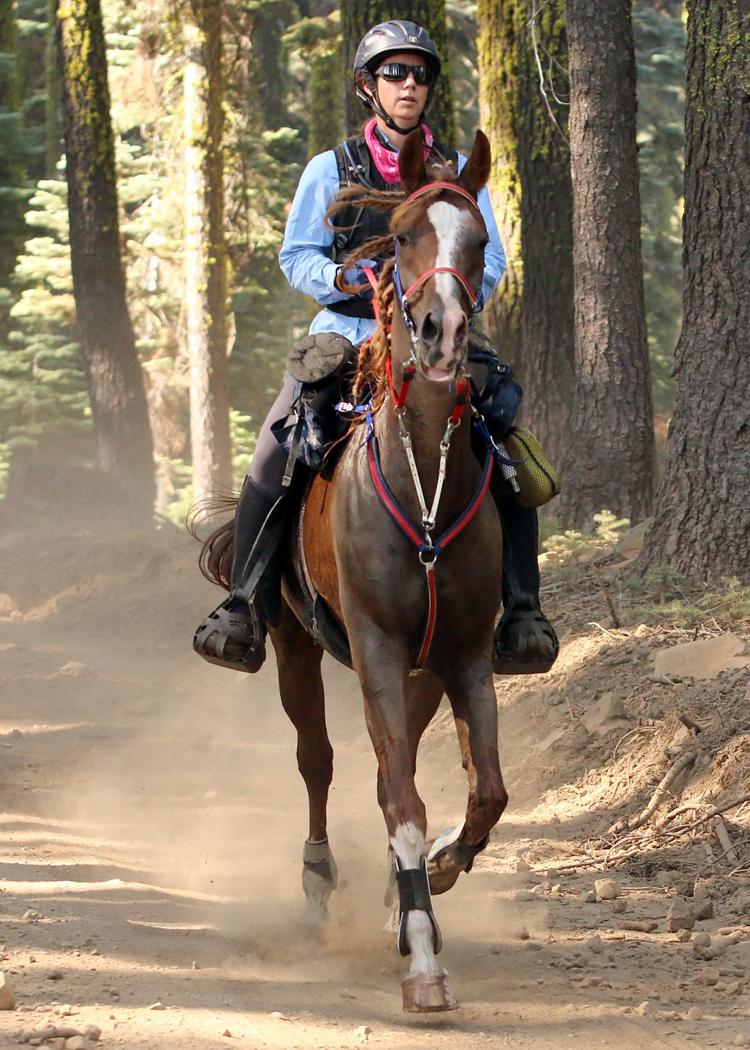 "I didn't expect to be in front and I didn't want to be there. I like to hang back a little bit the first half of the ride. But the ride I was having was best for my horse, and it happened to put us in the front. We rode with Tennessee a little here and there, and leapfrogged a little bit, but I lost her coming into Michigan Bluff. She caught up to me leaving Foresthill, but I didn't see her from then on."
But a win wasn't in the cards for Fisher.
"Monk wasn't drinking as well as I would've liked after Foresthill. It was definitely the most challenging weather I've ever ridden a Tevis in. It was extremely hot and neither my horse nor myself was prepared for that type of humidity. I think the smoke was keeping everything in, too. He wasn't drinking where I wanted him to drink, the creeks and natural springs that fed into little troughs in the hillside, so I got off and scooped and poured water all over his body.
"I lost a lot of time doing that, but I was very concerned about the amount of heat this horse was generating. When he wasn't drinking, I could feel the heat radiating off of him and it made me nervous. So I lost a lot of time, even the gate and go stops where you don't have to stay for a certain amount of time I wanted to make sure I got his core temperature down. They don't eat well, either, because they're basically running a fever. Heather was doing a very fast pace, and I was doing a good trot. But with me spending five minutes putting water on Monk, she's going to catch me pretty quickly. If he had taken care of himself, the outcome would have been different and I would have kept my lead, but that's just not how the day went. It got to a point where I just needed to finish, and I didn't want anything bad to happen to the horse.
"Even people were falling like flies. I heard there were medics for people who were pulling themselves out because they were feeling sick and nauseous and weak from heat exhaustion or heat stroke. It got a point where we had to keep because if you stopped or walked it would feel 10 degrees warmer."
Getting on and off Monk got to be an issue due for Fisher's jammed toenails.
"Being in the stirrups and riding downhill a lot, with your feet angled down as the horse is trotting, all of your body weight is pushing the skin in front of your toenails, and mine weren't the shortest they could be," Fisher said. "I meant to clip them on Friday and I forgot to make them as much nubbins as I could. It hurt to run at the Haggin Cup judging; I had to land heel first.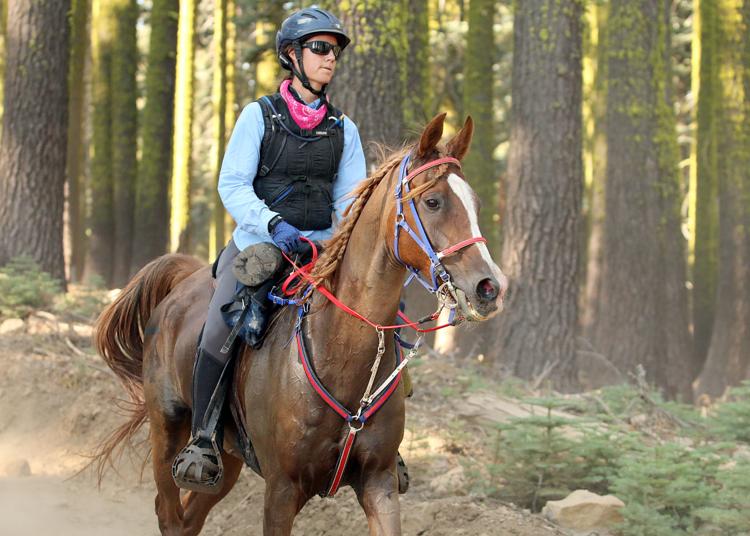 "My toenails were both completely bloody and gray afterward and now they're going to fall off. My crew was joking with me, 'So, next year is it going to be your earlobes?' I wasn't in shape, but I felt strong and mentally with it. But a lot of really, really fit riders who ride all the time had to lay down at the vet checks toward the end because the humidity and heat got to them."
Her weekend was crazy even before she and husband Erik made the trip Thursday.
"First of all, the water tank to the trailer broke, so I had to fill all these jugs and get them in there," she recalled. "Then I had to take my dog back to the vet to have a third surgery from his broken leg that morning. Then we broke down on I-80. Traffic was stopped and we were idling going uphill and the truck shut off. It was 100 degrees outside and we were stuck with my horse trailer on the freeway – not off to the side, but on the freeway near Kingvale. Nobody would tow us because we had a horse in the trailer. Finally this lady pulled over and said she had a chain, and pulled us off at the next exit.
"Luckily there was shade and I unloaded Monk and let him graze and walk around. Erik called a friend who is a mechanic and the truck ended up having vapor lock."
All in all, Fisher said it was a good weekend.
"I have never felt like so honored and humbled by all the people that were rooting for Monk and me. They were coming up to me at the finish line in tears," she said. "A lot of people really wanted us to win because they felt like of all the horses, this horse deserved to win, having done so well for so long. I started riding him 10 years ago and we've been through so much together – the World Equestrian Games, world championship rides, riding in the Middle East and the Tevis Cup.
"I'd trust this horse with my children. He's never done anything other than pin his ears and pretend to bite when we put the blanket on him. That's just his personality, and it's the joke around Tevis. Even the announcer was talking about it. The announcer also said Monk is one of his two favorite horses in endurance."