Despite a season-high 26 points from Akeem Dear, the Napa Valley College men's basketball team absorbed its first Bay Valley Conference loss of the season, 99-89 in overtime, to visiting Yuba on Thursday night.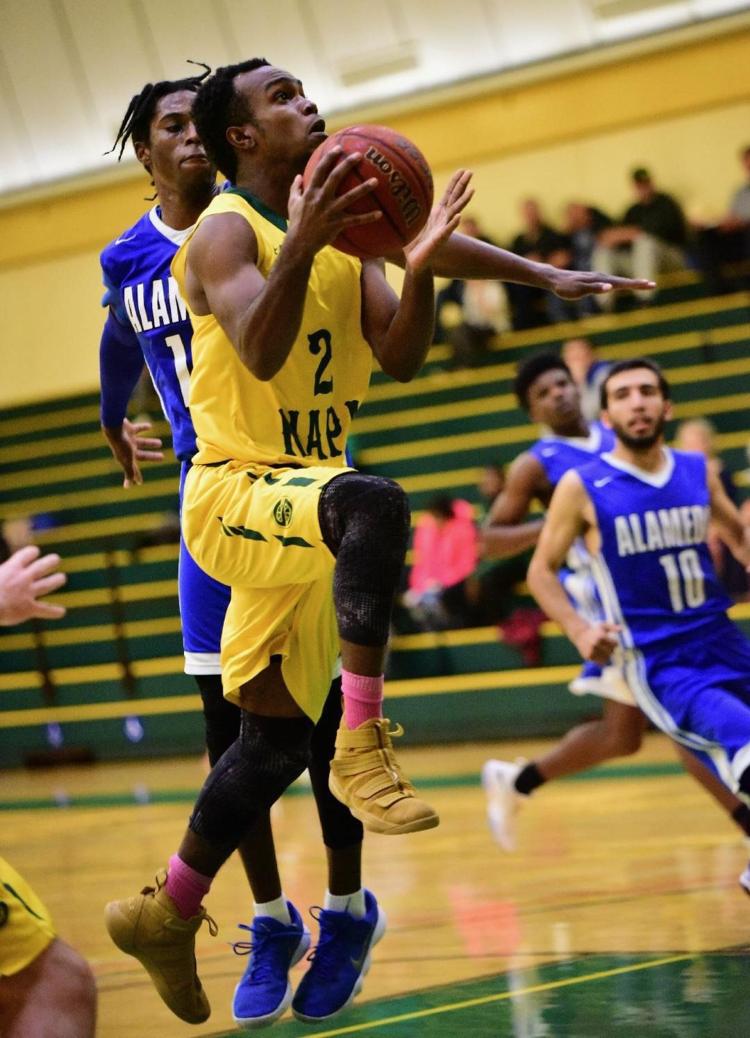 The Storm (9-8, 5-1 BVC) and the 49ers (13-5, 5-1 BVC) were tied 84-84 after regulation, before Napa Valley had a six-game win streak snapped. The Storm and Yuba are now tied for first place with Contra Costa (11-6, 5-1 BVC), but not for long. The Comets host Napa Valley at 1 p.m. Saturday in San Pablo.
Dear also had six rebounds against Yuba. Armani Mills added 20 points and seven boards, Sasha French 14 points, 11 rebounds and three blocks, Adopo Amancho 13 points, Joe Fons six points and nine rebounds, and Jayden Hampton seven points and five assists.
In a 66-53 win at Solano Community College in Fairfield on Tuesday, French led the Storm with 16 points on 7-of-16 shooting, 14 rebounds, two assists and two blocks. Tom Salsman scored 12 points on 4-of-9 shooting and had four assists and three rebounds. Mills had 11 points, three rebounds and three assists.
Other contributors were Dear (nine points, seven rebounds, two steals), Fons (eight points, eight rebounds, two blocks), James Ned (four points, four rebounds), Malcolm Bracy (three points, three assists), Hampton (five rebounds, five assists) and Calvin Johnson (three rebounds).
Krill leads Wesleyan
Nathan Krill scored a team-best 14 points and had four rebounds to help the host Wesleyan University men's basketball team defeat Middlebury College Saturday at Silloway Gymnasium, 80-70, in Middletown, Connecticut.
Krill, a Justin-Siena High School graduate who is from St. Helena, was 4-of-4 from 3-point range in 15 minutes for Wesleyan (10-2 overall, 1-1 New England Small College Athletic Conference).
For the season, Krill is averaging 12.6 points, 8.5 rebounds, 1.8 assists, 1.4 steals and 1.2 blocks per game for Wesleyan, a small, private NCAA Division III school.
Imhoff leads Carroll
Ryan Imhoff, a Napa High graduate, scored 20 points and had 14 rebounds for the host Carroll College men's basketball team in a 59-54 loss to Rocky Mountain College on Tuesday in Helena, Montana.
Imhoff also had four assists and two blocks for Carroll (15-2 overall, 3-2 Frontier Conference).
For the season, Imhoff is averaging 21.2 points, 6.5 rebounds and 4.3 assists per game.
Awards for Warriors
* Golden State Warriors guard Stephen Curry was named as the Week 12 Western Conference Player of the Week, the NBA announced Jan. 8.
Curry averaged 35.3 points on 53.3 percent shooting from the field, 6.7 rebounds, 5.3 assists and 1.66 steals in 33.7 minutes per game, leading the Warriors to a 3-0 week.
* Golden State head coach Steve Kerr was named as the NBA Western Conference Coach of the Month for games played in December, the league announced Jan. 3.
The Warriors were a league-best 13-2, their highest winning percentage during the month of December in franchise history.