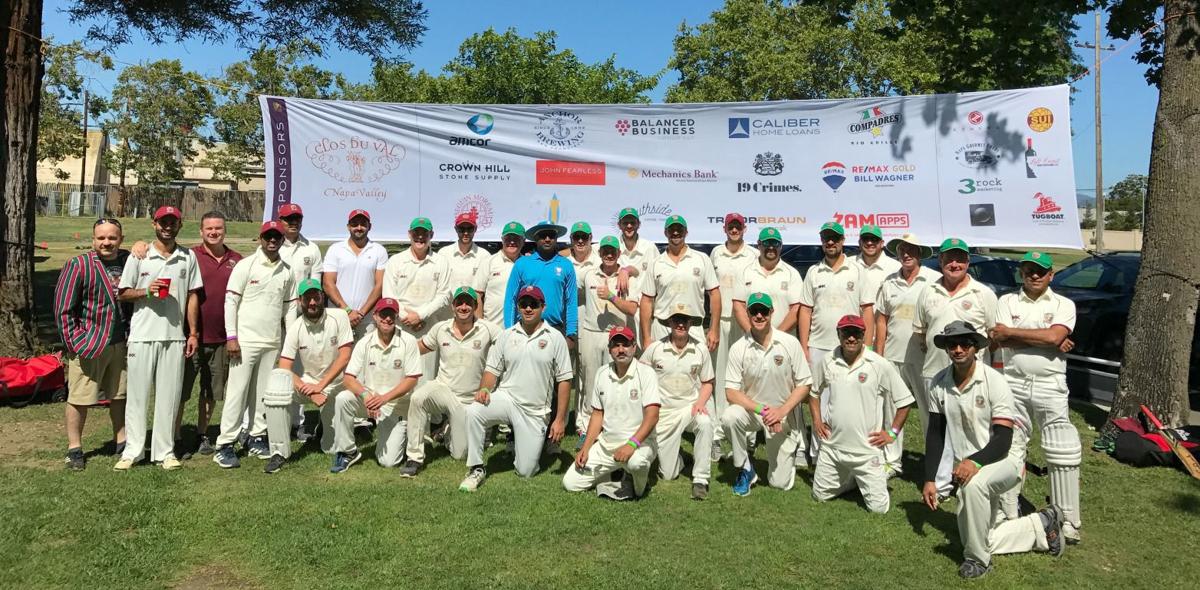 The Napa Valley Cricket Club kicks off its eighth season this Saturday, April 13, at the Napa Valley Expo in downtown Napa.
The match will be an inter-club tilt between a City Team and a County Team and will begin at 10:30 a.m.
NVCC has made the Expo its home since moving from Calistoga in 2016 and is schedule to host 16 match days – both home and away – in 2019. After the City vs. County match, the club will play a number of away matches in Davis, Sacramento, and Marin as the Expo hosts BottleRock. The next home match for NVCC after this Saturday will be June 15, when they host local wine country rivals, the Sonoma Gullies.
"We have a busy 2019 ahead" said Andrew Healy, NVCC Vice-President, "and it looks like it's going to be our busiest season ever. With an influx of new players each season, our base of playing members is growing so we've had to add match days to satisfy that demand. In addition, we'll again be hosting the Golden Gate Aussie Rules folks on the Silverado Green in late June, and in August we're hosting the inaugural North Bay T20 with the Sonoma Gullies and Autodesk joining us for a triple-header of matches on the one day."
The NVCC will take their annual tour, which will be to Chicago in early June this season in hopes of finally winning a tour match. It will be the club's seventh tour with previous ones to Los Angeles, Vancouver, Philadelphia, San Diego and Phoenix all ending up with the NVCC on the losing side of the scorecard.
The clubs' annual big day out, the Napa Valley World Series of Cricket, will take place at the Expo on July 20 with the defending team of Australian and American members looking to retain the trophy that they won in 2018. The event will be family friendly and will have food and beverages as well as kids' activities and commentary will be provided for those new to the world's second-most popular sport.
Off the field, the club has another busy year of social events planned. The traditional "Curry Night," where club members and friends create their favorite curry dish for all to enjoy, has been moved to early May. With both the cricket and rugby World Cups happening in 2019, NVCC will also be hosting watch parties at their new venue sponsor, NapaSport, in south Napa
"We had a great run at Compadres with Rick and his crew and we'll miss their incredible hospitality," said Rob Bolch, NVCC President. "In light of the change at the property on Lincoln Avenue we had to find a new home for our events and NapaSport was the obvious choice. And we're looking forward to a busy season ahead with Michael and his team."
NVCC is always looking for new members and anyone who's interested should get in touch with the club via their website (www.napacricket.com) or head down to one of their matches.
NVCC is sponsored this year by 19 Crimes Wine, Bill Wagner Realtor, Balanced Business Group, Caliber Home Loans, Crown Hill Stone Supply, John Fearless, NapaSport Steakhouse, St. Helena Optometry, Seguin Moreau, Stone Brewing Napa, ZAM Apps, AZMERA Consulting, Blue Jean Black Design, Napa Gourmet Foods and 3 rock marketing.