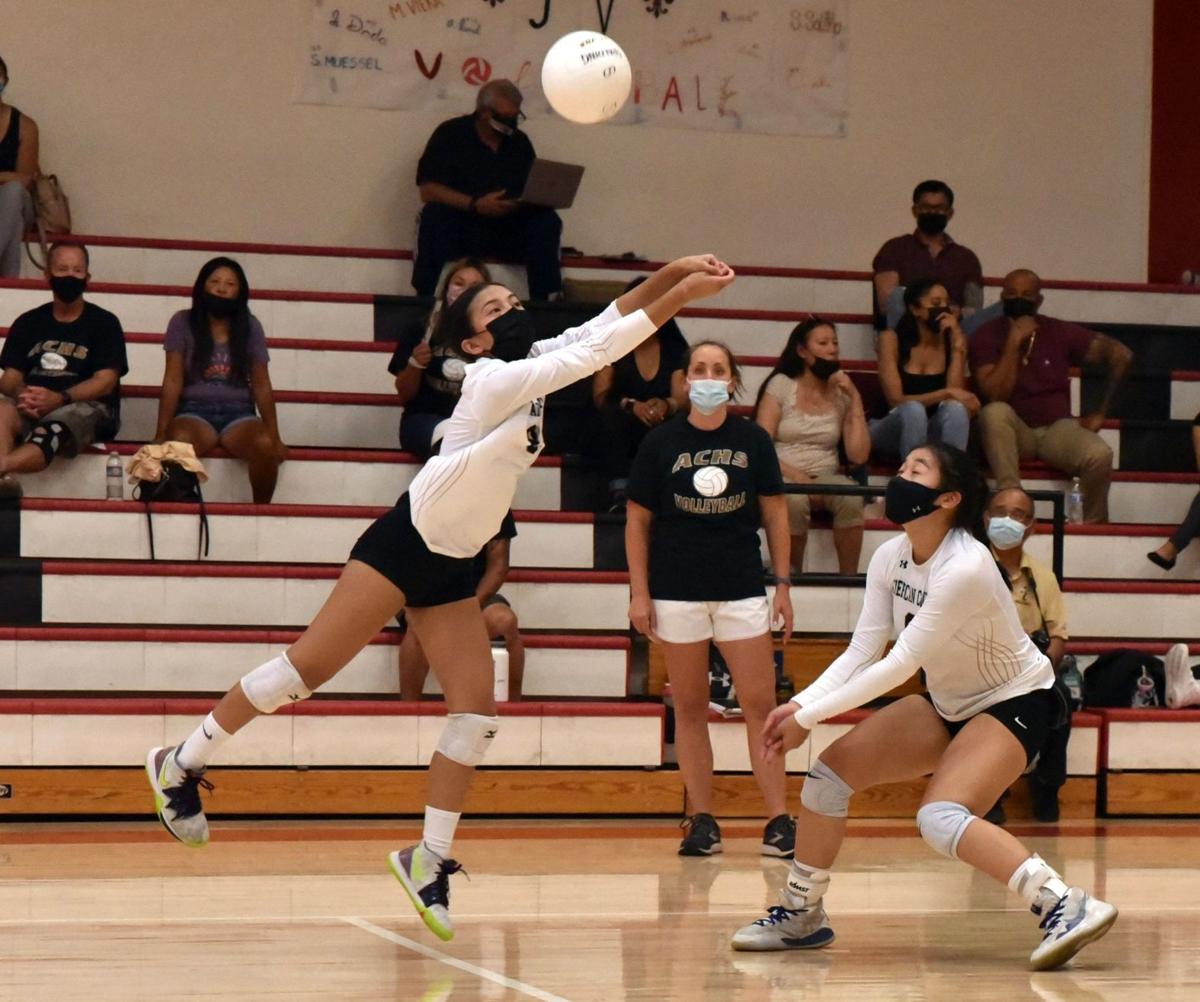 Faced its toughest competition yet, the American Canyon High volleyball team improved to 5-0 by outlasting former Solano County Athletic Conference rival Benicia, 27-25, 25-19, 24-26, 23-25, 15-13, at home Thursday night.
Arianna Pacheco led the Wolves with 11 kills, 5 aces and 19 digs. Giselle Torres contributed 11 digs, 11 kills and 19 assists. Alexa Berry added 10 kills and Gabriella Trinidad 8 kills to round out the offense.
Support local news coverage and the people who report it by subscribing to the Napa Valley Register. Special offer: $1 for your first 6 months!
Vyvylyn Tran had a whopping 34 digs for the night, and Nalani Bustos had 25 assists.
The Wolves start Vine Valley Athletic League play next week by traveling to Casa Grande on Tuesday and Napa High on Thursday.
Justin-Siena 3, St. Patrick-St. Vincent 0
The Braves swept the Bruins in Vallejo on Thursday night, 28-26, 25-17, 25-21. Justin-Siena (3-1) trailed 6-1 in the first game before battling back to win a very long set and cruised from there.
Emery Messenger led the Braves with 11 kills and 13 digs. Eleanor Meyers added 10 kills, an assist and 4 terminal blocks. Ranessa Rualo served well and tallied 15 assists.
Justin-Siena also won the best-of-three junior varsity match in three games.
"I am so proud of JV and varsity for fighting hard for the double win tonight," Braves head coach Kate Reilley said. "The Bruins have incredibly scrappy teams that forced us coaches to make several adjustments throughout the games. It is games like this that ultimately make our teams better, forcing us to move the ball around, make adjustments, and fight for every point. I am looking forward to our first league matches against Sonoma Valley next Thursday."
Varsity Boys Water Polo
Alhambra 11, Justin-Siena 2 (2OT)
Rylie Dombrowski amassed 17 saves and Carson Mooers had 4 goals, but it wasn't enough to lift the Justin-Siena boys water polo team in its season opener Wednesday as Alhambra prevailed in double-overtime, 11-9, in Martinez.
Braves head coach John Derr said almost half of Dombrowski's saves were one-on-one on shots from point-blank range.
"Rylie absolutely kept us in the game, making critical saves time and time again," he said.
Casey Kleis, Gino Bartalotti, Tommy Christ, Aidan Machado and Thomas Smith each chipped in 1 goal for Justin-Siena. Kleis and Bartalotti played tight defense and had 3 steals apiece. Derr said Ellison Levy had a great game all-around, leading the counter attack to his low post position.
The score was 9-9 after four quarters.
"This was a great game from the very first faceoff," Derr added. "It was a very physical game and close throughout. Very proud of these boys. They fought hard all game, just coming up a bit short at the end. Being our first game, we know now we have a few things to work on prior to our next game
We're looking forward to getting back in the pool and practicing with a purpose."
The Braves will look to bounce back in their next game, against Ukiah on Sept. 14 at the Napa Valley College pool.
JV Boys Water Polo
Justin-Siena 5, Alhambra 1
Pearce Alger led the Braves to victory Wednesday with 3 goals from the set position, while Nick Merab and Lucas Padowan tallied 1 goal apiece.
Head coach John Derr said Andy Machado and Lucca Sebastiani "both showed great hustle and tenacious defense in shutting down their opponent," and that "Reese Ingram played the defensive set position most of the game and completely shut down Alhambra's ability to get it into the set."
He said Tyler Pitts, along with newcomers Evan Smith, Jack Shea and Kash Adams, "played outstanding for their first game," as did goalkeepers Trevor Hummer and Eli Derr, who "truly shut down the opponent" by combining for 16 saves.
"For many of the boys, this was their first game ever played and they did fantastic," Coach Derr said. "These boys played as a true team today and it was a pleasure to coach. The determination and hustle was evident from the start, and their ability to get back on defense and not allow a goal on transition was great to see. Alger was a beast in the set position and Hummer and Derr shut down their offense from the goalie position. It was a fun game to watch."
JV Volleyball
Justin-Siena 2, St. Patrick-St. Vincent 1
Playing in Vallejo on Thursday night, the Braves lost the first set but came back hard to win the next two and take the match.
They were led by Rose Schafer with 9 aces and Addison Geist with 8 kills, while Angela Adiz dominated the back row and setter Lily Kaer had a momentum-shifting terminal block.
Catch up on Napa County's top sports stories