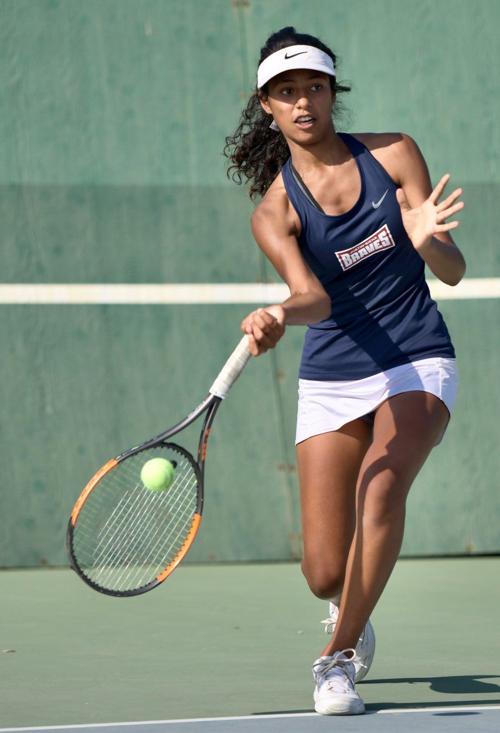 Justin-Siena is undefeated in Vine Valley Athletic League play in four girls sports this fall, with three of them keeping their league campaigns perfect on Thursday.
The girls water polo team will put its 3-0 VVAL mark on the line Tuesday at American Canyon.
Varsity Girls Golf
Justin-Siena 279, American Canyon 368
The Braves improved to 8-0 in VVAL action with Thursday's win at Chardonnay Golf Club
Vannia Dagnino had one of her best matches of the season with a 47, followed by Brooklyn Blankenship with a 48. Marley Sennott added a 56, Natalie Krystal a 60, Ava Preston a 68, and Kaela Fegan a 71.
Support local news coverage and the people who report it by subscribing to the Napa Valley Register. Special offer: $1 for your first 6 months!
"The girls are showing improvement in every match and have all contributed to being 8-0 in league," said Braves head coach Elaine Cavalin.
Justin-Siena wraps up regular-season play next week by visiting Vintage at Silverado Resort on Tuesday and hosting Petaluma at Chardonnay on Thursday.
Varsity Girls Tennis
Justin-Siena 6, Casa Grande 1
Bella Rampa escaped with a wild 7-5, 4-6, 1-0 (10-8) win over Sam Ruk at first singles as the Braves beat the visiting Gauchos on Thursday. Justin-Siena improved to 8-0 in the VVAL and 9-0 overall, extending its four-year win streak to 47 regular-season victories.
There was another three-setter at third doubles, were Casa Grande's Violet Miscio and Duri Sekiya defeated Micheala Pucci and Lydia Heil, 7-5, 3-6, 1-0 (12-10).
The rest of the matches went to the Braves. Bryn Hogan beat Ashika Balakumatan at second singles, 6-3, 6-3, Naveena Jackson prevailed over Halle Boulter at third singles, 6-1, 6-0, and Tatum Newell beat Hermine Heier at fourth singles, 6-0, 3-0 (retired).
At first doubles, Jess Beaulac and Megha Jackson beat Lily Moses and Taylor Eaton, 6-0, 6-1, and at second doubles, Kendall Jackson and Carina Dunbar shut out Maya Nealon and Daniela Maldonado, 6-0, 6-0.
American Canyon 5, Sonoma Valley 2
Hosting Thursday's VVAL match, the Wolves swept the four singles matches and got a No. 1 doubles win from Ariel Legler and Sarah Satake, 6-2, 7-5 over Grace Utnehmer and Natalie Wetzel.
At No. 1 through No. 4 singles, respectively, it was Ezrielle Llave over Sophia Vogt, 6-0, 6-3, Katie Ayers over Solana Staes, 3-6, 6-2 (10-3), Morgan Crowell over Rosie Houghton, 6-3, 6-2, and Emily Satake over Ferne Alvarez, 6-0, 6-2.
For the Dragons, No. 1 players Sierra Pine and Kate Llodra outlasted Kylie Dickenson and Abbygail Alejandrino, 6-3, 7-6 (7-1), and the No. 2 duo of Keira Sheldon and Peyton Rosa downed Alaina Guido and Nicole Rodriguez, 6-2, 6-2.
Sonoma Valley (2-7 VVAL) visits Vintage (7-1 VVAL) on Tuesday, while American Canyon (7-2 VVAL) hosts Petaluma (4-4).
Varsity Volleyball
Justin-Siena 3, Casa Grande 0
Playing a VVAL foe for the third night in a row, the Braves coasted after a hard-fought win in the first set to defeat the Gauchos 26-24, 25-12, 25-16 in Petaluma on Thursday night.
Reagan Brumfield had 8 kills, Jordan Washington "controlled the net and was a blocking machine," head coach Kate Reilley said, and Emery Messenger "served Casa off the court with 16 serves for the match."
Justin-Siena improved to 8-0 in the VVAL and 11-4 overall.
"After a grueling week with three games on three consecutive nights, I am so happy our girls went 3-0," Reilley added. "They had to dig deep, but showed a lot of heart this week, and I am so proud of them for fighting for every point."
Next week, the Braves are at Napa High (3-6 VVAL) on Tuesday and at American Canyon (5-4 VVAL) on Thursday.
Casa Grande won the freshman and JV matches over Justin-Siena.
Sonoma Valley 3, American Canyon 0
The Wolves fell into fourth place in the VVAL with Thursday night's 25-17, 25-14, 25-22 loss in Sonoma.
Ariana Pacheco had 14 digs, 4 aces and 6 kills for American Canyon (12-7, 5-4 VVAL). Kennedy Brown had 4 kills and 1 block, Giselle Torres had 9 digs, 3 aces and 9 assists, Charlize Francisco had 9 digs, and Nalani Bustos had 8 assists.
Youth Swimming
Waves host Endless Summer Classic
The Waves Aquatics Napa Valley year-round swim team hosted its annual Endless Summer Classic meet at the St. Helena High School Aquatic Center Sept. 25-26. Opening the short course season, it is an extremely popular meet in the North Bay. Waves head coach Kevin Twohey said 300 swimmers from 26 teams, some from San Francisco, Oakland and Marin County, made the trip.
"The Endless Summer theme makes it a fun-filled meet that the swimmers enjoy and look forward to all year," he said.
The Waves had 50 swimmers ages 6-17 participate. They included Travis Abbs, Troy Abbs, Calvin Bielicki, Isabel Bowden, Leila Brown, Lail Casten, Wells Casten, Jakob Clark, Tori Creaves, Sophia Zhoa D'Antilio, Andrew Dillon, Megan Dougherty, Quincy Frommelt, Emma Hayes, Julia Heil, Katherine Heil, Penny Hurd, Nickolas Klimenko, Alexa Leon, Nicolo Leonardini, Jason Longoria, Tyler Longoria, Ari Loring, Emmett Loring and Jordon Massey.
Also competing were Olivia Miller, Blaise Morrill, Milana Morrill, Aidan Mouriski, Sterling Schwarz, Zoltan Falvy-Smith, Aubrey Sova, Preston Stephens, Monica Suhr, Myka Suhr, Luke Symon, Taylor Tamagni, James Teaff, Lucas Teaff, Katherine Teaff, Melissa Teaff, Yasemin Topal, Will Walter, Sabrina Wells, Hazel Weiss, Jackson White, Jemma Wilcox, Rowan Willen, and Danika Zivkovic.
Competing in their first USA Swimming meet were Sophia Zhoa D'Antilio, Lail Casten, Wells Casten, Alexa Leon, Nicolo Leonardini, Olivia Miller, Blaise Morrill, Milana Morrill, Zoltan Falvy-Smith, Aubrey Sova, Taylor Tamagni, Lucas Teaff, Melissa Teaff, and Yasemin Topal.
The Waves swimmer of the meet was Calvin Bielicki, age 8.
He earned first-place finishes in the three events — the 50-yard freestyle in Division B with an A time of 35.82, the 50 breaststroke in Division B with an A time of 47.99, and the 100 individual medley in Division A with an A time of 1:37.87.
Bielicki was second in four events — the 25 free in Division A with an A time of 17.15 seconds, the 50 backstroke in Division C with an A time of 46.71, the 25 breaststroke in Division C with an A time of 22.76, and the 25 butterfly in Division C with an A time of 20.94.
The Waves compete a Santa Rosa Neptune meet Saturday and Sunday, the Piranhas' meet Oct. 23-24, the Mendocino Coast Sea Dragons' meet Nov. 20-21, and another Neptune meet Dec. 11-12.
Catch up on Napa County's top sports stories