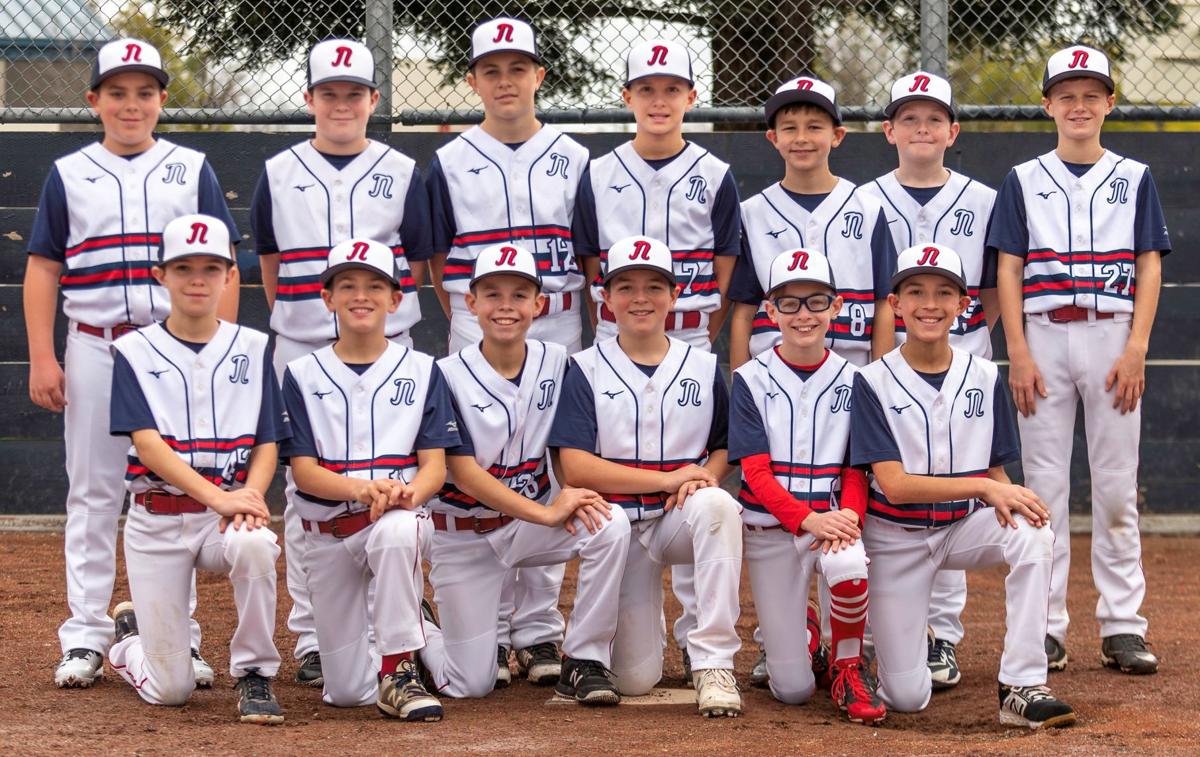 The Napa Valley Nationals 12-and-under baseball team is getting ready to defend its 680 Diablo League championship during its 2020 season, which is scheduled to run from late February through mid-July.
Many of the other eight teams in the league pull players from multiple cities, but the Nationals are all from the city of Napa.
The players are Teddy Eichner, Sawyer Carmichael, Riley Marek, Blake Porter, Braeden Butler, Travis Larsen, Peter Trovitch, Sam Mautner, Collin Taylor, Kayen West, John Bullock, Chase Padowan and Bo Lode. The manager is Steve Porter and the assistant coaches are Jeff Wright, Kelly Lode, Scott Carmichael and Andrew Hall.
The Nationals were 16-4 in 680 Diablo League play last year and 34-9 overall, winning the NCTB Under Armour State Championship at Twin Creeks Sports Complex in Sunnyvale.
The Nationals have acquired a home field at Silverado Middle School, where they are slated to play 13 of their 21 scheduled league games. Their first opponent is the Moraga Mavericks, which they will play on the road Feb. 29 and at Silverado on March 1.
After finishing up 680 Diablo League play, the Nationals will enter numerous tournaments – including a week-long, 61-team event in Cooperstown, N.Y. They will be the first 12-and-under team from the Napa Valley to participate in the prestigious event.
Visit nvnationals.com or Facebook, Instagram or GameChanger for more information.
Optimist Youth Basketball
Long, Coleman, GEM notch wins
Louie Canepa pulled down 19 rebounds and scored 16 points to lead Long Electric to a 40-35 win over R.E. Maher Construction. Tommy Christ added 8 boards and 8 points for Long, Tytan Bradley 10 points and 5 steals, Nathan Materne 8 rebounds and 4 points, and Justin Ray 2 steals.
You have free articles remaining.
Caleb Rusin had 15 points and 5 rebounds for Maher, while Ricardo Torres added 10 points, Manuel Quintero 6 boards and 3 points, Jaelin Abernathy 3 points and Ishmael Lopez-Auniga 2 steals.
Mark Coleman Insurance downed Napa Valley Physical Therapy Center, 75-23, with Diego Alaya getting 17 points and 2 steals, Manuel Rios 14 points, Aaron Thomas 11 points and 5 rebounds, David Capra-Rodriguez 11 boards and 6 points, German Jacob 9 points, 8 rebounds and 2 steals, Nicolas Hayck-DeLeon 7 points and 6 boards, Angel Vega 6 rebounds and 2 steals, Jacob Umali 6 points, Mauricio Estrada 3 points and 2 steals, and Julian Vega 3 steals.
Caden Nunes posted 10 points, 5 rebounds and 2 steals for Physical Therapy, AJ Scheiner 8 boards, 6 points and 3 steals, Ralph Mizona 7 rebounds and 4 points, Carlos Cruz 5 boards, and Isaac Rodriguez 3 points.
General Equipment Maintenance took a 41-34 decision over Anette's Chocolates, with Austin Graeber posting 11 points and 3 steals, Matthew Zhou and Weilin Hu 7 points, 6 rebounds and 4 steals each, Ullyses Toscano 5 points and 2 steals, Michael Valdovino 5 points, Jaaziel Satten 5 rebounds, and Peiru Li 3 steals.
Zachary Allen had 18 rebounds, 10 points and 2 blocked shots for Anette's, while Dylan Snider added 9 points, 11 boards and 2 steals, Max Knauer 7 points, and Caydin Nelson and Nicholas Murphy 3 points apiece.
Club Solano Volleyball
12 Black third in tourney
Club Solano's 12-and-under Black took third place in the Presley Bracket at the NCVA Presidents Day Tournament on Monday at San Mateo Convention Center.
The team placed first in pool play on Saturday and on Sunday fell in the semifinals.
"It was a long weekend but with a lot of good volleyball. The girls played outstanding," coach Rick Manibusan said.
Directing the team were Caelin Gawiran (41 aces, 11 assists, 9 kills) and Alyssa Chopito (10 aces, 18 digs, 6 kills). Offensive attacking came from Trisha Dionisio (15 aces, 37 digs, 15 kills), Anushka Nare (3 aces, 18 digs, 5 kills), Dior Duru (6 aces, 14 digs, 12 kills) and Giyonna Little (7 aces, 6 blocks, 13 kills).
Holding down the defense were Danae Gomez (20 digs, 3 assists), Sloane Chester (14 digs) and Raylene Ruffino (20 digs).
Be the first to know
Get local news delivered to your inbox!