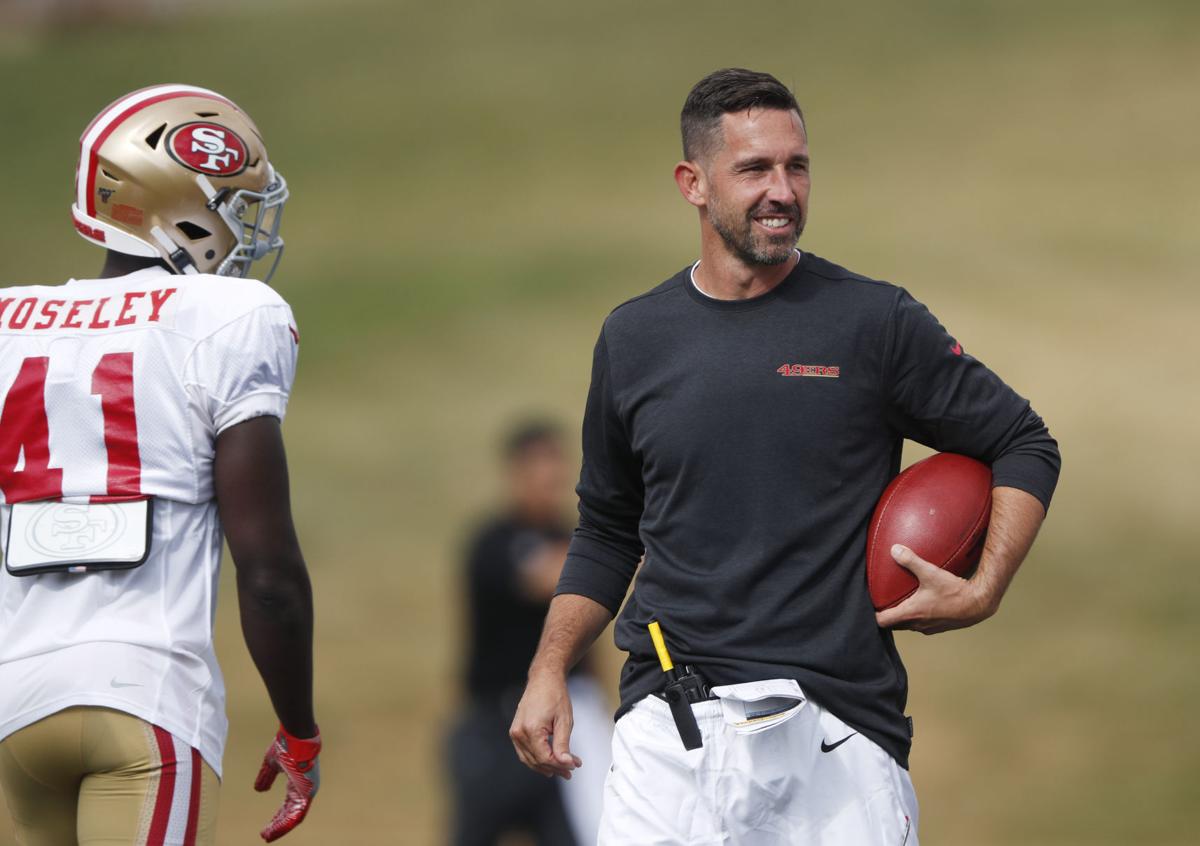 SANTA CLARA, Calif. — The 49ers are rewarding their head coach that inherited a 2-14 team and took it to the Super Bowl three seasons later.
The team on Monday agreed to a six-year contract extension with Kyle Shanahan, putting him under contract through 2025, a league source confirmed to The Sacramento Bee. The new deal will make Shanahan one of the five highest-paid head coaches in the NFL, per ESPN, which was first to report the news.
Shanahan, 40, signed a six-year contract with the 49ers when he first hired in 2017, becoming the fourth coach in four seasons while the club struggled to find consistency in the wake of Jim Harbaugh's departure after 2014. The new deal replaces the three years remaining on Shanahan's initial contract and comes with a substantial raise, though the financial figures have not been disclosed.
Shanahan, with the help of general manager John Lynch, who was hired at the same time, has turned the 49ers around from a team that had the No. 2 pick in the draft when he was hired to having a 10-point fourth-quarter lead in February's Super Bowl that was squandered to Patrick Mahomes and the Kansas City Chiefs.
Shanahan also serves as the offensive coordinator and helped Jimmy Garoppolo develop into a winning quarterback after acquiring from the New England Patriots midway through 2017. Garoppolo helped San Francisco go 13-3 during his first full season as a starter after his 2018 campaign was derailed by a Week 3 ACL tear. Garoppolo is 21-6 as the team's starter, including the playoffs.
The 49ers in 2019, while earning the top seed in the NFC playoffs, ranked third in scoring (29.6 points per game) and eighth in yardage (374.2). The defense finished second overall allowing 284.4 yards per game.
San Francisco's turnaround speaks for itself. But Shanahan has also done well developing relationships within the organization that was wrought with turmoil before he arrived. Shanahan and team CEO Jed York recently sat down "and quickly figured out what each meant to the other," according to ESPN's report, leading to the new contract.
York had famously been at odds with Harbaugh previously and stuck with general manager Trent Baalke as the two clashed. Baalke at the end of 2016 was fired following the coaching hires of Jim Tomsula and Chip Kelly, who went 7-25 combined. Neither lasted beyond their first seasons. Shanahan is the team's first coach to receive a contract extension since Steve Mariucci in 1999.
The 49ers have turned into a destination franchise in large part because of Shanahan's coaching style and the locker room culture he instilled with Lynch and the front office.
"This was a preferred destination of mine just because of the familiarity with Kyle and the offense," new left tackle Trent Williams said in the spring after being acquired in a trade from Washington to replace Joe Staley. "Obviously being an ascending team, I feel like I'd fit right in."
Shanahan has been described by his players as a "genius" and has been lauded for his relatability. Last week he took a strong stand against racism and police brutality that received a slew of praise from his players on social media.
"There's different parts of this country, but a lot of white people, if they don't see it, they don't think it's happening," Shanahan said. "They associate racism with slavery and stuff (from) a long time ago. And they're in certain parts where if they don't see it, they don't think it's happening. And that's the problem. Racism's all over (the country). And it's what black people deal with every day. And white people are very sheltered to that and very ignorant. And I think that's the message that's been missed."
Be the first to know
Get local news delivered to your inbox!