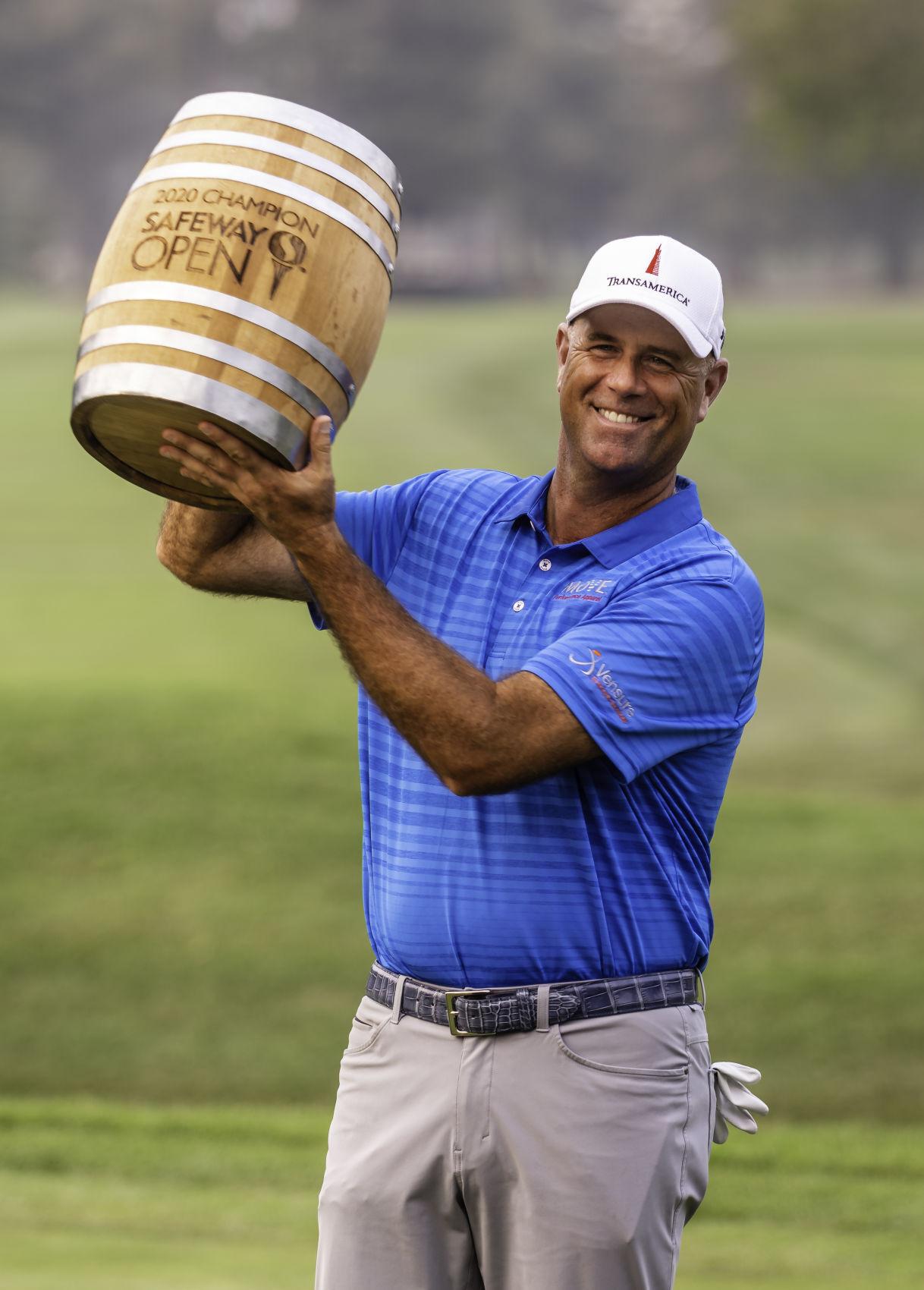 Call it the Shootout at Silverado.
That's exactly what it was during Sunday's final round of the Safeway Open in Napa, with players hitting super shots and going low and moving up a bunched leaderboard on a day that offered so much excitement and thrilling golf from start to finish.
With so many players in red numbers and in contention to start the day, it was Stewart Cink, a veteran player who joined the PGA Tour in 1997, who took charge, taking care of business on the North Course at Silverado Resort and Spa. The 47-year-old Cink closed with a 7-under-par 65 and came from behind to win the Safeway Open title, the kickoff event to the PGA Tour's 2020-21 schedule that was carried by Golf Channel.
Cink, who was tied for seventh place at 14-under and two shots off the lead after the third round on Saturday, had the right touch on the par-72, 7,116-yard course, as he broke the tournament scoring record, completing the four-day, 72-hole event with a 21-under 267 total. The previous record was set by Brendan Steele, who shot 18-under 270 in winning the 2016 title.
He called it an emotional win – his first victory in 11 years, and he had his son, Reagan, 23, caddying for him.
Cink becomes the oldest winner on Tour since Phil Mickelson at the AT&T Pebble Beach Pro-Am in 2019.
"It's been an awesome time," he said. "This is a really special place. I love being in Napa and I just had a really phenomenal time this week. And on top of that, my golf ball was pretty agreeable most of the way, so it was a really great experience top to bottom all week."
Cink joins a coveted Safeway Open winner's circle that includes Kevin Tway and Cameron Champ of Sacramento, and Steele, a two-time champion. This was the fifth year of the tournament, a $6.6 million event and the seventh straight year of the PGA Tour at Silverado, which has a long and rich history in professional golf.
Silverado's list of past champions is a glorious one, led by Johnny Miller, and also includes Jack Nicklaus, Tom Watson, Ben Crenshaw, Lee Trevino, Tom Kite, Dave Stockton and Billy Casper, just to name a few.
It's Cink's first win since he captured The Open Championship in 2009. He receives a winner's check for $1.18 million and 500 FedExCup points.
"I've played some good golf over the years," said Cink. "It's been a while since I really played well for four rounds, and even here in the second round I was not exactly outstanding, but I really played great over the weekend.
"I was clear-headed and calm and that's an area where I kind of have struggled over the years. I had a lot of good sort of vibes. It just felt like the right place for me to be up near the top of the leaderboard. Then when it came time for me to kind of wrestle the bull to the ground, we were able to keep our composure, me and Reagan both, and get the job done."
Cink took part in a trophy presentation, as he was joined by Johnny Miller and John Evans from Silverado, Cliff Riggsbee from Safeway, Don Walker from Chevron, and Jeff Sanders and Matt McEvoy of SportFive. Miller is a World Golf Hall of Fame member and one of Silverado's owners. Evans is Silverado's Managing Director/General Manager.
"I definitely had a lot of emotions out there today," said Cink. "I just was overcome at a few times with a feeling of gratitude and just feeling like how fortunate I am to be in the position that I'm in. We call it the bullets are flying out there. You know, the last four or five holes of a PGA Tour event your name's on top of the leaderboard. But think about it, I've got my son caddying for me.
"I always try really hard to keep my heart in the right place when I'm competing. That's just one of my main goals."
It's also his 100th career top-10 finish on Tour.
Cink finished two shots in front of Harry Higgs, who was second after shooting a 68, going 19-under for the week.
Tying for third were four players: Doc Redman (62), Chez Reavie (66), Kevin Streelman (67) and Brian Stuard (70), who were each at 18-under.
Sam Burns (70) and Kristoffer Ventura (70) tied for seventh, both at 17-under.
Rounding out the Top-10 finishers were J.J. Spaun (68), Pat Perez (69), Akshay Bhatia (68), Russell Knox (70) and James Hahn (72). They were at 16-under.
It was a fall season event that produced some of the lowest scoring in tournament history.
The weather was ideal – temperatures in the high 70s with a light breeze. Conditions were dry, firm and fast.
With the win, Cink secures a spot in next year's Sentry Tournament of Champions at Kapalua on Maui, the Masters Tournament, PGA Championship, and Players Championship, along with numerous invitational events.
Cink had eight birdies during his round, including the one on the par-5 18th hole as he gave himself some breathing room after a bogey on No. 17.
"For crying out loud, I left a five-foot putt short on the 17th hole that I needed to make," he said. "That's not like what a champion does. But a champion does get back up off the mat when he gets knocked down and I got knocked down a little bit there and I went and played the 18th hole the best I've played it in my whole life."
He hit 11 of 14 fairways, 13 of 18 greens and was 5 of 5 scrambling, with 26 putts.
This marks his seventh win on Tour. His other wins came at the Canon Greater Hartford Open (1997), MCI Classic (2000), MCI Heritage and World Golf Championships-NEC Invitational (2004), and Travelers Championship (2008).
He has played on four Ryder Cup teams (2002, 2004, 2006, 2008, 2010) and four Presidents Cup teams (2000, 2005, 2007, 2009 ).
This past year, he recorded one Top-10 finish, tying for ninth at the Houston Open, and finished the season No. 144 in the FedExCup standings. He made 11 cuts in 14 starts.
Redman, from Jacksonville, Florida, was the clubhouse leader at one point during the day, as he went out in 32 and shot 30 on back nine, with birdies on his last six holes. He finished his round early, as there was still three hours of golf to go. He birdied his last six holes during a bogey-free round.
"I hit it well. I didn't feel like I hit it very well (Saturday) and I made some adjustments on the range," said Redman. "I know if I can get it rolling, especially early, with my ball-striking, then I get a lot of confidence and there's no telling how close I can hit it. I was playing well. I just got hot. It happens, so it was awesome. It's awesome to have a really good round and post a good finish."
He had birdies on Nos. 1, 5, 6, 9, 13, 14, 15, 16, 17 and 18. He hit 9 of 14 fairways, 17 of 18 greens, and had 25 putts.
Redman turned pro in 2018 and joined the PGA Tour in 2020.
This past year, he had made 17 cuts in 24 starts. He advanced to the FedExCup Playoffs in his first season as a full-time Tour member, ending the season No. 71 in the FedExCup standings.
Streelman enjoyed his week in the Napa Valley.
"It's one of my favorite places on Earth, I just love Napa," he said. "It's one of my favorite stops. It's always a relaxing stop for us and to start the year off on a Top-5 finish is nice."
Fifth year of Safeway Open
This is the fifth year of the PGA Tour event at Silverado with Safeway as the title sponsor. The five-year agreement with Safeway runs through 2020.
Jeff Sanders, the tournament's executive director, said there has been no announcement as to the future of the event.
"The discussions are going on starting the next couple of weeks between the PGA Tour and Safeway. Everyone is hopeful that it will all work out, but again those discussions are between the PGA Tour and Safeway and we'll just have to wait and see how it goes," Sanders said Sunday. "If we get the call and the opportunity, we'll be ready to go."
Sanders, the President of Sportfive Golf Events, the company producing the Safeway Open, has been involved in the tournament all five years.
The event did not have spectators due to the COVID-19 pandemic. Other than players, caddies, volunteers, tournament staff and media, there were very few people on the course. In previous years, the tournament has featured concerts, a food and wine pavilion, and other on-site areas for food and beverages.
"When we came into this week, the PGA Tour, Safeway, Silverado and Sportfive (Golf Events), my team, we all had the same goal in mind, and that was to put on a first-class event under very challenging conditions and keep everybody safe. And that's what's happened, so I'm just thrilled with that result," said Sanders.
"We miss our fans greatly. We miss all of our sponsors. Those people are the foundation of this golf tournament and they weren't able to be here this year. It's been a sad week from that perspective. But at the end of the day, we made the best of it, all of us together again. Safeway, the PGA Tour, Silverado and Sportfive, we made the best of the situation and for that I'm very pleased."
Phil Mickelson, a World Golf Hall of Fame member, wrapped up his week at the Safeway Open, finishing at 10-under after a final-round 70.
"I enjoyed the week. I always enjoy it here," said Mickelson, who has won five major titles and is a 44-time winner on the PGA Tour. "I enjoy the golf course and I thought it was a really nice setup because the greens are similar to what we're going to have for the U.S. Open. I played better on the back and hit some better shots. I thought it was really a fun week and a good chance to kind of work on my game and prepare a little bit."
Mickelson is in the field for the U.S. Open, Sept. 17-20 at Winged Foot Golf Club in Mamaroneck, New York.
"I'll head over to Winged Foot and see if I can put it together," he said. "I'm not striking it the way I've been striking it the last few months. It's not far off, but it's got to click in the next few days. I've got a little bit of work to do, but again, it doesn't feel far off."
Be the first to know
Get local news delivered to your inbox!