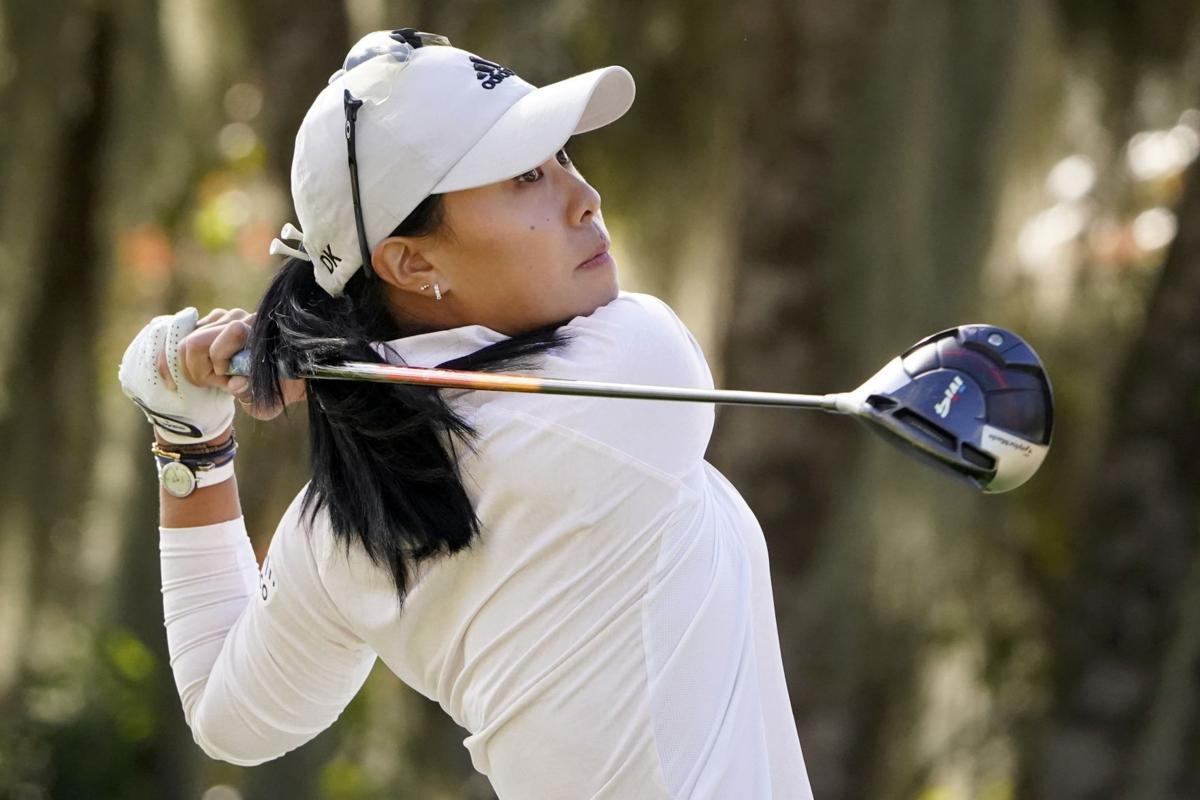 LAKE BUENA VISTA, Fla. — Danielle Kang managed to steal some of the spotlight from the Korda sisters on Thursday as the LPGA Tour opened its 71st season with a winners-only field at the Diamond Resorts Tournament of Champions.
Kang opened the year with a bogey-free, 7-under 64 for a one-shot lead over Jessica Korda and Nelly Korda, along with defending champion Gaby Lopez, at Four Seasons Golf and Sports Club Orlando.
Kang is coming off a two-win season last year that was shortened by the COVID-19 pandemic, winning back-to-back in Ohio when the LPGA resumed after a five-month shutdown.
The highlight for Kang — who birdied three of the four par-3 holes, including the ninth with a 30-foot chip-in — came at the 530-yard 13th. Facing a downhill lie with 241 yards to the front edge for her second shot, and needing to hit a hard draw, Kang took a gamble with a 5-wood and pulled it off, setting up a two-putt birdie from 20 feet.
She joked later that her caddie, Oliver Brett, did not think she could hit the shot.
"It's one of the top-20 shots I've ever seen," Brett said. "She saw it, I didn't. That's why she's the player."
Kang, No. 5 in the women's world ranking, whad to quarantine twice in recent weeks after being exposed to COVID-19 and did not arrive into Orlando until late Monday night. She tested negative six times before getting the go-ahead to play.
Playing alongside country music singers Lee Brice and Cole Swindell, she was back to being her high-energy self, her closest brush to making bogey solved with a 7-footer for par at the fourth hole.
"I think my short game was really good today," Kang said. "I had a lot of feel and touch around the greens."
Stacy Lewis and Brittany Lincicome were at 66. Nineteen players in the 25-player field broke par.
A good portion of the day belonged to the Korda sisters. Jessica played her first nine holes in 7 under and was atop the leaderboard for a majority of a calm and sunny day. Nelly, the top-ranked player in the field at No. 4 in the world, caught her with a late run, dropping a long putt for eagle at 17 after reaching the green with a 3-wood.
When Jessica reached her final hole, she glanced over to a digital leaderboard to see her little sister had her by a shot. So much for that. She ran in an 18-footer for birdie to temporarily join Nelly in the lead. The world of women's golf has waited for these sisters, two of the top young American stars, to battle head-to-head with a tournament on the line.
The sisters' view? If it happens, it happens.
"We don't really think about it too much," said Nelly Korda, who atoned for three early bogeys by playing her last seven holes in 5 under. "We both root on each other, but at the end of the day we want to beat each other, as well. It's healthy, but a good competitiveness."
The season-opening Diamond Resorts TOC features 25 LPGA champions paired with 53 athletes and celebrities. The $1.2 million LPGA portion (the celebrities compete for a separate $500,000 purse) traditionally is open to LPGA winners of the last two seasons. But the LPGA's condensed 2020 schedule prompted the tournament to add winners from 2018.
Tennis player Mardy Fish, a past champion of the celebrity division, took the opening round lead in a modified Stableford format with 41 points, two better than New York Yankees outfielder Aaron Hicks.
Hagy takes American Express lead
LA QUINTA, Calif. — Brandon Hagy didn't find out he was in the field at The American Express until three days before it started. The Californian then left no doubt he belonged.
Hagy took the first-round lead Thursday with an 8-under 64 on the Nicklaus course, staying one shot ahead of South Korea's Byeong Hun An in the opening tournament of the PGA Tour's West Coast swing.
Hagy racked up 10 birdies, including three streaks of three in a row. He capped the round with a calm birdie putt on the 18th.
"I felt like I saw the greens really well, and the last couple of days, I felt like I was putting really well," Hagy said. "Once I started to read them well, I knew if I could just keep doing what I was doing, I'd have a good shot to do something."
Hagy grew up in Westlake Village before his All-America collegiate career in Berkeley. After his early years on tour were interrupted by injuries, he's back to full health — and he has a little extra support at this event from his wife, Jay, and their first child, 5-month-old daughter Hunter.
"There's nothing better than seeing a smile when you leave to go to the course, and then you get the same smile when you come back," he said.
Hagy was added to the AmEx field Monday when second-ranked Jon Rahm abruptly dropped out without giving a reason to tour officials. Rahm later said he incurred a minor injury in the gym, but the Spaniard plans to play at Torrey Pines next week.
Hagy might have made it into the field anyway after additional dropouts, but he was still grateful to Rahm, his friend and a collegiate opponent when Rahm played at Arizona State: "I'll have to send him a bottle of wine or something."
An made seven birdies without a bogey in his 65. Max Homa, Martin Laird and Si Woo Kim shot 66.
Tournament host Phil Mickelson shot a 74 with swing coach Andrew Getson serving as his caddie. His brother and usual caddie, Tim, is at home with his wife awaiting the birth of their first child.
This famed Palm Springs-area tournament long hosted by Bob Hope has undergone significant changes this season due to the coronavirus pandemic, but the idyllic sunshine was familiar to the players who made the trip to the venerable desert event.
The long-standing pro-am format has been dropped for a year, although the likes of Landon Donovan and country singer Jake Owen participated in a charity tournament Wednesday. With fewer golfers on course, the pros are also playing on only two courses instead of the usual three.
But the tournament kept its tradition of providing every opportunity for low scores: the once-feared Stadium Course and the Nicklaus Tournament Course at PGA West are among the most generous in the sport, with birdie opportunities abounding.
Hagy started with a bogey on the first hole of the Nicklaus course, but then the birdies came in bunches. He birdied six of the seven holes before the turn, and he added three more on the back nine after his second bogey.
The 29-year-old's game is coming into focus after a rough few years for a promising talent. After turning pro in 2014 and recording his first top-10 finish in 2017, Hagy missed the entire 2018 season with a persistent wrist injury, and he played only 13 events in 2019 while struggling with a back injury.
After making eight cuts last year, Hagy is back at full health after a solid offseason of preparation.
"I'm happy with what I've been doing," Hagy said. "I'm getting to a point now where I know exactly what I need to work on, and to just keep getting the reps."
McIlroy leads in Abu Dhabi after 64
ABU DHABI, United Arab Emirates — Rory McIlroy again put himself in contention to win an event where he has had so many near misses, shooting an 8-under 64 Thursday in the first round of the season-opening Abu Dhabi Championship.
In 10 appearances in Abu Dhabi, McIlroy has finished second on four occasions and third three times. Apart from one missed cut, he has only one finish outside the top 10 — tied for 11th place in 2008 in his first appearance.
The four-time major champion endured the third winless season of his professional career in 2020, but shrugged off a fog delay of almost three hours to start 2021 with eight birdies.
"It feels good," McIlroy said after surpassing his previous best score in Abu Dhabi. "I knew 65 is the best I've shot here and I've shot it a few times, so I thought let's try to go one better on the next nine and I was able to do that."
McIlroy has a one-shot lead over Tyrrell Hatton (65), with later starters unable to finish their first round.
"You can't win the tournament today or through to Saturday, but obviously it's a nice start," Hatton said.
Hatton made a spectacular start with an eagle on the 10th, his opening hole, and also eagled the par-five 18th.
Defending champion Lee Westwood (69) is five shots off the lead.
Justin Thomas (73) struggled in his first event since Ralph Lauren ended its sponsorship deal with him following a homophobic slur he muttered to himself after missing a putt two weeks ago in the Sentry Tournament of Champions in Hawaii.
The Abu Dhabi Championship begins a run of three events in the "Gulf Swing" — the Dubai Desert Classic and the Saudi International come next.