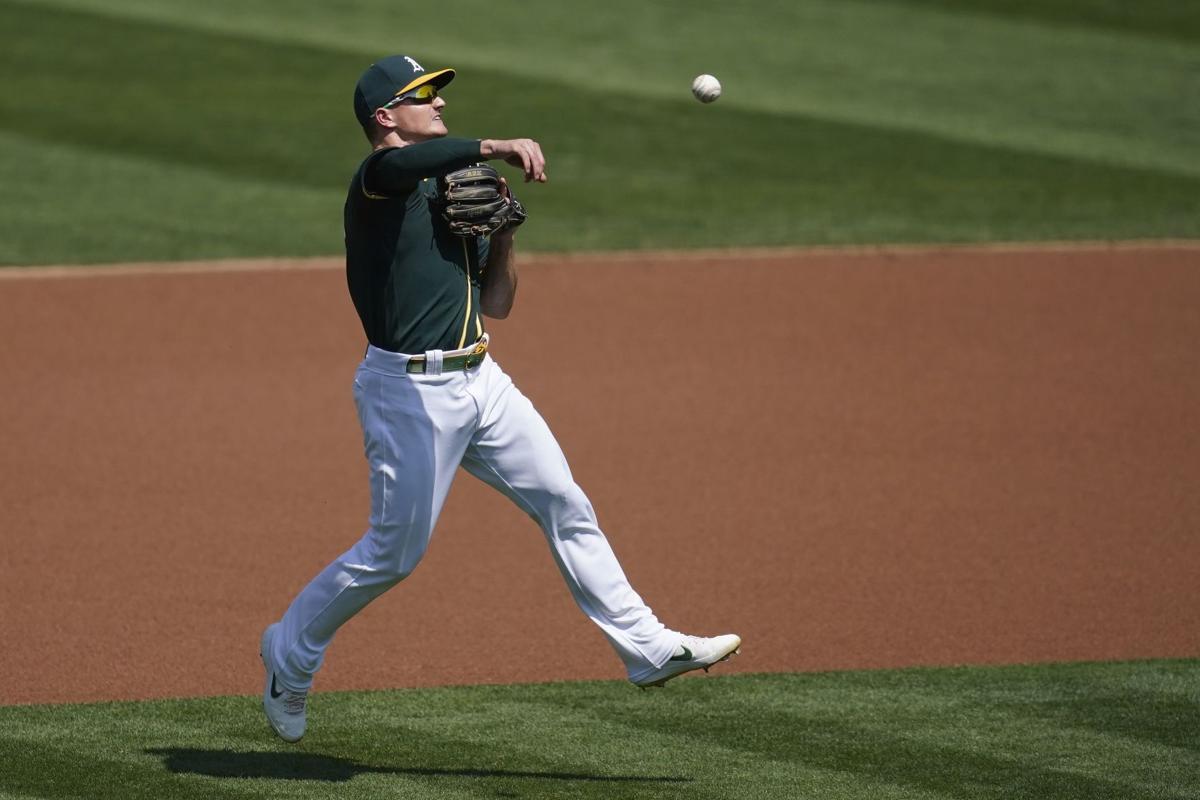 OAKLAND — Slick-fielding third baseman Matt Chapman reached agreement Friday on a guaranteed $6.49 million, one-year contract with the Oakland Athletics to avoid arbitration, and the club also secured deals with its five other arbitration-eligible players.
Chapman earned a hefty raise after making $230,926 in prorated pay of his $623,500 salary in the coronavirus-shortened 2020 season.
The two-time Gold Glove winner's year was cut short by a season-ending hip injury in September — a big blow for Oakland. He was limited to 37 games before undergoing surgery on his right hip. The 27-year-old Chapman had 10 homers and 25 RBIs batting .232 before the injury.
Right-hander Chris Bassitt reached agreement on a $4.9 million contract, left-hander Sean Manaea will earn $5.95 million guaranteed, outfielder Mark Canha $6,925,000, right-hander Frankie Montas $1.8 million and Lou Trivino $912,500 guaranteed.
Bassitt emerged as Oakland's ace as the Athletics won the AL West and their wild-card playoff round before losing in four games to rival Houston in the AL Division Series. He went 5-2 with a 2.29 ERA and 55 strikeouts. Bassitt had a 2020 salary of $2.25 million that was prorated to $833,333 over the condensed 60-game schedule.
Canha batted .246 with five homers, 12 doubles, two triples and 33 RBIs while playing 59 games and five different positions — 21 at designated hitter, 17 in right field, 15 in left, nine in center and three at first base. Canha, 31, had been set to earn $4.8 million last season but his prorated salary wound up at $1,777,778.
Manaea, limited to five September starts in 2019 as he went 4-0 when he returned from shoulder surgery before losing the wild-card game to Tampa Bay, went 4-3 with a 4.50 ERA and 45 strikeouts over 11 starts. The 28-year-old Manaea was due to make a $3.75 million salary last year but earned $1,388,889 prorated for the shortened season.
Montas pitched opening day for Oakland and finished 3-5 with a 5.60 ERA over 11 starts and 53 innings. He went 9-2 in 2019 despite an 80-game suspension after he tested positive for a performance-enhancing substance. He had been due to make $573,500 last season but earned $212,407.
Trivino could be a closer candidate this spring. He earned $210,556 of his prorated $568,500 salary in 2020. He had 26 strikeouts to 10 walks and was 0-0 with a 3.86 ERA over nine outings and 23 1/3 innings.
In 11 postseason trips since 2000, Oakland has advanced to the AL Championship Series just once — in 2006 before being swept by the Tigers. The 2020 team fell short of its World Series goal after the A's won 97 games each of the previous two years only to lose in the one-game wild card.
RHP Moronta gets 1-year deal with Giants
Right-hander Reyes Moronta agreed to a $695,000, one-year contract with the San Francisco Giants on Friday to avoid salary arbitration.
The 28-year-old reliever didn't pitch during the coronavirus-shortened 2020 season as he worked back from shoulder surgery. There had been hope he might get into a game before the end of the season, when the Giants lost on the season's final day to miss the playoffs.
Moronta is 8-9 over three seasons with San Francisco, going 3-7 with a 2.86 ERA over 56 2/3 innings and 56 appearances in 2019 after going 5-2 with a 2.49 ERA in 69 outings the year before.
Moronta earned $217,963 in prorated pay of his $588,500 salary during the shortened 60-game season.
Versatile infielder Donovan Solano was San Francisco's remaining arbitration-eligible player. He asked for $3.9 million and the team offered $3.25 million.
"We're certainly hoping we can get those deals wrapped up this week," Giants executive Farhan Zaidi said last Saturday.
LHP Wood joins Giants on 1-year contract
Left-hander Alex Wood agreed to a $3 million, one-year contract with the Giants on Thursday.
Wood, who turned 30 on Tuesday, can make an additional $3 million in performance bonuses for games in which he gets 10 or more outs: $125,000 each for 12 and 14, $250,000 apiece for 16, 18, 20, 22 and 24, and $500,000 each for 26, 28 and 30.
An All-Star in 2017, Wood went 0-1 with a 6.39 ERA in two starts and seven relief appearances last year with NL West rival Los Angeles, striking out 15 in 12 2/3 innings. He earned $1,481,481 in prorated pay from a $4 million salary. He pitched two perfect innings in the Dodgers' title-winning Game 6 World Series victory over Tampa Bay.
Wood is 53-44 with a 3.45 ERA in 138 starts and 50 relief appearances over eight seasons with Atlanta (2013-15), Los Angeles-NL (2015-18, 2020) and Cincinnati (2019).
White Sox deal for A's closer Hendriks
The Chicago White Sox finalized a $54 million, three-year deal with former A's closer Liam Hendriks on Friday, another big move as they set their sights on a championship run.
The deal calls for a $1 million signing bonus and salaries of $11 million this season, $13 million in 2022 and $14 million in 2023. The White Sox hold a $15 million option for 2024 with a $15 million buyout that would be paid in 10 equal installments from 2024-33.
Hendriks debuted with Minnesota in 2011 and spent the past five seasons with Oakland.
He made the All-Star team in a breakout season in 2019 and wound up with 25 saves and a 1.80 ERA. He dominated again last year, finishing second in the majors with 14 saves while posting a 1.78 ERA and averaging 96.5 mph with his fastball. He earned $1,962,963 in prorated pay from a $5.3 million salary.
Oakland won the AL West in making the playoffs for the third straight season. He was on the mound for the final out when the Athletics eliminated the White Sox in Game 3 of their wild-card series. They went on to lose to their division series against Houston, 3-1.
Hendriks said he would like to pitch in 81 games and throw 85 to 90 innings. His career highs are 851/3 innings as a starter for Minnesota in 2012 and 75 appearances in 2019, when he also threw 85 innings.
"I'm ready for whatever, whether it be multiple innings, whether it be solo innings," he said. "Whatever it needs to be, I'm capable of hopefully going out there and giving the team whatever they need. But yeah, I want the ball. I want to pitch every day."