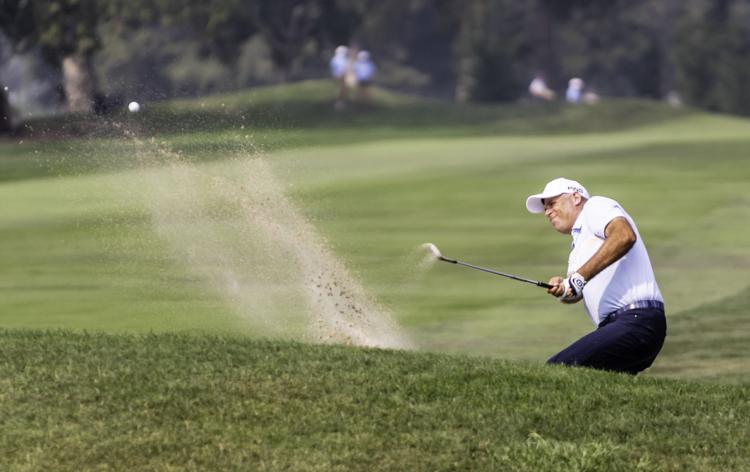 The Safeway Open is a bit of a family affair for Stewart Cink.
The 47-year-old PGA Tour veteran has his son, Reagan, caddying for him this week at Silverado Resort and Spa. Despite being just 23, the younger Cink definitely helped his dad jump into contention with a strong round on Saturday.
Cink, who was tied for 26th at 7-under after the first two rounds, shot a 7-under 65 in the third round Saturday to get within striking distance heading into Sunday's final round.
Cink's last top-10 finish on the Tour came last October at the Houston Open, but he is well-positioned for a strong finish as he sat tied for fourth at 14-under par when his round ended on Saturday.
He was tied with five others for fifth at 14 under, two strokes off the lead, when the leaders finished their rounds later in the day. Cameron Percy, Brian Stuard and James Hahn shared the lead at 16 under.
"I don't get in these positions every time I play anymore," Cink said after his round. "I'd like to, but to be up there where I might have a shot at making some noise here with a really good round, and my son Reagan is on the bag, it's a really special week. We're having a great time and he's doing an awesome job. I'm just going to enjoy tomorrow and keep on pushing."
After shooting a 5-under on Thursday and a 2-under on Friday, Cink shot himself into contention with a 6-under on the front nine with birdies on Nos. 2, 3, 5, 6, 7 and 8 and pars on every other hole. But he finished his front nine with a par on No. 9 that he thought broke some of his earlier momentum. He went on to shoot 1-under on the back nine with a birdie on No. 12.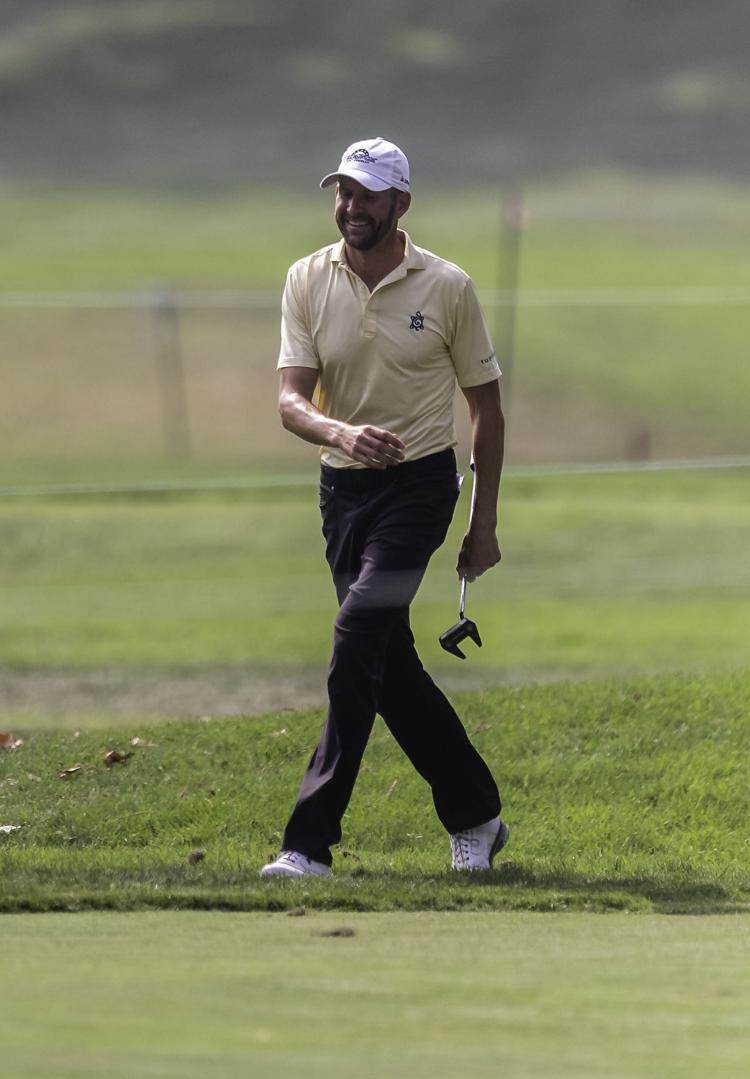 "I did start off hot. I don't know how else to describe it," he said. "But, you know, I parred 9. I was just in front of the green in 2 and I hit kind of an indifferent third shot to about 10 feet and didn't make the putt, and that was just a little bit of a momentum staller, just a little bit. And then after that I was still pushing. I made one more birdie, but I just couldn't get anything stuffed in there close and couldn't get any putts to fall. All in all, though, it was a round I'm really pleased with."
The North Course at Silverado also firmed up on Saturday and Cink noticed it as he made the turn. Temperatures reached the low-90s after a relatively cool first two rounds that had led to some impressive scores.
"Well, I think the ground has dried out a lot, so the ball's going farther in the air, but it's also going farther when it lands, especially off the tees, so you're having to account for a little bit more of that," Cink said. "The rough is dried out, so it's playing a little bit more unpredictable than it was before when it was still kind of damp. And the greens are still holding, so I still expect scores to be pretty low today."
Sunday's forecast predicts a high of 82, which could bring course conditions back to what they were in the earlier rounds.
This weekend is also not the first time that Cink has had his son caddy for him. The two have partnered up a few times over the years, he said, but he added that he has noticed a bit of a change in his son's confidence on the bag.
While Cink said his son is never been afraid to let him know if he's reading a shot differently, there was a moment Saturday that stood out.
"It was on the sixth hole and I had about a 20-foot putt and I read it from behind the hole and I read it behind the ball and I was pretty much resolute on my read," Cink said, "and I said, 'Reagan, I've got this going a little bit left, maybe just outside the hole.' He goes, 'Whoa, I had it going right.'
"So we had to start over, and in the end he convinced me by looking at our little map and some other factors right around the hole that he was right. I played his read and it couldn't have gone more in the middle of the hole. So I was proud of him right there not because he read the putt right, but because he had the guts to stand in there and say, 'Dad, you're wrong about this. I'm right. Trust me.'
"That was a big moment for him, I think."
While Cink said Reagan is a casual golfer, he added that he's still come a long way with his game and his skills as a caddy.
"He knows his way around a golf course and I think he is — he's kind of coming into his own with his belief with how to read the shots out here," Cink said. "It's a lot more than just reading putts. It's how the lies are going to be around the green. It's the wind, this green's firm, that green's soft. He understands all that stuff. So I think he's coming into his own on how to read all that stuff, so he's not afraid to speak up when he thinks I'm wrong."
If his input keeps yielding results like it did Saturday, the younger Cink could help his dad to his first win on the Tour since 2009 on Sunday.
Watch Now: What skipping breakfast does to your body.
Contact Gus via phone at 707-304-9372 or email at gmorris@napanews.com. Follow him on Twitter @JustGusMorris.
Be the first to know
Get local news delivered to your inbox!