There is so much that Sahith Theegala has learned in the transition of playing golf from the amateur level to the bright lights of the professional game.
He missed the cut in his first three tournaments during the summer, but the big take-away for Theegala was that it benefited him as a learning experience.
"One of the things is just feeling comfortable," he said Saturday at Silverado Resort and Spa. "I was just too excited, too nervous, like I was just ready to get it going. But everything's a transition, everything's a process, so keeping that in mind, and also not wearing myself out."
Playing in this week's Safeway Open in Napa on an unrestricted sponsor invitation, Theegala not only made the 36-hole cut on Friday, but is also now on the tournament leaderboard after shooting an 8-under-par 64 in the third round on the North Course. At 13-under through 54 holes of the tournament, he is very much in contention in the PGA Tour's 2020-21 season opening event, which has a $6.6 million purse and is presented by Chevron. The winner receives $1,188,000.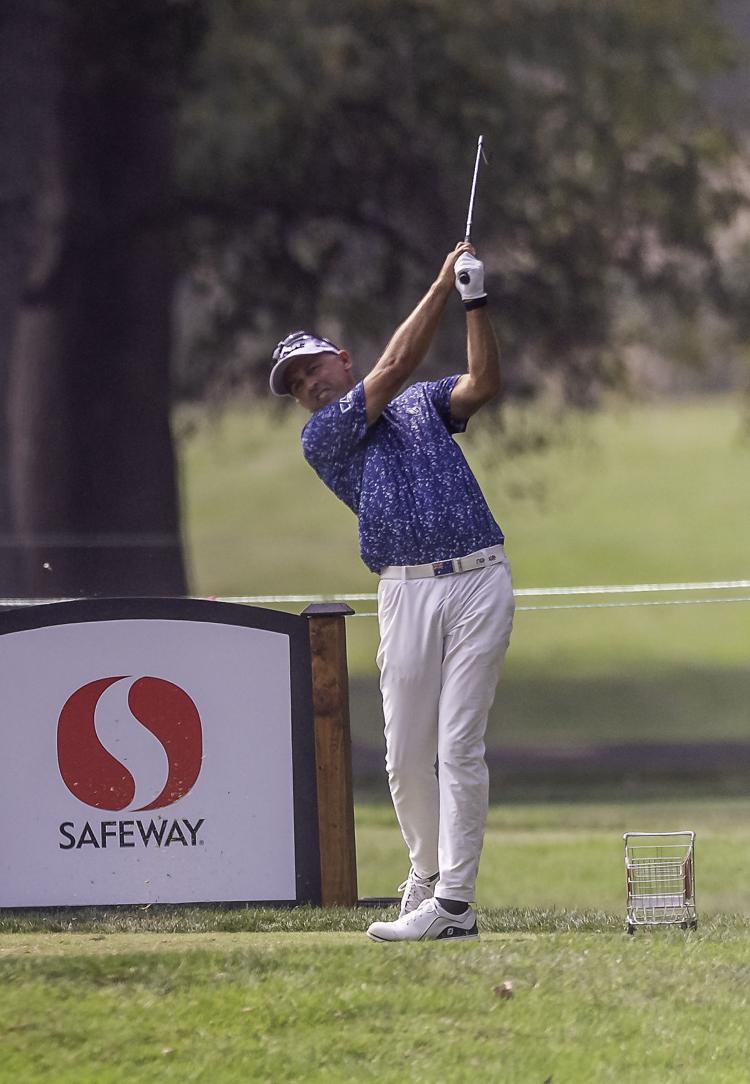 "I was just a little bit nervous the first couple (of events), but I was just so excited like I'm out here with guys that I grew up watching. All of a sudden, I'm competing against them," said the former Pepperdine University star, who made his professional debut during an Outlaw Tour event in June. "The last couple of weeks, Barracuda and here, I've felt so comfortable.
"I'm just out there playing golf as I know it and I think just having that mindset has definitely helped a lot."
Theegala is tied for 12th place, just three shots off the lead, after the third round, a day when temperatures warmed up, soaring into the low 90s, thus firming up and drying out the course. The skies were smoky and hazy, and the air quality was listed at 168. For the first time all week, there was a light breeze.
As many as eight different players had the lead at one point.
Theegala, making just his seventh start on the PGA Tour, is very much in the mix and in the conversation going into Sunday's final round in what is shaping up to be a super exciting day with such a jam-packed leaderboard that is filled with so many red numbers, adding to Silverado's storied history in golf.
Brian Stuard, James Hahn and Cameron Percy share the 54-hole lead, each at 16-under-200. They are each so very close to the tournament scoring record, set by Brendan Steele at 18-under-par 270 when he won the title at Silverado in 2016.
Twenty-nine players are within five shots of the lead.
Stuard shot 66, Hahn had a 67 and Percy carded a 68.
Tied for fourth, at 15-under, are Kristoffer Ventura (66), Sam Burns (72), and Harry Higgs (70).
There is a group of five players tied at 14-under and in seventh: Emiliano Grillo (65), Stewart Cink (65), Doug Ghim (69), D.J. Trahan (70), Russell Knox (70).
Tied for 12th, along with Theegala, are Kevin Streelman (65), Ben Taylor (67), Xinjun Zhang (67), Tim Wilkinson (68) and Pat Perez (69).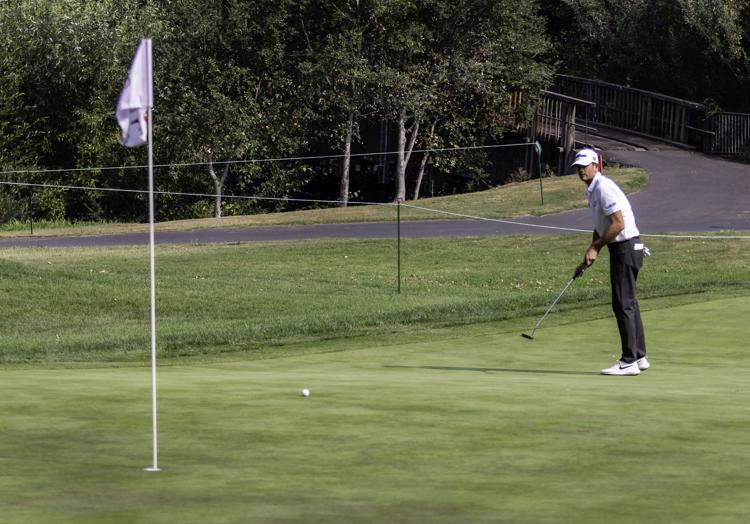 "This is a course that fits my game," said Stuard. "You've got to drive it straight. You've got to kind of shape the tee ball once in a while. It's important to be on the right side of the fairway to some pins, I think. It reminds me a little bit of Hilton Head in that way."
"You have to play good and shoot a really low one because this course is very gettable and the scores prove that," said Ventura. "I think just obviously be aggressive and not be scared of getting too many under par and start trying to cozy it in or safe it. Just be aggressive and play like I did today and (Friday)."
The Safeway Open, in its fifth year, is the first of 50 official FedExCup tournaments.
Theegala birdied three of his last four holes, culminating a day when he made a significant move after starting out tied for 54th place, 10 shots off the lead.
"I was pretty proud of myself how I holed some good putts," he said. "Today, I worked on a few things on the range and I just hit it really well. I think a big key out here is driving it well, and I drove it well. Even though I didn't hit a lot of fairways, I was just off the fairways, a lot of intermediate cuts, so I left myself in a lot of good positions and I was able to hole some putts because the greens are so pure.
"I kind of just had the momentum going the whole day."
One of the defenses of the par-72, 7,116-yard course, re-designed in 2011 by World Golf Hall of Fame member and 25-time PGA Tour champion Johnny Miller, is its narrow fairways, as it places a premium on accuracy off the tee. Striving to keep his rhythm in check is one of the swing thoughts that Theegala took with him from the driving range to the first tee.
"I was just getting way too quick and because of that I was just starting everything left of my target, which is not a usual miss for me at all," he said.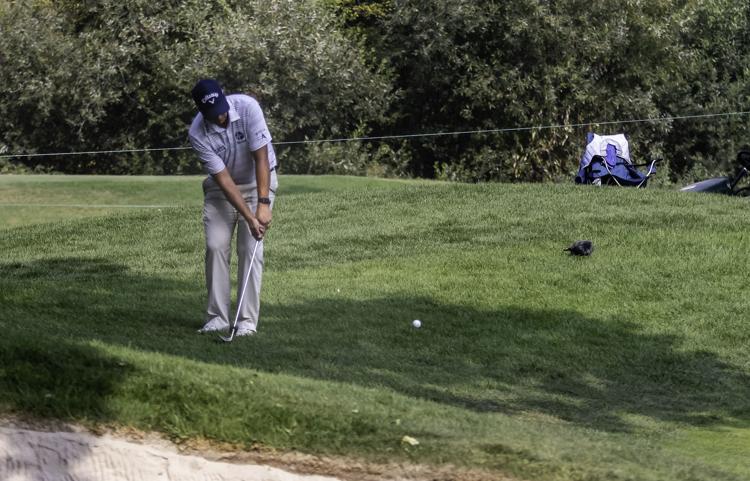 He had a bogey-free round and birdied Nos. 1, 5, 6, 9, 12, 15, 16 and 18. He hit 6 of 14 fairways and 15 of 18 greens. He was 3 of 3 on sand saves and had 26 putts.
His caddie for the week is Aaron Beverly, who also plays as a pro and works in the golf department at Silverado. Earlier this summer, Beverly was named to Sacramento State's All-Decade Team (2010-2020) for men's golf. He was named as the Big Sky Conference Player of the Year two straight years.
"I actually came up here two weeks ago just to play a couple times and that's when I met Aaron," said Theegala, 23. "This is his home course, he lives pretty close by, so he knows the course really well and he's just a really cool guy and he's been great on the bag for me this week."
Theegala made his Tour debut at The Genesis Invitational, tying for 49th place in 2017. The only other cut he has made was earlier this summer when he tied for 41st at the Barracuda Championship, played at Tahoe Mt. Club's Old Greenwood Course in Truckee.
Theegala, is from Chino Hills, Calif., won the Fred Haskins Award, Ben Hogan Award and Jack Nicklaus Award this year. It's only the fifth time in the last 30 years that one player has received all three honors.
Ventura had six birdies, an eagle and two bogeys during his round. His eagle came on the par-5, ninth hole, and the birdies were on Nos. 1, 3, 6, 8, 11 and 18. He had bogeys on Nos. 13 and 15.
"I started off really well. Everything was going in and kind of hit the brakes a little bit with a couple bogeys," said Ventura. "It was unfortunate, but it was nice to finish with a birdie and overall pretty happy with the day.
"You've obviously got to hit the fairway and if you don't, it's going to be really tough."
Stuard had six birdies on his card. He birdied Nos. 3, 4, 5, 12, 14 and 18.
"The golf course is soft, greens are pretty receptive. You've got to make a bunch of birdies, that's the name of the game this week," said Stuard. "If you drive it in the fairway, you're going to give yourself a bunch of chances and I think that's the No. 1 key for me.
"I feel like if I drive it well (Sunday) and get the putter rolling, then we'll see. Looking forward to it."
Hahn had five birdies during his round. He birdied Nos. 2, 3, 11, 15 and 16. He said the goal that he in mind was to have a clean scorecard.
"I just put myself out of position on the par 5s, something to work on (Sunday). Hopefully I can put it all together (Sunday)," he said. "The greens are definitely getting firmer, especially in the late afternoon."
Percy's round consisted of six birdies and two bogeys. His birdies came on Nos. 3, 5, 9, 10, 16 and 17.
"With the way the weather's been this week, you're going to have to go low," said Percy. "A few holes I'm playing pretty conservatively and the rest of the time just go straight at it. I've had a lot of good numbers this week, so I'm able to attack a lot of holes.
"I expect (Sunday) by the time we tee it up, it will be quite firm again."
Sunday's starting times are from 8:15 a.m. to 2:10 p.m., with the leaders going out last.
The Tour's weather forecast for Sunday: "Low-level clouds, patchy fog or mist will be possible through 9 a.m. Sunday, otherwise expect dry conditions under hazy, filtered sunshine. Afternoon high temperatures are expected to top out in the upper 70s. Light southwesterly winds are forecast for the afternoon hours."
Be the first to know
Get local news delivered to your inbox!