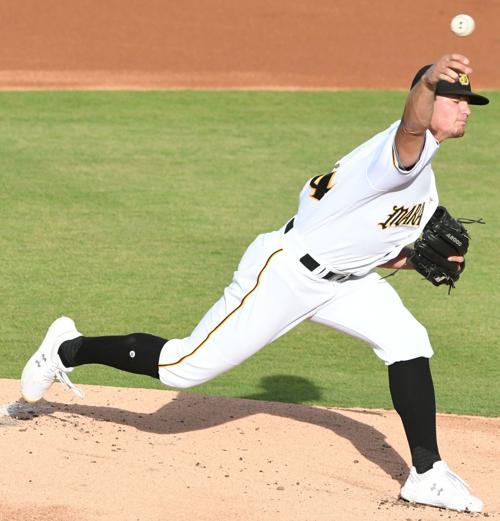 Aaron Shortridge may get a chance to play baseball in 2020 after all.
The 2015 Vintage High grad was named to the Pittsburgh Pirates 60-man player pool, released on Sunday, for the upcoming Major League Baseball season starting in July. The full roster can be found here.
Shortridge, 23, was among the 19 minor leaguers — 9 pitchers and 10 position players — named to the Pirates' taxi squad of minor leaguers that will remain at the team's Double-A affiliate in Altoona, Pennsylvania, where they will train and stay ready should the Pirates need additional players. Players will report July 1 for the start of spring training 2.0 before games are scheduled to begin July 23.
"It feels great, and I'm excited to be working directly with my org again," Shortridge said in a text to The Register on Sunday. "Just thankful for the call and ready to get after it."
After a dominant prep career at Vintage and a strong college career at Cal, Shortridge was the fourth-round selection of the Pirates in the 2018 MLB Draft. He's climbed the ranks of Pirates prospects over the last two seasons and spent 2019 with the organization's High-A Advanced affiliate in Bradenton, Florida, where he went 9-5 and posted an earned run average of 3.25 in 135.2 innings pitched with 104 strikeouts, 25 walks and a WHIP of 1.14.
He was in the middle of spring training for his second season in Bradenton when the COVID-19 pandemic hit. He's been back in the Napa area training ever since.
Per the new MLB rules for the 2020 season, teams were to submit a 60-person player pool on Sunday. Forty of those will be players "that the Club anticipates participating" during the season, while the rest will be made up of players in the organization under contract, according to mlb.com, citing the league's new Operating Manual.
Opening Day rosters will be made up of 30 players, while the rest of the player pool will remain stationed at a nearby minor league affiliate.
Only three players from the taxi squad will travel with the team for away games but all can be called up if needed.
Contact Gus via phone at 707-304-9372 or email at gmorris@napanews.com. Follow him on Twitter @JustGusMorris.
Be the first to know
Get local news delivered to your inbox!