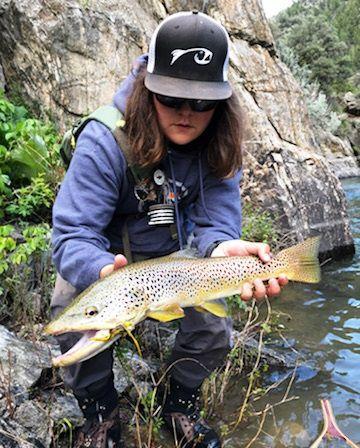 Trout, Trout, Trout… First up is the nice story and photo my friend Bruce Coulthard sent me about young fly guy Jake Flood. Jake ties his own flies and used a "brood dependent" fly to catch this beautiful big brown trout on Montana's famous Madison River.
Jake goes to college in Montana, so he has a good chance to wet a line close by in those excellent Montana streams.
Ryan Williams?… fishing with Stan Press? What's wrong with this picture? Nothing, and my name didn't get twisted around. Pro guide Ryan Williams took Stan Press and his friend, Bob Kennedy, fly fishing for wild rainbow trout on the Sac at Redding. They tossed 14 size nymphs on a three-bug set-up, spaced two feet apart on the end of 12 foot leaders – under a strike indicator.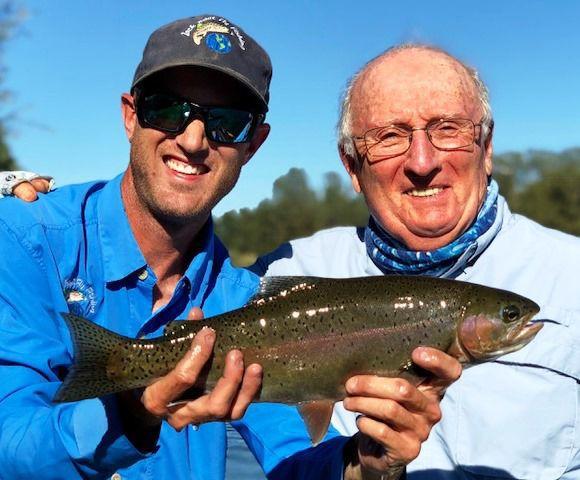 You can imagine, long leaders are a bear to control and often leave you with no idea where our bug is. But, if your lure isn't on the bottom, it's tough to get a strike. A big one broke off at Ryan's Riffle, but here's a photo of one of Stan's nice trout.
"The Best Kept Secret In The Trout World"… oughta catch your attention. A key part of angler DNA is to find a new spot or beat your buddies to a new spot. Outdoor Life's on line edition tells us of the "Driftless Area." They say it has "cold, clean water, wild trout, and plenty of public access for anglers willing to explore hidden streams nestled in America's Upper Midwest."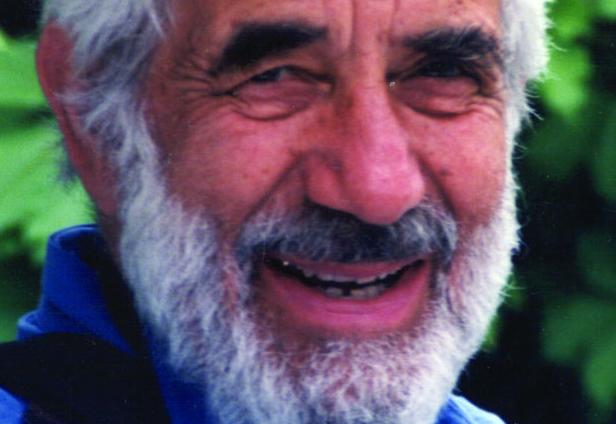 But best of all, you will target ferocious brook trout. Yup, I know that you know they technically aren't even a trout, but a species of char. But they are elusive and wild fighters. Worth going to Wisconsin for. And the "Driftless Area" is massive, covering huge areas of Wisconsin, Minnesota, Iowa and Illinois. That is almost a guarantee that you'll find pristine streams in the "Driftless Area."
Go online to bit.ly/2RG2W4W for more details (thanks, Outdoor Life, for this "discovery story.")
Berryessa Update… Pro bass guide Don Paganelli (916 502 FISH told me that there is still a good top water bite in low light, early AM and late PM. It's my favorite bass catching time, to see that big brute fly up out of the water to attack the lure. Please don't try to set the hook at that very second. Wait till you feel some weight. Then rip some lips.
Clear Lake Live Minnow Bite… Stan Press and I will be testing this fall/winter favorite with pro guide Bob Myskey (349-4460) on the 22nd and 23rd. Stay tuned.
Ocean Observations… saw big winds all over last weekend — and projecting into this past week. They are dangerous and make it tough to fish — either trying to hold the boat in a likely spot or dealing with a wind bell in your line that makes it difficult to find and feel the bottom.
But, as always, some intrepid captain gets clients to the fish — and has success. Just look: Bodega Bay's Samantha Irene had king salmon limits all around by 8:30 Friday morning. They trolled in 50 fathoms west of the Head, and had a dividend of a whale show, too.
And, over in San Pablo Bay, in spite of adverse weather conditions, The California Dawn out of Berkeley scored a weekend total of 56 halibut for its clients, to 25 pounds. All of you flatty fishers know how strong those big halibut are when they lay against the pull and just dog it! Keith Fraser at San Rafael's Loch Lomond Bait and Tackle (415 456-0321) gave us a bait update thru the Monday Hot Sheet. They've got live ghost and grass shrimp, pile worms and bullheads with a hope for mud shrimp for freezing later in the season.
California Delta… also had high winds this past weekend, but everyone is hoping they calm down before Rio Vista's 71st Annual Rio Vista Bass Derby and Festival. I really like it that they have a Kid's Derby for stripers or catfish for just a $5 entry fee. Add in family events like the Saturday morning pancake breakfast, fireworks and live music, and you can see why it has flourished for 71 years. Win a prize? Send me your photo! It's not too late to join the fun; learn more at bassfestival.com (many thanks to Dave Hurley's Monday Hot Sheet for timely updates here).