The way Kevin Cuenca saw it, he should have been allowed to supplement the meager income he made as a freelance television sports reporter and anchor by filming karaoke rap videos in his car and posting them to social media for financial gain.
But the 2000 Vintage High graduate said his employer at the time, the CBS affiliate in Los Angeles, thought he was going too far. On Feb. 5, 2019, two days after he covered Super Bowl LIII in Atlanta, he met with the news director and assistant news director and was shown the door.
"Fortunately, I was given a severance package and, in talking to my older coworkers down there, it's rare to receive that as a freelancer. Maybe someone went to bat for me, but who knows?" he said. "I think ultimately they view social media very differently than I. Definitely there were creative differences and I'm just grateful to be working toward new goals."
A year and a half later, Cuenca had turned the reason for his firing into a new living.
"I recently launched my own car interview series on social media, 'Cruisin' With Kevin,' where I talk to comedians, musicians and professional athletes," he announced in an email to the Napa Valley Register last month. "Genesis (Hyundai) supplied me with a new G70 car to do the interviews in, and Crep Protect came on as the presenting and monetary sponsor. I shoot all the content by myself with GoPro cameras and do a lot of the editing, as well. My most recent interview was with DJ D-Wrek, who spent a couple of his elementary school years in Napa and is now co-hosting Wild 'n Out with Nick Cannon (on MTV)."
Cuenca was known as Kevin Thom when he helped the Vintage boys basketball program win its first Monticello Empire League title in 23 years during his senior year. But he has used his mother Judy Cuenca's maiden name professionally since he got his first TV job in Texas 10 years ago.
His high school team, led by 2000 Napa County Player of the Year Nick Basinger, posted the Crushers' second-best record ever, 24-5, under second-year head coach Mike Flohr.
"My best high school hoops performance is one I actually make light of a lot in social media videos with a basketball character I call 'White Chocolate.' He's the guy who can't move on from his high school glory days," he explained. "For me, it was a night against Bethel High where I scored eight points in the fourth quarter and helped us to a win on the road.
"I started one or two games, but for the most part I was just one of our bench guys with a great seat to watch Nick Basinger dominate. I can't say enough about the leader and force he was on that squad. Guys like him, Ryan Hill and Anis Salah led us to that the championship."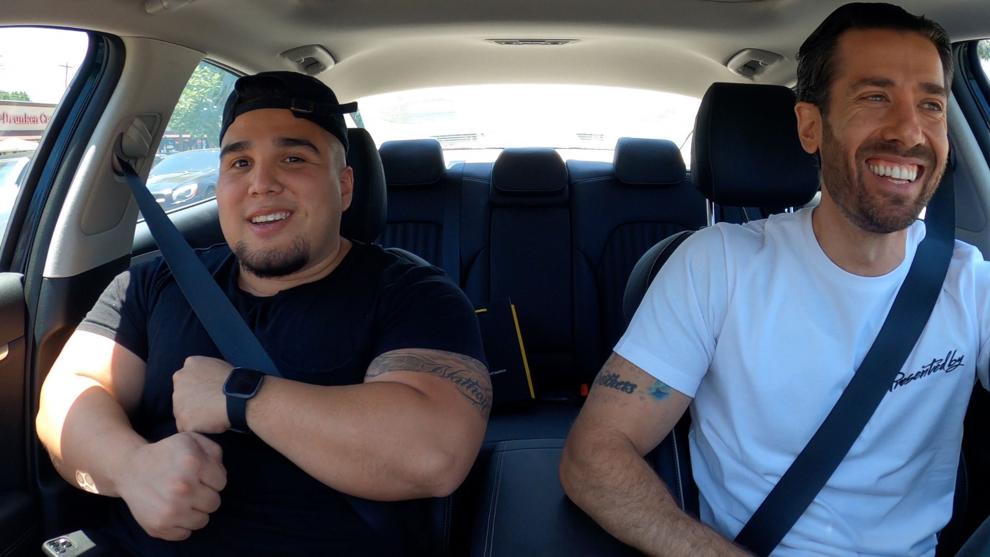 Cuenca said he was victim of the Vintage program's final cuts as a junior. But just as he's done with his recent career change, he followed his mom's advice to "make lemonade out of lemons." He got better by playing in the Police Activities League, winning a California PAL 16 & under state title, and in the Optimist Youth Basketball league and a Mormon church league.
"To then come back as a senior and win a league title with some of my best friends was something I'll always cherish," he said.
At the urging of Rich Anderson, who taught English and was in his first stint as head coach of Vintage baseball, Cuenca attended Syracuse University's Newhouse School, one of the country's most prestigious communications schools. He majored in broadcast journalism and graduated in 2004.
"I looked up to (KTVU Channel 2 Sports Director) Mark Ibanez and interned at KTVU while I was in college," he said. "I also worked in radio at KVON and alongside Ira C. Smith broadcasting basketball games."
Cuenca was a co-host for Cal-Hi Sports Bay Area from 2004 to 2010, covering stories as a reporter and doing his own camera work, producing weekly special segments and assisting in the overall production of the show. He worked in Texas as a sports reporter and fill-in sports anchor, shooting and editing video highlights, writing scripts, and producing for nightly sportscasts. In L.A., he covered the Dodgers and Angels and USC football in addition to the Rams.
His brother is 1997 Vintage graduate Scott Thom, who coached basketball for seven years at Vintage — most notably as the varsity head coach from 2006-07 through 2009-10, when 2010 County Player of the Year Ben Molinari led the Crushers to their first playoff berth in 10 years. Scott went on to coach strength and training and player development for the men's basketball programs at UC Berkeley for four years and Washington State for two years before landing his current position as men's basketball head coach at the College of Marin in 2016.
"Scott is more than just my older brother. He's my best friend and someone I can always depend on," Cuenca said. "He was surprised (about the firing) like I was, but he also knew my goals and ambitions. I was already planning my next leap of faith, to jump into social media full-time about five months later. He was, and still is, encouraging me while helping me see the big picture. Because we both chose challenging professions that are more about fulfillment as opposed to compensation, a lot of our talks include us reminding each other about the marathons we're on and and how things are unfolding as they're supposed to."
He said their mom has always been in his corner, too.
"She's my rock and is always able to help calm my mind when I'm getting impatient with things," Cuenca said. "I'm in a very fortunate situation where, because of the support from my family, I have the confidence to chase these bigger dreams. They've always believed in me and when I go back home to see them and close friends I'm filled with nostalgia. Napa is truly a special place and a constant reminder of how far I've come, how far I have to go and who I have cheering me on along the way."
Though the broadcasting gig in L.A. may not have paid well, it did enable Cuenca to travel with the Los Angeles Rams and cover a Super Bowl and two World Series.
"But as the industry continued to change, I began putting more time into social media, building a following of over 100,000 on Instagram," he recalled. "As I saved up money to go into creating social media content full-time, someone at CBS took issue with my car karaoke rapping videos and social media posts."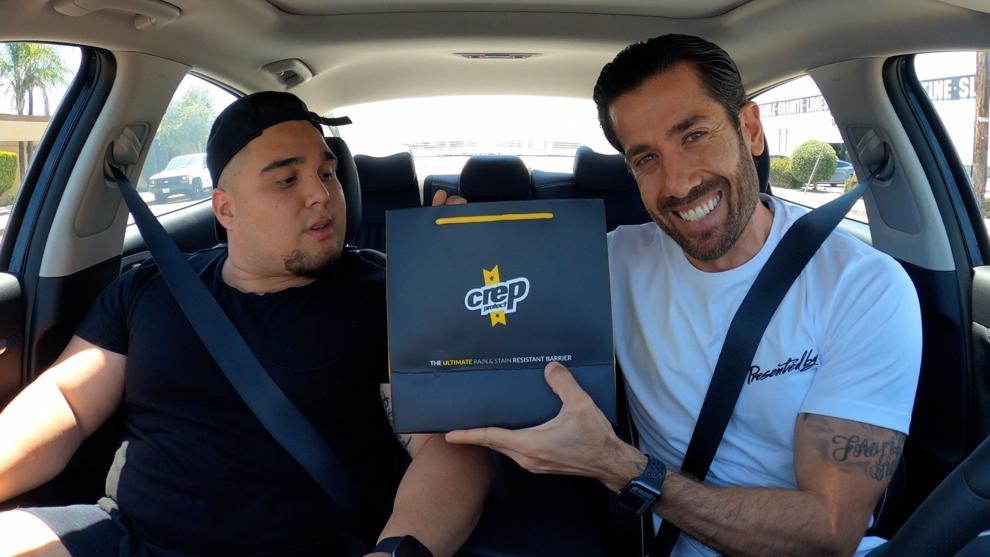 He said the timing of his dismissal was "odd since a morning anchor had just asked me to rap during a live broadcast in Atlanta from the Super Bowl and the station put up a clip of it on their website," he said. "I felt like it was more about the rap music that I was performing instead of understanding the love I was showing to an underrepresented community that we as news station mostly broadcasted in a negative light. But at the end of the day, I'm truly grateful for the people I worked with and the opportunities I was afforded at the station."
So how exactly did he get his social media career started?
"The whole process started with seeking out sponsorship first because I knew the potential in the idea of 'Cruisin' With Kevin' both for an automobile manufacturer and a monetary sponsor," he explained. "So I shot four in-car interviews with small cameras and edited a sizzle reel I could email to a bunch of automobile companies, including Genesis/Hyundai. I think they had a real point to prove in the market, so they were open to capturing attention through a YouTube show/social media. They supplied a brand-new Genesis G70 car for me to do the interviews in, so that was a huge blessing.
"Then I began seeking a monetary sponsor to be the presenting sponsor and through meetings with Steve Spellacy and Mark Haddon from Crep Protect, my social media manager and I were able to get them on board."
How does he get 'Cruisin' With Kevin' guests on board?
"It's just a matter of either social media relationships or personal relationships from me being out and about in L.A., meeting artists, comedians, influencers, etc.," he said. "I shoot the episodes myself and edit all of the social media clips, while a friend in Vallejo edits a majority of the full episodes. Obviously, COVID has affected the shoots and made for a challenging year in many respects, but Genesis and Crep Protect have been amazing partners."
Escaping the shackles of his former employer hasn't changed the content he posts too much, even though he has more freedom to do what he and his viewers want.
"I was already not cussing in those karaoke videos where I'm rapping in my car, and I continue to follow that same method nowadays because I have kids I volunteer with at the Boys & Girls Club who follow me on Instagram," he explained. "There are other videos where I will curse, but for the most part that was never a big part of my content anyway. Mostly, it's freed up my time and mind to think creatively about other opportunities.
"The media landscape is constantly changing and I'm just trying to find a way to make content I can be proud of while having control of my life. What has and always will connect me to viewers and followers is just showing my authentic self and having an authentic appreciation for other cultures. Whenever I get messages about making someone's day or helping them through a tough time, it makes it all worth it."



Watch Now: Six tips for a safe road trip amid COVID-19.