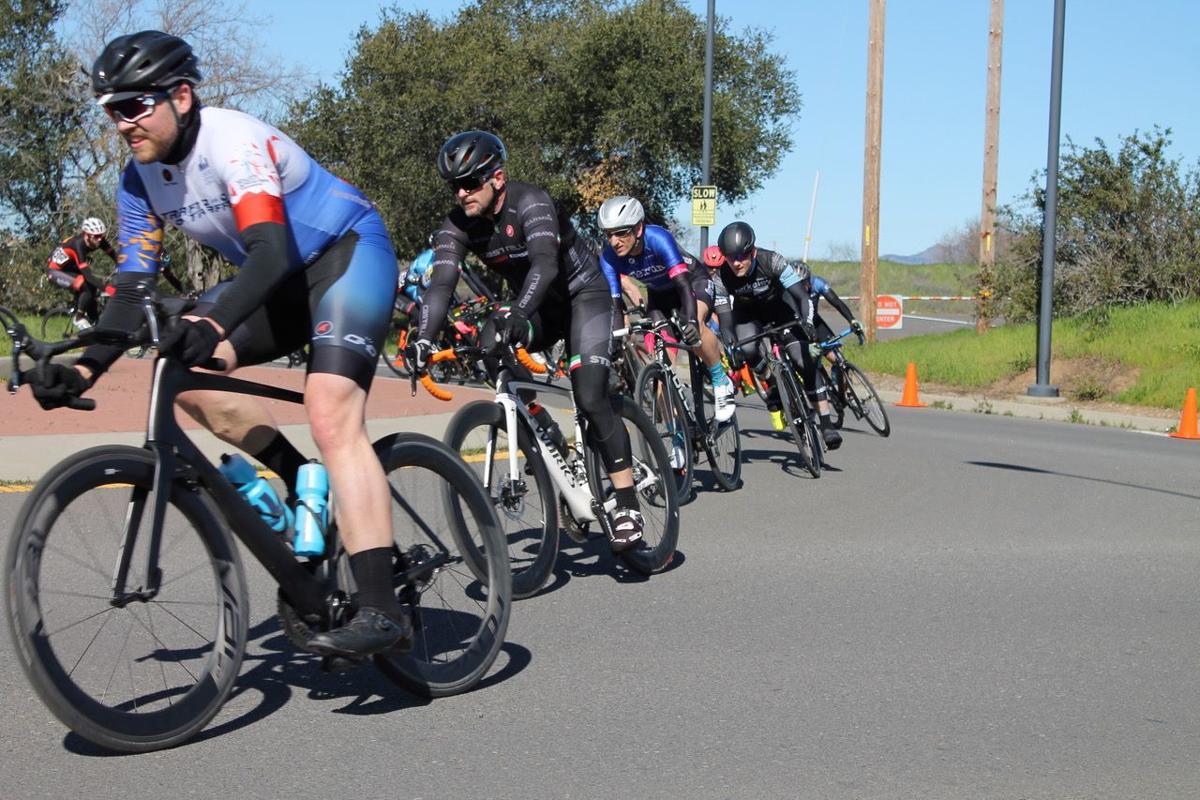 Cherry Pie Criterium cycling races Feb. 17
The Cherry Pie Criterium cycling event, now in its 45th year, will take place on Monday, Feb. 17 in the parking lot of Napa Valley College starting at 8 a.m.
There are 11 different races, based on age group, gender and skill level. The women's professional race starts at 10:10 a.m. and the day concludes with the pro men's race at 4:10 p.m.
Professional cyclists will compete for $500 in prize money in each pro race.
The event is sanctioned by USA Cycling and the Northern California Nevada Cycling Association. The top-3 finishers in each race receive a cherry pie from Monday Bakery of Napa, in addition to merchandise. It is sponsored by the Eagle Cycling Club of Napa.
The Cherry Pie Criterium is the first race in the Northern California Junior Race Series.
Cyclists make multiple laps around the one-mile course during the criterium.
Races, which open to boys and girls in juniors divisions, and men and women, are held on a 1.1-mile technical course, which has several turns, in the main parking lot of the college. Cyclists and spectators can park their vehicles at NVC by taking Streblow Drive. Sponsors include Velo Pizzeria, Clif Family Winery, BicycleWorks, the Hub, Napa River Velo, Napa Valley Velo, and Napa Valley Bike Tours.
MMA show at Napa Valley Expo Feb. 22
SF Combat, a mixed martial arts promotions firm owned by Napa's Steve Barnett and Danasabe Mohammed, will hold its next show, "SF Combat Extreme 2," at 5 p.m. Saturday, Feb. 22 at Napa Valley Expo's Chardonnay Hall.
Scheduled to fight for the CAMO California State Welterweight Title are Sonoma's Brady Wiklund, fighting out of NorCal Fighting alliance in Santa Rosa, and Salinas' Diego Zuria, representing Team Take Flight.
In the co-main event will be Suisun City's Anthony Beal, of Vallejo's Asylum Fight Team, and Victor Flores of Urijah Faber's Ultimate Fitness in Sacramento. Twelve other fights are also scheduled.
"We want to showcase the highest-level competition from Northern California, Southern California and the San Francisco Bay Area," Mohammed said. "Community is very important to us, so we highlight as many local fighters as we can while still maintaining exciting and competitive fights for our loyal fans."
Napa High crab feed Feb. 22
The Napa High School Athletic Boosters will hold its annual "Blue for Gold" crab feed and auction on from 5 to 11 p.m. Feb. 22. It will be the event's third year at the Generations Room in Yountville Community Hall, 6515 Washington St. It sold out last year and expects 250 to 300 people to return in 2020.
Cost is $85 per person and includes crab, steak and an auction. Tickets are available at nhsathleticboosters.org and attendees must be 21 or older.
The boosters club, a nonprofit, said it strives to "foster amateur athletic competition and sportsmanship and to develop the youth of today into good citizens of the future by providing spirit, enthusiasm, model behavior and financial support for the total athletic program of all sports at Napa High School.
Youth sports not only provide a healthy outlet for the youth of Napa, it contributes to the values of self-esteem, self-confidence, and teamwork for the youth of Napa.
The Napa Boosters contributes to over 800 athletes every year at NHS alone."
Lemieux aquatics meet at Vintage March 28
The 16th annual Shannon Nicole Lemieux Memorial Aquatics Celebration will be held from 11 a.m. to 3 p.m. Saturday, March 28 at the Vintage High Aquatics Center.
"The Shannon" is a day of family fun that includes a synchronized swimming performance followed by water polo, diving, and zany coed swimming relays in which aquatics athletes from all Napa County high schools compete against each other as a break from their rigorous schedules. Most popular are the Costume, T-shirt and Floatie relays.
Admission is $5 for adults and $3 for kids age 12 and younger. There will be a fabulous silent auction and a snack shack for lunch.
All proceeds benefit the Shannon Lemieux Memorial Scholarship Fund, which over the last 15 years has awarded $121,500 in scholarships to 243 deserving graduates from all participating schools. The fund is a 501©3 nonprofit, so donations are tax deductible. The EIN# is 56-2513094.
For more information, call Dan and Lori Lemieux at 255-7818.
Casual Tennis Napa plays three days a week
Connect with other tennis players casually, just for the fun of it. Casual Tennis Napa meets Saturday mornings, Tuesday mornings and Thursday evenings, weather permitting. For the current meeting time and location, check Casual Tennis Napa on Facebook or email casualtennisnapa@comcast.net.
Be the first to know
Get local news delivered to your inbox!