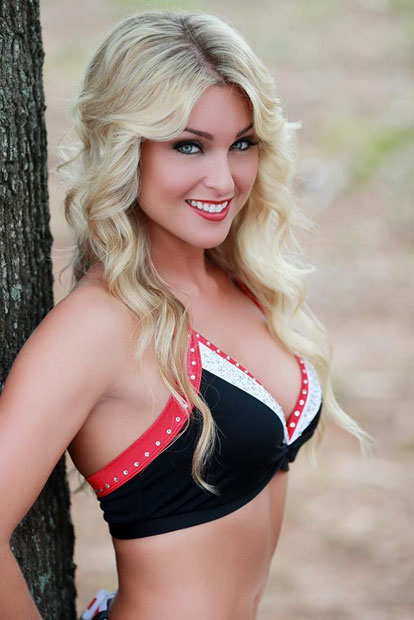 Brianna Stade remembers her freshman year of college well.
It was four years ago, a time in her life when she was getting used to a new city, new campus, new teachers and new teammates. She was a member of the Hawaii Pacific University dance team in Honolulu.
She already had her mind made up, as she was telling her coach at the time, that she was bound and determined to get on an NFL cheer team after she graduated.
"I just knew I didn't want to stop dancing," said Stade. "I wanted to go on and do this."
Stade, a 2009 Napa High School graduate and a former member of the school's successful spiritleader team, is doing just that.
She auditioned in the spring and was selected to the Atlanta Falcons cheerleading team. Stade, 22, went through a try-out process that involved interviews and dance routines during which judges look for technical skills. She is part of a 36-member team that performs at Falcons games at the Georgia Dome.
"I was prepared," said Stade. "I knew that dancing all my life, I was pretty prepared that way."
Stade was a spiritleader each of her four years at Napa, earning All-America honors and serving as a captain.
She accepted a scholarship offer and was on the Sea Warriors' competition dance team for four years. She was the first Napa High spiritleader to receive a full-ride college scholarship for dance.
The Hawaii Pacific dance team, a seven-time national champion, performs at the school's volleyball and basketball games. In addition to supporting Sea Warrior sporting events, the dance team makes special appearances, participating in community service projects and events. They have also represented the state of Hawaii and the university at national collegiate dance camps.
Stade was an All-American dancer and a captain both her JV and varsity years at Napa. She won three national titles with the Napa spiritleaders, who perform at school athletic events.
In March of her senior year, the spiritleaders captured their third consecutive national title in the pom division at the National Dance Alliance elite National Dance Championships in Orlando, Fla. The Indians captured the small varsity pom title.
She learned from Hollie Schmidt, the Napa High spiritleaders coach and director of the school's dance department.
"She's great. She's amazing. She's wonderful," Stade said of Schmidt. "I cannot even express how much of a positive impact she's had on my life. She's always taught me to be committed, to reach for the stars and to pursue your goals and just maintain a good balance, of just always being true to yourself, always being a good person, but still being a go-getter.
"She is so motivational."
Earlier this year, the Napa High spiritleaders received a proclamation from the county Board of Supervisors, honoring Napa High on its record-breaking seven consecutive wins in March at the National Dance Alliance Championships in Orlando, Fla. The spiritleaders made history by becoming the only high school program in the 65-year history of the NDA Nationals to win seven consecutive years in the same division — small varsity pom. They also won the prestigious title of "Grand National Champions."
"It's just a wonderful environment," Stade said of the Napa program. "The drive that they have is just incredible and being part of that program is just an amazing experience. Everyone just wants to do the best that they can."
In April, Stade helped Hawaii Pacific to a third-place finish in the open dance category out of 16 teams and to a fourth-place finish out of 13 teams in the hip hop division at the National Dance Alliance College Nationals.
Stade graduated recently with honors in communications from Hawaii Pacific.
She did some research on the Falcons' cheer team before trying out. She has been on a retreat with her new teammates and will be practicing twice a week during the summer in preparation for the 2013 season.
The cheerleading team represents the organization by making promotional appearances.
"After finding out about the program and just how wonderful it is, I'm really excited and really grateful to just be a part of it and to be able to experience it," she said.
"They want us to be out in the community. They want us to be committed, responsible, the full package. I really like that about them. All the girls are really supportive of each other. It's just such a great atmosphere.
"It's a big commitment, but I know that the very first football game, when I hear all those fans and see them all, knowing that I'm doing what I love down on the field, is going to make it all worth it."
Cindy Stade, Brianna's mom, is planning to go to a Falcons game in the fall and to watch the team throughout the season.
"I'm very excited for her, I'm excited that she has this opportunity to be able to pursue some dreams that she has always wanted,"  Cindy said.
"She's very motivated, she's a high achiever. She likes to excel in everything she does, not just dance, but everything in life. She's always been like that. She's a perfectionist and she just wants to always succeed — and she does it."