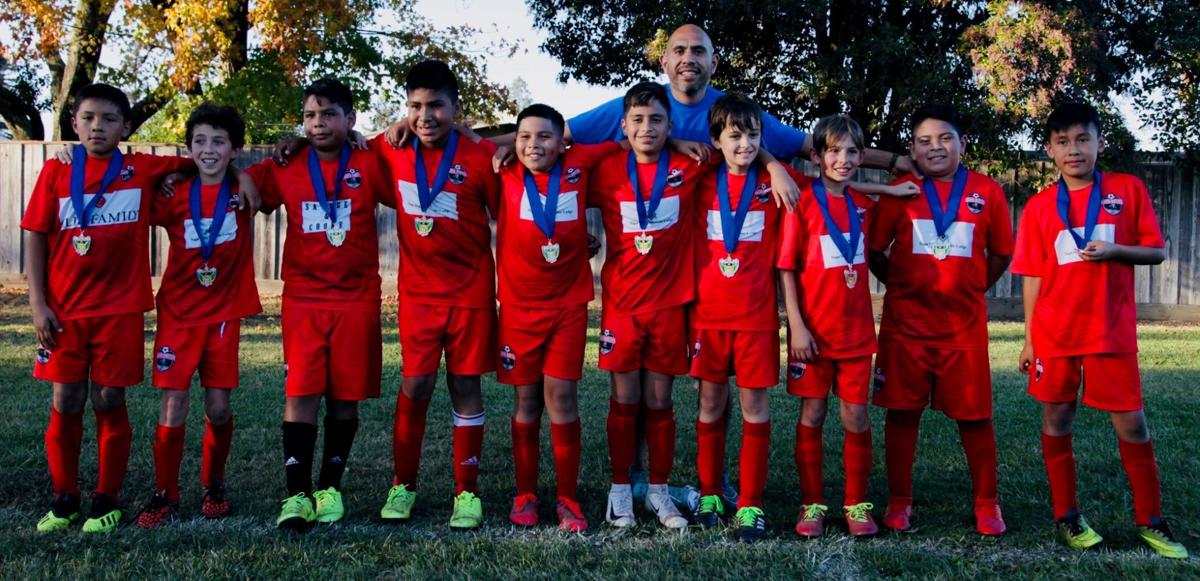 St. Helena's G.O.A.T. went 6-0-1 in the Napa United under-12 boys recreation soccer league this fall.
"We had an awesome season," said coach Julio Olguin, whose team name stands for Greatest Of All Time. "As a coach it's exactly what you want to see at a young level, kids continuing to develop their skills and, most importantly, enjoying themselves on the field and learning the concepts.
"We really made an effort to teach them the fundamentals of soccer and we started out every practice with a dynamic warm-up followed by 15 or 20 minutes going through basics of trapping, passing, and using not just their dominant foot but also working on the weaker one. We were really consistent and disciplined about doing this, even when the kids didn't want to do it, thanks to assistant coaches Rafa Torres and Ramon Viera."
Practices were a family affair for the team, which played games in a 9 vs. 9 format.
"We talked a lot about spacing on the field and the role of each position, but maybe the most important piece of building team chemistry was our epic scrimmages with the parents, many of which had soccer experience in their younger days," Olguin said. "We started out by mixing the adults and kids, and it really gave the parents an opportunity to teach the kids on the field by being able to direct them and show them.
"Then it became kids versus parents, and this is where the team chemistry really was built. The adults took it easy the first few scrimmages, having the advantage of strength and power, but then you could really see the kids' skills and confidence improve to the point where sometimes the kids would juke, fake, and even meg the parents (kick the ball through their legs). They really got a kick anytime one of us would take a tumble."
Scrimmaging their parents helped Olguin's players tremendously during the season, he said.
"They began to understand the position they were playing and spacing and we were able to beat many of the teams by passing the ball to the open man, which is how soccer is supposed to be played," the coach said. "I was impressed and enjoyed watching them all season."
The team might have another win had one game not been canceled due to unsafe air due to smoke from the Kincade Fire in neighboring Sonoma County. Some of their practices were also canceled.
"I was a little worried how we would come out since we hadn't played a game in two weeks," Olguin said.
The Nov. 9-10 tournament was played in a traditional three-bracket format, four teams per bracket, with the bracket winners and best second-place team advancing to the semifinals and the semifinal winners to the final.
"The kids really came together and pushed through the fatigue of the tournament," Olguin said. "They played two games on Saturday and three on Sunday, with only a little more than an hour to rest and recover. It was a total team effort, with many players being shifted to different formations and playing in different positions with only one substitute."
The coach said midfielders Eric Torres and Mateo Olguin were the driving force of the G.O.A.T. offense, scoring six and three goals, respectively.
"They both are very skilled with the ball," he said. "They assisted many of our goals and were deadly with their corner kicks."
Santiago Olguin was the recipient of many of the midfielders' assists, netting six goals despite dealing with a groin injury that prohibited him from running full speed throughout the tournament. He was the team's top scorer for the season with 13 goals.
"We also had great play from our left midfielder, Alex Tomas, whom I coached four years ago and had not played organized soccer for a few years," Coach Olguin said. "Our defensive play was also very important and was anchored by Andy Martinez and Hunter Menegon, whose quickness and ability to stop attacks was crucial in our success."
He said new goalies Christian Romero and Danny Velazquez were "phenomenal" while splitting the halves each game.
"They made some amazing plays all season," the coach said. "I was proud of them for accepting the challenge to learn the position at the beginning of the season."
"We knew going into the tournament that it was going to be a challenge because we play 9 versus 9 and we only had 10 players, since we lost one earlier in the season. I was really proud of how our team stepped up and fought through the fatigue and mental pressure."
After a 3-1 victory over a Calistoga team in the semifinals, the G.O.A.T. player were on the sideline getting stretched out, rolled out with a foam roller, and being rubbed down to avoid cramping and soreness.
"For some of the kids, this was their first time playing in an elimination game and many were excited, some relaxed, and others a little nervous, which is normal," Coach Olguin said. "So my wife spent a few minutes taking them through a guided meditation, which included focusing on breathing and visualizing their play on the field for the final game."
G.O.A.T. defeated a Napa team 4-0 for the title, and ended up outscoring its tournament opponents by a combined 22-2.
Be the first to know
Get local news delivered to your inbox!