Onstage & Onscreen
Onstage & Onscreen
BLUE NOTE HOSTS BENEFIT CONCERT
Blue Note Napa and Operation Access will present "Out of the Ashes and into the Blues," a benefit concert for Operation Access on its 25th anniversary at 6 p.m. Thursday, March 15, at Blue Note Napa, 1030 Main St. The evening includes a three-course dinner and a short award presentation to recognize medical volunteers and Dr. John Kirk, a local surgeon, Operation Access' "Unsung Hero" awardee, and nominee for the Heart of Napa Volunteer of the Year award from the Center for Volunteer and Nonprofit Leadership. Musical performances follow with The LA Hustle featuring Ken Goldstein (aka Jack Dempsey) and Daniel Thomson (The Calling) with Ryan Straw and Jeff Kinsey, Soul Sisters featuring Brenda Lee Eager (Prince, Ray Charles, Diana Ross) and Patti Henley (Smokey Robinson, Jerry Butler), and singer/songwriter Matt Bednarsky, performing a blend of pop/rock, folk, jazz and blues.
Tickets: $100-$300. Proceeds will help low-income, uninsured Wine Country workers obtain medical care.
ST. HELENA DRAMA PRESENTS 'FIDDLER ON THE ROOF'
St. Helena Drama's production of "Fiddler on the Roof" will have three more performances at 7 p.m. Friday, March 16, and 2 and 7 p.m. Saturday, March 17, at the St. Helena High School Performing Arts Center, 1401 Grayson Ave. Co-irected by Patti Coyle and Craig Bond, the gem from Broadway's Golden Age of musicals still resonates today with its theme of trying to find balance in a tumultuous world — like a fiddler on the roof. Tevye attempts to hold onto his traditions despite sweeping social change that not only upsets his family values but also threatens his town's very existence.
NOW PLAYING AT THE CAMEO
Disney's "A Wrinkle in Time" (available in 2D, 3D, and with Spanish subtitles) continues at the Cameo Cinema. After the disappearance of her scientist father, three peculiar beings send Meg, her brother, and her friend to space in order to find him, in director Ava DuVernay's adaptation of Madeleine L'Engle's classic fantasy novel for young adults. Rated PG (2H).
Showtimes are Friday, Saturday, Sunday, Wednesday and Thursday, March 22, at 2, 5 and 7:45 p.m.; Monday at 2 and 7:45 p.m.; and Tuesday at 5 and 7:45 p.m. Screenings are available in 2D, 3D and with or without Spanish subtitles. See CameoCinema.com for screening details.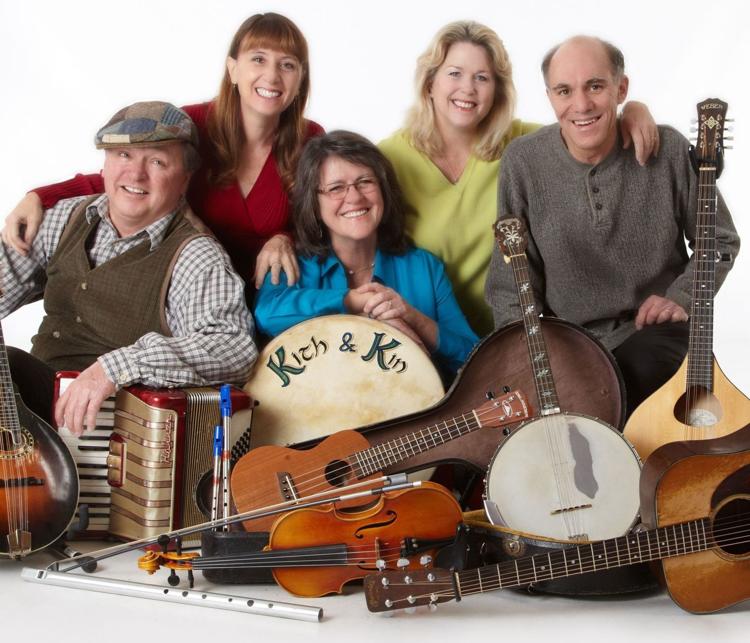 KITH & KIN PERFORMS
AT THE LIBRARY
Napa Valley's own Celtic band, Kith & Kin, will perform at 7 p.m. Thursday, March 22, at the St. Helena Public Library. The St. Patrick's Day celebration will feature a lyrical, lilting evening of jigs, reels, ballads and blarney.
JAY GREENE LECTURES ON HISTORY
Jay Greene's series of historical lectures continues at 5 p.m. Tuesday, March 20, with "The Critical Decade." Great Britain emerges triumphant from a long and costly war with the French only to find its American colonists impatient with Mother Country's largesse. The lecture is sponsored by the Friends & Foundation, St. Helena Public Library.
MIKE GREENSILL AT SILO'S
St. Helena pianist Mike Greensill performs from 5 to 7 p.m. Thursdays at Silo's, 530 Main St. in Napa.
HISTORICAL SOCIETY
DISPLAYS PHOTOS, ART
The St. Helena Historical Society presents "History Becomes Art," a month-long exhibit pairing historical photos with art, at the St. Helena Public Library. The gallery will feature local and world-renowned artists who have selected images from the historical society's collection of vintage photos and recreated them with their own vision and medium. Refreshments will be served thanks to the Friends & Foundation, St. Helena Public Library.
THE ART OF CHOCOLATE
Napa Valley's finest chocolatiers, including Woodhouse Chocolates, Earth & Sky, and the CIA at Copia, have taken inspiration from the Julia Child "France is a Feast" exhibit at Napa Valley Museum to create delicious works of art in chocolate, on display through April 1 at the Napa Valley Museum. A portion of boxed chocolate sales will benefit the museum.
THE LIFE OF VINCENT VAN GOGH
Leonard Nimoy's one-man play "Vincent," starring Jim Jarrett as Vincent Van Gogh, will be performed at 8 p.m. Friday, April 20, and Saturday, April 21, at the White Barn, 2727 Sulphur Springs Ave. Jarrett has performed the one-man play throughout the world to over a quarter of a million people. It's been called "a truly beautiful theatrical experience" (New York Times), "a theatrical masterpiece" (Arizona Republic) and "a wonderful evening of theater" (Los Angeles Times).
RANCHERA SINGERS
OF MEXICO PERFORM
Yolanda Del Rio and Beatriz Adriana, two of the most renowned ranchera singers in Mexico, will perform together for the first time in Napa County at 8 p.m. Friday, April 20, at Lincoln Theater. Del Rio made her TV debut before she became a teenager, and at age 15 she recorded "La Hija de Nadie," the hit single that made her a star. She went on to sell almost 20 million records around the world and receive a Grammy nomination in 1984. Adriana got her first record contract at age 13, and has recorded songs by Joan Sebastian, Juan Gabriel, Jose Alfredo Jimenez, Manolo Marroqui, Federico Mendez and composer Marco Antonio Solis.
A MUSICAL TRIBUTE TO THE 1940s
Dan Goodman, George Rothwell and the Opus Trio will bring song and history to the Lincoln Theater stage in Yountville with "Torch Songs of WWII" at 3 p.m. Saturday, April 28. Goodman explains, "George related his concept to me shortly after my last show at the Lincoln Theater and explained how the music of the WWII years spoke to that generation."