Onstage & Onscreen
Onstage & Onscreen
UPSTAGE NAPA VALLEY
PRESENTS 'GOLDFISH'
Upstage Napa Valley's production of "Goldfish" opens Friday, March 9 and continues through Sunday, March 11 at the Grace Episcopal Church on Spring Street. Fred Ireland, Markus Baumbach, Alani Denton and Lauren Haugen star in John Kolvenbach's off-beat comedy about family life and the parenting of children who will leave home and find their way in the world. Performances are scheduled for Friday at 7:30 p.m., Saturday at 8 p.m., and Sunday at 2:30 p.m.
Tickets: $25 general/$15 students/$20 for 10 or more tickets.
ST. HELENA DRAMA PRESENTS
'FIDDLER ON THE ROOF'
St. Helena Drama's production of "Fiddler on the Roof" opens at 7 p.m. Friday, March 9. Only six performances will be offered: at 7 p.m. March 9-10 and March 16-17 and 2 p.m. Sundays, March 11 and 17. All performances will be at the St. Helena High School Performing Arts Center, 1401 Grayson Ave. Directed by Patti Coyle, the gem from Broadway's Golden Age of musicals still resonates today with its theme of trying to find balance in a tumultous world — like a fiddler on the roof. Tevye attempts to hold onto his traditions despite sweeping social change that not only upsets his family values but also threatens his town's very existence.
NOW PLAYING AT THE CAMEO
Disney's "A Wrinkle in Time" (available in 2D, 3D, and with Spanish subtitles) is the featured film at the Cameo Cinema. After the disappearance of her scientist father, three peculiar beings send Meg, her brother, and her friend to space in order to find him, in director Ava DuVernay's adaptation of Madeleine L'Engle's classic fantasy novel for young adults. Rated PG.
Showtimes are Friday, Saturday, Sunday, Monday, Wednesday and Thursday, March 15, at 2, 5 and 7:45 p.m.; and Tuesday at 5 and 7:45 p.m. Screenings are available in 2D, 3D and with or without Spanish subtitles. See CameoCinema.com for screening details.
"Hostiles," a western starring Christian Bale as a legendary Army captain who reluctantly agrees to escort a dying Cherokee war chief (Wes Studi) and his family to tribal lands, plays Thursday, March 8, at 7:45 p.m. Rated R (2H 15M).
"The 15:17 to Paris," director Clint Eastwood's film about the Americans who helped foil a terrorist attack in France, plays Thursday, March 8, at 2 p.m. Rated PG-13 (2H).
HISTORICAL SOCIETY
DISPLAYS PHOTOS, ART
The St. Helena Historical Society presents "History Becomes Art," a month-long exhibit pairing historical photos with art, with a reception at 7 p.m. Thursday, March 8, at the St. Helena Public Library. The gallery will feature local and world-renowned artists who have selected images from the historical society's collection of vintage photos and recreated them with their own vision and medium. Refreshments will be served thanks to the Friends & Foundation, St. Helena Public Library.
OL' SCHOOL DANCE PARTY
BENEFITS CO-OP
The third annual Ol' School Dance Party will be at 6:30 p.m. Saturday, March 10, at the Native Sons Hall in St. Helena. It is presented by the St. Helena Cooperative Nursery School. The event features live Gulf Coast soul music from The Suffers with cold beer, wine, Charbay, hot pizza, mac and cheese and burritos to keep you well-fueled for a night of dancing and good ol' fashioned fun.
Tickets: $65 in advance/$85 at the door. Tickets cover drinks, food and music, and also support one of the Napa Valley's most beloved nursery schools.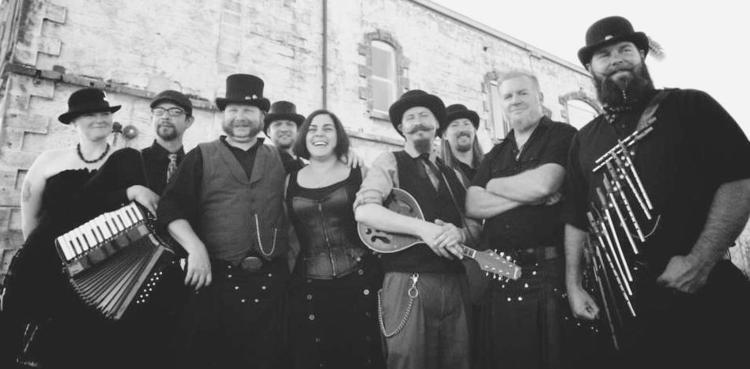 'THE SORRY LOT'
AT THE WHITE BARN
The White Barn will hold a St. Patrick's Day celebration at 8 p.m. Saturday, March 10, with "The Sorry Lot," a nine-piece Irish folk and ballad band from Napa. They deliver high-energy renditions of traditional drinking songs, as well as a few modern and original tunes, while keeping the music true to its roots in the pubs and bars of Ireland. The White Barn is at 2727 Sulphur Springs Ave.
MIKE GREENSILL AT SILO'S
St. Helena pianist Mike Greensill performs from 5 to 7 p.m. Thursdays at Silo's, 530 Main St. in Napa.
JAY GREENE LECTURES ON HISTORY
Jay Greene's series of historical lectures continues at 5 p.m. Tuesday, March 20, with "The Critical Decade." Great Britain emerges triumphant from a long and costly war with the French only to find its American colonists impatient with Mother Country's largesse. The lecture is sponsored by the Friends & Foundation, St. Helena Public Library.
KITH & KIN PERFORMS
AT THE LIBRARY
Napa Valley's own Celtic band, Kith & Kin, will perform at 7 p.m. Thursday, March 22, at the St. Helena Public Library. The St. Patrick's Day celebration will feature a lyrical, lilting evening of jigs, reels, ballads and blarney.
THE ART OF CHOCOLATE
Napa Valley's finest chocolatiers, including Woodhouse Chocolates, Earth & Sky, and the CIA at Copia, have taken inspiration from the Julia Child "France is a Feast" exhibit at Napa Valley Museum to create delicious works of art in chocolate, on display through April 1 at the Napa Valley Museum. A portion of boxed chocolate sales will benefit the museum.
A MUSICAL TRIBUTE TO THE 1940s
Dan Goodman, George Rothwell and the Opus Trio will bring song and history to the Lincoln Theater stage in Yountville with "Torch Songs of WWII" at 3 p.m. Saturday, April 28. Goodman explains, "George related his concept to me shortly after my last show at the Lincoln Theater and explained how the music of the WWII years spoke to that generation."