Celebrating the life of St. Helena's extraordinary Bruce Frank
On Saturday, the celebration of Bruce Frank's life in the Native Sons Hall was packed shoulder-to-shoulder.
Every seat in the old hall was taken, while the standing room of the vast hall was also soon filled with former students, colleagues and friends, each wanting to share their affection, appreciation and memories of "Mr. Frank."
It was a celebration to honor the extraordinary St. Helena High School history teacher, coach and student counselor who had dedicated 32 years to the benefit of his students, his school and his town.
Bruce Frank died in his home on Jan. 10 with his wife Jill Davis, son Chris Frank and daughter Sarah Davis by his side.
Retired Napa County Superior Court Judge Scott Snowden opened the celebration with vibrant memories of Frank.
"Bruce helped everyone he met," Snowden recalled. "Bruce didn't have to go out of his way to be nice, to be empathetic, or to be kind. He did it in a way that was unique, and he changed everything with his kindness."
John Pitter remembered Frank as a child growing up in Orland. "A natural athlete," Pitter said. According to his friend, Frank was always a leader and a straight-A student. "He made it OK to be smart in school," he said.
Pitter recalled several stories of the Frank farm in Orland where Frank was always required to finish his chores before they could go off to play ball. One story he remembered was of the ornery family cow. It was Frank's chore to milk it before he could play. Unfortunately, after they chased the cow for some time, a well-placed hoof kicked over the half-filled bucket of milk and, Pitter said, "We didn't get to go anywhere that day."
Paul Meranda, also a high school friend from Orland, remembered Frank's seemingly endless patience and the kind advice that Frank gave to him. That patience and kindness, according to Meranda, was the hallmark of that unique individual, and it made his friendship with Frank special.
When Frank graduated from St. Mary's College and was teaching at a small Catholic high school in Red Bluff, Renée Horton – a 14-year-old student on the verge of entering Mercy High School – remembered that Frank was the "hippest, best-looking high school teacher" she had ever met. "I was there only one year," she said. "But he changed my life."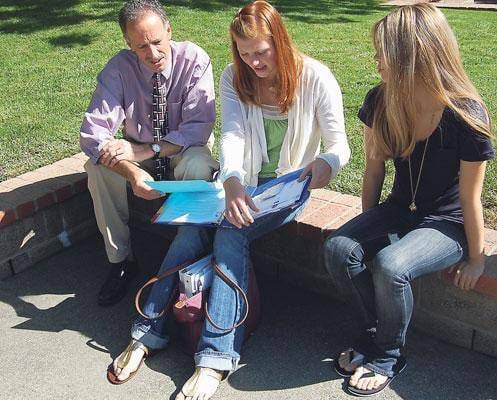 Horton recalled how, when she and another girl imagined "buying the Oakland A's" after the team was sold by Charley Finley, Frank never laughed at the thought but quietly helped them mount a high school fundraiser to rent out students to be teacher-helpers. When the fundraiser netted less than $100, Frank then gently suggested they might donate the funds to a charity.
Horton spoke with tears about how Frank "helped me move away from fear in my life," and how Frank's ability to "focus on us as someone to be loved" fostered a lasting friendship as "Pen Pals" that persisted until Frank's death in January, more than 30 years later.
Heidi Holzhauer was a student of Frank's at St. Helena High School between 1981 and 1985. She said that Frank was like "the parent that you selected." She informed the audience how Frank's work on the St. Helena Scholarship Fund helped to substantially expand it.
"In 2017 the fund awarded over $300,000 in scholarships to St. Helena seniors," Holzhauer said. "He was always there," she added. "He was my rock," and Frank always enabled students "to believe in ourselves."
Tom Conlon, a colleague at St. Helena High School, told the audience that Frank was more than just a fellow teacher. "He was a role model, with his honesty and his integrity." Yet even when things weren't always running smoothly, he managed to offer his advice with delicacy and kindness.
Gary Brookman, a close friend, told stories of Frank's "extraordinary" discipline and endless work ethic writing letters of recommendation for St. Helena High School seniors. "Sometime I would see the light in his office still on, long after school hours, late into the night, and I knew he was working for his students, writing them recommendations for college."
In a 2009 interview with the St. Helena Star – following 32 years as a counselor at St. Helena High School on the eve of his retirement – Bruce Frank revealed some of the secrets of his love and dedication to his students.
"High school kids crack me up all the time," Frank told reporter G.S. Whitt. "They are always interesting, no matter whether they are getting in trouble, whatever they are doing. They are always interesting.
"I obviously enjoy having students progress, having them move from not being able to do something to be able to, from being the first in their family to go to college maybe, or to graduate from high school. That's an added bonus, but just the daily contact with kids keeps me entertained."