Police Log
St. Helena Police Log, Jan. 30-Feb. 5
0900 — Report of a dog barking at PG&E workers all morning on Mitchell Drive.
1312 — A pair of glasses was found at Oak/Pine.
1344 — Report of someone videotaping employees on Crane Avenue.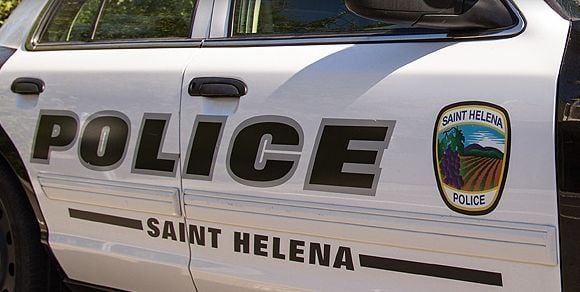 1354 — Someone tried to break into a locked shed on Pope Street. The lock was dented and partly smashed. The damage was noticed on Sunday.
1412 — Medical aid for an elderly woman who fell and hurt her ribs on Fulton Lane.
1424 — A folding case containing an iPhone and various bank cards and cash was reported lost. It was last seen at a Main Street gas station.
1628 — Report of a driver smoking weed in a white Subaru on Pope Street.
1647 — A set of keys was reported lost. They might be somewhere around the elementary school.
1724 — The fire department provided a non-injury lift assist on Laguna Seca Court.
1730 — An elderly person fell in their bedroom on Brown Street.
1112 — Burnt matches have been found twice in the past week on a school campus on Adams Street.
1409 — Report of a reckless driver in a pickup truck speeding at 50+ mph on Railroad Avenue.
0650 — A suspicious man was seen placing a small white bag in a tree on Main Street. Then he walked away.
0739 — Medical aid for a woman feeling dizzy on Saint James Drive.
1637 — Someone was reportedly using a leaf blower on Stockton Street after the 4 p.m. cutoff.
0020 — Police arrested a 19-year-old St. Helena man on Library Lane for an outstanding warrant.
0203 — Report of a restraining order violation.
1150 — The door of a Main Street commercial building had been tampered with in an apparently burglary attempt.
1151 — Report of two suspicious men asking for money outside a Main Street business.
0155 — Following a traffic stop at Main/Mitchell, police arrested a 20-year-old East Haven, Connecticut man on suspicion of DUI and a 39-year-old Upland man for an outstanding warrant.
0937 — A girl ran away from home last night. She had agreed to meet up with her mother in a few minutes, but her mother wanted police to talk to her about her behavior.
1104 — A blond akita/retriever mix was found on Mitchell Drive. He has short fuzzy hair and a black collar with skull and bones markings. The person who found him will keep him until his owner comes forward.
1520 — Police responded to a barking dog complaint on Mitchell Drive.
1738 — Report of a suspicious man parked in a Mercedes on Hillview Place. He drove away while the caller was on the phone with police.
1854 — A Hillview Place resident reported being harassed by a neighbor. Police determined the complained was unfounded.
1923 — During the night police found graffiti at Meily Park, Library Lane and Adams Street.
2208 — Report of a man being violent with a woman in a car on Crinella Drive. Police arrested the St. Helena man.
2249 — A customer at a local bar complained about the bar refusing him service and rejecting his credit card because it has his parents' name on it instead of his. He said he has his parents' permission to use the card, and he signed the back of it. He said his mother is a lawyer and she said it is illegal for them to ask for ID. Police told him the bar can refuse service to anyone, and if it is the bar's policy to ask for ID when someone uses a credit card and to refuse to sell to anyone trying to use someone else's credit card, that is within their rights and also a good business practice.
0230 — Report of loud neighbors causing a disturbance on Crinella Drive.
0249 — Police arrested a 31-year-old Calistoga woman on suspicion of DUI on Church Street.
0313 — Medical aid on Pope Street.
0740 — Report of a possibly sick cat walking around Signorelli Circle. The caller was advised to call a vet.
0835 — A wallet was left in a local tasting room. There was a suspicious white powder inside it. Police took a report.
1054 — Sewage was coming up out of a hole on the backside of Crinella Drive, near the park.
1302 — Report of a suspicious red Ziploc bag on the ground near Tainter/Oak. An officer discovered it contained cookies.
1617 — A major-injury accident blocked both lanes of Silverado Trail at Pratt Avenue.
1841 — Report of a possible drunk driver who almost hit another car near Silverado/Deer Park.
2112 — Medical aid on Pope Street.
2123 — Report of a very intoxicated couple trying to get into a car on Main Street. An officer helped them get into an Uber.
2241 — Police responded to a loud music complaint on Pine Street.
0529 — Medical aid for an elderly woman feeling ill on Hunt Avenue.
0918 — Medical aid for an elderly person with low blood pressure on Olive Avenue.
1133 — Medical aid for an elderly woman having trouble breathing on Del Campo Court.
1406 — Report of a suspicious man walking around a couple of banks on Adams Street. Police determined he was assisting a family member with some money.
1430 — A wallet containing checks and money was stolen from a locked van on College Avenue.
1813 — Report of a reckless driver swerving all over Silverado Trail.