St. Helena Star/Napa Valley Vintner panelists enjoy, taste and rank today's Napa Valley Sauvigon Blanc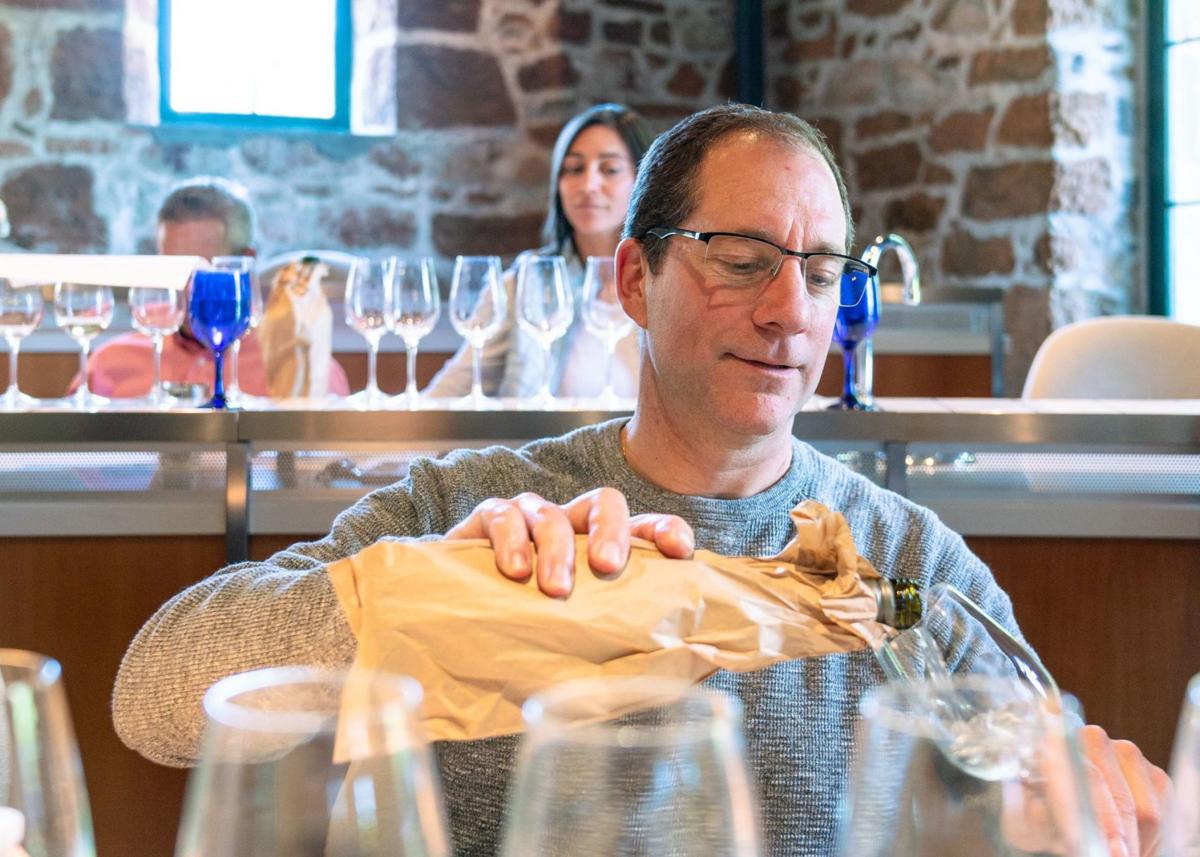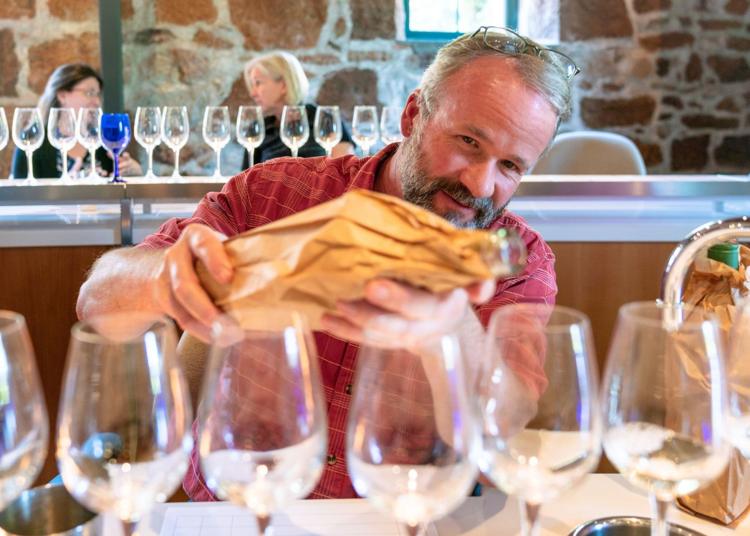 What do we love about Sauvignon Blanc? The list could start with its generous aromatics and its zesty acidity, which highlights flavors from crisp citrus to stone and even tropical fruits, along with fresh grassy aromas of spring and summer, and hints of mineral complexity.
It's fun and zippy like a lean Jamie Curtis to Chardonnay's warmer and rounder Marilyn Monroe. With Sauvignon Blanc, the freshness is energizing.
While the top five grape varieties in the country include two whites – Chardonnay and Pinot Grigio – Sauvignon Blanc is one of the fastest growing wine categories in the United States (Nielsen 2018) and in the past, has been among the top white grape plantings.
In California, there are approximately 15,000 Sauvignon Blanc acres, making the grape the fourth most planted behind Chardonnay, French Colombard (used in blends; great for distillation) and Pinot Grigio (California Grape Acreage Report 2017).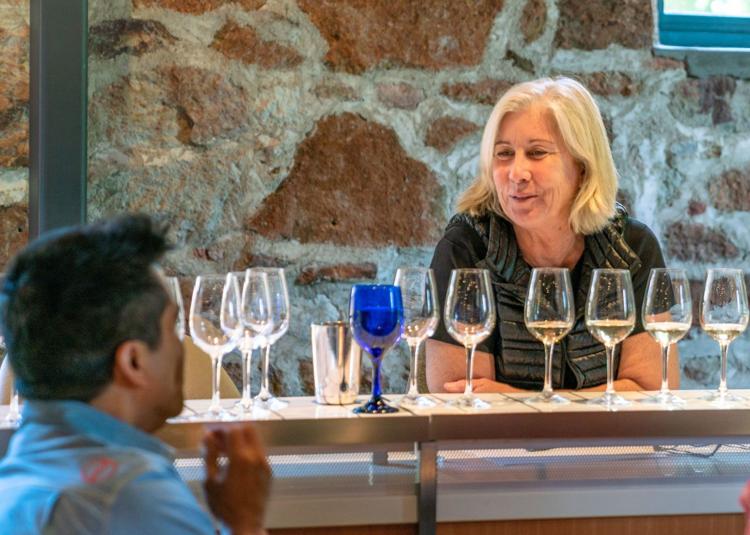 Charles Wetmore first brought Sauvignon Blanc to California from the esteemed Chateau d'Yquem (producer of the famous sweet, botrytis Sauvignon Blanc and Semillon wines) where it was shared with many other producers. Early California Sauvignon Blanc wines, however, did not gain instant favor among consumers; the wines showed pronounced green bell pepper aromas and flavors which winemakers masked with sweetness and oak. This herbaceous-ness in Sauvignon Blanc comes from a group of compounds found naturally in the grape called pyrazines, and their overt presence relegated the Sauvignon Blanc grape to sweet and jug wines for a time.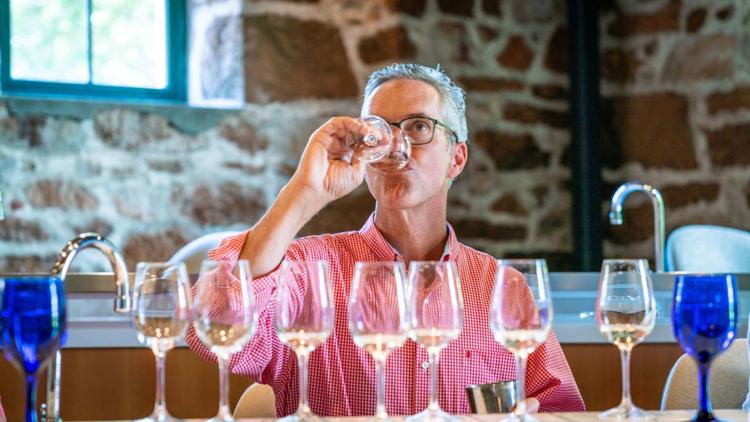 But once white wines took off in popularity and greater attention was paid to Sauvignon Blanc in the vineyard and cellar, the wines started to balance fresh grassiness with the grape's inherent fruitiness – anything from lemon and lime to peach, nectarine, melon, pear, pineapple and more. With care, the herbaceous flavors were an attribute, not a detractor, from Sauvignon Blanc wines.
While pyrazines were under control, Napa Valley's Sauvignon Blanc style included – even several vintages ago — dominant oak aromas and flavors in the wine. That style, however, has waned in the last two years. Oak is used, but its aromas and flavors are more integrated into the wine, and often a percentage of the oak being used is neutral (not imparting strong oak flavors.)
What of the current style of wines? The St. Helena Star and Napa Valley Vintners Tasting Panel sat down to taste four flights of Sauvignon Blanc wines from the 2016 and 2017 vintages to assess the current state of Napa Valley Sauvignon Blanc.
Panelists discussed 2016, 2017 vintages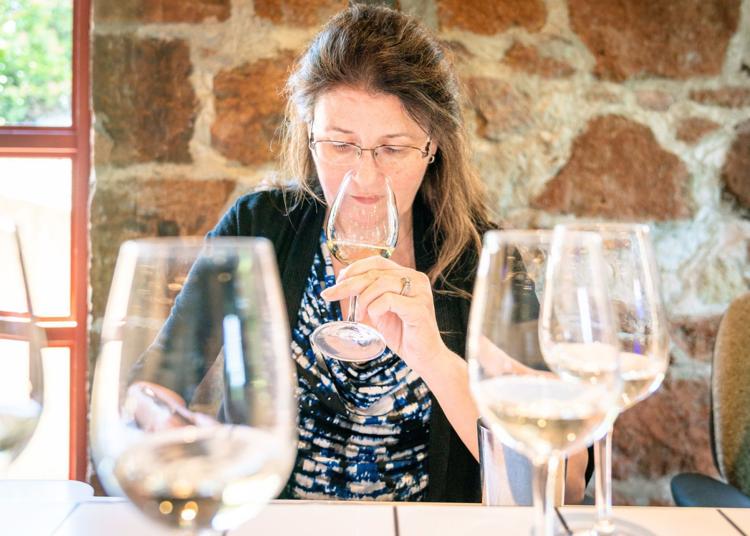 Dr. Liz Thach, MW, found a common freshness and cleanness among the Sauvignon Blancs, noting prominent fruits such as melon and ruby grapefruit along with a sweet pea aroma that she attributed to the Musqué clone of Sauvignon Blanc. She also, however, found all five of the major Sauvignon Blanc styles of the world within these Napa Valley vintages, which she explained (the following a condensed version) as:
Sancerre Style — light, crisp, elegant with a hint of floral and grassy notes;
Grassy Style — strong notes of cat pee and herbs with refreshing lime finish (found in Chile and South Africa among other places);
Marlborough, NZ — fresh with tropical notes of kiwi, melon and lime, and a distinct dusty note;
International Style — fruit forward with ruby grapefruit and melon, light to medium body, often with floral sweet pea nose; and
Bordeaux Blanc — crisp, complex with dried pineapple and wet stone; creamy body with refreshing lemon zest finish.
Kristin Belair, winemaker at Honig, has a long-time relationship with Sauvignon Blanc. She has been making the wine for decades and currently makes several Sauvignon Blanc wines for Honig. Kristin's passion for the grape was evident. "I love that Sauvignon Blanc grows everywhere, and makes amazing wine. Oak is OK on Sauvignon Blanc; if it is well-integrated, it works. There are a huge range of styles; it is an incredibly versatile variety."
Tom Rinaldi, consulting winemaker, got a laugh from panelists when he shared that his wife calls Sauvignon Blanc their "house water." Tom added, "I love the grapefruit and citrus styles; I don't mind concrete eggs [a fermentation vessel that brings out the purity of fruit in the grape]; grape blending; barrel use – these are all wonderful tools that add to the zip of Sauvignon Blanc from Napa Valley."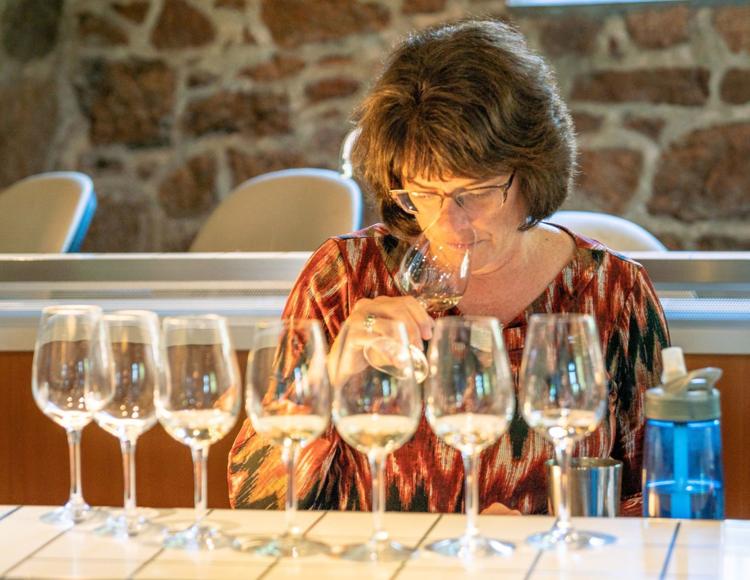 Speaking specifically to the green-grassy aromas and flavors that Sauvignon Blanc can show, John Skupny, proprietor of Lang & Reed, explained, "Today winemakers can decide whether they want to mute or mitigate the vibrant grassiness or embrace it and 'let it scream.'"
While many panelists appreciated the great diversity of styles found in Napa Valley, others commented on the potential confusion for consumers. Hugh Davies, proprietor of Schramsberg and J. Davies, asked the thought-provoking question: "What sets Napa Valley Sauvignon Blanc apart?" while commenting on the variety of styles.
Napa Valley is a study in diversity when it comes to Sauvignon Blanc styles today. In the end, it comes down to knowing your preferred style and choosing a producer who makes a Sauvignon Blanc in that style.
There are leaner, mineral and citrus dominated wines to richer examples full of riper tropical fruit flavors – and those adding a touch of oak flavor, or leaving a hint of sweetness in the finished wine. These styles are all on offer from Napa Valley.
Top wines of the tasting:
Bougetz Cellars Bliss 2016 Sauvignon Blanc Rutherford ($26) is full of ripe peach, red apple and lemon citrus flavors, with a waft of white blossom perfume and a hint of ginger on a richly textured body.
Jamieson Ranch Silver Spur 2016 Sauvignon Blanc Napa Valley ($28) highlights the lemon and lime citrus side of Sauvignon Blanc, with an intriguing mineral component.
Galerie Naissance 2017 Sauvignon Blanc Napa Valley ($30) provides a range of flavors to enjoy from lemon citrus and fresh grass to ripe perfumy-melon.
Clos Pegase Mitsuko's Vineyard 2017 Sauvignon Blanc Los Carneros ($22) melds lemon and grapefruit citrus with juicy peach, pear and white blossom on a rich palate balanced by refreshing acidity.
Coquerel Family Wine Estates 2016 Le Petit Sauvignon Blanc Napa Valley ($22) is made by French winemaker, Christine Barbe, and shows juicy lemon, pink grapefruit, melon and peach flavors with a touch of tropical fruit.
Kenefick Ranch Winery 2016 Sauvignon Blanc Calistoga ($24) has a Loire Valley reserved-ness on the nose with grapefruit and lemon citrus aromas that follow with riper peach and yellow apple on the palate.
St. Supéry Estate Vineyards 2017 Estate Sauvignon Blanc Napa Valley ($22) always shows great brightness of fruit, and the 2017 doesn't disappoint. There are generous lemon citrus and zesty grapefruit flavors along with hints of fresh grass, pear and melon.
Farella Vineyard La Luce 2017 Sauvignon Blanc Coombsville ($26) provides aromatic blossoms and mineral to its core of green and red apple fruit.
Judd's Hill 2017 Sauvignon blanc Napa Valley ($34) wraps pear fruits around a core of lemon and grapefruit citrus with a touch of grassy and mineral complexity.
Catherine Bugue, the Star's tasting panel columnist, loves writing about — and drinking — wine. She is also the co-founder of the Napa Valley Wine Academy in Napa. You can contact Catherine at catbugue@gmail.com. Only wines from Napa Valley Vintner member wineries are accepted and tasted. Many wineries offer local residents discounts on their wines through the Napa Neighbor program, visit napavintners.com/programs and click on Napa Neighbor to learn more.